The Week That Was In Running - May 17-23, 2011
To read last week's LRC Week That Was, click Here.
To read any 2010 LRC Week That Was, click Here.
By LetsRun.com
May 25, 2011
****
3 Quotes Of The Week That Weren't Quote Of The Day
#1 An Athlete Showing That There Are Real Victims When People Dope
"I don't hold any grudges. I look at what those guys did, and I don't imagine they feel good or proud about it. But they took things away from guys like myself, and Darren Baker. I suppose we weren't 'professional' enough. We weren't into winning at all costs. And the cost to me was my integrity, I wasn't going to give that up."
- Former US Postal rider Scott Mercier talking to Velo News last week. Mercier quit the sport rather than dope and shows that there are victims when widespread numbers of pro athletes cheat and also is a counter to the argument of "But everyone else is doing it." Last week was quite a week on the anti-doping front, as two former teammates of Lance Armstrong came out and said that Lance doped - one publicly on 60 Minutes and one, whom Lance considers to be like a brother, allegedly in leaked grand jury testimony.
We wish there was a lawyer out there smart enough to figure out a way that someone like Mercier or other victims of doping, like every US 1,500-meter runner behind Regina Jacobs or sprinter behind Marion Jones, could sue. One thing we've learned from all the doping fiascos is that the judicial process, not the drug tests, appears to be the best way to catch the cheats. Doping in professional sports should be criminalized and hopefully that would be more of a deterrent for athletes.
#2 Sammy Wanjiru's Wife Talking About The Beginning Of Their Relationship
"I fell in love with Kamau (Sammy Wanjiru) when he had nothing. What attracted me to him was that he was very mature - he was also considerate, responsible and humble and, long before he got money, I had no doubt that I wanted to get married to him."
and
"When I met Kamau, he did not drink alcohol, but after the money started coming in, he started to drink, and started to spend time with the wrong company."
- Teresia Njeri, the wife of Olympic marathon champ Sammy Wanjiru, talking in a fantastic lengthy profile of their relationship that appeared in The Nation.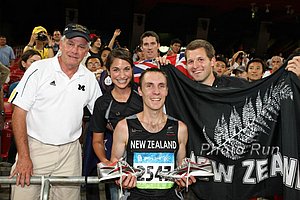 #3 Nick Willis On Not Having The World Championship"A" Standard
"I still need the qualifying time to be selected for the world championships but the approach I've always taken is if I'm not good enough to do the time, then I'm not good enough to make the final. If I'm not going to be competitive, I don't want to be there making up the numbers."
- 2008 Olympic silver medallist Nick Willis talking to a New Zealand reporter about not having the "A" standard for the 2011 World Championships.
People shouldn't be concerned that Willis doesn't have the "A" standard yet because hardly anyone has it, as in a little-noticed change, the IAAF changed the qualifying window. Times from the heart of last year don't count (it has to be from Oct. 1, 2010 or later). People were going to be chasing times in 2011 anyway, as everyone wants to get a time this year, since it will count for the 2012 Olympics.
This Week's Tip To Improve The Sport
The focus on times and athletes racing meaningless time trials before no fans is not helping the popularity of track and field and we think the IAAF should change from having individuals qualify for Worlds on time to letting countries qualify. If there are 3 guys in the US under the Worlds qualifying time, then the US can send any 3 guys it wants to the Worlds. Better yet, if a country the year before had many people under the Worlds standard, in advance the IAAF could say, "Your country gets 3 spots at the World Championships in this event." So the US had 5 people under the "A" standard at 1,500m last year. The IAAF says, "You get 3 guys at Worlds this year." This is a simple change that would let the top distance runners in the world focus on racing each other instead of chasing times. It also would make the US Championships more meaningful for the fans who seem to be the forgotten ones in this whole thing.
****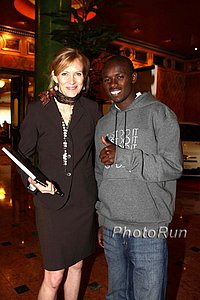 Interesting Notes On Sammy Wanjiru's Shoes
"Up until the day before the Olympic marathon I hadn't decided whether to go fast or hold back a bit and run a little conservatively. However the first half went, I wasn't sure what would happen in the second half and I was afraid of it. I couldn't sleep well at all the night before the race, and I discovered that I had forgotten my race shoes in Kenya. I had to run the race in my warmup shoes, but it was OK because they were marathon shoes too. Looking back now, I think I had a lot on my mind and was pretty nervous, but as soon as I started I forgot about it all. The only thing I thought was, 'Who cares, let's go!' I'm not the type of guy who runs behind someone else. I was going to run up front no matter what the pace was."
A lot of athletes would completely freak out if they didn't have their racing shoes. For Wanjiru, it didn't make a difference. The quote above comes from this excellent compilation of quotes on Sammy Wanjiru from Brett Larner on the Japanese running blog. The quotes help walk one through Sammy's career.
"I wore my first shoe when I was in Standard Eight," he told the Nation in an earlier interview.
Had he not met Mr Kubayash, Wanjiru conceded that he would never have made it in life and that he would have been another poor casual labourer somewhere in the wheat fields of Nyahururu.
"My family had no means to pay for my high school education. So, probably I could be doing masonry or be doing some casual work," said Wanjiru.
He was 14 when he wore his first pair of shoes - a pair of plastic slippers commonly referred to as Sandak. Four years later, he made his first million, after breaking the world half marathon record.
Pause and think about that for a second. Wanjiru went from never having worn a pair of shoes in his life to breaking the world record in the half marathon in the span of four years.
****
The Good (And Bad) From The 2011 USATF High Performance Meet
Speaking of time trials run late at night, the 2011 High Performance meet at Occidental College was held last weekend and a ton of people went after the IAAF A standards, which are 1:45.40, 3:35.00, 8:23.10 (steeple), 13:20.00 and 27:40.00 for men and 1:59.80, 4:05.90, 9:43.00 (steeple), 15:14.00 and 31:45.00.
Those that got the A standards all were 800 meter runners led by UCLA senior Cory Primm, who got ready for the 1st round of NCAAs, which begin on Thursday, in fine fashion by running 1:44.71. Second-placer Tyler Mulder (1:44.83) also got the time, as did Australian Jeff Riseley, who deserves props for doing it out of the third heat!
Alice Schmidt (1:59.48) and Maggie Vessey (1:59.56) got the times in the women's 800. The result was particularly encouraging for the two-time World Championships and 2008 Olympian Schmidt, who hadn't broken 2:00 since 2008.
Other people that impressed us were Khadevis Robinson, who won the B heat in 1:46.01 at age 34. Former NCAA cross-country champion Angela Bizzarri was way down in the 1,500 results in 4:11.26, but that was a 4+ second personal best for her.
There were a few surprising disappointing results. 2009 Worlds bronze medallist Shannon Rowbury is coming back from missing some time due to injury and she managed only a 4:11.67 in the 1,500.
The entire men's 1,500 field deserves some criticism, as the meet was largely hyped as a men's 1,500 qualifying attempt, and the meet had the aforementioned Nick Willis rabbiting the field perfectly for 1,200 meters, but no one went with him. And that's the problem when the IAAF forces everyone to focus on time.
Instead of recapping an early season race that featured many of North America's best, including the first significant race for the US revelation of the 2010 season (Andrew Wheating), we end up complaining that the guys didn't run fast. Wheating did end up winning the race, where 7 guys ran 3:37.20 or faster, in 3:36.36.
Those that struggled in the 1,500 included Olympians Leo Manzano (9th in 3:38.26) and Matt Tegenkamp (last in 3:41.72).
It was good to see Will Leer get an early season PR of 3:37.01. Leer, who was 4th at USAs in 2008 and 5th in 2009, has been stuck in the 3:37 range for the last 3 years, as his seasonal bests dating to 2008 are as follows:
2008 - 3:37.63
2009 - 3:37.37
2010 - 3:37.26
2011 - 3:37.01
Hopefully, the early season PR helps him get over hump later in the year.
More: *Results From The 2011 USATF High Performance Meet At Occidental College
****
US 48-Hour Record Set
Here's a mental exercise for you.
If we told you to go out and run for six hours straight, what would your average pace per mile be?
Alright, what about 12 hours?
Double that to 24?
Okay, mentally do the math and ask yourself, what mile pace could you average over a 48-hour period (you can stop and eat and sleep and do whatever, but we want you to go as far as possible).
Seriously, try to imagine what you'd be able to do. We bet your estimation is probably way faster than what you'd actually average, but it's probably still way less than what American Phil McCarthy did on May 15th.
He averaged 11:12 mile pace for two full days in a row, which resulted in him covering 257.34 miles in mid-May - a new US record.
That's crazy. In two days, the guy could run from New York to Washington, DC and then do an extra marathon for kicks.
****
This Week's Sign That The Apocalypse Is Upon Us (Bnt Probably Not For 5 More Months)
Sammy Wanjiru's Biological Dad, Who Never Actually Spoke To His Son, Says He Never Actually Spoke To Sammy Because He'd Call Between 8pm And 9pm And He Knows Now Sammy Was At The Bars Then
****
Other Happenings Of Note From Last Week
Doug Logan Reaches Settlement With USATF On His Termination Eight months ago, Doug Logan, the USATF CEO, was canned by the Board of Directors and USATF argued he was fired with cause and they did not owe him his $1.6 million in severance. USATF reportedly had offered him a $500,000 severance before he sued. In their counterclaims, USATF argued he abused expense reports and called the Board a bunch of clowns. Meanwhile, 8 months later, USATF still doesn't have a new CEO, but things are running smoothly. Maybe the interim head should stay.
Steve Mullings Runs World-Leading 9.89 Mullings is the guy that was forced to sit out from the NCAA thanks to a letsrun.com uproar back in 2005 and he deserves credit for having the fortitude to get back on top.
60 Minutes Does Piece Featuring Tyler Hamilton Saying Lance Armstrong Doped *Hamilton Video
Tyler Hamilton's Report On Lance Armstrong's Doping Airs On 60 Minutes The man who voluntarily gave up his Olympic gold medal this week painfully spills the beans on a so-called American hero. *Hamilton Video
*Hamilton Says Armstrong Told Him Cycling Authorities Covered Up A Positive Test From 2001
*Scott Pelley Talks About How Difficult It Was To Interview Tyler Hamilton He thinks Hamilton's reluctance and pain make him more believable. We 100% agree.
*Betsy Andreu Applauds Hamilton For Coming Out But Wishes It Had Happened Earlier Lance's people have made the Andreu family's life a living hell for years, as up until recently, they were the only ones saying Lance doped
*Great Interview From 2010: See How Lance's People Have Made Betsy Andreu's Life A Living Hell Mrs. Andreu is one of the only ones who has been telling the truth from the beginning.
*Learn About Former US Postal Service Rider Who Quit Sport Rather Than Dope People need to read this to realize there are real victims when people like A-Rod and (now reportedly) Lance cheat.
*Science Of Sport: Armstrong Likely Lying About Having Passed 500 Drug Tests It seems unlikely he was tested 25 times per year.
*George Hincapie, Like A "Brother" To Lance Armstrong, Reportedly Testified Armstrong Doped
*Tyler Hamilton Confession Letter He explains to his friends why he lied for so long. *Hamilton Gives Back His Olympic Gold Medal
****
Quotes Of The Day From Last Week
Monday: "I thought I was one of those guys that was snake bit - that couldn't win the big one. I have an old saying, 'Once we kicked the door down in '84, it seemed like it was open to us all the time.' We learned how to win. It's very hard to learn how to win, and after we got that habit, we won meets we shouldn't have. ... (The highlight of my career was) winning that first national championship. That's all I ever wished for - to win one. I never thought it would mushroom the way it did - not in my wildest dreams."
- Former Arkansas coach John McDonnell, who before he retired in 2008 won a ridiculous 42 NCAA titles, talking in a 17-minute uncut video interview that covers his entire remarkable career. Discuss the John McDonnell interview in our forum here.

LetsRun.com's Stat Of The Year: Since McDonnell won his first NCAA title in 1984, the NCAA scoreboard heading into outdoor NCAAs reads: NCAA titles won by John McDonnell's Razorbacks - 42, NCAA titles won by everyone else - 41 (yes, we are including the two vacated ones).
---
Sunday: "At some point (my daughter) will ask where her father is, and (I) will need to have an answer. It's so difficult ..."
- Teresia Njeri, the widow of Sammy Wanjiru, holding back tears as she talks to a Daily Nation reporter after her daughter proudly pointed to a picture of Sammy Wanjiru and boasted, "This is my father." Neither of Wanjiru's children have been told or understand that their father has died. The Daily Nation article provides great insight into the human side of the tragedy. The world may have lost its greatest marathoner, his wife has lost her husband and two children have lost their father.
---
Saturday: "It's a very sad day when the curtain came down on Broadway."
- Chairman of the boards, seven time Wanamaker Mile (and world 5,000m) champion, Eamonn Coghlan on the meet formerly known as Millrose moving to the Armory.
---
Friday: "Sammy was a thoroughly engaging human being, and at 24 years old he proved far too human. Unfortunately for marathoners, who surface twice a year for competitions, there is much life lived between those peaks ...

We will never know how the money, success, expectations, and family demands shaped him, not to mention the car-jackings, home invasions, and injuries, or what may have been done to save Sammy from his fate. All we gain is an appreciation that our sports heroes and champions are a two-way street and sometimes they need more from us than adulation."
- Sean Hartnett, aka "Professor (of the) Marathon" writing about Sammy Wanjiru.
---
Thursday: "It wasn't a tragedy particularly because of the way that he died (tragic as that is), or because he was one of Kenya's top athletes at one point. It was a huge tragedy because Samuel was 24 years old, barely a man and because in that time, he did not experience the kind of exposure and experiences that a man of his success should have been. Wanjiru, a man of humble beginnings, did not see the world - even though he could well have afforded to. Saddest yet, he did not influence his world - the locality that he lived in, the young people that he grew up with, the old folk who watched him sprout into a champion.

This is a big loss for Kenya because there is gone a young man who had all the potential of inspiring a generation - not just with his success on the track, but with the way he handled his success - to make even greater success for his people, for his nation. As his mother cries at the loss of her son, we must cry for the loss of a hero who could have been. We must accept - each and every one of us - an indictment for the part that we contributed to his death."
- Kenyan blogger Al Kags writing about Sammy Wanjiru and how Kenyan society is partially to blame for his death because it does not adequately prepare it's young men for adulthood or offer them the tools to handle their success.
---
Wednesday: "Forty-eight years after Ethiopia had claimed its first Olympic marathon crown, courtesy of the barefooted Abebe Bikila in Rome, the other East African superpower of distance running had a champion of the classic 26.2-mile event to acclaim. Like Bikila before him, Wanjiru claimed his place in history in style. He had run at world record pace until past halfway, surging clear of Morocco's Jaouad Gharib with four miles remaining and crossing the line in the 'Bird's Nest' stadium in 2hr 06min 32sec ...

At 21, the matchstick Kenyan was apparently as big a phenomenon at the long-distance end of the running scale as the 22-year-old Usain Bolt was at the short end. Just how giant a figure a fully mature Sammy Wanjiru could have been ... we shall never know."
- The Independent's Simon Turnbull writing about Sammy Wanjiru, who is far from the first great running prodigy to die young, as prodigies like Steve Prefontaine and Ivo Van Damme both died tragically in their 20s in the 1970s.
---
Tuesday: "In many ways that Beijing Olympic Marathon marked the beginning of a new era in the sport. Four-time Boston and New York City Marathon champion Bill Rodgers once famously said, 'The marathon can humble you.' While still true for the vast majority of competitors, through Sammy's assertive assault in Beijing the marathon, itself, was brought to its knees. His youthful temerity ended once and for all the era of the marathon as an endurance contest. No longer a wilfull slog through the limits of human endurance, the epic distance was instead turned into just another test of speed ..."
- TV commentator Toni Reavis in an excellent blog post "I am Sammy Wanjiru" that reflects on Sammy's career and especially Sammy's last race, on 10-10-10 in Chicago where Toni commentated from the motorcycle sidecar, one of the most amazing marathon finishes ever, Wanjiru's come from behind win over Tsegaye Kebede. Toni shares emails from Sammy's coach that Sammy was only 85% fit for Chicago.
---
Last Week's Homepages
*Mon (May 23) *Sun (May 22) *Sat (May 21) *Fri (May 20) *Thu (May 19) *Wed (May 18) *Tue (May 17)
---
Runner's World &
Running Times



Combined Only $22
a Year
Save $87

---

Running & Track and Field Posters
---

Great Running Shoe Deals Nike Lunar Glide $79.99 A very popular innovative Nike shoe on sale now.
---