Wejo Speaks: Desiree Davila At The 2011 Boston Marathon
By Weldon Johnson, Letsrun.com
April 18, 2011
Unbelievable. That is the best I can come up with to describe this year's Boston Marathon.
After watching Monday's race, we at LetsRun.com sat around collectively unsure of what to make of it. Both races were incredible for vastly different reasons.
2:03:02. 2:03:06. 2:04:57. We can discuss the amazing times on the men's side and analyze the huge effect of the wind, but I think too much analysis on that front today would detract from the magical day in Boston, so we'll save that type of analysis for tomorrow. As a result, I'll keep my analysis to the women's race and the amazing story of Desiree Davila.
Desiree Battling For The Win

As they turned for onto Hereford St with less than 800m to go, there was Desiree Davila of Hansons-Brooks, the most overlooked woman in American marathoning (hell, we even said this about her this week in our preview: "... the notion of her winning Boston at this stage in her career isn't a realistic one ...we think Davila has zero chance of winning.") battling for the win. Throughout the race, multiple times it seemed like Desiree was just hanging on. At 15k, she fell 13 seconds off of the chase pack that had probably 10 women in it. She fell off the pack again after the 1:40 mark (she was 4 seconds back at 30k), but then there she was during the final miles battling for the win with Caroline Kilel and Sharon Cherop.
Time after time, just when it seemed Desiree might be dropped for good, she'd surge back to the lead. Finally right at the 2:20:00 mark, right before the women turned for home on Boylston street, it seemed the real kicking was beginning and Desiree was finally being dropped for good. She started sliding backwards into third, and no one would have blamed her for giving in to the pain and finishing third. We all know Americans don't win the Boston Marathon - especially Americans who weren't NCAA Champions and run for Brooks instead of Nike. Hell, Desiree never even scored a single point at NCAAs during her collegiate career when she produced a 5k best of only 16:17 - how could she possibly kick with the world's best? But then Desiree did what we all dream of doing in such a situation, she dug even deeper. It was like she said to herself, "F*** this, this is MY chance. Who cares if I can't go any faster, what do I have to lose?" Throwing logic and everything else out the window, she somehow sprinted by Cherop and then by Kilel. She was now leading the Boston Marathon with less than 800m to go.
However, Kilel herself responded to Davila's move and soon was back in front. Now surely the race was over and Davila would get a very respectable second in Boston. Just seconds before she had been in third place falling away, had given it one final surge, and now was completely exhausted but at least in second. To get second was quite an accomplishment. But once again, Davila seemed to say, "This is MY Chance" and she dug even deeper. Next thing I knew, Davila was leading the Boston Marathon with less than 400 meters to go.
At this point, I imagine if you were watching Boston all across America, you spontaneously did what I and Alberto Salazar did - you stood and screamed at the TV/computer screen.
In the end, the record will say that the storybook victory did not occur for Davila, as Kilel had her own dreams of greatness and managed a way to dig deeper herself to get the win before collapsing after crossing the finish line. While Kilel was the champion, Desiree was the embodiment of the very best that the sport has to offer. There was no doubting Davila earned all of our respect. Most of us will never have the chance to win the Boston Marathon, but if somehow we were put in the situation, we hope we'd respond like Desiree. Twice defeated the final 800m, Desi easily could have given in, but she never wanted to be left wondering "What if ...?" She may not have won the race, but she won our hearts and souls. There is nothing more American than the underdog believing against all odds that anything is possible.
The motto of this website is "Where Your Dreams Become Reality." Some would say that Desiree's dreams didn't become reality on Monday, but I think they did.
*****
Davila afterwards said after the race thoughts of not pushing further did enter her mind. As she recounted to RunnersWorld, "There was a little bargaining with myself like, 'I've made it pretty far and I think people will be happy. No, I've worked too damn hard, don't give up." Everything she dreamed of came true, except the win. She said, "My race plan went perfect for me-minus not winning."

*****
The other day I was thinking of this website's 10-plus-year history and what things I would do differently. The one thing I thought of was the Louis Luchini affair in 2004. The reason I had regrets was not because I didn't think Bolota Asmerom had a much better chance of qualifying for the Olympics than Louis. Rather I regretted it because in essence we are saying to Louis, "Give up on your dreams." Louis had earned the right to think he could have that miraculous performance and make the Olympics.
The last thing we want to do on this website is squash someone's dreams, so we need to be more careful with our words. Even if we think Desiree has a very slim chance to win we shouldn't say, "We think Davila has zero chance of winning." For that isn't accurate and basically says, "Don't dream of winning." We could even say, "We think Desiree has almost no chance of winning." That leaves open the possibility for what we saw on Monday.

*****
The replay of the race was just showing on Universal Sports. I woke up my wife and told her to watch Desiree. I thought my wife might be half asleep and then when Desiree went by Kilel the second time, the words I heard were "Holy Crap."
*More Boston Coverage Below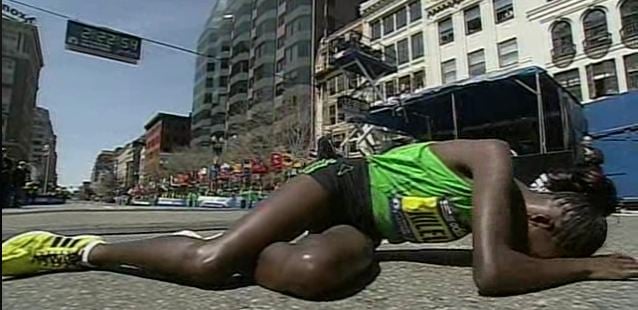 More: *Women's Post-Race Reaction
*Men's Post-Race Reaction
*Video Highlights Of 2011 Boston Marathon
*Tailwind Helps Deliver Breathless Times In 2011 Boston Marathon
*New York Times Recap Of Thrilling 2011 Boston Marathon New York Times
*Alberto Salazar: "We're knocking on the door. Sooner or later we're going to win." www.oregonlive.com
*Kara Goucher PRs, Vows Return bostonmarathon.runnersworld.com
*Boston Photos
---
Runner's World &
Running Times



Combined Only $22
a Year
Save $87

---

Running & Track and Field Posters
---

Great Running Shoe Deals Nike Lunar Glide $79.99 A very popular innovative Nike shoe on sale now.
---