2011 Rome Golden Gala: Usain Bolt Nips Powell, Khadevis Robinson Shocks The World
By LetsRun.com
May 26, 2011
As we said yesterday on the homepage, not all Samsung Diamond League meets are equal. The Compeed Rome Golden Gala Meet, which used to be part of the more prestigious Golden League, took place Thursday night in Rome and the meet showed its bona fides by securing the first Usain Bolt 100m appearance of the year and a marquee matchup versus former world record holder Asafa Powell.
We've got video and talk about the Bolt-Powell showdown below. But first we want to talk about the stunning victory in the men's 800m by 8-time US champ Khadevis Robinson, who stormed from dead last to first the final 250m to win at the age of 34.
Men's 800m: KD Makes Mark Everett Proud, Goes From Last To First During The Final 250m
Hard to believe an 8=time US champion (4 indoors, 4 outdoors) could be a forgotten man in the sport, but Khadevis Robinson (KD) has been off many people's radars since 2009. Last year, he missed the US Championships and then when he showed up in Europe, it was as a rabbit, as he rabbited Paris, Stockholm, Monaco and London. Rabbiting is usually what people do at the tail end of their careers when they are in need of one thing - a paycheck.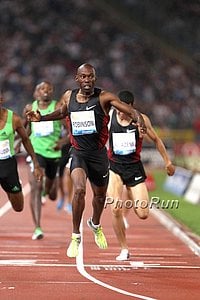 KD on Thursday night showed he is clearly not winding down his career.
Three weeks ago, he started out his 2011 campaign with a win in Jamaica (1:46.25) and then last Saturday night, he won his section at the Occidental meet in California (1:46.01). His agent Karen Locke secured him a spot on the start line in Rome and he made the most of it.
The field was a strong one and featured the last two World Champions, 2009 champ Mbulaeni Mulaudzi of S. Africa and 2007 champ Alfred Yego of Kenya, and the Commonwealth Champion, Boaz Lalang (all three have run in the 1:42s), plus Olympic 1,500m champ Asbel Kiprop, who won the 800m in Doha, and World Junior champ David Mutua.
Sammy Tangui, the training partner of world record holder David Rudisha, led the field through 400m in 49.83, while Khadevis was dead last in 52-flat. When Tangui dropped out on the bend, the young David Mutua was in front and he opened up a gap on the field and would lead until the final 100m. KD, meanwhile, was still in dead last with 250m to go. Then he started moving to the front. A better description might be rocketed to the front, because from that point on until the final 30 meters of the race, KD absolutely destroyed the field. At 600m (1:17.98 for Mutua, roughly 1:19 for KD), Robinson was still in 7th but moving up fast. By the middle of the curve, Robinson was in second chasing Mutua. He flew by Mutua with a little over 100m to go and kept on going. KD's lead got larger and larger down the final straight until 30 meters to go, as he was destroying the best 800m runners in the world not named Rudisha or Kaki.
This one never was in doubt the final 100m and was the most surprising and impressive win in KD's career. Afterwards, he told the Associated Press, "Nobody could have expected I'd win here. I felt good, everything went well and the oldest man in the race won."
Khadevis for many years was coached by American record holder Johnny Gray, who knows a thing or two about running fast in his thirties. Gray, the Olympic bronze medallist in 1992, ran 1:44.00 to win the 1996 US Olympic Trials on his 36th birthday.
For his win, KD picked up $10,000 and also dipped under the World and Olympic qualifying standard (1:45.40 for Daegu).
We contacted KD via email in Rome and hope to talk to him over the coming days. KD has always been one of the most entertaining interviews in the sport, and we can't wait to see what he has to say about his huge win in Rome. KD leaves first thing Friday to come back to the States.
This year is different for KD, as he has started coaching at UNLV. Trackfocus.com had a nice profile on him earlier in the year. Khadevis also has his own website http://www.khadevis.com/.
Results And Video Of The Race Below:
Official Results - Men - 800 Metres

| Pos | Athlete | Nat | Mark |
| --- | --- | --- | --- |
| 1 | Khadevis Robinson | USA | 1:45.09 |
| 2 | Mbulaeni Mulaudzi | RSA | 1:45.50 |
| 3 | Mohammad Al-Azemi | KUW | 1:45.52 |
| 4 | Asbel Kiprop | KEN | 1:46.02 |
| 5 | Boaz Kiplagat Lalang | KEN | 1:46.10 |
| 6 | David Mutinda Mutua | KEN | 1:46.64 |
| 7 | Richard Kiplagat | KEN | 1:46.88 |
| 8 | Duane Solomon | USA | 1:47.27 |
| 9 | Antonio Manuel Reina | ESP | 1:47.43 |
| 10 | Michael Rimmer | GBR | 1:47.68 |
| 11 | Alfred Kirwa Yego | KEN | 1:48.73 |
| | Sammy Tangui | KEN | DNF |
More: *Khadevis Robinson beats start studded Rome 800m field to win in 1:45.10
*whatever happened to Mark Everett?
Bolt Vs. Powell: Bolt's Nerves Cost Him At The Start, Powell's Nerves Cost Him The Race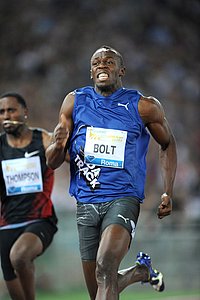 At the pre-race press conference, Bolt said he was "slightly nervous" before a race for the first time in his career. The nerves showed on Thursday, as Bolt got off to a horrible start which afterwards he attributed to his nerves.
Powell, known for choking coming up short in big races and running extremely fast in low-key races, got a good start, and appeared to have the race won. Then during the final meters, Bolt put on a tremendous surge, and Powell tightened up just enough to let Bolt slip by for the win in 9.91 to Powell's 9.93. It was the second-fastest time in the world this year behind Steve Mullings' 9.89. Bolt is scheduled to face Mullings Tuesday in the Czech Republic, so sprint fans will get two great matchups in the course of a week.
Afterwards, Bolt told Anna Kessel of the Guardian, "I was so nervous I got a bad start and then kind of started to panic. My coach will analyse the race. I was not proud of the race but I am getting there."
Why should we tell you about the race when you can spend 15 seconds and watch it below?
More Coverage:
*Bolt Edges Powell As - Believe It Or Not - Nerves Caused Him To Get A Bad Start www.guardian.co.uk
*"Beefed Up" Bolt Wins www.independent.co.uk
Men's 100m Video - If You're Outside Of The US, Click Here

Official Results - Men - 100 Metres - Wind : +0.6 m/s

| Pos | Athlete | Nat | Mark |
| --- | --- | --- | --- |
| 1 | Usain Bolt | JAM | 9.91 |
| 2 | Asafa Powell | JAM | 9.93 |
| 3 | Christophe Lemaitre | FRA | 10.00 |
| 4 | Kim Collins | SKN | 10.12 |
| 5 | Richard Thompson | TRI | 10.13 |
| 6 | Monzavous Edwards | USA | 10.20 |
| 7 | Mario Forsythe | JAM | 10.21 |
| 8 | Lerone Clarke | JAM | 10.31 |
| 9 | J-Mee Samuels | USA | 10.40 |
More Rome Diamond League Coverage And Results:
Results of all the other races here. Event-by-event results here.