Diamond League Begins Friday In Doha
Doha A Great Start to the Diamond League on Friday: Men's Start Lists Forget about time trials, the real track and field season gets underway with a great Doha meet that has some surprising great matchups. In the 800, world record holder David Rudisha vs the only guy who has beaten him in 3 years Mohamed Aman, in the 1500 World Champ Asbel Kiprop vs silver medallist Silas Kiplagat, plus Ryan Gregson, Russell Brown, Kenenisa Bekele in a stacked 3000m, and Jesse Williams in the high jump.

Women's Start Lists: Pamela Jelimo vs Janeth Jepkosei in the 800, Defar vs Cheruiyot in 3000, VCB vs Allyson Felix vs Shelly Ann Fraser in 100.
*Come Back By 2pm ET Thursday For LRC Preview of Diamond League Opener

Pre-Meet talk: *Justin Gatlin Returns To Place Where He Had "Magica" Doped Up Night He equaled Asafa Powell's WR of 9.77 when he was juiced to the gills in 2006.
*In Doha, avid Rudisha Talks About Usain Bolt - Seems Little Concerned That He's Facing Aman - The Man Who Beat Him Last Year
*Ryan Gregson Hoping to Secure His Olympic Birth in the 1500m in Doha on Friday Then he'll do the dream mile in Oslo
*After Missing Jamaican Meet, Asafa Powell to Run in Doha
*IAAF Fantasy Athletics Returns in Time for Friday's Diamond League Kickoff in Doha

Next Weekend: Liu Xiang vs. Jason Richardson + Kenisa Bekel At 5000 Will Highlight Next Week's Shanghai DL Plus some great mid-d action including Asbel Kiprop vs. Lewandowski and World champions Alfred Kirwa Yego and Mbulaeni Mulaudzi at 800m and Genzebe Dibaba vs. Janeth Jepkosgei at 1,500.
May 20: Haile G. Vs. Patrick Makau to Clash at Bupa Great Manchester Run

June 2nd: A Look At The Great Mid-d Action That Will Take Place At Pre Classic A great men's 800 with 5 WC finalists including Kaki, Amam and Americans N. Symmonds and KD. Jenny Simpson, Anna Pierce, Shannon Rowbury and NCAA ace Sheila Reid at 1,500.
*Pre 800/1500 Field Released: Nick Symmonds, KD Taking on Mohamed Aman, Yuri B, Mulaudzi; Jenny Simpson, Anna Pierce in Women's 1500
*Behind the Scenes with Paul Swangard, the Voice of Hayward Field

June 9th: Dayron Robles To Makes 1st US Appearance on June 9th at adidas Grand Prix He'll face Jason Richardson, David Oliver and Aries Merritt. *Robles ""I am very fired up to run in New York,"

UAE Healthy Kindey 10k Is This Weekend in Central Park
Bobby Curtis Is Purposely Not Racing Much Early This Year But He's Certainly Paying Attention To His Fellow Competitors Races He will race this weekend in Central Park at the UAE Healthy Kidney 10k."I'm definitely paying attention. I know who has the "A" standard and I know who's clos

Ben. St. Lawrence - Former Partier & Fat Guy - Is Also Running UAE St. Lawrence has lost 50 pounds since his fat days. "A reporter once asked me if the media overstated how hard I partied when I was younger. I told him that, if anything, it was understated. I was completely off the rails. One morning I woke up with my head in a cooler in a house I didn't know, with gravel under my lips and bruises all over my body. I thought, "What am I doing to myself?" and decided to try to become a normal person again. Not an athlete, just a normal person."
News From The UK
Japanese News
More Distance News
Monday's News
Former Interim CEO Mike McNees Leaves USATF He got paid $300,000 less than a "real" CEO and did a good job from what we can tell for 19 months (we at least didn't notice a difference).

American 1500m Stars Centrowitz, Lagat, Manzano and Jenny Simpson Added to adidas Grand Prix in NYC Plus former world 800m champ Mulaudzi will race current World Champ and record holder David Rudisha.
Toni Reavis Asks Track And Field Officials To Turn Off The Jumbotron He reacts to our quote of the day yesterday where Andrew Wheating admitted to using the Jumbotron to his advantage.
Weekend Leftovers
Gearing Up For The Olympics
Usain Bolt 9.82 Opener! Sanya Richards-Ross Beaten Usain Bolt showed he should be a force in 2012 as he blasted the field. In other action, Novlene Williams-Mills ran 49.99 to upset Sanya Richards-Ross in the 400 (50.11), Yohan Blake ran 19.91, and Carmelita Jeter ran 10.81. *IAAF
*Video And Flash Recap Of Jamaica Invitational And Bolt's 9.82 100m Opener Ben Bruce won the steeple and AJ Nation ran the 1,500 and was in the steeple too, as Hilary Stellingwerff won the 1,500.
*Do You Like Rap? An Usain Bolt Rap
*Jamaica's Kimberly Williams Hits TJ "A" Standard At Jamaican Invitational
On The Boards: Bolt 9.82 at 2012 Jamaica Invitational
*Brigette Foster Hilton 12.51 in 100h!!!

Japan: In Bad Weather, Liu Xiang Opens In 13.09, Allyson Felix Runs 11.22, Amantle Montsho Runs 50.52
*Recap Of Last Week's Japan Track Action: Paul Tanui Runs 13:19 5k And Jairus Kipchoge A World-Leading 8:18 Steeplechase

Remember This Name - Dennis Kimetto: Dennis Kimetto Breaks 25km World Record In Berlin In the last 3 months, Dennis Koech has become Dennis Kimetto and gotten 10 years older. He is the same guy, is a training partner of Geoffrey Mutai, and he is a huge talent. He's 3 for 3 in races outside of Kenya with this win.

Germany: Bekele Goes To The Marathon ... TUI Hanover Marathon, Two Super-Tight Finishes As Tamrat Bekele, Bekele's Brother, Runs 2:11:11 In Debut

Oxy Invitational Results: Jason Richardson Runs 13.30, Felix Sanchez 45.34, Ryan Bailey 10.01
*Oxy Inv. 800: Brenda Martinez Beats Alice Schmidt

Kenyan Prison Champs: Kiprop & All 1,500 Runners Watch Out: Silas Kiplagat Runs 1:44.8 In Kenya updated The IAAFand tilastapaja didn't even list an 800 PR for the guy.
Day 1: Silas Kiplagat Runs Fastest 800m Of Day (1:47.1) In Pouring Rain Isaac Korir won the 10k (28:25) over Africa XC champ John Mwangangi.
*The Usually Cocky Silas Kiplagat Taking On A More Humble Tone "I cannot say that I'm the best, I'm not the best, there are emerging athletes."
*IAAF: Kenya Dominates Youth Meet: 3k Won By Kenyan Boy In 8:06 They also dominated in the sprints.
Pro Distance News
Korir Running Chicago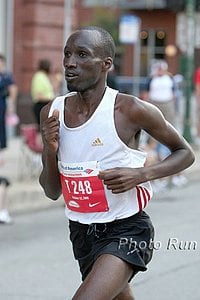 LRC Wesley Korir: From #T248 To #1 At Chicago The first time Wesley ran Chicago (photo here), he paid his entry fee like everyone else and started with the masses. Now 4 years later he's returning as the Boston Marathon champ. Learn more about Wesley (he hopes to be a US citizen soon) and how the late Sammy Wanjiru inspired Wesley to be a champion.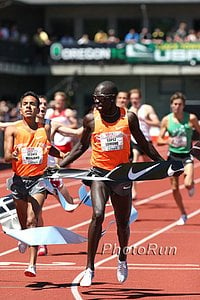 Alan Webb In San Jose Paper: "I almost try not to compare myself to what I did in the past ... I know that it's there. I know I can still do it."

In Case You Missed It: LRC Men's Recap: One Of The Most Exciting Men's 5,000s We've Ever Seen; Alan Webb Doubles; And Chris Derrick And Cam Levins Battle It Out With Sam Chelanga

LRC Women's Recap: Anna Pierce Is Back!!! Betsy Saina And Sally Kipyego Impress As Deena Kastor Returns Impressively But Comes Up Short

LRC Nick Symmonds Runs 1:44.0, Leo Manzano Outkicks Bernard Lagat To Highlight 2012 Penn Relays Distance Action Nick Symmonds soloed a 1:44.0 800m in impressive fashion to run away from Khadevis Robinson, who opened his 2012 season with a 1:44.9 in the DMR. All that did was give Bernard Lagat a big lead which he coughed up to Leo Manzano. Plus, Oregon, Princeton and Penn State (with Robby Creese on the anchor) all get their second Penn titles of 2012.
*US Dominates Relays At Penn AP Recap
*Madison, Felix, Knight, & Jeter Go 42.19 @ Penn!
*Asafa Powell At Penn For Sponsors, Not To Run
Lagat: "I felt that my legs were a bit heavy."
*Nick Symmonds: "I said if I'm going to come all the way here, I might as well throw one down" + Oregon's Anne Kesselring Gets Performer of Meet Post-race interview with Nick here.

Penn Saturday On the Boards:
Kenyan Olympic Team Named

Kenyan Olympic Marathon Team Announced: Makau AND Mutai Left Off The Kenyan Olympic Marathon team was announced (video here) and the AP is making a big deal of the World Record holder Patrick Makau being left off. The big news in our minds is the world's best marathoner in 2011, Geoffrey Mutai, being left off in favor of Mosop Mosop (and Abel Kirui). The women's team was the top 3 in London, although Employee #1 was surprised Boston Champ Sharon Cherop was left off.
*IAAF *Athletics West
Discuss: The Kenyan OG Marathon Squad Revealed
*World Record Holders Not Chosen For Olympic Team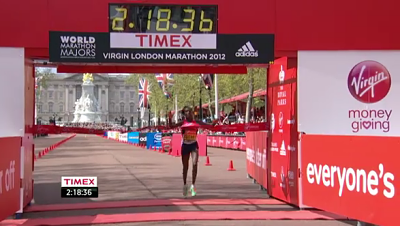 LRC Mary Keitany Runs Fastest Final 10km In Marathon History To Repeat & Become The #3 Performer In History The Kenyans certainly came to play when it was time to battle it out for the title and London Olympic spots, as they went 1-2-3-4-5, but in the end, everyone was left talking to about Keitany, who used a 5:07 23rd mile and 4:59 24th mile to pull away from world champion Edna Kiplagat and mark herself as the Olympic favorite.

On The Boards: *Live Update Thread *Kenyan Olympic team
Non-London Marathon News
Meet Glenn Randall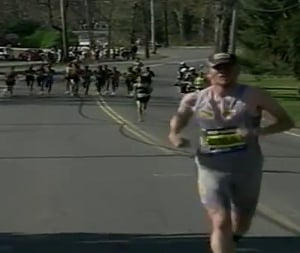 LRC The Story Behind Glenn Randall (The Guy Who Led Boston) Who was that dude leading the first 10k of the Boston Marathon? Believe it or not, he's an NCAA champion (in another sport). LetsRun.com talks to the guy who made the first 10k of the marathon entertaining. His frontrunning was no stunt and has paid off big time in the past. This time it resulted in a 2:37:13 61st place finish.
Recommended: Excellent Post By Science Of Sport On Boston Conditions: The Surge Between 25 And 30k And The Sun Did The Leaders In We'll have more LRC analysis but this post does an excellent job of explaining what happened. Also read this post that explains why telling people to over-prepare for the heat may not be the best idea. And only 427 people deferred to next year's race.



RRW: Wesley Korir Comes From Behind For Shock Victory Korir, the former University of Louisville, Ron Mann-coached athlete was 57 seconds behind the leaders with less than five miles to go. Then the heat took its toll on leader Levy Matebo and Korir stormed to victory in 2:12:40 as American Jason Hartmann used a similar tactic to get 4th in 2:14:31. The winner was nearly 10 minutes slower than last year. Crazy.
*Top Results/Splits *Winners Photos *Video Highlights

High School Big News
17-Year-Old High Schooler Cayla Hatton Runs 33:17 10,000m Olympic Trials "B" Qualifier The prodigy only started running full-time this year. Now she's putting up a time that would make her 5th in the NCAAs last year. Truly ridiculous. The time is so fast some were wondering if it was a lap short, but this video proves it's legit and shows she ran every lap (16:30-16:46).
*A Q&A With HS Prodigy Cayla Hatton Two years ago, she was in awe of Kara Goucher and asking for her autograph. Now she'll be racing against people like her at USAs in the 10k.
LRC Men's Marathon Trials Analysis And Reaction The 2012 Trials race was a classic. We throw some love to the top 3, ponder Ritz's future in the marathon, tell you who had the best debut, and tell you who that guy you never heard of was. Plus we talk about Meb's 74-year-old badass dad and look at the fortune of some old timers who didn't make the team, Josh Cox and Dan Browne, in addition to the ones who did (Meb and Abdi).

Race Recap: Meb Keflezighi Captures 2012 Olympic Trials Marathon Title
Caster Semenya II?
Is She a He? Furor Erupts Over Athlete's Gender At East African Track Champs "As Kenya won the 2012 East African Youth Athletics Championships over the weekend, the Semenya phobia gripped athletics fans at Namboole when a Kenyan 800m gold winner was mistaken for a male. The muscled and flat-chested Sheila Chepngetich led from the start of the two-lap race to finish in a time of 2:07:14. Because of her style of running, some fans started expressing doubt on whether she was really a girl."
*2nd Article With Addtional Photo Here
*Vaguely Related: MB: Did Brittney Griner Turn Down Olympic Basketball Spot Because She Feared Gender Testing?
Sprint News
Yohan Blake 1 - Usain Bolt 0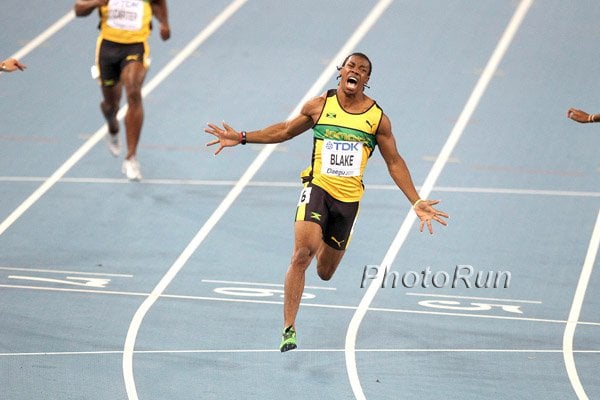 MB Yohan Blake Runs 9.84 Since Usain Bolt ran 9.82 last weekend, many may think the scorecard reads Usain Bolt 1, Yohan Blake 0. But we point that adjusting for wind, Blake ran 9.86 and Bolt ran 9.90. *Race Video *Article *More MB

David Rudisha vs. Usain Bolt At 400? Both Promise To Run 4 x 400 At Olympics Bolt will do it if Jamaica can win gold and Rudisha will do it if Kenya makes the final.

Bolt: 'I need to win ... and run fast' - Usain Bolt charts route to legendary status
*Gatorade Chooses Usain Bolt To Lead It's Global Ad Campaign
*Usain Bolt Ad in Britain Banned For Being Misleading
Cliff Notes Anyone?
Dutch Journalist Has Completed 288 Page Book on Sammy Wanjiru's Mysterious Death The Dutch version of "Death Runner - The tragic end of Olympic marathon champion Samuel Wanjiru" is out now - English version coming soon.
Big 10, Pac 12, SEC Meets Are This Weekend
Big 10: Wisco's Mo Ahmed's 27:34 Broke The Longest Big 10 Record On The Book's - Craig Virgin's 27:59 from 1976 Ahmed will run Big 10s this weekend, which Wisco hasn't won outdoors since 2007.

PAC 12: Jessica Pixler (Tebo) Is Very Pleased She Chose Colorado For Grad School She got a husband, grad degree, Olympic 'A' standard and 6th year out of the deal.

Excuses For Oregon Men Starting To Come OutTheir quest for a 6th straight conf. title is in doubt as Mac Fleet is out.

Duck Women Down To #7 in Latest Poll

Random But Potentially Interesting
Excellent News: 2004 Olympic Drug Samples May be Retested Rashid Ramzi was busted in 08 when his sample was tested for CERA.
Distance Profiles
Recommended Read: Excellent Look at Master's Ace Kevin Castille Castille was sexual abused as a kid and a former drug dealer. He finally quit feeling sorry for himself for the cards dealt to him in life and now he is rewriting the US master's record books.
*Pete Magill 15:11 5k at 50

Boston Globe Feature on Shalane Flanagan And Her Jump to the Marathon The Boston Marathon inspired her as a kid.
Sprint/Field News

Duke Twilight: LRC Michael Rutt Wins The Robby Andrews, Alan Webb, Curtis Beach 800m Showdown Rutt outkicked Andrews for the win. The win may be a shock to some, but Rutt had the fastest time in 2012 of anyone in the field and was a finalist at the World Indoors. Alan Webb ran 1:51 and Curtis Beach was a non-factor. Story, race video, and results.
On The Boards: Rutt Wins 1:46.86, Webb 1:50, Andrews 1:47.11
Some Good Interviews And Other Interesting Stuff
Christchurch's Queen Elizabeth II Stadium, Home Of 1974 Commonwealth Games, Will Be Torn Down Due To Damage From Last Year's Earthquake
Oregon Twilight: Andrew Wheating Returns With 3:44.97 Win Over Dorian Ulrey Wheating got the win over former World Championships team member Dorian Ulrey in windy conditions. Video of last lap on right of homepage, full race here. Tommy Skipper no-heighted and Jordan Hasay ran 4:19.90 and 2:08.32.
*More On Wheating's Win Here

Oregon Twilight On the Boards: Wheating opens with 3:44.97
*Franek runs 9:39.37 steeplechase WL
*HASAY doubles? 4:19.90 and 2:08.32
Pre-Race Profile: Bridget Franek Wants To Make Olympic Final In Steeple

Lilac Bloomsday: Kenya's Allan Kiprono, Ethiopia's Mamitu Daska Take Bloomsday Titles Janet Cherobon-Bawcom was second overall 57 seconds behind Daska. *Results

Oxy Invitational Results: Jason Richardson Runs 13.30, Felix Sanchez 45.34, Ryan Bailey 10.01
*Oxy Inv. 800: Brenda Martinez Beats Alice Schmidt

Remember Him? German Fernandez Runs 3:43.88 Two weeks ago, he ran 3:46.32. Now he's down to 3:43.88. Coach Dave Smith said Fernandez "looked the best he's looked in a long, long time. ... He competed well ... and is kind of starting to look like the old German Fernandez."
*Message Board Thread Here

College Conference Action: Hepstrack.com *BigEast Central *More Conferences
*Heps: Princeton Men Win Ivy League Donn Cabral was Most Outstanding Performer after winning the steeplechase (8:43) and 10k. *Results
*Cornell Women Win Heps Abbey D'Agostino was female Most Outstanding Performer after setting two meet records in the 1,500m (4:17.90) and the 3,000m (9:24.64). *Results
*MB: HEPS track and field--OUTDOOR 2012
*Big East Champs: Notre Dame Men And Louisville Women Win *Full Results
*MB: Big East men's 10K -- won in 33:06!!!?!
*MB: Patriot League Outdoor 2012

High School: Mary Cain Runs 4:17.1 - Just Misses Jordan Hasay's Sophomore 1,500 Record (4:16.98)
*Marcus Dickson Of Small Washington High School Runs US-Leading 4:05.83 1,600 At Dual Meet
*Angel Piccirillo Runs 4:44 And 2:09 For Mile/800 Double In PA
*Freshman Alexa Efraimson Wins Nike/Jesuit Twilight Relays 1,500 In 4:23
*Sheldon Prince Wins 100 (10.86), 4x1, & 4x4 At Nike/Jesuit
*Grosse Pointe South Has 4 Girls Go 5:00 Or Faster In 1,600
Sad News For Chris Solinsky Fans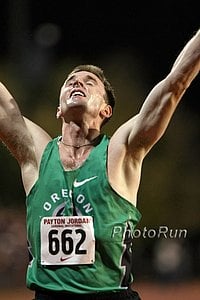 Chris Solinsky Will Not Enter The 2012 US Olympic Trials "I tore 90% of my hamstring off my pelvis. I'm going to have to bag it this year and swallow the hard pill that it's not going to happen. It's a matter of my body not responding."
*LRC Message Boarders Do It Again: Solinsky Pulls Plug on 2012
*Quick Interview From Before Announcement He also talks about how if he bumps into the rival Oregon Project guys on a run, they'll run together.
Diego Estrada Update
LRC Diego Estrada Would Have Been Eligible To Run Olympic Trials Diego Estrada, the recent American citizen and NAU redshirt junior, ran the second-fastest time ever by an American collegian at 10,000m on Sunday. Afterwards, he declared he'd be running at the Olympics for Mexico. One of the reasons he cited for his decision was that he wasn't eligible to run the US Olympic Trials. Turns out that was incorrect, as Diego was given erroneous information.
Olympics-Related News
Draft Lopez Movement Begins 2012 Pre Classic Men's 5K: Kenenisa Bekele & Mo Farah To Duel Before London Ritz, Rupp, and Teg will lead the American charge. We want to draft Lopez Lomong!!! *MB: Discuss

Brimin Kipruto Hoping To Become 1st Man To Defend Steeple Crown "Running is my office and I have to take it very seriously. I'm training twice a day, in the morning and evening and sometimes, I train three times a day."
The Fantastic 2012 Stanford Payton Jordan Cardinal Invite Is History *Full Results *Race Videos
LRC Women's Recap: Anna Pierce Is Back!!! Betsy Saina And Sally Kipyego Impress As Deena Kastor Returns Impressively But Comes Up Short Where to begin? Anna Pierce returned to relevance with a fantastic final 200 to win the women's 1,500 as Deena Kastor impressive returned to the track but came up a little bit short. Sally Kipyego showed that she's way, way better than your average Olympian. Plus another Colorado steeple star? And strong runner-up showings by Amy Hastings and Julia Lucas.

RRW: Sally Kipyego Leads Six World-Leading Marks At Payton Jordan Cardinal Invitational *IAAF Recap
*Iowa State's Betsy Saina (Who Is Redshirting To Focus On Kenyan Trials) Runs World Leader

MB: DEENA KASTOR 31:49 *Betsy Saina 31:15. Collegiate Record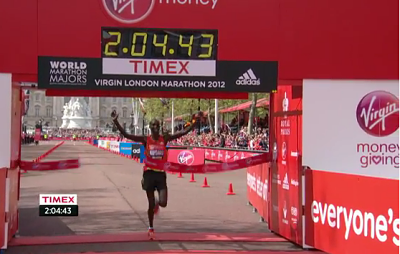 LRC A New #1: Wilson Kipsang Destroys One Of Greatest Marathon Fields In History In his first marathon major, Kipsang certainly wasn't scared of the bright lights, as he did something unheard of in major marathoning in the year 2012. He took off before halfway and used a 14:09 fifth 5km to obliterate the lead pack, as a 1:02:12 halfway wasn't fast enough for him, and he went to earn the largest margin of victory in 30 years, while Martin Lel was second. We recap it and speculate as to who gets the Kenyan Olympic spots and tell you why a DNF in our minds is a positive for someone's Olympic hopes.

LRC Meet Wilson Kipsang: "If I had to compare him to an NFL quarterback, I'd compare him to Peyton Manning."

*NYTimes Recap Of London *London Organizers Men's Race Recap *2:08 Audio Interview With Kipsang *IAAF
*Joe Battaglia's Picks For Kenyan Team: Kipsang, Makau, Kirui
On The Boards: *Live Update Thread *Kenyan Olympic team Pre-Race: Makau won't start on Sunday and Kirui will win
*Video Highlights Here

Sharon Cherop Outkicks Jemima Sumgong Cherop was third last year and third at the World Championships but she got the huge win here as she outdueled countrywoman Jemima Sumgong. Believe it or not, this was the 5th straight year the women's race has been decided by 3 seconds or less.
*Top Results/Splits *Video Highlights Including Exciting Women's Finish
*RunnersWorld Article On Cherop's Win, Post-Race Interview As Well
*40-Year-Old First American Sheri Piers Is From Maine But Was Ready For Heat Thanks To Training On A Treadmill Text and interview.
Great Read If You Didn't Read It Yesterday: Alberto Salazar Unplugged - Part II This interview with Amby Burfoot is great. From Ritz's struggle in the marathon, to Ritz's form change, to Alberto's competitive relationship with Jerry Schumacher, to Galen Rupp's marathon future and, to Alberto's biggest regrets, Amby Burfoot leaves no question unasked and Alberto doesn't shy away from any of them and talks about Rupp running 12:45 and in the 26:20s.
*Part I: Alberto's Book & The "Duel In The Sun"
MB: An Incredible Amby Burfoot Interview With Alberto Salazar
Ryan Hall Movie
LRC Ryan Hall Feature Film In The Works A full length film on Ryan Hall's quest for glory in London 2012 is in the works. Learn more about the film "41 Days," watch a trailer, and learn how you can help support the film and get some Ryan Hall memorabilia. Image below.
On The Boards: Ryan Hall's Big News
Khannouchi's Retirement
LRC Carey Pinkowski Reflects On Khalid Khannouchi's Career: "He Was The Absolute Best I've Ever Seen" The Chicago marathon director talks about the man who made his name in the Windy City. Plus quotes from London Marathon director Dave Bedford and a tweet from Ryan Hall.

LRC Marathon Legend Khalid Khannouchi Officially Retires Khalid Khannouchi, one of the greatest marathoners of all time, has told LRC that he is officially retiring from competitive running. Khalid helped revolutionize the sport of marathon running, setting two world record in the span of three years, including his final one at the "Greatest Marathon Ever Run" - the 2002 London Marathon matchup that featured Khannouchi, Paul Tergat and Haile Gebrselassie.
Flanagan Over Davila, Goucher Gets Third As Top 4 All Break Old OTrials Record Flanagan (2:25:38) pulled away from Davila (2:25:55) and Goucher was third in 2:26:06. Amy Hastings broke the old Trials record at 2:27:17 but didn't make the team. Deena Kastor was 6th in 2:30:40.
Eight Days of Glory
LRC Eight Days of Glory Surprise: Kenyan Olympic Marathon Team Analysis The marathon world has turned upside down in 2012, as the six best marathoners in the world in 2011, all from Kenya, have run their spring marathons and only one, Wilson Kipsang, came out on top. The Kenyan Olympic team of Kipsang, double World Champ Abel Kirui, and Moses Mosop is not the team that would have been selected at the end of 2011. Emory Mort, author of the 8 Days of Glory Series, tries to make sense of it and he looks at the Kenyan and American medal chances in London.
LetsRun.com Track/Training Talk
32 Minutes With Diego Estrada and NAU Coach Eric Heins (Listen Below or download here)
Soon to Be Mexican Olympian Diego Estrada on Two Time NCAA Champ David McNeill: "Just having them there and his work ethic (inspired me). I was really reckless. It was because of him I learned how to recover. He would get upset with me because I would hammer the workouts because I wasn't working out I was racing him. It was because of him I managed to learn how to stay healthy." We'll have more later on this but you can listen below.
Michael Rutt > Robby Andrews Vs. Alan Webb Vs. Curtis Beach (More Here)
Usain Bolt 9.82 (Larger, More Here)
The Weekly Review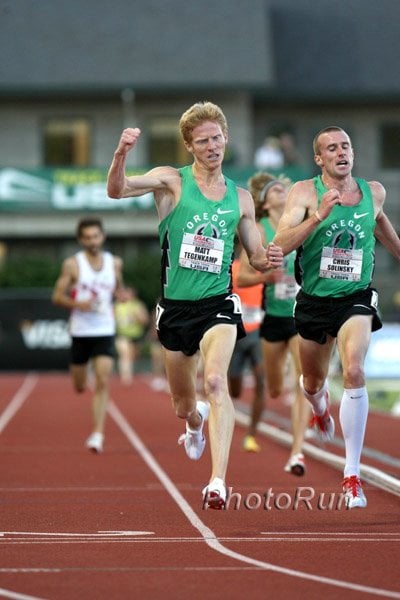 LRC WTW: Is Lopez Lomong A Medal Contender Gold Medal Contender? Is Matt Tegenkamp Still Relevant? Are Alan Webb And Anna Pierce Back? Plus Boston, London And The Return Of Bekele So much has happened the last few weeks, we haven't been able to stay on top of it all. We've been so busy trying to cover one big event and preview the next big event that we haven't had time to do our weekly recap. But no worries - we get everyone caught up on the last three weeks with a monumental week in review that includes five thoughts about 2012 Stanford, five thoughts about the 2012 Boston Marathon, and five thoughts about the 2012 Virgin London marathon. Along the way, we hype Lopez Lomong as a gold medal favorite, try to make sense of Kenenisa Bekele's return and wonder if Matt Tegenkamp is still relevant anymore.
Video: The British Miler, Episode Two On Andy Baddeley, who hit the "A" standard with 3:35.5 at Payton Jordan despite having a heart condition.
*Q&A With 1960 & 64 Olympian Dyrol Burleson, Who Was A 3-Time NCAA Champ And Has 1st Sub-4:00 At Hayward Field
*A Look Back At The 1912 Olympics: Arnold Strode-Jackson Just Showed Up And Entered And Won Gold
Another Steeple Fail (Getting Picked Up By USA Today Blogger)
We Never Posted These: Paula And Haile G In Vienna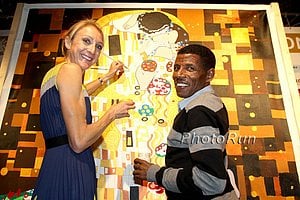 This Deserves More Attention
RIP: LeRoy Walker Pioneering 1996 USOC President, 1976 US Olympic Track Coach Dies Dr. Walker, the grandson of slaves, was born in the segregated South yet rose to the top of the US Olympic ranks. NY Times obituary.
*Legends At Penn Remember LeRoy Walker
*Philip Hersh: LeRoy Walker Was A Man Of Olympian Achievement
Virgin London Marathon Photos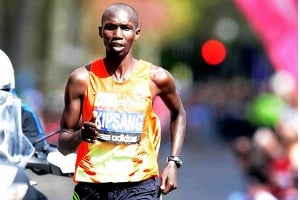 Updated Boston Photos (Now With Many More Men's And Women's Photos)
Interesting Read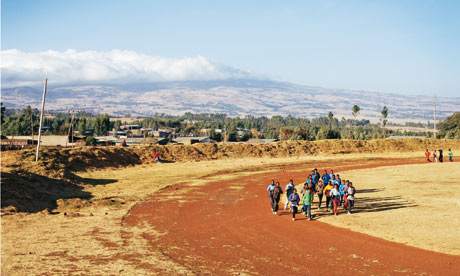 Bekoji, Ethiopia: Town Of Runners By now many of you have heard of Iten, Kenya - the tiny town where many Kenyan stars train. The Ethiopian town of Bekoji may be even more impressive, as it is where Kenenisa Bekele (3 Olympic golds), Tirunesh Dibaba (2 Olympic golds), Derartu Tulu (2 Olympic golds), and Fatuma Roba (1 Olympic gold) were all born. Lengthy Guardian profile on the town and its unheralded coach Sentayehu Eshetu. A movie on the town - "Town of Runners" - comes out later this month.
*Bekoji Photo Gallery
Alberto Salazar's Book Released And Endurance Now On DVD
More London
Employee #1 Goes To Kenya

LRC Meet Mary Keitany The half marathon world record holder destroyed the best women's field in the world last year in London. Then on the hilly New York course, she went out faster than Paula Radcliffe during her world record before falling apart miserably. Now she has to qualify for the Olympics in London. Get to know Mary Keitany.
*Keitany Photo Gallery *Getty Images Photos From Kenya


LRC Meet Wilson Kipsang: "If I had to compare him to an NFL quarterback, I'd compare him to Peyton Manning." link fixed We share with you this unpublished segment on Wilson Kipsang from Employee #1's final piece in the 8 Days of Glory Series. Short segment with video interview with Kipsang overlooking the Rift Valley.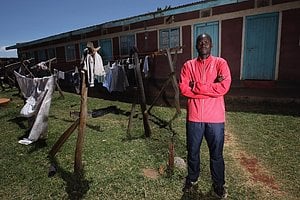 LRC The Electrifying Abel Kirui The two-time World Champion has dominated non-rabbited races. Can he do the same in London on Sunday? Learn about his training and his set-up in Iten as he talks about phantom planets and more - from Employee #1's trip to Kenya.
New: Renato Canova Talks About Abel Kirui (Video)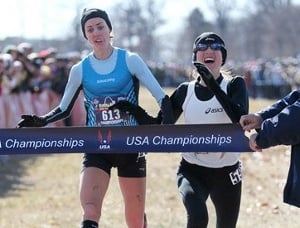 Training Corner (More In The Training Forum)