The Weeks That Were In Running: April 9-29, 2012
To read the last Week That Was, click here.
By LetsRun.com
May 3, 2012
*LRC Special: 8 Days For Glory - A Kenyan Flavored Preview Of The Upcoming Men's Marathon World Record Assault
*LRC Moses Mosop Goes For Glory: "Moses Has Speed That Has Never Been Seen"
*LRC Marathon Series #2 A Look Back At Boston 2011 And A Look Ahead To Monday's 116th Running
*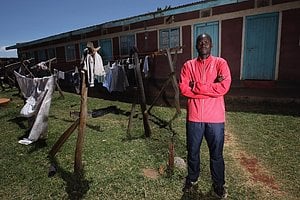 LRC The Electrifying Abel Kirui The two-time World Champion has dominated non-rabbited races. Can he do the same in London on Sunday? Learn about his training, his set-up in Iten, as he talks about phantom planets and more from Employee #1s trip to Kenya.

LRC Meet Mary KeitanyThe half-marathon world record holder destroyed the best women's field in the world last year in London. Then on the hilly New York course she went out faster than Paula Radcliffe during her world record before falling apart miserably. Now she has to qualify for the Olympics in London and faces NYC and World Champ Edna Kiplagat, 2:19 runners Lucy Kabuu, and Florence Kiplagat, plus Priscah Jeptoo and former World #1 Irina Mikitenko. Not to mention the proming Ethiopian Ejegayehu Dibaba. Without question the top women's marathon in the world. Get to know Mary Keitany.
*Keitany Photo Gallery *Getty Images Photos From Kenya

LRC Meet Wilson Kipsang: "If I had to compare him to an NFL quarterback, I'd compare him to Peyton Manning." We share with you this unpublished segment on Wilson Kipsang from Employee #1s final piece in the 8 Days of Glory Series. Short segment with video interview with Kipsang overlooking the Rift Valley.
*LRC Men's Preview: 2012 Boston Marathon Men's Preview: Can Anyone Possibly Stop Geoffrey Mutai?
*LRC Women's Preview: Can Kilel Defend Against NYC Champ Dado?
*Andrew Wheating Talks About His Comeback, Making The '08 Games, And Looking Ahead To The Trials
*Running Times: "Often underrated, enigmatic Abdi Abdirahman has quietly made four Olympic teams"
*NY Times: The Footprints On A Path To Gold, Amantle Montsho Overcomes Obstacles To Become A World Champion
*Worth A Read: The Cool Story Of How Scott Overall Made The British Olympic Marathon Team A year ago he was selling shoes about to quit the sport. Now he's an Olympic marathoner.
*LRC The Story Behind Glenn Randall (The Guy Who Led Boston) Who was that dude leading the first 10k of the Boston Marathon? Believe it or not, he's an NCAA champion (in another sport). LetsRun.com talks to the guy who made the first 10k of the marathon entertaining. His frontrunning was no stunt and has paid off big-time in the past. This time it resulted in a 2:37:13 61st place finish.
*Brief Chat With Dick Beardsley On His Dual With Alberto Salazar And His Career Afterwards
*Sports Illustrated: The Mercurial Life And Mysterious Death Of Sammy Wanjiru
*Adam Goucher Writes On Walking The Line Between Tough And Stupid
*Meet 2:19:44 Marathoner Florence Kiplagat, Who Is Focused On Winning London
****
Other News Of Note From The Last Few Weeks
2012 Payton Jordan *Full Results *Race Videos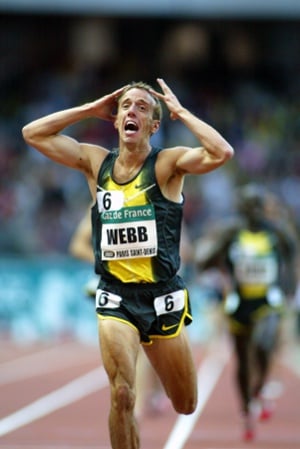 LRC Men's Recap: One Of The Most Exciting Men's 5,000s We've Ever Seen; Alan Webb Doubles; And Chris Derrick And Cam Levins Battle It Out With Sam Chalanga
LRC Women's Recap: Anna Pierce is Back!!! Betsy Saina And Sally Kipyego Impress As Deena Kastor Returns Impressively But Comes Up Short
RIP: LeRoy Walker Pioneering 1996 USOC President, 1976 US Olympic Track Coach Dies

*Thanks To Facebook, Brit Lee Merrien Named To Olympic Marathon Team

*Penn Results *Drake Results
LRC Nick Symmonds Runs 1:44.0, Leo Manzano Outkicks Bernard Lagat to Highlight 2012 Penn Relays Distance Action

*Kenyan Olympic Marathon Team Announced: Makau AND Mutai Left Off

*USATF Hires Sports Marketer And Former Board Member Max Siegel As CEO
LRC A New #1: Wilson Kipsang Destroys One Of Greatest Marathon Fields In History
LRC Mary Keitany Runs Fastest Final 10km In Marathon History To Repeat & Become The #3 Performer In History The Kenyan certainly came to play when it was time to battle it out for the title and London Olympic spots as they went 1-2-3-4-5, but in the end, everyone was left talking to about Keitany who used a 5:07 23rd mile and 4:59 24th mile to pull away from world champion Edna Kiplagat and mark herself as the Olympic favorite.
Kansas Relays: Peter van der Westhuizen Wins Elite Mile In 3:56.90 Over AJ Acosta (3:57.08) And David Adams (3:58.44) Nick Symmonds was 4th in 4:01.57 as Jordan McNamara was 6th and Will Leer 7th. *Race Video *Bearded AJ Acosta Says He Won't Shave Until He Gets A Contract
*Bershawn Jackson Sets World Lead (48.2) In 400 Hurdles DeeDee Trotter won the 400 in 50.94.
Mt. SAC Relays: Live Results *Mt. SAC Entries
Day 3: LRC Walter Dix 9.85!!! Duane Solomon Crushes NCAAs Best, Molly Beckwith Remains Undefeated Outdoors & Jeremy Wariner Loses Walter Dix's time was wind-aided but impressive nonetheless. Jeremy Wariner broke 45 but lost as Duane Solomon crushed a strong 800 field that included Charles Jock, Ryan Martin & Cas Loxsom. Beckwith's 2:00 was easily best of the ladies 800s. Plus Jason Richardson, a 17-year-old winner in the women's 400, and more.
*AP Recap Of Day 3

LRC Cam Levins 13:18.37 Outkicks Lawi Lalang The Southern Utah legend, Levins, known for his 160-mile weeks, used a 55-second last lap to become the first collegian to defeat Lalang at a distance over 1,500m this year. Former NCAA Champ and LRC Puma Faas Challenge Winner David McNeill also got an Olympic "A" qualifier (sub-13:20) in 3rd. Molly Huddle won the 5,000 at Mt. SAC, as Abbey D'Agostino and Lucy Van Dalen were third and fourth in the 5,000. Jenny Barringer did not run. Canada's Hilary Stellingwerff (4:31.04) and French drug cheat Jamal Aarrass (3:52.21 ahead of Taylor Milne and Nate Brannen) won the Puma Miles and $2,500.
*Last Lap Or Full Video Of Levins' Win

MB: Evan Jager Throws Down Last Lap of 64, Wins Steeple Debut In Olympic B Standard of 8:26 Jager's steeple debut was a big success as he crushed WC team member Dan Huling in he process and he took 45 seconds off his PR. In the 10k, Stephen Sambu ran 28:06. *Track Focus On Jager *Post-Race Interview with Jager *Race Video
2009 World 10k Bronze Medallist Moses Masai Wins Kenyan 10k "Mini Trials" *Top 10 Results Out of the 31 invited, only 17 showed up, and 15 finished, 13 of which are heading to Eugene. Masai won in a tactical 28:10 over Olympic 5k silver medallist Eliud Kipchoge (28:11.0) and Lucas Rotich (28:17.4). In a sign of stupidity, Olympic 10k bronze medallist Micah Kogo (6th) and Daniel Salel (11th) were cut because they don't have the Olympic "A" standard (27:45). So if you showed up and had the "A" standard, all you had to do was finish.
Rotterdam: LRC
No WR - No Kenyan Win: Ethiopia's Yemane Adhane Spoils The Party & Wins 2012 Rotterdam Marathon in 2:04:47
George Mason:
LRC
Alan Webb Redeems Himself With A 3:43 1,500m / 14:15 5,000m Double, Robby Andrews Opens With 1:49 Win
Alan didn't win the 1,500m, but his performance was so much better than last weekend's 1:54/3:54 debacle that all Alan Webb fans like
this guy
can breathe a sigh of relief. And the message boards went nuts with Webb:
here
,
here
,
here
,
here
.


Jamaica:
Usain Bolt Blasts Asafa Powell In 4 X 100 To Open Season
World 100m champ
Yohan Blake
ran a super-impressive
9.90 to open
the season as well and didn't even get mentioned in the Reuters article.

*
Video Of Bolt's 4 X 100 Win Over Powell
*
Video Of Blake's Opener
****
Quotes Of The Day/Last Few Weeks Homepages:
Note: To see a particular day's homepage, click on the hyperlink of the date on the left. The quote's hyperlink will take you to that particular article - not that day's homepage.
Monday 4/30: "It's always less good when you lose - especially to someone in college, but I'm pretty stoked and it just shows you what attitude and expectations can do. I saw that (Stephen) Sambu and (Leonard) Korir did it last year (got the "A" standard in the race) so I thought I can do it too."
- Chris Derrick after setting the new American collegiate record of 27:31.38 (say bye bye to Galen's 27:33.48) thanks to a 13:36 2nd 5,000 at the 2012 Payton Jordan Invite. Derrick's big run was just one of many at a very entertaining Stanford meet that saw a little bit of everything. From the return to form of Anna Pierce to the return of Deena Kastor to an encouraging double from Alan Webb to Cam MF Levins. The meet had all of that and maybe the best finish to a 5,000 that we've ever seen.
---
Sunday 4/29: "I said if I'm going to come all the way here, I might as well throw one down."

- Nick Symmonds on his super impressive 1:44.0 relay split at the Penn Relays in the DMR, where Leo Manzano outkicked Bernard Lagat to win. Recap of Saturday's distance action at Penn here. Interview with Nick here.
---
Saturday 4/28: "First of all, I wanted to make his dream a reality.

Dima (her husband and coach) was sure over the last four years that I could set a new world record in the pentathlon."
- Nataliya Dobrynska on winning the World Indoor pentathlon and setting a world record in the process two weeks before her husband and coach, Dima, died of cancer. Dima texted Nataliya instructions at the meet as he watched on TV. In heptathlon news, Nataliya's rival Jessica Ennis opened her 2012 javelin season yesterday throwing the jav farther than she did in all of 2011.
---
Friday 4/27: "I've stopped following people on Twitter who talk about Olympic Trials and Olympic stuff all the time. I don't follow the social networks that constantly buzz around the Trials. I don't want to know what people are saying. Because everyone always brings up the pressure of running certain times, and they put this unofficial pressure on you, that if you read into it you need to be top three, and if you don't, everyone is going to hate you for it. I don't like sitting around with all this time thinking 'If I don't do this and that.' ..."
"Obviously, it's pretty important. I'm trying not to put pressure on it, because everyone is doing that for me. Make it or not, I'll be 28 when the next Olympics come around. My personal pressure in 2016 will be far greater than right now. I'm 24; I don't think the expectations for myself should be very high, because I like to think I'll have another chance in four years."
- Andrew Wheating talking in about his comeback from injury and expectations for the season. He says he's finally "turned the corner on this injury" and has had some good workouts. He'll open his season on May 18th.
---
Thursday 4/26: "I think we have our best shot in the last few years to bring home another wheel. We're definitely looking forward to having a really strong DMR. And what I am most excited about is I think this year we are actually going to have a 4 x 800. We haven't had a 4 x 8 in this meet in over 10 years."
- Villanova coach Gina Procaccio talking about her team's chances for victory at the 2012 Penn Relays, which really get going on Thursday. It's hard to believe that Sheila Reid has never won a Penn Relays title.
---
Wednesday 4/25: "There are a lot of people out there on message boards and stuff who don't know what the hell they're talking about. But that's OK, we need them; they motivate us to get out and train to prove them wrong. Coming into the trials people doubted me; they were saying, 'This guy is done, he should retire.' When I'm done, I'll know I'm done. I'll walk off the track--you won't have to push me off."
- Abdi Abdirahman calling out all those message board haters who counted him out going into the Trials.
---
Tuesday 4/24: "I've had to ask myself that question often. I still don't have the answer. I often compare running to a job in sales. If you run well, or make a lot of sales, you can do well. But I wasn't one of those big stars coming out of college—no Jorge Torres or Dathan Ritzenhein. A guy at my level can easily get pushed out of the sport if he has a period when he doesn't run very well. It can be a tough, tough sport to continue. I don't have a shoe sponsorship right now. I live from payday to payday."
"... Running was simple in high school and college. Now it's not so simple; it's a business."
- First American in Boston, Jason Hartman, answering the question "Do you make enough money in this sport to keep at it?" Even finishing as the first American in Boston (4th overall) and having a 2:11 PR, he is still without a sponsor.
---
Monday 4/23: "I made an early attack because the group was very strong and if we had gone to the latter stages together, it really would have been a problem to leave the group as we'd know how to attack each other."
"I knew when I went away they would have to work very, very hard to beat me as I was feeling so good in myself."
"Now I think I will be the Olympic favourite."
- Wilson Kipsang talking after destroying one of the greatest marathon fields in history. Thanks to a ridiculous mid-race 14:09 5km, Kiprop went on to earn the largest margin of victory in 30 years and make himself the Olympic favorite.
---
Sunday 4/22: "The whole of our coaching has been screwed up for the last 20 years. It was the same situation in the States for a while but they understood it earlier. There was this obsession that you do not need mileage to be good, that you don't need to do big miles and that you've got to be cleverer than that. But you don't have to be much cleverer than that.
The coaches here are way too protective, worrying too much about what's going to happen at the Southern Championship next week as opposed as to realising the journey the athlete's got to go on in order to be at the Olympic Games eight or 12 years ahead."
- Retiring Virgin London Marathon head Dave Bedford saying why he thinks the British aren't better at distance running. The US From about 1990 to 2000 can relate.
---
Saturday 4/21: "The training camp roommates are cooking some white rice, with fresh raw cow's milk on the side, and a dish of potato stew, all in a tiny space. ... Just outside in the quad between athlete's rooms, a woman uses a rope and a bucket to pull water up from a well. Kids linger curiously, staring at us and laughing at their images on the video camera. The training camp is a very different world than the glitz, glamour, and big dollars of the Virgin London Marathon ..."
- Employee #1 describing Abel Kirui's training camp in Iten, Kenya. Kirui, the double world champion, claims to have gotten his speed from his great grandfather who hunted antelope on foot. Learn about him or Mary Keitany as the Eight Days of Glory is now down to one - Sunday's Virgin London Marathon.
---
Friday 4/20: "I'm still trying to find that happiness in life. I want to find that defining moment that you're satisfied and you've done what you want to do in your life. (If I win the Olympic 100m gold), I hope it gives me that satisfaction. I hope I'll get that gold and it gives me that satisfaction of feeling that I've really accomplished something."
- US sprint sensation Tyson Gay talking in an introspective London Evening Standard feature. In the piece, a confident Gay talks about his mom's influence in his life, a cocky Maurice Greene, and why he thinks he should have already run 9.62.
---
Thursday 4/19: "(I felt I) should've let loose a little more. I was physically holding back and I wasn't flowing. Then all of a sudden, I was all alone. I really wasn't going that fast. Last year I would've been way off the back. At 9 km I started feeling pretty bad and had a rough last 20 miles."
"During every good race of my life, I've been aggressive. People thought I was being stupid, but I live by the sword and I die by the sword. Sometimes it doesn't work out. I'm at peace with this. It's not always going to be your day."
- Former Dartmouth Cross-Country standout Glen Randall, talking about leading the first miles of Monday's Boston Marathon. *MB:"Pull a Glenn Randall (GR)."
---
Wednesday 4/18: "Any Olympic Games is a life-changing opportunity. But let's not beat around the bush - any member of the British team who wins a gold this summer is going to be set up for life."
"... Take someone like Dai Greene - in the space of 48 seconds he could win or lose an Olympic title which will transform his life. One bad move now could completely dictate which way it goes. So every single time he puts one foot in front of the other in training or a race, he will be 100% focused on what he is doing and what it will mean for his chances at the Olympics. ... And Dai has got so many people to beat I don't have enough fingers to count them all. He could break Kriss Akabusi's British record and it still might not be enough. Being a gold medal contender is a completely different thing from being a gold medal winner. The athletes know that, but I'm not sure the public do."
- UK two-time former Olympian Dean Macey, talking about the reality of trying to win an Olympic medal and the physical, psychological, and emotional pressure athletes are facing now that the 2012 Games are getting so close. UK Coach Charles van Commenee agrees saying that while the UK public likes to call Mo Farah, Jessica Ennis and Dai Greene favorites, they can "easily end up without a medal."
---
Tuesday 4/17: "[At that point] (35km)I thought if I finished number five then that would be awesome."
- 2012 Boston Marathon Champion Wesley Korir, who was 57 seconds back at that point and came back to get the win in the heat in Boston. American Jason Hartmann used a similar come-from-behind strategy to get 4th and he almost got the quote of the day for what he said here and here. See him here.
---
Monday 4/16: "If the winning male runs as well as the top two did last year, I'd predict the winning time would be somewhere in the mid-2:08s. My guess is that the weather would make it roughly 3:00 slower than ideal temperatures in the 40s or 50s. It might be at least 5 minutes slower for the average runners who are out there when it's 80 degrees or above, but some of the elites are extraordinarily good in hot weather and will also finish before having to run as long in the hottest temperatures. One also needs to remember that last year's times probably got a benefit of being on the order of 2:30 faster than normal thanks to the extremely generous tailwind. So altogether for the elite men, look for the times to be about 5:30 slower than last year if they make an honest race of it and churn out similar performances."
- LetsRun.com coaching (and weather) guru John Kellogg, the man who basically amazingly correctly predicted the 2:03s last year in Boston, telling you what impact the hot weather will have on this year's Boston Marathon.
---
Sunday 4/15: "It's not like the 4-minute mile.

I don't think we'll be seeing 2 hours on the men's side any time soon.''
- Boston Bill Rodgers giving some sanity to the sub-2 hour marathon "debate." Bill also said last year's times were "flukey."
---
Saturday 4/14: "In my Olympic history I don't think I have achieved my potential as an athlete. That's what I want when I look back at my career. I want to be able to say I gave it my best shot. In Athens I didn't finish and in Beijing I was not able to give it my best shot because I did not have training and preparation behind me."
"I just want to be in the best shape I can be. Not to stand on that start line and say: 'Oh my God, I have this injury and that injury.' I just want to be able to go out and race."
- Paula Radcliffe, talking about her aspirations for the 2012 London Olympics. She says she thinks she has a chance to win, but she'd be happy with a medal of any color. Her first tune-up test will be Sunday's Vienna Half Marathon which is a chase race where she'll get a 7 minute and 52 second head start ahead of Haile Gebrselassie and he'll try to run her down.
---
Friday 4/13: "I think if we're honest with ourselves we're all kind of wondering just how much - or how little - those times from 2011 were skewed by 'favorable conditions.' Remember, unlike most courses today, Boston has these archaic features on its course called hills, typically observed to slow down the runner. So how great was Mutai's run in 2011?"
"... I dare say that the most important thing we can take away from the Boston Marathon is that limits and preconceived notions of what's possible are boundaries made to be broken. Geoffrey Mutai pushed marathoning ahead by what would have been considered a light year in 2011. If you told your friend that someone was going to nearly run 2:02 in Boston ... c'mon you wouldn't even have said that. I think it's worth asking ... what boundaries are bound to be eclipsed? By what incredible margins? And ... are we ready!? To me, this kind of novelty is exciting, and it can be found in nearly every human endeavour, for better or worse. "

- LRC Employee #1 Emory Mort, talking about how in 2011 Geoffrey Mutai helped break down the limitations humans set on themselves in the marathon by running 2:03:02. Starting Sunday in Rotterdam will be an amazing 8 days of marathoning: Rotterdam, Boston (Monday), and London (next Sunday). LRC Employee #1 is back from Kenya and this is the second piece in his series on the Kenyan greats.
---
Thursday 4/12: "We just sort of collapsed into each other's arms after the finish. It was sort of like a hug, and Alberto told me, 'Dick, no one has ever pushed me like that before.' That meant a lot to me."
"A few minutes later, some security guards were leading me to the interview area in the Prudential Garage, and we walked under the podium where Alberto was receiving the laurel wreath. For some reason, I looked up at him just as he was looking down at me. Our eyes met. And without any hesitation at all, he reached his arm down and pulled me up beside him. When they raised his arm in victory up there on the podium, he raised my arm, too. I won't ever forget that moment as long as I live."
- Dick Beardsley, talking about his famous "dual in the sun" against Alberto Salazar at the 1982 Boston Marathon. Good interview with Beardsley as he talks about his brief career after Boston, running 80 to 90 miles a week after double knee replacement, and on his addiction to pain medication.
---
Wednesday 4/11: "I want to tell all athletes and their agents that we will not add anybody in our list if they fail to turn up for the mini trial. Some agents have been asking us to allowtheir athletes fly directly to Oregon but we insist that they must go through the national trials first. There will be no exemption.
If you miss the April 17 event, then you are out and doomed."

- Athletics Kenya head Isaiah Kiplagat stating that anyone who wants to be considered for Kenya's Olympic 10,000 team must race a 10,000 in Kenya next Tuesday. This is great news for Galen Rupp fans, as this idiotic ultimatum rules out Kenya's 10,000 champ from last year, Peter Kirui, as well as Geoffrey Mutai, arguably the greatest runner on the planet. Kirui is running the Rotterdam marathon on Sunday and Mutai is running Boston on Monday.
---
Tuesday 4/10: "I'm not against having 27,000 people in the race (the Boston Marathon), but let's not lose the excellence. It's not a walk-run. It's a gem, like The Masters. It should stand apart."
- Four-time Boston Champ Bill Rodgers. Rodgers' quote was actually from last year but is in a piece looking at the new qualifying procedures for Boston, where a qualifying time is no longer a qualifying time.