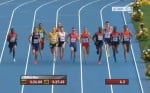 LRC recap and analysis of the men's 1500m final won by Asbel Kiprop with Matt Centrowitz silver.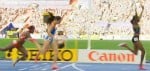 LRC recap and analysis of women's 800m final won by Eunice Sum.
Video and audio interviews with Ajee Wilson and Brenda Martinez.

Mo Farah made it five global titles in a row. RRW weekly article with LRC analysis.
Interviews with Centrowitz, Leo Manzano, Lopez Lomong, Asbel Kiprop, Silas Kiplagat, Nick Willis, Nate Brannen and Henrik Ingebrigtsen.

Post-race audio/video and text from Mo Farah, the Americans (only a quote from Rupp) and Brett Robinson of Australia.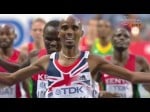 Video highlights of the men's 5000m final from our partner Universal Sports.
Results and splits men's 5000m final.
Alysia Montano and Brenda Martinez went 1-2 in their 800m semifinal and we like their chances in the final. Results and two quick thoughts.
Video of the women's 200m final.
Six quick takes on the men's 1500m semifinals that saw the favorites Asbel Kiprop and Silas Kiplagat advance along with 2011 bronze medallist American Matt Centrowitz. Olympic silver medallist Leo Manzano went out as he was last with 200m to go in his heat and could not move up enough.
Daily Schedule
| Race | EST | +04 |
| --- | --- | --- |
| 200 Meters Quarterfinals | | |
| 200 Meters Semifinals | | |
| 200 Meters Final | | |
| 200 Meters Final | | |
| 800 Meters Semifinals | | |
| 1500 Meters Semifinals | | |
| 5000 Meters Final | | |
| 100 Meter Hurdles Quarterfinals | | |
Outside Letsrun
Usain Bolt led Jamaica to a 4×100 win and Teddy Tamgho became the 3rd man over 18 meters in the triple mump.
Canova is one of the top coaches in the world.
Nice recap of all of Friday's action from the NY Times
Recommended read. Tries to put the law in international perspective and notes Qatar the host of the 2022 World Cup makes homosexuality illegal.
Finnish athletics agent Jukka Härkönen questioned the legitimacy of the marriage. Aregawi and her strongly deny the claim. Her club manager said the issue has been looked into. Aregawi does spend much of her time training in Ethiopia.
"I respect the views of my fellow athletes and let me state in the strongest terms that I am opposed to any discrimination against gay people."
Isinbayeva: "If we allow to promote and do all this stuff on the street, we are very afraid about our nation because we consider ourselves like normal, standard people. We just live with boys with woman, woman with boys."
Phil Hersh of the Chicago Tribune said Cain is  "full of chutzpah"