LetsRun.com's $200,013 Track Worlds Prediction Contest powered by Karhu
by: LetsRun.com
August 7, 2013
(Already Know The Rules & Want To Go Directly To Your Picks? Click here if you have a login already. Click here if you need a login.)
Our world famous prediction contest is back!
The 2013 World Championships start Saturday in Moscow, Russia and we're rolling out our world famous Prediction Contest just in time and this one is better than ever!! We've grown tired of hearing complaints it's too hard to win the big $200,013 perfect ballot prize so we've offered a $2,013 prize if you can perfectly pick 1st, 2nd and third in four events of your choosing. Yes that's right. You can win $2,013 if you pick 1, 2, 3 in order in just four events (more details/rules on that below).
We've added that the $2013 Four Event Challenge to try to get non-track and field fans to pay attention to the World Championshps. So do you have a co-worker, friend or relative who knows next to nothing about track and field? Well this is perfect for them. Help grow the sport and tell them about it and then tell your parents, tell your girlfriend, tell your boyfriend, tell your girlfriend and boyfriend, etc. We don't care, just get the word out via twitter, facebook, etc. And they can play by just entering four events so it takes no time at all. Even if you don't win the perfect ballot cash prizes, you can still win some nice gear thanks to Karhu. Details below.
How It Works
2013 World Championship
Previews

Men

Women

Marathon

Marathon

The IAAF has it's own preview page.
The process is quite simple. You pick who you think will get 1st, 2nd, and 3rd in the running events (including relays) and the men's and women's high jump and women's pole vault.
Have no idea about the events? No worries. We've just spent the last two weeks producing a list of the top entrants which appear in our a picking guide. So when you make your pick for a particular event, you will see a list of the top entrants along with a brief description of their accomplishments. Additionally, to help you with your picks, we've produced detailed event previews for the distance races which appear on the right.
We have a feature that allows you to change your picks up until about 10 minutes before a particular event is scheduled to start.
The first event closes at 2am Eastern on Saturday. So you've got until a little past midnight on Friday to get in your picks.
Article continues below player.
You don't have to fill in all of your picks at once. So get your four events in now and finish later if you need more time.
The Prizes:
Perfect Ballot: $200,013 A perfect ballot means you pick the top three in
the correct order for every event for both sexes – doing it for just
one sex doesn't count as a perfect ballot. 1 winner maximum. If more than 1 person has a perfect ballot, the winner will be selected by random drawing. The $200,013 will be paid out in equal payments over 20 years.
New For 2013 – The $2013 Four Event Challenge
We've added this challenge this year to try to encourage you to get your friends and family to play. When you login, you'll tell us two women's events and two men's events you are most confident in picking perfectly correctly (if you want to win, you can only select 1 relay for each sex). If you pick the top 3 correctly in order for those four events correctly, you win $2,013.* How easy is that? And you can play our contest even if you only want to do picks four 4 events.
*The one catch is we'll give away a max of $2,013 for the four event challenge. So if there is more than one person that nails their four events perfectly, the winner will be selected by random drawing from those that had the perfect four-event ballot.
Even if you mess up your four events, there also is another way to win $2,013.
A Perfect Track Distance Ballot Also Nets You $2,013
A perfect track distance ballot means you pick the top three in the correct order for the 800, 1,500, steeplechase, 5,000, 10,000, and marathon for one sex. 1 winner maximum. If more than 1 person has a perfect ballot, the winner will be selected by random drawing from those that had the perfect ballot.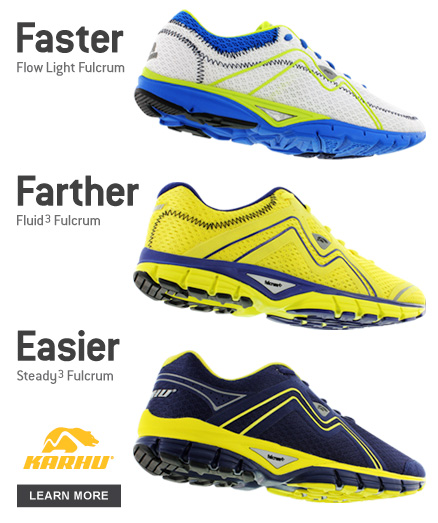 1st Through Fourth Places Win Karhu Gift Certficates
Not perfect? Don't worry. Karhu has stepped up and has you covered. The top four scorers in our contest will win Karhu gift certficates. Ties will be broken by who has the most first place picks correctly. If that's a tie, we'll look at second place and then third. If that's tied, a random drawing will be held to break the ties.

1st Place – $300 Karhu Gift Certficate
2nd Place – $200 Karhu Gift Certificate
3rd Place – $100 Karhu Gift Certificate
4th Place – $75 Karhu Gift Certificate
5th Place – $75 Karhu Gift Certificate

Karhu is Finland's legendary running brand. Born on the track in 1916, Karhu has made forward strides but still remains true to its roots. From the feet of Paavo Nurmi's nine Olympic gold medals, the selling of its original three stripe logo, the creation of air cushioning and the pursuit of maximum efficiency, Karhu has long been a leader in the sport. We invite you to explore our history, technology and passion for running.
Group Scoring: In our contest, you can create your own group and play against your friends. So go out and get your running club members, your cross country team members, your relatives, etc. and get them to join the contest. Spread the word by liking it on facebook or tweeting about it (links above). We really want you to tell people who know nothing about running about it. We added in the $2,013 Four Event challenge for them. Anybody with a pulse can pick 12 names and we hope it draws them into being fans of the sport.
Scoring:

The scoring is as follows:
Each person that you correctly pick to finish in the top 3 = 1 point.
It doesn't matter if you actually get the pick exactly right. If you pick someone for 1st and they finish 3rd you still get the point. Vice versa is true as well. If you pick them to get third and they get third, it's still only one point.
Each event winner picked correctly = 3 more points (you pick someone for first and they get first, that's 4 total points).
Each event picked perfectly – All three picks: 1st,
2nd, and 3rd in the right order = 2 more points (here the order is key).
Do you understand the rules fully? The following example should explain any questions you have. If you pick 1st, 2nd, and 3rd correctly in any event in the proper order, it is 3 points (1 point for each person in the top 3) + 3 points (for getting the winner correct) + 2 points (bonus for perfect pick of top 3 in order) = 8 points.
The more points the better.
Rules:
This contest is in no way shape and form affiliated with or endorsed by the IAAF or the World Championships in Moscow.
Only one entry per person. No computerized/mechanical entries. We aren't responsible for any errors in our picking guide. I'm sure we should have a bunch of legal stuff here. How about this: your picks and your login name are not private and may be displayed on our website. And we're not responsible if the free contest gets cancelled for any reason including if our database crashes. If the contest is cancelled, the prizes will not be awarded. We'll do our best to keep everything running smoothly. The top 3 in any event are final when we determine them at the end of the meet and this may not be the ultimate final top 3 (mainly due to drug busts in the future). Additionally, this contest is obviously void where prohibited by law. Also you need to be of the right minimum age to play. No purchase necessary. And yes, we can win our own contest. If we beat you, you'll hear about it for sure. The $200,013 prize is the sole responsibility of LetsRun.com, not any sponsors of the contest.
*And we'll try to keep events open until 10 minutes before each event, but we're not guaranteeing anything.
Please note: For tie-breaking purposes, we'll first look at the number of 1st places correctly chosen. If there's still a tie, we'll look at the number of 2nd places correctly chosen, and then if need be, the number of 3rd places correctly chosen. If there still is a tie, we'll conduct a random drawing.
Sound easy? Then get started.
Click here if you have a login already
Click here if you need a login
You'll be able to login and check your scores during the contest. You need a letsrun.com login to play. If you have any questions, email us at letsrun@letsrun.com.
If you like this contest, remember to support our partners and like this page on facebook below!