Women's 3,000 Meter Steeplechase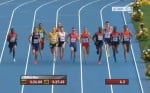 LRC recap and analysis of the men's 1500m final won by Asbel Kiprop with Matt Centrowitz silver.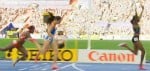 LRC recap and analysis of women's 800m final won by Eunice Sum.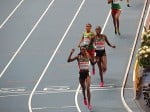 With 2011 and 2012 champion Yuliya Zaripova pulling out last week due to an injury and with Tunisia's 2011 and 2012 silver medalist Habiba Ghribi a no-show as well, a world title was very much up for the taking tonight in the women's steeplechase final held tonight at the 2013 IAAF World Championships.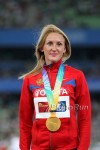 The stars keep dropping like flies before the 2013 IAAF World Championships even begin here tomorrow. A smart astute LetsRun.com visitor emailed us yesterday while we were travelling to Moscow to tell us he'd noticed that one of Russia's biggest stars - 2011 World and 2012 Olympic steeple champion Yuliya Zaripova is not on the start list for the women's steeplechase. He then wrote back and said, "the rumor is she hit the barrier hard and has withdrawn."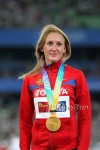 Those of you that come to LetsRun.com regularly already know we have already predicted the winner of the 2013 women's steeplechase at the 2013 IAAF World Outdoor Track and Field Championships in Moscow. Russia's Yuliya Zaripova is the HEAVY favorite in our minds. She won Worlds in 2011, won the Olympics last year and generally just wins. Since the start of 2009, the lightly-raced Zaripova has finished 16 steeples (ignoring heats) and won 14 of them. You'd be foolish to bet against that 87.5% winning percentage, particularly when she'll be a darling of the Russian crowd.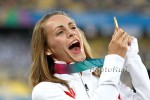 The women's 1,500 at the IAAF World Outdoor Track and Field Championships two years ago in Daegu was one to remember for American fans, as Jenny Simpson stunned everyone by becoming the first US world champion in the 1,500 since the inaugural World Championships back in 1983, when Mary Slaney, who later in her career was banned for a doping violation, won the world title.
Event Schedule
| Race | Date | EST | +04 |
| --- | --- | --- | --- |
| Semifinals | 08/10/13 | | |
| Final | 08/13/13 | | |
Outside Letsrun
Usain Bolt led Jamaica to a 4×100 win and Teddy Tamgho became the 3rd man over 18 meters in the triple mump.
Photos
Race Results
Analysis
Event Recaps
Interviews
Event Previews