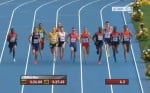 LRC recap and analysis of the men's 1500m final won by Asbel Kiprop with Matt Centrowitz silver.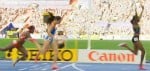 LRC recap and analysis of women's 800m final won by Eunice Sum.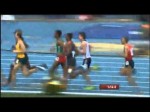 Video of the men's 1500m final.
Kiprop talks about his gold and the failed Kenyan strategy.
Video reaction from Matt Centrowitz After His Silver medal.

Results and our quick thoughs on the men's 1500m final
Interviews with Centrowitz, Leo Manzano, Lopez Lomong, Asbel Kiprop, Silas Kiplagat, Nick Willis, Nate Brannen and Henrik Ingebrigtsen.
Six quick takes on the men's 1500m semifinals that saw the favorites Asbel Kiprop and Silas Kiplagat advance along with 2011 bronze medallist American Matt Centrowitz. Olympic silver medallist Leo Manzano went out as he was last with 200m to go in his heat and could not move up enough.
The Kenyans looked great and the Americans good. Recap, analysis, post-race video from round 1 of the men's 1500m.
Results from the 1st Round.
The men's 1,500 at the 2012 Olympics turned conventional wisdom on its head. Three Kenyans, defending champion Asbel Kiprop, Silas Kiplagat and Nixon Chepseba, went into London in fine form, with the three fastest times on the year, and none of them finished in the top half of the race. Meanwhile, American Leo Manzano, who was dead last in his last Diamond League race prior to the Olympics, left London with a silver medal wrapped around his neck - America's first medal in the event at the Olympics in 44 years.
Event Schedule
| Race | Date | EST | +04 |
| --- | --- | --- | --- |
| Quarterfinals | 08/14/13 | | |
| Semifinals | 08/16/13 | | |
| Final | 08/18/13 | | |
Outside Letsrun
Usain Bolt led Jamaica to a 4×100 win and Teddy Tamgho became the 3rd man over 18 meters in the triple mump.
Nice recap of the race via the AP
"I have a great life. Being involved in track, it's Disneyland compared to Wall Street or something else. There are a million stories I can tell you about track. I think if you talk to my children they will tell you they love track, too, love being around track people and they love running. And really, what's better than that?"

He is the first Briton to make a World Championship men's 1500m final in six years.
On The Boards
Navigate
Photos
Race Results
Analysis
Event Recaps
Interviews
Event Previews