Previous London News: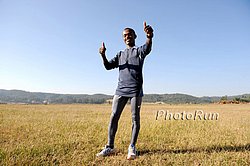 LRC Men's Preview: Heavyweights Kebede And Makau Vs. The Field Once again, London has assembled a tremendous field, showing why it is the most competitive marathon in the world outside of the Olympics. Patrick Makau, the #1-ranked marathoner in the world in 2010, whose worst marathon last year was a 2:05:08 win in Berlin, takes on the top competitive marathoner in the world not named Sammy Wanjiru - Tsegaye Kebede - plus five more of the 24 guys who have ever run sub-2:06 in the marathon. We break down the field and take a look at the Americans' (Patrick Smyth and Mo Trafeh) chances, including whether Trafeh can get American Ryan Hall's marathon debut record.

More Men's News: BBC Video Interview With 3-Time London Marathon Champ Martin Lel
*Tiny Tsegaye Kebede Is Big Man In London This Weekend
*Ageless Jaouad Gharib Still On Top Of His Marathon Game
*Former FSU Seminole Andrew Lemoncello Wants Olympic Time In London
*Ethiopia's Bazu Worku Pulls Out Of London With Food Poisoning
Inspirational: Switzerland's 2:07 Man Vitkor Röthlin Going For European Record (2:06:36) In London After Coming Back From A Near-Death Experience In 2009
*It's Well Deserved In Our Mind British Papers To Make Stir Over Fact That Dave Bedford Made Just Over $400,000 Last Year (£250,000)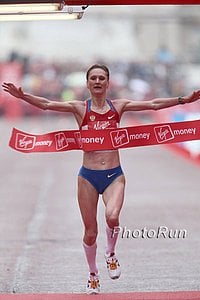 LRC Women's Preview: Liliya Shobukhova And The "Strongest" London Women's Field Ever Chase The Elusuive 2:20 Barrier Race Director Dave Bedford calls this without a doubt his strongest women's field and it's hard to argue against him. He's got the London champ, the New York champ, the Berlin champ, the World Champ, the Olympic Champ, and then a handful of others who may win, including the world half marathon record holder Mary Keitany. We break down the field, ponder whether we'll see the first sub-2:20 in three years (and wonder why women's marathoning has gone in reverse the last five years) and look at American Magdalena Lewy-Boulet's chances of a sub-2:25 clocking.

More Women's News: *Japanese Runner Mizuho Nasukawa's Friend Died In Quake With Baby In Her Arms
*Japan's #1, Traumatized By Quake, Hoping For Good Day In London
*Shobukhova Respects But Doesn't Fear Paula Radcliffe
*Steve Cram Wishes More Brits Would Pay Attention To London Marathon Even When Paula Radcliffe Isn't Running
*37-Year-Old Jo Pavey Excited For Marathon Debut

More London Previews: IAAF Virgin London Marathon Preview *5 Men & Women To Watch In London *Athletics Weekly Women's Preview & Men's Preview
US/NCAA
LRC The Week That Was This week, we investigate German Fernandez's Shoe-Gate, quote a 9th or 10th grader who says that more fans watch his 9th-10th grade meet than Leo Manzano, tell you why to be truly elite in the marathon you now need to be a sub-2:06 guy, and re-introduce you to Leilani Rios, the runner who was a national sensation 10 years ago when she was kicked off the Cal State-Fullerton track team for making a lot of money each night she worked.
*Athletics Weekly Weekend Recap: 9 World Leads Set, Including Men's Steeple, Marathon, Decathlon, And Men's/Women's 4 X 1 And 4 X 4
Doping News
Interesting Reads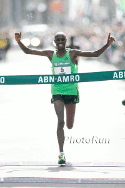 Rotterdam: Wilson Chebet Wins 2:05:26 Duel In Rotterdam Rotterdam officials had taken out insurance on the $350,000 bonus for a world record, as they know what we all should know now, the course is super fast. The world record didn't fall, but Wilson Chebet battled with Vincent Kipruto until the final kilometer to make it 2 more guys under 2:06 in Rotterdam. Two 2:05s, however, is actually a letdown to Rotterdam, as this may be the fastest course in the world (see below). Last year, Patrick Makau won the battle with Geoffry Mutai as 2 broke 2:05, and in 2009, 2 guys ran 2:04 as well.
*Rotterdam Marathon The Fastest? Rotterdam Now Has The Top 10 Fastest Average Times Interesting stats from Ken Nakamura. The bar has officially been raised, and in our opinion, sub-2:06 is the cutoff for being a truly studly marathoner. 75 guys have gone sub-2:07, but only 24 have gone sub-2:06.
*Vincent Kipruto Now Statistically One Of The Fastest Marathoners Ever He's got only one win but 5 fast times.
Amazing: 80-Year-Old Ed Whitlock Runs 3:25:40

Paris: Priscah Jeptoo's More-Than-4-Minute PR Wins Paris (2:22:55, #2 Time Ever), Benjamin Kiptoo Wins Men's In 2:06:31
When To Start?
Early Vs. Late Specialization: When Should Children Specialize In Sport?
Usain Bolt & Tyson Gay In The News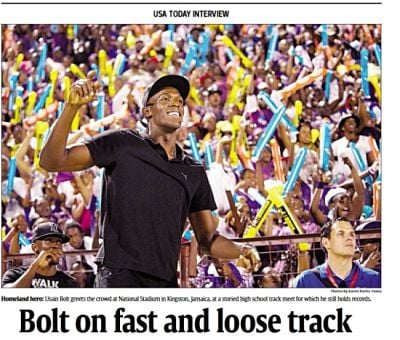 Recommended Read: Usain Bolt Shares His Unique Perspective On Running And Life In Profile On Front Page Of Sports In USA Today We promised to use this article as Quote of the Day for today, as there are enough quotes to last a week. Bolt talks about partying, psychologically destroying his opponents, the stupidity of getting married before your late 30s, and a pro soccer career after London 2012 (print edition only). Bolt: "Dancing is good physical activity. So don't think about partying and dancing as negative." Bolt also hints in the video that him and Gay talk a lot less since Bolt took over as the main star. *5 USA Today Questions With Bolt (video)
*AP: One-Track Mind - Gay Closing Gap On Bolt
April Fools News
LetsRun's 2011 April Fools Edition
Recommended Read Ato Boldon's 10 Pieces Of Wise Advise That Current Pro Track Athletes Don't Understand (But Retired Ones Do) Among the highlights, he advises staying away from European wine and women and to beware of falling in love with insincere shoe companies.
The Only Required Reading In The Industry

LRC: Week That Was: Flanagan Gets Bronze, Rupp Makes An Impressive Debut, An American Runs 2:27 At LA, And The US XC Dream Team Sure, we bet you know about Shalane Flanagan's bronze at World XC and Galen Rupp's half marathon in NYC. But we help put these in perspective and tell you about the American who ran 2:27 in LA (Amy Hastings) and wonder how well the US dream team of Lagat, Rupp, Solinsky, Tegenkamp and Ritz would do at World XC. And of course the most important news of the week, the fight at World XC.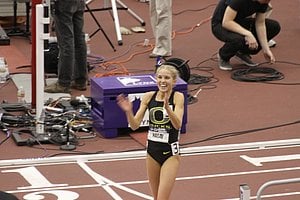 Day 2: LRC 3ks: Hasay Becomes A Legend, Heath Unleashes His Legendary Kick As of Fri. night, Jordan Hasay was viewed as the former teen prodigy who couldn't quite kick for the big one in college. Now, just as was the case for Galen Rupp two years ago, she is college distance running's biggest star, as she won the mile and then came back in the 3k to make herself into a legend by turning the tables on Sheila Reid. Stanford's Elliott Heath's kick was even more lethal, as he destroyed a super-talented men's 3k field over the final 140m. Includes last lap video coverage.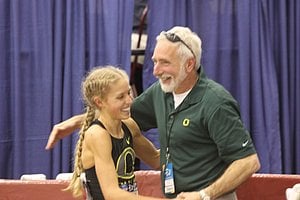 Day 2: LRC Mid-D: Hasay Gets Title #1, Batty Gets Title #2, Fred Samoei Wins A Nailbiter, And BYU's Bleazard Dominates After being outkicked in the DMR on Fri. night, Jordan Hasay outkicked the competition to grab her first NCAA title as BYU's Miles Batty completed the double in the men's mile, holding off a spirited challenge from Tulsa's Chris O'Hare. The men's 800 featured the best finish of the night as Michael Rutt's bold move to the lead 400 meters in almost held up. In the women' s 800, BYU's Lacey Bleazard won her 2nd indoor title - it's a shame the ESPN3 announcers had no idea who she was. Includes last lap video coverage.
Day 1: LRC DMR: Villanova's Reid Outkicks Oregon's Hasay, BYU's Miles Batty Holds Off Incredible 3:53 Anchor From Andy Bayer Both DMRs had great finishes. The women were first and 'Nova's Sheila Reid and Oregon's Jordan Hasay put on a battle for the ages. On the men's side, Andy Bayer split a sick 3:53 to take Indiana from 9th to 2nd, but it was not enough to overtake BYU's Miles Batty, as the night of incredible men's distance running continued with three sub-3:55 splits. Arizona's Lawi Lalang split 3:56.9 and his team lost 3 spots. Recap, interviews, photos, and video of last laps.


LRC 5,000m Recaps: Unheralded Leonard Korir Storms To NCAA Record, Jackie Areson Impresses, Mia Behm Surprises Everyone The men's 5,000m witnessed Iona's Leonard Korir winning a scorching-fast 5k in 13:26.01 over Sam Chelanga, as three guys broke the previous NCAA meet record. On the women's side, Jackie Areson put on a display over the last 600m and Mia Behm, who was 7th at the Big 12, shocked everyone to get 2nd.
Sad News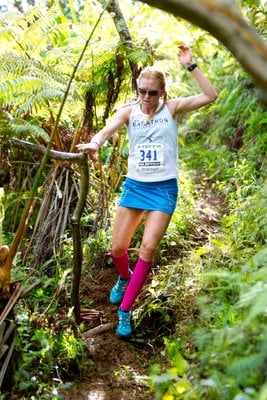 Sad News: Sally Meyerhoff Killed In Cycling Accident The two-time All-American and US Olympic Trials qualifier as well former US champion at 25km was killed on Tuesday in a cycling accident at the young age of 27 while she trained for the Ironman World Championship. *LRC MB: Sad News: Sally Meyerhoff Killed in Accident
*Abc15.com Article With Video On Meyerhoff's Death
*Ahwatukee.com Article On Meyerhoff's Death
*AZcentral.com Article
*USATF Article
*New York Road Runners Article
*More Sad News: Florida High School Track Athlete Sarah Landauer Dies After Collapsing At Practice
The Secret Is ... There Is No Secret
Coaching: There Are No Secrets, Substitutes Or Shortcuts For Success ... Do The Work
Non US Track News
More Boston News:
Webb Coaching Search
Previous Boston Marathon News
Last Sunday's South African Champs *Results (Scroll Down)
Tokyo Marathon: A Legend Is Born *Photos
The 10 Best High School XC Runners Ever
Results The 2011 US outdoor season unofficially heated up for the first time on Friday night in Southern California, as US star Shalane Flanagan edged collegiate star Sheila Reid in the 1,500m (4:11), Russell Brown blitzed a 53.84 last 400 to catch Chris Solinsky in the 1,500m as both pros ran 3:35 to NCAA champ Miles Batty's 3:36 (Matt Tegenkamp 3:40, video on right), American record holder Molly Huddle held back a challenge from Jenny Simpson in the 5,000m (15:10) and Aaron Braun held off a fast-closing Jorge Torres in the men's 5k.
More: *53.84 Last Lap Gives Russell Brown Victory Over Chris Solinsky At Mt. SAC *BYU Release On Miles Batty's 3:36.25 Not mentioned in the release is the fact that Batty came within .41 of the American collegiate record and within 1 second of the collegiate record. *LRC MB: DID SOLINSKY JUST RUN 3:35? *Jenny B got OWNED

*Jeff Demps 9.96 With 2.4mps Wind

2nd-Year UCLA Coach Loves Dual Meets, Deserves Praise For Keeping UCLA/Oregon Dual Meet Alive
Mt. SAC Men's 1,500m Video (Russell Brown And Solinsky) *Meet Results
Kara Before Boston: "The person who finally delivers is going to be a hero." (More Boston Here)
Ryan Before Boston: "While I don't need to go with every surge, I do need to keep myself a little closer." (More Boston Here)
London Race Director Dave Bedford On The Men's Field At London (With Hi-Def Race Footage)
Desiree Davila Ready For Boston (More In-Depth Here)
Texas Relays Photo Gallery (That's The Final 100m Of The Men's Mile Below)
Updated Carlsbad 5,000m Photo Gallery
Question Of The Day?
Women's World XC In Photos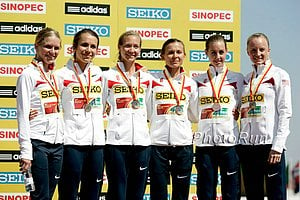 Men's World XC In Photos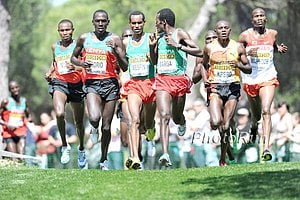 The Greatest Comeback Ever?
Training Talk Is Back
Training Talk With New Marathon Star Stephanie Rothstein And Ben Bruce Stephanie lowered her marathon PR by over 10 minutes, skipping the 2:30s entirely, running 2:29:35 in Houston. And she's still got her sights on lowering it another 10 minutes. Textual recap coming later, but you can listen above or download the podcast here (1:30).
Last 250 (Or Full Race - Rewind It) Of Dejen Gebremeskel Outkicking Mo Farah In Boston With 1 Shoe
Save Some Cash

Two Of The Best Running Movies Of All Time (Don't Believe Us? Click Here)
Relive Men's NCAAs: *Recap *Results *Photos *New (2nd Photo Album Added Here)
Save Some Cash

Train Smarter
Great Deals

Universal Sports Back To Top