2011 Boston Marathon Women's Preview
Is Newcomer Florence Kiplagat A Marathon Star In The Making?
By LetsRun.com
April 13, 2011
The 2011 Boston marathon has a large cast of accomplished runners in its field and thus we agree with the Boston organizers when they said the 2011 field "is one of the deepest, fastest and most experienced in the race's history." In fact, there are 11 different women that theoretically that could win the race with five of those having the best chance in our minds. This is a huge improvement over last year, when the Boston field was almost embarrassingly thin (in our preview last year we just listed three that we thought would win and a couple others that might). Plus, there are four other women that we think are worthy of mention.
Since we have 15 people we want to write about, we'll cut the chit-chat and get right to our analysis.
Four Accomplished Runners That Won't Win
Catherine Ndereba (KEN/2:18:47) - The four-time Boston champ is 38 and, considering she recently ran a 34-minute 10k in South Carolina, should really no longer be considered a super-elite competitor. Mother Time has caught up with her.
Tatyana Pushkareva (RUS/2:26:14) - Last year's runner-up in Boston was only 15th in New York last Fall. Considering her PR is just 2:26:14, we don't like her chances.
Blake Russell (USA/2:29:10) - The 2008 US Olympian comes into Boston in good form, as she was 19th at the World Cross-Country Championships in March, where she helped the US women to the bronze medal in the team competition. A top-10 showing would be a good one for Russell, who has a 2:29:10 PR.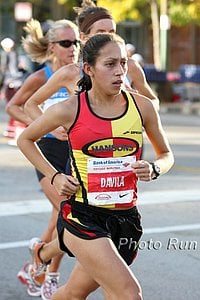 Desiree Davila (USA/2:26:20) - The American is currently the star of the Hansons-Brooks Distance project and is the 4th-fastest American in history. That is the good news. The bad news is that an American hasn't won in Boston since 1985. Davila is 27 and has improved in the marathon each of the last four years. Also, she reports in a humorous interview we had on letsrun.com that her Boston training has been going very well. As a result, her improvement very well could continue on Monday and she might run in the 2:25 or 2:24 range (her current PR is 2:26:20) if the conditions are good, but the notion of her winning Boston at this stage in her career isn;t a realistic one.
The real story is if she can take the scalp of Kara Goucher and finish as the top American in Boston. That is something that in our minds is likely to happen, although we think Davila has zero chance of winning, whereas Goucher theoretically could do it ... if that makes any sense.
10 That Could Win (listed in order of least likely to win to most likely to win)
To make this list, you pretty much needed to have a PR of under 2:26 (one exception), as in a day and age when the women's world record is 2:15:25, it's hard to imagine a 2:26+ person winning a major. To be truthful, we really only think one of the final four of these 10 runners will win.
#10 - Caroline Rotich (KEN/2:29:46 PR) - Normally, someone with a 2:29:46 marathon best wouldn't appear on a list as a possible world marathon major winner, but Rotich deserves mention as that 2:29:46 came in the tactical New York race last fall, where she was 8th, and she's showed great form early in 2011 as she comes into Boston after setting the course record and defeating Kara Goucher at the ING NYC Half Marathon on March 20th by running 68:52. Still, that half marathon was by far the best performance of her career, so it's really hard seeing her win. For example, realize her listed 10k PR (on tilastopaja.org) is 32:43.
#9 - Merima Mohammed (ETH/2:23:06, also known as Merima Hasen) - Merima ran her marathon PR last September in Toronto, where she was third in 2:23:06, behind two fellow 2011 Boston competitors (see Tsegaye #7 and Cherop #2 below). Only 18 years old, she also comes into Boston after finishing 15th at the 2011 World Cross-Country Championships. As a result, one might think we like her as a very talented up-and-comer. We certainly think she's talented and young but one thing we didn't mention is she also ran another marathon since Toronto. She was 2nd in Mumbai in January in 2:26:57. Talent only gets you so far. She needs to hire a new manager and think long term and not run three marathons within 7 months at the age of 18. Maybe next year.
#8 - Kara Goucher (USA/2:25:52) - Given the fact that Kara gave birth to her son Colt on September 25th, it's pretty miraculous in our minds that Goucher is being mentioned as a possible contender. Goucher deserves an incredible amount of praise for just being mentioned as a possible contender, but she shouldn't be expected to contend in our book, and that may be a good thing. Goucher has talked about how she was obsessed with winning when she finished third in 2009, but since she's coming back from a recent pregnancy, she gets a great psychological boost in the fact that all of the pressure is off for 2011.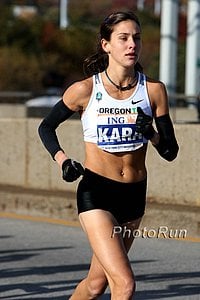 So Goucher may not be burdened by expectations, but the idea that she'd win a world marathon major less than 8 months after giving birth is almost a ridiculous notion. Yes, the greatest women's marathoner in history, Paula Radcliffe, won her first marathon back after pregnancy in 2007. But that was a little different. First of all, Radcliffe basically had 10 months to get ready for New York in 2007 after her pregnancy and Radcliffe was a lot better than Kara was to begin with. Plus, in hindsight, Radcliffe thinks rushing back that quickly was a mistake and she's now taking her time coming back from pregnancy #2.
Regardless, Goucher will be on the start line on Monday in Boston and in pretty darn good shape. Goucher's fitness has improved at an astronomical rate, as she went from 74:02 in the half marathon on January 16th to 69:03 on March 20th. But a marathon is 26.2 miles - not 13.1. And even before the pregnancy, Goucher was better at the half-marathon than the 26.2-mile distance.
#7 - Tirfi Tsegaye (ETH/2:22:44) - Tsegaye had her breakout marathon last fall in Toronto, where she finished ahead of Mohammed but behind Sharon Cherop (see #2 below) in 2:22:44. A former 6th placer at the World Half Championships (2009), Tsegaye comes into Boston with zero races so far in 2011, as she decided to run the Shanghai marathon after Toronto in December (where she finished 2nd in 2:29:11). Since she didn't beat Cherop in Toronto, we don't expect her to do it again here.
#6 - Caroline Kilel (KEN/2:23:25) - The 30-year-old Kenyan was the 9th-fastest female performer on the planet for 2010 thanks to the 2:23:44 she ran to win Frankfurt last year. That performance was a big step up in class for Kilel, as it was her 10th career marathon and her first career sub-2:25, and as a result, we don't expect her to contend in 2011. In some ways, she's similar to Cherop, who made a big jump in class last year, but the difference is Cherop followed that up with a 4th-place showing at the Kenyan Cross-Country Trials, a race where Kilel was 14th. Of course it should be noted that last year, Kilel was just 27th at the Kenyan Trials, so it's possible she's in better form than last year. Also, in Frankfurt, she did beat former Boston champ Dire Tune (#1 below), who went into Frankfurt after grabbing the silver at the World Half Marathon Championships.
#5 - Alice Timbilili (KEN/2:25:03) - The 27-year-old certainly has the credentials of someone fans might expect to win a major like Boston, as she was the World Cross-Country runner-up in 2005. She also comes into Boston after enjoying a great 2010 campaign during which she raced 7 times and never finished worse than third (including seconds at Peachtree and Boilermaker). Her highlight came in October when she produced a 2:25:03 marathon win in Amsterdam in her only 26.2 effort of the year. So far in 2011, she has a 71:11 half marathon to her name from Korea on March 6th. Not a super-impressive time, but she deserves to get some benefit of the doubt given her past accomplishments.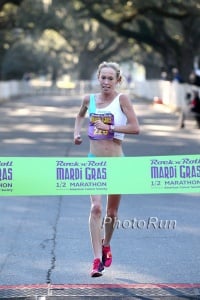 Kim Smith
#4 - Kim Smith (NZL/2:25:21) - Undoubtedly a ton of the media's attention will be focused on American Kara Goucher on Sunday, but if there is going to be a white face that crosses the line first on Monday in Boston, we think it will belong to Kim Smith, who trains about an hour from Boston each day in Providence, RI under the direction of Ray Treacy. On the track, Smith has better personal bests than Goucher (5,000 PR of 14:30 versus 14:55; 10,000 PR of 30:35 vs. 30:55), although Goucher earned a bronze medal in the 10,000 at Worlds, whereas Smith's best global finish is 5th. On the roads, Smith's marathon personal best is better than Goucher's (2:25:21 to 2:25:53), although we'd admit that since Goucher's came at New York and Smith's on the faster London course that Goucher's PR is actually the better performance. In terms of the half marathon, Smith this year lowered her personal best in New Orleans by 19 seconds to 67:36 (which was a North American All-Comers record) to put her within striking distance of Goucher's 66:57 PR, which was run on a record-ineligible course back in 2007.
But the reason why we like Smith better than Goucher in Boston is the fact that Smith has proven she's in top form in 2011, whereas Goucher has been playing catchup after her pregnancy. On paper, the two are very similar runners, but Smith isn't battling back from pregnancy, so she deserves the edge in our estimation.
#3 - Teyba Erkesso (ETH/2:23:53 - Defending Champion) - Last year, Ethiopian Teyba Erkesso got the year started with a win in the Houston marathon in a new PR of 2:23:53 before following that with a win in Boston in 2:26:11, which in turn was followed up with a 12th-place showing in New York. With seven races in 2010, including three marathons, one might be worried she was on the verge of over-racing. That has been corrected as so far in 2011, as she hasn't raced at all. That's probably good news for Ekesso but bad news for prognosticators as it's hard to judge her current fitness. As a result, we'll let history be our guide. Repeat champions aren't all that uncommon in Boston as it's happened 7 times since 1992, although the last time it happened was 2005.
#2 - Sharon Cherop (KEN/2:22:43) - Before last year, Cherop was your run-of-the-mill obscure Kenyan road racer, as she headed into 2010 with PRs of 15:40 for 5k (at altitude), 32:43 for 10k (road) / 32:52 (track, at altitude), 70:21 for the half marathon and 2:33:53 for the marathon (at altitude). In terms of the marathon prior to last year, she'd run three and never won and never run faster than that 2:33:53. A year later, her half marathon best is 68:51 and she's got two marathon wins on her resumé thanks to the 2:28:38 she ran to win Hamburg last April and the 2:22:43 she ran to win in Toronto last September. The 2:22:43 that she ran in Toronto made her the 5th-fastest performer for the year and truly is world class. The people at Track & Field News certainly noticed, as they ranked her 8th in the world for 2010.
Given all that, one might think, "She's come an awfully long way in a year, can she possibly keep it up?" Our response would be, "Probably."
Cherop's 2011 results indicate that she indeed is going to be a world-class performer and not a B-rate road runner for years to come. Earlier this year, she ran the Kenyan Cross-Country National Championships and finished fourth - ahead of two women who ended up in the top 10 at World Cross-Country. And really based on her pedigree, Cherop should be world class by now, as she was third at the World Junior Championships in the 5,000 way back in 2000.
Tune Gave It Her All
Trying To Repeat In 2009
#1 - Dire Tune (ETH/2:23:44) - The 2008 Boston champ and 2009 Boston runner-up (when she lost in a sprint) didn't run a spring marathon last year, but she made up for it by producing a 2:23:44 personal best in finishing 2nd to fellow Boston competitor Kilel in Frankfurt. Things have continued to go well for Tune so far in 2011, as she comes into Boston after 2nd place showings at two of the more competitive road races in the world - the Ras Al Khaimah Half Marathon (68:52) and the World's Best 10k (31:51). Since she's in a good form and a proven commodity in Boston, it seems like she certainly should be in the mix on Monday.
And The One That Will Win On Monday
Florence Kiplagat (KEN/Debut) - Kiplagat has never run a marathon in her life. She's only run two half marathons in her life.
That being said, we think she'll be the 2011 Boston marathon champion on Monday. Why do we say that? Well, on paper, her credentials are simply amazing. If you were going to create a resumé of a runner that would win Boston, you might create one that included Kiplagat's accomplishments:
2009 World Cross-Country Champion; 2010 World Half Marathon Champion; Kenyan national record holder at 10,000 (30:11.53); Just 24 years of age.
Picking an unproven, first-time marathoner to win a major is a risky thing to do, but given the fact that no one else in the field stands out, we figure we might as well go with the one that appears to be by far the most talented on paper. Given her World XC success, we figure the undulating Boston course will suit her just fine, as we've always felt Boston and New York are great courses for good cross-country runners (it's a shame Paul Tergat never ran Boston). We just wish they'd had the pre-race press conference before we made our prediction, as an article this week in Kenya's Daily Nation made us a little nervous, as Kiplagat talks about a hamstring injury and trying "her luck" at the marathon. However she is coached by famed coach Renato Canova, a legend on the LetsRun.com message boards, so if anyone is going to be super prepared while trying "her luck" it's her. (Kiplagat is also married to Moses Mosop who is making his debut in the men's field).
LRC Prediction: In our minds, five people have the best shot of winning in Kiplagat, Tune, Cherop, Erkesso and Smith. None of them is anywhere close to invincible unless it's Kiplagat. But Kiplagat definitely also has the greatest downside, as she's totally unproven at the 26.2 distance and possibly injured.
1) Kiplagat 2) Cherop 3) Tune 4) Smith
PS - One more thing, the 2011 Boston field is very good for Boston, but people need to realize it pales in comparison to the 2011 London field, which London race director Dave Bedford calls his "strongest ever." Boston this year features 7 runners who have run under 2:25 during their careers, whereas London features 14. See our 2011 London Marathon women's preview here.
Note: Watch Boston on Universal Sports TV Starting at 9:30 eastern on Monday, Watch London Live on Sunday at 4:00 am Eastern or for the first time ever On Demand without knowing the results at 9:00 on the internet. More info here on London.
More: LRC 2011 Boston Marathon Men's Preview: Stellar Top 3 Take On American Ryan Hall and Moses Mosop in His Debut
*LRC Men's London Preview: Kebede Vs. Makau Vs. The Field
*LRC Women's London Preview: Liliya Shobukhova Vs. The "Strongest" London Women's Field Ever
*LRC $5,000 Marathon Prediction Contest Just pick your top 3 from our table and you could win $5000. It'll at least make watching the races more enjoyable.
Full Elite Field According To Race Organizers:
| | |
| --- | --- |
| Sharon Cherop, Kenya | (ETH - 2:22:43 (Toronto, 2010) CR |
| Desiree Davila, USA | 2:26:20 (Chicago, 2010) |
| Misiker Mekonin Demissie, Ethiopia | 2:26:20 (Los Angeles, 2010) |
| Teyba Erkesso, Ethiopia | 2:23:53 (Houston, 2010) CR |
| Woynishet Girma, Ethiopia | 2:27:51 (Amsterdam, 2010) |
| Kara Goucher, USA | 2:25:52 (New York, 2008) |
| Werknesh Kidane, Ethiopia | 2:27:15 (Dubai, 2011) |
| Caroline Kilel, Kenya | 2:23:25 (Frankfurt, 2010) |
| Florence Kiplagat, Kenya | Debut |
| Merima Mohammed, Ethiopia | 2:23:06 (Toronto, 2010) |
| Hellen Mugo, Kenya | 2:27:16 (Carpi, 2010) |
| Catherine Ndereba, Kenya | 2:18:47 (Chicago, 2001) NR |
| Tatyana Pushkareva, Russia | 2:26:14 (Boston, 2010) |
| Caroline Rotich, Kenya | 2:29:46 (New York, 2010) |
| Yuliya Ruban, Ukraine | 2:27:44 (Frankfurt, 2010) |
| Blake Russell, USA | 2:29:10 (Chicago, 2005) |
| Silvia Skvortsova, Russia | 2:26:24 (Berlin, 2009) |
| Kim Smith, New Zealand | 2:25:21 (London, 2010) NR |
| Alice Timbilili, Kenya | 2:25:03 (Amsterdam, 2010) |
| Tirfi Tsegaye, Ethiopia | 2:22:44 (Toronto, 2010) |
| Dire Tune, Ethiopia | 2:23:44 (Frankfurt, 2010) |
Desiree Davila On Her Boston Preparations (More Here)
---
Runner's World &
Running Times



Combined Only $22
a Year
Save $87

---

Running & Track and Field Posters
---

Running Shoe Savings: Nike Lunar Glide 20% Off Super popular shoe from Nike featuring Flywire and Lunar Foam
---