2011 Virgin London Marathon Men's Preview
Who Will Win The Most Competitive Men's Marathon On the Planet?
By Robert Johnson, LetsRun.com
April 13, 2011
*Watch Live Sunday at 3:55 am eastern or On Demand starting at 9 am eastern on Sunday
On Sunday, the most competitive 26.2-mile professional race on the planet will once again be held - the 2011 Virgin London Marathon.
Last week, much was made by the organizers of the Rotterdam Marathon that the "Magnificent 7" were taking aim at Haile Gebrselassie's world record of 2:03:59. The "Magnificent 7" referred to the fact that the top seven leading male entrants in terms of personal bests in Rotterdam all had PRs that were sub-2:07. Well, if Rotterdam was proud of their Magnificent 7, then London needs to come up an even more grandiose name, as the London field puts Rotterdam to shame.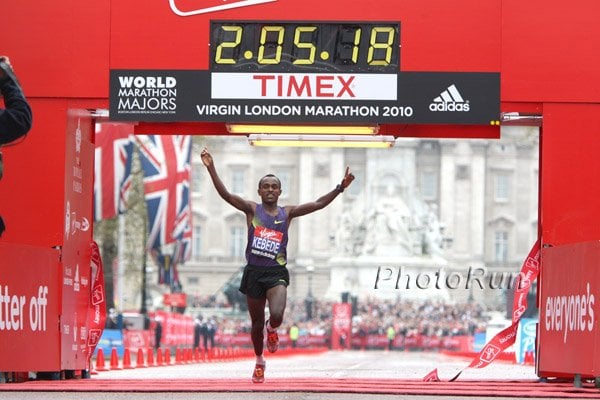 Assembled in London are seven sub-2:06 marathoners (Rotterdam had four), including two sub-2:05s (zero for Rotterdam). That's incredibly impressive considering only 24 men in history have gone sub 2:06. Throw in a 2:06:15 guy in 2009 World Championships silver medallist Emmanuel Mutai, who also was the runner-up last year in London, three 2:07 guys (including World Championships bronze medalist Viktor Röthlin) and two 2:08s (including multi-time NYC winner Marilson Gomes dos Santos), and you've once again got a field worthy of being considered the greatest assembled in the last year, yet again.
So where to begin? In searching for an appropriate way to describe the London field, we went to London's 224 page media guide and were so impressed by what they wrote that we decided to use it instead of re-inventing the wheel.
"London will host a race featuring eight of the top 10 men from last year's contest, including all three medallists; three of the top five from the Beijing Olympics; all three medallists from the Berlin World Championships; the three 2010 European Championships medallists; the fastest man in the world in 2010; the third and fourth fastest men of all time."
The previous sentence says a lot about the field as a whole, but now it's time to break the incredibly strong field down man-by-man.
Kebede - The Favorite
The field is led by defending champion Tsegaye Kebede.
Tsegaye Kebede's Last 8 Marathons
2008 - 1st in Paris 206:40, 3rd in Olympics (2:10:00), 1st in Fukuoka (2:06:10)
2009 - 2nd in London (2:05:20), 3rd in WChamps (2:08:35), 1st in Fukuoka (2:05:18)
2010 - 1st in London (2:05:19), 2nd in Chicago (2:06:43)
Since the start of 2008, the year Kebede officially arrived as an elite marathoner, Kebede has toed the line at eight marathons and every single one of them has resulted in a very strong performance (see the chart on the left). Seemingly the only man capable of beating Kebede in a head-to-head duel is the Olympic champion Sammy Wanjiru, the man whom I consider to be the greatest marathoner in history. Wanjiru defeated Kebede after a great duel in Beijing and then just barely edged him in London in 2009 and Chicago 2010. The good news for Kebede fans is that after an attempted murder charge and some injury problems, Wanjiru was forced to scratch from London late last month. Thus, Kebede is in my mind on paper the man to beat.
Three Others That Could Win
Others might disagree that Kebede is the favorite, as Track and Field News ranked London competitor Patrick Makau as the world's #1 marathoner last year thanks to his 2:04:48 win in Rotterdam and his 2:05:08 win in Berlin. If Makau wins in London, I'll annoint him as the current world #1 without a doubt, as there was next to nothing one could critique about his 2010 campaign. In terms of London this year, my only cause for concern with Makau is the fact that he hasn't run a blistering fast half marathon prior to London this year. Prior to making his marathon debut in 2009, Makau was known as a half marathon specialist, as his 58:52 PR is still the third best in history. Last year, heading into the Rotterdam marathon, Makau won the Rotterdam half in 59:51. This year, he hasn't blitzed a fast half marathon prior to his spring marathon. Does that mean anything? Probably not. Last year, prior to his fall marathon, Makau didn't do any half marathon races and he did great in Berlin. Often as runners age, you see them race less often and specialize more purely in the marathon, as the truly accomplished have no financial need to race the half any more, since their marathon appearance fees are astronomical.
But 10% of me wonders if maybe something went wrong in his training and that's why he didn't do a big time half this spring.
Of course, when runners blitz a super-fast half marathon prior to a marathon, I'll be the first to point out that one doesn't need or necessarily want to be in great half marathon shape prior to a marathon. Perhaps, in slightly questioning Makau, I'm letting my bitterness from 2009 come out. That's when I anointed him as my favorite for the ING New York City marathon and he ended up a DNF. I was on the Makau bandwagon before it even existed, but if he'd only won in New York, I would have looked like a genius. Oh well.
The 2nd fastest Kenyan in history, James Kwambai (2:04:27 PR), appears to be back in good form after a disappointing 2010, where he was 20th in Rotterdam and 5th in New York. In preparation for London, Kwambai clocked a 60:01 half marathon in Rotterdam in March - the 2nd best of his career. However, Kwambai would not be a good guy to pick for the win as his lack of consistency in the marathon is rather startling. In his career, Kwambai has raced 11 marathons and he's run over 2:10 in eight of them (admittedly two of those were victories in low key races) and had a DNF in another. His other two were fantastic - a 2:05:36 for 2nd in Berlin in Sept. of 2008 and the 2:04:27 for 2nd in Rotterdam in April of 2009. So basically the stats reveal that in his five years as a marathoner (he debuted in April of 2006), Kwambai has been truly elite for the seven-month period of Sept. 2008 to April 2009.
Ethiopian Bazu Worku isnt exactly a household name yet, but he might be after London this year. The 20-year-old Ethiopian burst onto the scene in early 2009 when he set a world junior record by running 2:06:15 to get 2nd in Paris. 2:06:15 at age 18 - truly ridiculous. I'm not sure what happened to him over the next 13 months (he did get 2nd at the Utica Boilermaker in 2009), as he didn't run another marathon before showing up and doing little of note in Ottawa in May of last year (2:09:54). But he was back as a real force in Berlin last September, when he challenged Makau before finishing third in 2:05:25 - just 11 days after leaving his teenage years behind him.
Four Studs That Won't Win
Last year's third placer Jaouad Gharib, who was the Olympic silver medallist in 2008, is one guy whom I really do have reservations about, given he hasn't raced a serious half marathon prior to London this year. Since making his marathon debut in 2003, Gharib has run 13 marathons and he's run a half marathon roughly a month out from every single one of them except for the two Olympic marathons (and there aren't many half marathons in the summer). This year, he didn't race a half prior to London. Father time may be catching up to him as he's 38.
Last year's runner-up Emmanuel Mutai is back as well, but I don't think he'll win either. Why? He had a great 2010 after all, as he was 2nd in both London and New York. And the race before those at the 2009 World Champs? He was 2nd there as well. See a trend? It looks like track and field has a new "Mr. Silver."
Reigning marathon world champion Abel Kirui is also in the field, but after only finishing 5th in London last year and 9th in New York, I am not counting on him to be a serious contender. Maybe I should, as Kirui is talking a big game this week and says a bout with typhoid hurt him in New York and that even though he's since battled pneumonia and malaria, he wants to win in London before getting the world record in Berlin this fall.
Two-time New York champion Marilson Gomes dos Santos also is racing and seems to be in decent form, based on his 61:23 clocking at the NYC Half Marathon last month. However, I don't like his chances either. Four times in his career, dos Santos has run time-trial, flat marathons like you find in London (once in Paris, once in Chicago and twice in London), and he's never finished higher than sixth in any of those races. Like American Meb Keflezighi, dos Santos is a great marathon racer - assuming it's a difficult course and not a rabbitted affair.
One Big Question Mark
There is one total wild card in the 2011 London Field and that is three-time London champion and two-time New York champion Martin Lel.
Martin Lel's Incredible
2003-2008 Marathon Run
2003 - 3rd Boston, 1st New York
2004 - 3rd Boston
2005 - 1st New York
2006 - 2nd London
2007 - 1st London, 1st New York
2008 - 1st London, 5th Olympics
Heading into the 2008 Olympics, Martin Lel was regarded as the #1 marathoner in the world, as his record was simply incredible. From 2003 to 2008, Lel had a run in the marathon that few, if any, marathoners have ever matched. During that time frame, Lel was running the biggest races on the planet and finishing in the top three every time and winning more times than not. From 2003 to 2008, Lel ran in eight world marathon major races, and won five of them and finished top three in the other three. That streak of top three finishes ended at the Olympics, where he was 5th.
And since then??? Lel has been totally 100% snakebitten.
Lel has had to scratch due to injury at four straight marathons and hasn't raced a marathon since the 2008 Olympics. Twice during that span, in 2009, his scratches came right at the very last minute after he had proven himself to be in incredible fitness with a sub-1 hour half marathon clocking in the midst of his marathon buildup.
As for what he'll do on Sunday, I have no idea really. I don't think he'll contend, as he was only added to the field a few weeks ago when Wanjiru pulled out. One doesn't win London unless it's the focus of their training. But it's GREAT for the sport to have Lel back. Let's just hope he puts up a solid performance and becomes a major contender once again in the years to come. Lel's still only 32, so he should have a couple more good years left in him.
The Americans
Former American 5,000-meter record holder Dathan Ritzenhein was originally hoping to lead the American charge in London but he pulled with yet another injury. As a result, there is next-to-zero chance an American will be in the hunt for the win, as was the case in 2008 with Ryan Hall. The leading proven American marathoner is Jason Lehmkuhle, who sports a 2:12:24 best, which he ran to get 9th last year in Boston. Jason comes into London in pretty good form, as twice this year he's run under 63:00 for the half, including a 62:58 at the NYC Half Marathon last month. Not bad for a guy who has a half PR of 62:32.
Mo Trafeh Talks About Running 2:06-2:07 in London

Three Americans will be making their marathon debuts in London, but Moroccan-born Mo Trafeh is the only American in the race that conceivably could mix it up with those in the lead group. Trafeh sports a 60:39 half marathon best and comes into London in great form, having won the US 15k (42:58) and Half Marathon (62:19) titles in his only two races of the year. A sub-2:10 debut for Trafeh will mean he'll probably be one of the leading three favorites for 2012 US Olympic marathon team. Trafeh could also conceivably challenge Ryan Hall's 2:08:24 US debut record.
Trafeh told us at the US Half-Marathon championships that while the plan was for him to go with the "second group" (editor's note: until this year, we have always viewed the second group in London as a 2:10 group but now apparently the first group is 2:04-2:05 and the second is 2:06-2:07) he may be tempted to try and go with the lead group in London. He said in the video on the right, "When the gun goes off I'm going to pick with which group I'm going with. Right now I'm planning on going with the second group, between 2:58-3:02 per kilometer (3:00 per km is 2:06:35)... 2:06-2:07 that's the plan."
Former Notre Dame runner Patrick Smyth wasn't too far behind Trafeh at the US Half Marathon champs in Houston in January, where he was third in 62:32, but he followed that up with a DNF at the NYC Half. Patrick talked about running with the 2:10 group in this interview. Stephen Shay, the younger brother of Ryan, also is making his debut. He has similar personal bests as Smyth (Shay 28:41 and 62:26 versus Smyth's 28:25 and 62:01) but only ran 64:39 at the NYC Half last month.
Predictions
Enough with the talk. It's time for the predictions. And unlike so many so-called experts that make terrible prediction after terrible prediction with no ramifications, I'm willing to put my money where my mouth is.
One of the following four men will win. Kebede, Kwambai, Makau and Worku. If one of those four men doesn't win, we'll add three hundred dollars cash to the first prize of the LetsRun.com Boston/London Prediction Contest to be announced Thursday, unless Martin Lel wins it. If Martin Lel wins it, it will be such a feel good story that we'll donate $1,000 to the charity of Lel's choosing.
Actually picking the winner from those four is a way harder task. Is Makau truly the greatest marathoner on the planet? Could Worku be the star of the next generation of the marathon? Can Kwambai regain his lost form? Or will Kebede win as he almost always does when not losing in a duel with Wanjiru?
So many story lines to choose from.
LRC Predictions: 1) Kebede - He's proven himself to bascially be unbeatable except when racing the superhuman Wanjiru. 2) Makau. 3) Worku.
American Predictions: Trafeh American debut record if he doesn't get too carried away.
Note: Virgin London Viewing Options Watch Live or on Demand: The race can be viewed live throughout the world via television or the internet, for all the options click here.
In the US live coverage is at 3:55 am Eastern on Sunday. For those in the US who want to get some sleep, we're proud to announce the race for the first time will be available on demand in the United States starting at 9 am eastern and we won't be displaying results to our visitors and will direct our visitors to the on demand coverage so you can watch it without knowing the results. For more info on the on demand coverage click here.
Disclosure: The Virgin London Marathon has partnered with LetsRun.com to promote the live and on demand stream of the race and is advertising the coverage on LetsRun.com.
---
Runner's World &
Running Times



Combined Only $22
a Year
Save $87

---

Running & Track and Field Posters
---

Running Shoe Savings: Nike Lunar Glide 20% Off Super popular shoe from Nike featuring Flywire and Lunar Foam
---