2011 Boston Marathon Press Conference Highlights
A Confident Ryan Hall & Kara Goucher Raise American Hopes As Kenya's Geoffrey Mutai Expresses Dissatisfaction With Kenyan System
by: Tom Davis and Jess Barton, LetsRun.com
April 15, 2011
*Jump to Videos With American Based Runners Here
The 2011 Boston Marathon Press Conference took place today and most of the top athletes were in attendance and we hope to share some of the athletes comments with you below.
Before we get to the comments from the three top American contenders in Ryan Hall, Kara Goucher and Desiree Davila and the two top Kenyan male contenders in Robert Kiprono Cheruiyot and Geoffrey Mutai, we should point out that one of the opening themes to the conference was the Japanese earthquake disaster. There are 77 Japanese runners participating in Monday's race and many of the elite runners will be wearing Japan- United States friendship pins. Friendship bracelets are also available to the general public. 35-year old Japanese elite Hiromi Ominami, who holds a personal best of 2:23:43 dating from 2004 (2:28:35 last year), will be running on Monday with her twin sister Takami Ominami, who sports a 2:23:43 pb from 2002 (last broke 2:30 in 2007). Hiromi said that it has been really hard to train the last month and that is has been very hard for her to maintain focus on her training. Hiromi said through a translator that "since I have come to Boston the support has been overwhelming so I am going to do my best."
Now onto the contenders or hopeful contenders comments. We guess we'll start with the two leading Kenyan men as one of the things that struck us at the press conference is they have their own personal stories as well and it's a shame the US media doesn't present them as people instead of just "as Kenyans." Plus the Americans will get a ton of press anyway.
Geoffrey Mutai: The Distance Revelation Of Last Year Expresses His Dissatisfaction With The Kenyan System
Mutai And Fellow Pro Kenyans Get Rock
Start Treatment at Elementary School
(Story Here)
Geoffrey Mutai, the 29 year old who averaged 2:05:08 in his first two marathons in 2010 and won the 2011 Kenyan Cross Country Championships by 44 seconds, gave some great insight on Friday into the politics that have been taking place behind the scenes in the world of Kenyan distance running the last few months.
After dominating the Kenyan cross country championships, Mutai made some headlines by saying he would only run World Cross Country if he could keep training on his own and not in the official Kenyan training camp for World Cross Country. Ultimately, however, Mutai did train in the very strict and rigid Kenyan training camp.
The reason was simple - he had no choice. As Mutai said, "If I did not go to the camp, I would not be going to Boston." Yes, that's right, the Kenyan federation would apparently block or at least attempt to block arguably its best runner from running one of the world's most prestigious races.
Mutai, who believes strongly in individualized training, explained that his biggest issue with the Kenyan training camps is they are very strict about putting everyone in groups and they throw everyone into the same plan.
At the camp there were three coaches, which Mutai said was often conflicting and confusing to the runners. He also said at the camp the coaches force you to do something and they say "'do this, do that.' And if you do not do that then you are not one of their athletes."
Mutai did admit there were some benefits to the Kenyan system. He said that the Kenyan training camp did help him with his "speed" because he was running with about 50 other guys on training runs and workouts.
As for Boston, Mutai has not yet run on the course, but has taken a driving tour of it and says it looks like a challenge. Mutai knows that he is ready to push himself in order to compete with the best in the field. He does not have a particular race strategy, but says that his body will let him know how hard he will be able to push. As he said, "We teach ourselves when we are training how to push so I know my body and how it will react. Sometimes during the race you stay back depending on your body and sometimes you know when to push it."
Mutai said one of his favorite things about being in Boston so far is helping out with the clinic that was put on in Hopkinton for the elementary school students on Thursday. (see video above) He also added that he hopes to return in the future and he already knows that his Boston Marathon experience will be one to remember for the rest of his life.
Robert Kiprono Cheruiyot: Defending Champ Wants To Repeat and Inspire Youth
The Boston Marathon defending champion, Robert Kiprono Cheruiyot enters this year's race with the goal of defending his title. His personal best of 2:05:52 comes from the 2010 race and is also the Boston Marathon course record; he shattered the previous record of 2:07:41 by almost two minutes.
Cheruiyot said, "For Monday I am hoping to run well, I want to defend. I want to show my talent in Boston to the youth in Kenya." He went on to say that he really hopes to be able to inspire the youth in Kenya to strive for a better life. Despite a calf injury, Cheruiyot did not make any excuses and said that he is here to compete for the win and is ready to race. He had nothing but good things to say about Boston and the crowds that helped propel him to victory last year, "The crowd helps to make me feel good, they make me happy to be here." When asked about the difference in performance between the Kenyans and Americans, Cheruiyot implied that if the Americans were to come train with the Kenyans they would be able to compete at that level, adding that Ryan Hall is a very strong racer. He declined to cite any talent differences, just training differences.
Ryan Hall: Confident Despite NYC Half Showing
Considering Ryan Hall's last race was a 63:53, 21st place showing at the NYC Half Marathon on March 20th, LetsRun.com visitors may be surprised to learn that a very confident, relaxed and clean shaven Ryan Hall addressed questions from the press today. The now self-coached Hall, who will be running his first marathon on Monday since leaving old coach Terrence Mahon, called his recent training "possibly my best last couple of weeks before a marathon…on a daily basis I have felt really good," and added that this is not normal for him.
Hall said he has been really consistent in his training and that his workouts have been going great. When asked how he responded to this tough showing at the NYC Half-Marathon, Hall said "It kind of got me going a little bit. I think I figured out some things that contributed to it [the sub-par performance]." One of those factors was that he did not feel good racing so shortly after coming down from altitude. To fix that for the Boston Marathon, Hall has spent the past two weeks at sea level in Palo Alto. As for a race plan and goals for Monday, Hall said "my goals are always really philosophical. I know I can do my best… I am going to run with joy and praise God with every step." When asked if he thought he could compete for the win with all of the top talent at this year's race, he said "I have always felt like that. I have never been a shy one and feel I can compete with anyone in the world."
Kara Goucher: Pregnancy Hasn't Dampened Her Desire To Win In Boston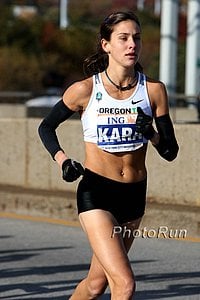 Kara Goucher, who was third in Boston in 2009 (2:32:25), said that fighting for the win in that race was one of her proudest running moments (in case you don't remember Goucher came up third in a 3-way sprint for the victory). As for 2011 Boston, this will be Goucher's first marathon since having her son, Colt, in September and some may be assuming that victory isn't the goal for Goucher on Monday. They'd be wrong as Goucher said excitedly, "It has been awhile since I have been in a race that I am trying to win."
The comeback from child birth began slowly for Goucher but she is coming off a strong half marathon performance at the New York City half marathon (69:03, 3rd place), a race she said she was not particularly planning on doing but that it gave her something to focus her training on. Goucher said that she is feeling great about her preparation for Boston and that her speed from the longer distances down to the 800 is back. She also said that she has a more strategic race plan this year and wishes that she had not let the race get away from her in the last miles of the 2009 race. For preparation for Monday's race Goucher said, "It's not just the ups, it's also the downs. I studied the course elevation wise… I did more long runs and repeats and I practiced more on a course like Boston instead of a flat course."
Desiree Davila: Goal Is To Be Top Five At Mile 20
Desiree Davila comes into the race after running a 2:26:20 personal best in her last marathon in Chicago 2010 and also fresh off some of her best training ever. Davila does not shy away from saying that she wants to be in the top five and is confident in her marathon preparation, "I want to go with the top five and see where that gets me." She added,"I'm confident enough to run in the front and go with the leaders, but to a point. There are people in the race who can go out in 1:10, so there is a middle ground… If I can be in the top five at mile 20 I will compete from there."
Davila also said on Monday she is hoping to gain experience about what it takes to compete with the very best in the world. Something that provides her with extra confidence is the success that other members of her team, the Hansons-Brooks Distance Project, have had at Boston in past years. She said that, "We bring people out here every year and they run well… That's exciting because you know they're doing the same thing you are doing and they run well." As for Davila's recent training, she said, "It is definitely the best segment I have ever had and the best pace I have run in marathon training." When asked about how she felt having made it to the top level of the sport, Davila said, "It is what it is; this is where you want to be. If you are here you are running well." *For a more in-depth feature on Desiree from earlier in the month click here
Race Previews at the Bottom of this Page. Videos Below With the American Based Athletes Via Boston Marathon


Ryan Hall:
"I don't feel a lot of pressure, I just see it as a perfect opportunity... While I don't need to go with every surge, I do need to keep myself a little closer."


Ireland's Alistair Cragg on His Debut
"Just being able to run Boston as a debut is a treat... Meb (Keflezighi) was in great shape in March..." (Alistair pleased with NY Half says he can go halfway in 63)"

Kara Goucher
"There's a lot of pressure (to be an American winner) but it's a beautiful thing. The person who finally delivers is going to be a hero." "I owe everything to him (Adam)... I was just Adam's wife for so long."

Kim Smith: "I'm hoping to win"
"I'm hoping to win...I feel a lot more confident this time around...I didn't expect that (the American all-comers record at half-marathon). I was pretty surprised." "Back home if they just throw a cone in the middle of the road and you run around it, they call it 5k"



Desiree Davila



Blake Russell


Video Via Brooks-Hansons
Desiree Davila Earlier This Month (More Here)

More Boston: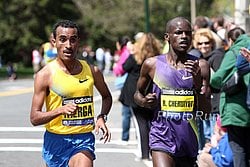 LRC Men's Preview: Stellar Top 3, Moses Mosop's Debut, And Ryan Hall Robert Cheruiyot went 2:05:52 on the Boston course last year and he's not even our favorite, as he faces the world's "strongest" runner, Geoffrey Mutai (the stud who averaged 2:05:08 in 2 marathons last year and then dominated the Kenyan XC ranks), NYC Champ Gebre Gebremariam and the debut of Moses Mosop. Plus, we give you Ryan Hall's chances and discuss his thyroid problem and parasites.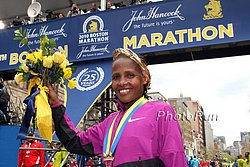 LRC Women's Preview: 10 Seasoned Marathoners Or Newcomer Florence Kiplagat? Former World XC and World Half Marathon champ and Renato Canova-coached athlete Florence Kiplagat (and the wife of men's debutant Moses Mosop) will battle 10 seasoned marathoners that have a chance to win. Who will come out on top? Does Kara Goucher have a chance? We tell you that and more. In our minds, a white former NCAA athlete might win, but her name most likely isn't Kara Goucher.
---
Runner's World &
Running Times



Combined Only $22
a Year
Save $87

---

Running & Track and Field Posters
---


More Nice Offers: Nike Lunar Glide Savings Super popular shoe from Nike featuring Flywire and Lunar Foam

*Nike Air Max Moto Sale $69.99 for this shoe from our partner.
---