2011 Boston Marathon Men's Preview: Stellar Top 3 Take On American Ryan Hall And Moses Mosop In His Debut
By LetsRun.com
April 13, 2011
Prior to the 2010 Boston Marathon, no one had ever run 2:06 on the famed Boston course. Now, no one still has run 2:06 on the Boston course, but Robert Cheruiyot (aka Robert the Younger) stunned everyone by running 2:05:52 on the Boston course last year. He's back to defend his title in 2011, but despite his tremendous 2010 run, he will have his hands full in 2011, as he faces a stiff challenge from two emerging marathon stars in Geoffrey Mutai and Gebre Gebremariam. Those three headliners make this year's Boston Marathon one of the strongest on the men's side that we can remember. Plus there is the much-anticipated debut of Moses Mosop and the hopes of Ryan Hall, the fastest American-born athlete in history.
We break down the stellar field below.
Cheruiyot Back To Defend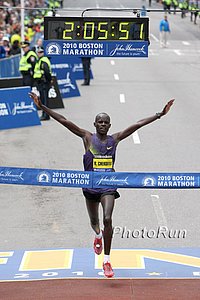 2:05:52 ... at Boston. That really is all you need to know about Robert Cheruiyot. Cheruiyot had run a 2:06:23 marathon before Boston last year, but nothing indicated he was ready to run 2:05:52 at Boston. Having done it once leaves open the possibility of him doing it again. Since Boston last year, Cheruiyot ran the 2010 Bank of America Chicago Marathon, where he was 6th in 2:09:28. Cheruiyot is a true marathon specialist and has not raced since Chicago. He understands what many others don't - that running extremely well once or twice a year in the marathon can be very financially rewarding. We have no indication on Cheruiyot's form in 2011, as the press conference is Friday.
On paper, the biggest challenger to Cheruiyot is a runner who has built up quite a following on LetsRun.com in the last few months, Kenyan Geoffrey Mutai. Mutai had a stellar 2010 in the marathon, running 2:04:55 at Rotterdam in the spring, then 2:05:10 at Berlin in the fall. As fast as Mutai was with his 2:05:08 average, he won neither of the races, finishing second both times. As if to prove those two races weren't flukes, Mutai capped his incredible 2010 by running a 59:38 half marathon in New Delhi in November.
Mutai The Strongest Runner In The World?
Mutai's 2010 was amazing, but he started turning heads on LetsRun.com in 2011 with his performances in cross-country. First up was the Kenyan Police Championships in January which he won by an impressive 25 seconds. Then he raced the "toughest race on the planet" - the Kenyan Cross-Country Championships. The result was absolutely phenomenal, a win over the best runners in the world by 44 seconds.
That prompted famed coach Renato Canova, who has coached many of the world's top runners, to proclaim on LetsRun.com in a fascinating thread, "At the moment, there is an athlete clearly stronger than any other in the World, and is Geoffrey Mutai." Mutai indicated he wanted to run the World Cross-Country Championships while continuing to prepare for the Boston Marathon. At the World Championships, Mutai was a very respectable fifth. Canova blamed Mutai's lack of a higher placing on part on poor Kenyan tactics, as being in the midst of marathon training, Mutai would want the pace to be fast from the get-go and not let it come to a kick. A marathoner wouldn't want to be sharp enough to win the World XC champs 4 weeks before a marathon with a fast finish.
Mutai's last subpar race was nearly exactly two years ago, when he was 8th in the Daegu Marathon, the first marathon he finished. Since then, his performances have been phenomenal. The only question mark for the self-coached Mutai is did he have to alter his training for Boston while training with the Kenyan team for the World XC Champs? Mutai initially said he would only run World XC if he could continue to train on his own, but every report we read said Mutai trained with his teammates in the Kenyan training camp.
Gebremariam The Natural?
The third star in this year's field is the Ethiopian champion of the 2010 ING NYC Marathon, Gebre Gebremariam. The former World Cross-Country Champion looked like a natural for the marathon in his debut in New York, as he handled the hills with ease and crushed the final 10 miles, dispatching runner-up Emmanuel Mutai over the final two. Not only did Gebre win, but he looked great doing it. We don't blame anyone who watched New York and thought, "This guy could be the next great marathoner." His super-smooth stride seems to be made for the marathon.
Cheruiyot, Gebremariam, and Mutai give Boston firepower up front, but there are a host of other contenders who could break up the big three.
Two Challengers To The Big Three
Bekana Daba's experience at the Houston Marathon was pretty bizarre and impressive at the same time. He ran 2:07:04, smashing the course and Texas record. He did all of that despite stopping in the 26th mile before the finish line to use the bathroom. Never have we heard of an elite having such a late pit stop, but it didn't matter. Houston was his second marathon, after his marathon debut in Amsterdam (2:14:40), and this is his third in 6 months. If anyone can handle it, it is probably Daba, as he is only 22 and ran 12:58 for 5,000m on the track last year.
Tadese Tola had a very fine 2010 with a 2:06:41 win in Paris followed up by a 2:06:31 runner-up in Frankfurt. That type of consistency bodes well.
Before turning to American Ryan Hall and discussing the tantalizing debut of Moses Mosop, it's time to dismiss a few contenders.
Can Moses Mosop Win In His Debut?
That brings us to the marathon debut of Moses Mosop. If "everyone loves speed," then everyone should love Moses Mosop. Moses is a 12:54 (5,000m), 26:49 (10,000m), 59:20 (half marathon) guy who won a bronze medal at the 2007 World Championships at 10,000m. Cherkos is a 12:54 guy and we didn't like his chances too much. What is the difference with Moses?
Moses is coached by Renato Canova. Canova, an Italian, is a legendary coach in Kenya, who most recently coached Imane Merga, the World XC Champion (from Ethiopia). Canova understands training, has had tremendous success in the marathon with his athletes, and we're going to give one of his athletes the benefit of the doubt even in a marathon debut. Canova coaches a lot of athletes, but Moses and his wife Florence Kiplagat (the LetsRun.com pick to win the women's race), are two of the athletes he coaches the most closely, with daily interaction according to this thread. Moses was a tremendous cross-country runner as well (Kenyan XC Champ), and cross-country runners do well at Boston. All indications and this detailed blog post we found indicate Moses' training is going well for Boston.
The American Hopes In Ryan Hall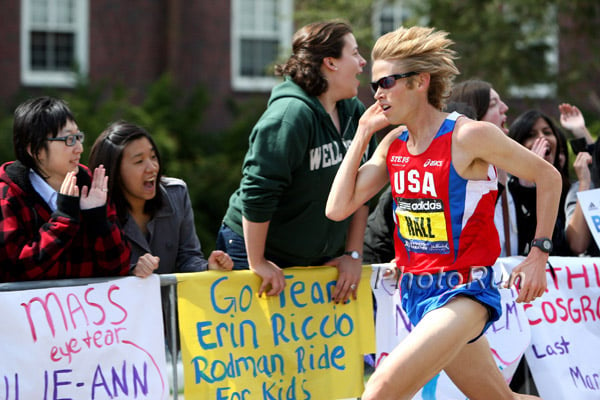 We've saved the American hope Ryan Hall for last. Ryan ran a very respectable 2:08:41 for 4th last year (although at the time, our Wejo was more impressed with American Meb Keflezighi's 2:09:26 for 5th, as Meb contended up front longer - unfortunately, Meb and Boston could not agree on the $$$ for Meb to run this year and he is not in the field). Boston, however, was Ryan's last really impressive performance. Ryan ended up not running the Bank of America Chicago Marathon and then parted ways with his long-time coach Terrence Mahon.
Ryan has been self-coached this spring. Things started fine with a 1:02:20 runner-up finish at the US Half Marathon Championships in Houston. Hall took a big step backwards by running 1:03:53 for the half marathon in New York last month. For the sake of comparison, last fall Ryan pulled out of Chicago after running a 1:03:55 half marathon in Philadelphia. The races weren't similar, as Ryan went out harder in New York this year and faded, but New York was not the tune-up race Ryan wanted.
Now the Boston Herald is reporting that Ryan had thyroid problems and parasites that caused him to miss training in January and February. While he says he feels "back to his old self," he had this to say on his New York half: "It was kind of a perfect storm of issues with my iliotibial band (syndrome) and the missed training earlier."
Missed training, sub-par tune-up races, parasites and thyroid problems don't sound like good preparation for Boston (although to be fair, Galen Rupp and other runners have been diagnosed with hypothyroidism and run much better after correcting the problem). We bet if you told Ryan Hall he could run 2:09 and get fourth this year, he'd jump at the chance.
Predictions:
Since we already picked Florence Kiplagat to win the women's race, it would be nice to pick her husband Moses Mosop to win and make it a family debut double. It's tempting, but we can't see a guy winning in Boston in his debut.
Predictions: Cheruiyot, Gebremariam, Mutai, and Mosop really give Boston a great front four. We can't blame anyone for picking anyone of them, but Gebremariam was so damn smooth in New York, we'll go with him here. are having a tough time making up our minds.
1) Gebremariam 2) Mutai 3) Mosop 1) Mutai 2) Gebremariam 3) Mosop
Ryan Hall: Hall has always run well in the marathon. His "worst" marathon time-wise and place-wise was a 10th place at the Olympics. Besides that, he's always been in the top 5 except for a 2:08:24 for 7th place in London. He showed with his words this year and his run last year that he is willing to run his own pace and not go with the leaders, which could help him place higher than if he went for bust and died. However, we predict his top-5 streak comes to an end, as the Boston field is stronger this year than it was last year.
Note: Watch Boston on Universal Sports TV Starting at 9:30 eastern on Monday, Watch London Live on Sunday at 4:00 am eastern or for the first time ever On Demand without knowing the results at 9:00 on the internet. More info here on London.
More:
*LRC 2011 Boston Marathon Women's Preview
*LRC Men's London Preview: Kebede Vs. Makau Vs. The Field
*LRC Women's London Preview: Liliya Shobukhova Vs. The "Strongest" London Women's Field Ever
*LRC $5,000 Marathon Prediction Contest Just pick your top 3 from our table and you could win $5,000. It'll at least make watching the races more enjoyable.
Top runners below via BostonMarathonMediaGuide.com.
| | |
| --- | --- |
| Men's Open Field* | Personal Best |
| Abreham Cherkos, Ethiopia | 2:07:29 (Amsterdam, 2010) |
| Evans Cheruiyot, Kenya | 2:06:25 (Chicago, 2008) |
| Robert Kiprono Cheruiyot, Kenya | 2:05:52 (Boston, 2010) CR |
| Deressa Chimsa, Ethiopia | 2:07:54 (Dubai, 2009) |
| Alistair Cragg, Ireland | Debut |
| Bekana Daba, Ethiopia | 2:07:04 (Houston, 2011) CR |
| Gebregziabher Gebremariam, Ethiopia | 2:08:14 (New York City, 2010) |
| Ryan Hall, USA | 2:06:17 (London, 2008) |
| Peter Kamais, Kenya | 2:14:58 (New York City, 2010) |
| Stephen Kibiwot, Kenya | 2:07:54 (Praha, 2009) |
| Moses Kigen Kipkosgei, Kenya | 2:10:12 (Nairobi, 2009) CR |
| Robert Kipchumba, Kenya | 2:08:07 (Xiamen, 2011) CR |
| Moses Mosop, Kenya | Debut |
| Geoffrey Mutai, Kenya | 2:04:55 (Rotterdam, 2010) |
| Philip Kimutai Sanga, Kenya | 2:07:11 (Frankfurt, 2010) |
| Tadese Tola, Ethiopia | 2:06:31 (Frankfurt, 2010) |
| Gilbert Yegon, Kenya | 2:06:18 (Amsterdam, 2009) |
---
Runner's World &
Running Times



Combined Only $22
a Year
Save $87

---

Running & Track and Field Posters
---


More Nice Offers: Nike Lunar Glide Savings Super popular shoe from Nike featuring Flywire and Lunar Foam

*Nike Air Max Moto Sale $69.99 for this shoe from our partner.
---