The Week That Was In Running - March 14 - March 20, 2011
To read last week's LRC Week That Was, click Here.
To read any 2010 LRC Week That Was, click Here.
By LetsRun.com
March 21, 2011
2011 World Cross-Country - A Depressing End To An Era Or An Optimistic Beginning To A New One?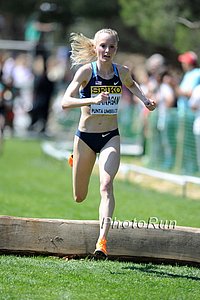 The last of the annual World Cross-Country Championships took place last week. To us, World XC is the greatest race in the world and it's a bit sad to see the best non-Africans not even trying to compete at Worlds. Thankfully, American Shalane Flanagan didn't get the memo that it's a lost cause, as she showed up and came back late in the race to earn the bronze, the first non-African to medal in the women's race since 2002. Flanagan's bronze at Worlds in some ways was very similar to the bronze she earned at the 2008 Olympics. In the Olympics and in Spain over the weekend, Flanagan wasn't necessarily the third-fittest person to start the race. She likely was close, but it's not a slam dunk to say she was. Then how did she medal? But running smart and closing well.
Both in Beijing and Spain, Flanagan fell out of the top 3 in the latter stages of the race but rallied back for a medal, as many of the top African runners seemingly run as hard as they can for as long as they can instead of backing off when in trouble.
Her bronze medal was well deserved and shows that Flanagan is in superb shape. It also shows the switch to coach Jerry Schumacher is now complete and going very well. Most of you were probably already convinced of that after her 2nd place at the 2010 ING NYC Marathon, but we were not. 2010 NYC was one of the strangest women's marathons we've ever seen (the top 10 all finished within 1:35 of one another) and Flanagan had not run as well at shorter distances post-coaching switch as before the switch, until now.
In terms of the men's race, the highest non-African born finisher was Australia's Craig Mottram, who crossed the line in 23rd but was elevated to 21st after an Ethiopian and Eritrean were DQed for coming to blows at the end of the race (remember Eritrea and Ethiopia warred against each other from 1988 to 2000). An American fan might see that and think, "Wow, an American male could never medal in that event again. It's a good thing they are getting rid of it."
Before we get to that argument, please watch the fight (we've got it set to start at the fight).
But to us, there were a number of developments at World XC that give one optimism to think that an American somehow might medal at World XC (or in the 5,000 or 10,000 at the Olympics), even though in our minds we think - like in the case of Flanagan - it's unlikely that an American would ever be one of the three fittest people on the planet if the whole world showed up in peak fitness on the same day.
Two reasons to think a non-African might medal at World XC or in the Olympics in the 5,000 or 10,000.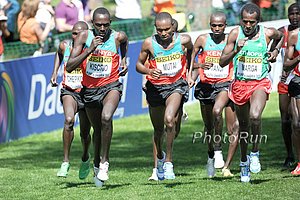 1. Look how Geoffrey Mutai and Isiah Koech did in the senior and junior boys races. Mutai, the Kenyan men's champ, and Koech, the junior boys champ, did things earlier this year we may never see an American male do in our lifetime. We can't simply imagine an American marathoner producing two marathons at 2:05:10 or better and then have this same man go to Kenya and win the Kenyan Cross-Country Trials by 44 seconds. That being said, Mutai, who is getting ready for next month's London marathon, didn't win in Spain. In fact, he didn't even medal. He finished just 5th. Koech, who set the world junior record of 12:53 earlier this winter in the 5,000 before winning the Kenyan junior trials, was only 10th in the junior boys race. Many people, including a Kenyan sports editor, apparently don't believe Koech is truly a junior, but that's irrelevant to us. It's hard to imagine a scenario where an American who had a 12:53 5k PR and was allowed to run in the junior race wouldn't at least medal in some fashion.
All we're trying to point out is that while an American might never be able to produce the truly dominant performances that some of the African-born runners can produce, it's often very hard for the African runners to duplicate those performances when they are needed most.
2. Three - number of runners finishing in the top 10 at World Cross-Country that have a 5,000-meter personal best that is better than Galen Rupp's (13:07.35).
All we're trying to point out is that many of the Kenyan runners don't have stellar track credentials. Now some might argue that's because there is little money in track any more for your run-of-the-mill 13:00 guy from Africa, so more and more Africans are being forced to run the roads early in their careers. That's true, but it doesn't obscure the fact that the track PRs of US runners like Rupp and Solinsky and Ritzenhein are competitive with many of the top runners in the world.
Looking for a negative stat? It's worth noting that only three of the runners in the top 10 at World Cross-Country are older than Galen Rupp (if their ages are to be believed, which isn't always the case). It's also worth noting that while many of the guys in the top 10 at World XC don't have sub-13:00 5k PRs, a recent strong 5k doesn't get you anything at World Cross-Country.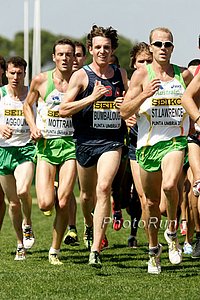 Ben St. Lawrence - the man who defeated Chris Solinsky and Matt Tegenkamp in Melbourne on March 3rd by running 13:10.08 - finished just 42nd. American Andrew Bumbalough, who ran 13:16.77 in Melbourne, finished just 78th.
Think of this American team - Bernard Lagat, Chris Solinsky, Matt Tegenkamp, Galen Rupp and Dathan Ritzenhein. The American dream team could take on the world's best and do very, very well. The only way it's going to happen, however, is if Nike decides to do a marketing campaign around it and pays them to run World XC. Two years from now, that team may not be as good as it would have been this year, and four of the five showed they are very fit within the last month. Too bad they didn't do it this year, but hopefully some Nike Marketing Exec is reading this.
Quote Of The Week #1 (That Wasn't Quote Of The Day)
"Sadly, yeah (I think we're seeing the beginning of the end for world cross country). There is such a great history behind the event, but it's hard to find a pure cross country runner in Europe or America anymore, because there's just no career in that, no way of making a living.

"Kenya and Ethiopia have made it so hard now it's tough to finish even inside the top 20. And as a professional runner it can be very demoralising, to finish, say, 60th, and yet still have a decent run. For a lot of European and American distance runners, the question now is what's the reason? There is hardly any chance of getting a medal, even if you are in the shape of your life. There are so many other opportunities on the track and the road."

- Former Arkansas Razorback Alistair Cragg talking to the Irish Times about World Cross-Country. Cragg's week last week is the perfect example of the challenges World Cross-Country faces in 2011. Instead of going to Spain and getting killed and making no money, Cragg went to New York and ran the fastest half marathon ever by an Irishman by running 60:49 and got paid in the process, as he was sixth in the NYC Half Marathon.
Here's an idea: Maybe in two years, we can get the NYC Half and the IAAF to work together on the scheduling of their events and the NYC Half can offer a $25,000 appearance fee and $50,000 or $100,000 bonus to the World Cross-Country champion if they come and win in New York, say, a week after World XC.
One thing would be better if the sports leaders scheduled their events on different days.
2011 LA Marathon - Two Impressive Debuts
T&F News
US Top 11 All-Time At Marathon (Includes Aided Courses)
1--2:19:36 Deena Kastor
2--2:21:21 Joan Samuelson
3--2:25:53 Kara Goucher
4--2:26:20 Desireé Davila
5--2:26:22 Magdalena Lewy Boulet
6--2:26:26 Julie Brown
7--2:26:40 Kim Jones
8--2:27:03 Amy Hastings Debut LA 2011
9--2:27:10 Marla Runyan
10--22:27:35 Francie Larrieu Smith
11--2:27:51 Patti Catalano Dillon
Galen Rupp and Shalane Flanagan weren't the only American distance runners to have good races last weekend. Former NCAA 5k champ Amy Hastings, who is a somewhat recent member of Terrence Mahon's Mammoth Track Club, had a stellar marathon debut in Los Angeles. It has been an unofficial policy of LetsRun.com to give the LA marathon as little publicity as possible (this year we didn't have to do anything special as the race went against the stacked NY Half and the World XC Champs, so third billing on the website was way, way down), as the marathon in 2010 and 2009 didn't conduct elite drug testing (if anyone knows if they did it in 2011, please email us. This isn't some mom and pop race. It is a race with a million dollar budget), but Hastings' run in LA was so good, we have to talk about it.
Hastings went into the race hoping for a 2:28 and she got something better - nearly a 2:26, as she ran 2:27:03 to place second. 2:27:03 for 26.2 puts Hastings at #8 all-time on the US list for the marathon. Falling out of the top 10 after almost 30 years was Patti Catalano Dillon, who ran 2:27:51 back in Boston in 1981. Dillon as of 2006 was still training at more than 100 mpw. Truly unbelievable.
As for Hastings, we loved this post-race quote from her in the LA Times. Let's call it Quote Of The Week #2 (That Wasn't Quote Of The Day)
"I didn't realize how fast I was going. That might have been to my benefit in this one."
The winner on the women's side in LA was Ethiopian Buzunesh Deba, the woman whom we praised for earning $77,000 the very hard way last year. As for the men, Ethiopian Markos Geneti's debut was even more spectacular than Hastings', as the 13:00 5ker and regular at the Boston indoor meet and 2004 world indoor 3k bronze medallist scorched a 2:06:35 to set a new California record. In the process, he also won the battle of the sexes and the $100,000 bonus.
More: *LRC MB Thread On Hastings Here *A Brief Chat With Amy Hastings (Pre-Race) *LRC MB Chat: Top 10 list USA W Marathon *Chat: Patti Catalano Dillon *Markos Geneti's Marathon Debut Is Spectacular In LA As He Sets California Record With A 2:06:35 *AP Recap Of LA Marathon *LA Marathon Photo Gallery
Thoughts On NYC Half Marathon
1. Galen Rupp: Incredibly Impressive, But Wind-Aided (And Downhill)
Galen Rupp's 60:30 for a half marathon debut is very impressive and has to get US distance fans excited about his future prospects about the marathon. As we watched the race, we kept thinking to ourselves, "Why is this guy wasting his time at the shorter distances?"
After all, it makes him the 5th fastest American ever at the 13.1 distance. That being said, some people are pointing out that the NYC Half Marathon is run on a point-to-point course and that Rupp (and others, including 17-year-old Eddie Owens, who ran a fantastic 67:38) was aided significantly by a 12 mph tailwind during the final 6.9 miles once the runners left the loop in Central Park.
Casual fans of the sport might ask themselves how much of a difference 12 mph makes. The answer - a lot. At least 10 seconds per mile. Some calculators say more than 20 seconds per mile.
As for Rupp, all we'll say is the 2012 US Olympic Marathon Trials date of January 14th is a perfect date for US track runners. One can run a full track season going through Worlds in August, take two weeks off and still have four months to get ready for the Marathon Trials. After the Trials, one can take a month off, and still have four-five months to get ready for the Track Trials.
The New York course also featured roughly a 100-foot elevation drop, which probably would aid one's time in the neighborhood of 18-20 seconds as well.
While Rupp's run was impressive, we were not too surprised. As we wrote on the homepage on Sunday, "If an American is going to win it, we expect it to be Galen Rupp in his debut". 27:10 guys should run 1:00:30 for the marathon. American Mo Trafeh ran 1:00:39 last year in the half for third and didn't even get mentioned on our homepage (Sorry Mo, you are too overlooked).
2. Kara Goucher Sure Gets In Shape Fast
On January 16th, Goucher ran 74:02 in Arizona, making many wonder, "Why is she even trying to do Boston?" On Sunday, March 20th, she ran nearly four minutes faster (69:03), making everyone wonder if she can't be a factor in Boston. One question we have is, "Will she have enough base behind her to contend late in Boston?" She made up a ton of ground in a short period of time, but will she be strong late in the game at Boston? Goucher says she has been running more miles than ever. Before this past weekend, her speed seemed to be the problem.
3. We Still Can't Believe Mo Farah Is Being Coached By Alberto Salazar
With his win in the NYC Half Marathon on Sunday, Brit Mo Farah moved his all-time career record to 6 and 0 against American Galen Rupp. While we know it would be great for Nike if Mo Farah does well in London in 2012, we still are surprised he's being coached by Alberto Salazar. It is a very interesting situation to say the least. Salazar and Rupp are very close together, a track and field version of father and son. Coaches may be able to have some detachment from their runners, but we don't think it's a stretch to assume if Rupp and Farah are in a race together, Salazar is rooting for Rupp to come out on top. Bringing Farah into the fold was likely meant to push Rupp to higher heights, and Farah could run the 5,000m at the Olympics and Rupp the 10,000m. What if 10,000m is Farah's best distance as well? Either way, let's hope the two can keep pushing each other to a higher level in 2011. If you are impressed with Rupp's debut, then you have to give Farah his props as well for his debut. We think both of their performances show that guys in low 13-minute shape should run 1:00 half marathons.
4. Alistair Cragg Runs Fastest Time Ever For Irishman & It's Impossible To Not Remember Who Coaches Him (And Amy Hastings)
Already in the week that was, we talked about the strong weekends that Alistair Cragg and Amy Hastings had last week. One thing we didn't mention about Cragg is that he, like Hastings, is part of the Mammoth TC and coached by Terrence Mahon. Mahon and Mammoth TC are of course the former home of American half-marathon record holder Ryan Hall. Hall ran the NYC Half Marathon last weekend but struggled home in 63:53.
We feel much like the NCAA basketball pundits on this one. We heard a bunch of them saying prior to the start of the tournament, "No way does VCU belong in the tournament. Now realize that doesn't mean they can't win some games." Well they've certainly done that, as VCU is the darling of the tournament since they blew out three big-name schools last week in USC, Georgetown and Purdue.
As for Hall, the fact that Mottram and Hastings are running well is one fact and the fact that Hall didn't run great is another. The two don't necessarily mean anything about each other.
After all, one needs to remember that with Mahon last year, Hall wasn't exactly on fire himself. Hall produced a 64:08 half marathon in January as compared to a 62:20 this January that he ran in Houston. But it's impossible not to realize that 63:56 is the time Hall ran in September in Philadelphia as his last race as a Mammoth TC member. After that race, Mahon was shown the door. In New York, Hall ran almost exactly the same time.
Our take on it is that Hall is a superb talent and he certainly knows he shouldn't be running 63-fifty-something no matter who is coaching him - himself or Mahon. Racing a half marathon has been very poorly correlated with success at the marathon, but a poor half-marathon can only hurt the confidence. More: Ryan Hall 1:03:53 *Amy Hastings LA Marathon *Enough with the imported Africans, I am not counting Cragg's NR, Fagan you are still the man in my book
5. Despite The Great Names Assembled For The 2011 NYC Half Race (Meb Keflezighi, 62:52, dos Santos 61:23, Abdi 63:12, Stephen Shay 64:39), It's Impossible To Not Be Fascinated By Galen Rupp's Mask. The traffic on the Galen Rupp mask thread proves that everyone else agrees even if they won't necessarily admit it.
A picture is worth a thousand words, isn't it?
The picture is so shocking that it naturally leads to discussion. That being said, while Rupp's coach Alberto Salazar clearly loves technology, it was refreshing to read the following quote from Salazar in The Independent last week. Quote Of The Week #3 (That Wasn't Quote Of The Day):
"I'm obviously someone who trained very hard as an athlete. A lot of people say I burned myself out. So I'm someone who's very old school in that regard; I know you have to train hard.
"Hopefully I've learned something from my mistakes, in terms of not repeating them with my athletes. But I am very old school with my athletes. I want them to run the maximum amount of miles that they can and stay healthy. There's nothing that replaces volume and running miles; no doubt about it. People should understand that we train very, very hard, doing the maximum amount of miles we can.
As long as Rupp and Salazar's boys are going to run a ton, then we're all for the technology. Salazar views technology probably the same way we here at LetsRun.com view speedwork. Whenever someone asks us about hard workouts and speedwork, we always say it's important but as long as it comes after a ton of base.
The same thing is true with technology. There is nothing wrong with technology - it actually probably helps, but only assuming it comes in addition to old-fashioned aerobically-based training. Although in this case, Ross Tucker of the Science of Sport Blog says the mask may help Galen psychologically, but it may actual hinder his performance by increasing breathing resistance.
The amazing thing about Galen Rupp is he's been very dedicated at running since a very young age and he keeps working hard each and every year with few if any major setbacks.
6. While we come clean and admit for full disclosure that the NYRR advertised their NYC Half coverage on LetsRun.com last week and has been an advertising partner in the past (one of our pet peeves is websites not disclosing when something is advertising, and potential conflicts of interest), we have to praise them for their coverage of the NYC Half Marathon. Mary Wittenberg and staff produced two professional pre-race shows live from Times Square with professional sets and announcers just like they did for the New York Marathon. Then on race day, they were back for more, with a self-produced professional production that we believe included helicopter shots. For our sport to even think about entering the mainstream, it has to be covered like it's mainstream, and kudos for the NYRR for doing that. Now if they could only convince the city of NY to let the race be at 2 pm instead of 7:30 am. And we still believe it should be someone's full-time job at USATF just to get track and field highlights on ESPN.
Meanwhile, Across The Pond: Zersenay Tadese Runs 58:30 In Portugal
While the NYC Half Marathon got all the attention on LetsRun.com last week, the best half marathoner on the planet - Zersenay Tadese - blitzed the 2nd-astest half ever, 58:30 in Lisbon. He came through 10k at 27:42 and kept on going. Super, super impressive.
*IAAF Recap Here
Quote Of The Week #4 (That Wasn't Quote Of The Day)
"There was also a day in February when I had an epiphany. I had lived my life without regrets. I had loved with my whole heart, lived each day for all it was, done my best while doing the right thing, and I was at peace. I realized that by living without fear, I wasn't afraid of what the future may or may not hold. If my time was up, then I could leave this earth satisfied. If I was to live another day, then I would continue according to plan."
- American marathoner Serena Burla, who was profiled in the New York Times last week, as her comeback from radical cancer surgery continues to amaze. The article along with several others are Recommended Reads for the week. *Elite Runner Back After Radical Cancer Surgery
#####
Other Happenings Of Note
Mark Block, Husband And Coach Of Former World 100m Champ Zhanna Block, Gets 10-Year Ban For Providing Drugs *2nd Article
#####
Looking Ahead (Time To Start Getting Excited For ....)
This Weekend: Stanford Invitational
April 10: Paris & Rotterdam Marathons
April 18: Boston Marathon
#####
Quotes Of The Day From Last Week
Sunday/Monday: FLANAGAN GETS BRONZE AT WORLD XC
"I had to rise up and elevate my game today."
- USA's Shalane Flanagan after her super-impressive bronze medal run at the World Cross-Country Championships yesterday.
---
Saturday: "The IAAF Cross Country Championships is the greatest distance race in the world. I love the fact that you are going up against the top six runners from each country from around the world. You've got milers, 10k runners, and marathoners, all gunning for the hardest gold medal in distance running. It's like our Super Bowl."
"What stands out most from my experiences of running it is the five to ten minutes just before the race starts. You can feel the tension in the air as everyone tries to get in their last few strides. Then, with about two minutes left, they put all the athletes in their assigned boxes and it's just eerily quiet as the clock counts down to when the gun will go off. But as soon as the race starts, it's loud, physical, and chaotic for the full twelve 'K.' For the first few kilometers everyone is just rushing to the front, so you feel like you're sprinting but people are still passing you. ... but you just have to believe that they'll come back to you."
- Canada's Simon Bairu shares some first-hand insights from his experience at World Cross-Country. He is not racing this year, but finished an impressive 12th last year in Poland.
---
Friday: "There is a power in cross country. Being a member of team USA in 1975, it was huge, I remember getting my uniform in the mail. To make it to this level is huge, to me American International athletes are some of the best ambassadors in our country ... I am patriotic to a certain sense and that is a big part, I think the international side of running is huge and should be our ultimate strength. Before money we lived to compete just to run in the race and wear the uniform."
- Marathon legend Bill Rodgers on making the US Cross-Country team and finishing 3rd at the 1975 Worlds. Rodgers' interview is from part 4 of a 4-part series by XCNation.com focusing on the the US XC Team at this Sunday's World XC Champs in Spain. Part 1: Molly Huddle, Bumbalough, Blake Russell, Others, Part II: Brent Vaughn, Magdalena Boulet, Aisling Cuffe, Others, Part III: Legends Craig Virgin, Thom Hunt, Greg Meyer, Ed Eyestone, Steve Plasencia, George Malley
---
Thursday: "I started thinking about London 2012 after the last Olympics. I didn't make the team in 2008 and I had a torn Achilles. From there my career didn't look like carrying on. My girlfriend Jemma Simpson had to basically nurse me back to my feet, telling me that this is a four-year plan. She would always tell me to look at the big picture. I have always had in the back of my mind progression towards 2012, anything else is a bonus ... If you don't have a long-term plan and direction, I believe that in this sport it will only catch up to you and bite you in the ass ... Preparation is as important as the race itself. But if you come through it, then magic things can happen."
- UK and OTC runner Chris Thompson on his comeback from injury and outlook on preparing for the 2012 Olympics. Thompson came back from his torn Achilles to get 2nd in the 10k at Euros behind teammate Mo Farah in 2010.
---
Wednesday: "I believe there are numerous reasons for the resurrection of distance running here in America but one reason that cannot be overlooked is the return to high mileage. The drought of world class American distance runners in the 90s and up until the turn of the millennium can possibly be linked to the training philosophy of quality over quantity. What astonishes me is to see how this theory was so accepted after the great success of high mileage runners such as Bill Rodgers, Frank Shorter, and many others. Fortunately, it seems most coaches have accepted once again building strong aerobic foundations and that this is propelling their athletes to great success."
- Former US World Cross-Country team member Chris Barnicle. Barnicle's interview is one of many that XCNation.com did with the entire men's and women's and junior teams for the World XC Championships this Sunday in Spain (click here for Part I and here for Part II of the series).
---
Tuesday: "One of the other media people told me, 'You don't look happy today'. And I knew I didn't look happy. I was having a fight with myself, putting pressure on myself ... I was competing against my old self at the UW meet. I think that was the big thing. I didn't want to leave with that stupid star beside the number."
- Oregon's Brianne Theisen after breaking her own NCAA record in the pentathlon with 4,540 points. Her previous record of 4,507 points got an asterisk in the record books because she ran the 800 on an oversized (307-meter) track.
#####
Last Week's Homepages
*Mon (March 21) *Sun (March 20) *Sat (March 19) *Fri (March 18) *Thu (March 17) *Wed (March 16) *Tue (March 15)
---
Runner's World &
Running Times



Combined Only $22
a Year
Save $87

---

Running & Track and Field Posters
---

Offers of interest: Nike Lunar Glide Discount Discounting on this shoe not allowed until recently.
---