NCAA D1 Indoors
Men *Results/Start Lists
LRC Day 2: Rupp And Oregon updated Galen Rupp's victory in the men's 3k was so dominating it won't be appreciated. Rupp powered away from the field on the first lap and the rest of the runners waved the white flag as Rupp went on to win in 7:48.94, capping the greatest NCAA indoor meet ever by a distance runner. Rupp's weekend was one for the ages and led Oregon to the men's title. Jacob Hernandez won the men's 800 and New Mexico's Lee Emanuel was a surprise dominant winner in the mile.
*Video Coverage Of The Last Laps Of The Distance Races
*Arkansas' Chris Bucknam: "We'll have to go back and reevaluate a little bit." The Hogs got 8th.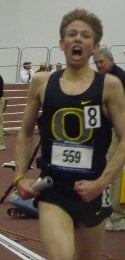 LRC Day 1 Men: The Incredible Galen Rupp!!! The guy who used to not be able to close out races now is a monster. He closed the last 800 of the 5k in 1:55 and then came back and did the nearly unthinkable - outkicking the milers, including Ulrey by .72, to give the Ducks the DMR win. Rupp had 0 NCAA track wins before Friday. Now he has two and he's going for an unprecedented triple on Saturday. His sick double had never been done before. Recap, results, photo links, video interviews above. Interview with Derrick fixed.
*Oregonian On Rupp's Incredible Day *Video Of Last 400 Of DMR
*Arkansas In 3rd After Day 1 Ulrey: "They put me in position to do it and I let them down."
*Chelanga Can't Match Rupp's 1:55.3 Close *Live Blog From Oregon Ducks
*T&FN Men's Prediction - Oregon Edges Arkansas
*Oregon Paper Has Ducks Blowing Away Competition Interesting to point out that that Wheating has a blister.
*Galen Rupp Will Do Whatever It Takes To Give Ducks The Title Oregon women going for 1st-ever top 10 showing.
*Jacob Hernandez Hoping To Beat Wheating, Mulder And His Own Teammate Hernandez lost the school record to Tevan Everett.
*Oregon Plane Makes Emergency Landing On Way To Meet
*Rupp, Fernandez And Rojo Honored By USTFCCCA
NCAA D2 Meet
*Start Lists/Heat Sheets/Results
*DII Indoor Predictions
NCAA D3 *Results *Live Video Mile starts at 4pm.
Knee Injury Forces Steve Hooker Out Of Next Week's Australian National Champs: Two Weeks Of No Running And 4 Weeks Of No Jumping Are Coming Up
A Look At Kenya's XC Team Captains Mark Kiptoo And Lineth Chepkurui
Mary Cullen To Run 5k In Ireland On St. Patty's Day
A Must Read Erin Donohue Dealing With The John Cook Drama Donohue is moving on in pursuit of her dreams coaching herself with help from Gags while Cook isn't looking back either. Cook: "I didn't recruit any of those girls ... Erin was waddling around the Nike campus 10 pounds overweight."