Makau Big Winner In Another Incredibly Fast Fortis Rotterdam Marathon
LetsRun.com
April 11, 2010
The 2010 Fortis Rotterdam Marathon again lived up to its billing as one of the fastest marathons in the world, as for the first time in history, four runners broke 2:06-flat in the same race. In fact, when it was all said and done, four had broken 2:05:30.
In the end, Kenyan Patrick Makau, running in his third career marathon, became the 4th-fastest marathoner in history when he crossed the line in 2:04:48. As is the case in most sub-2:05 races, Makau was pushed to the limit by second-placer Geoffrey Mutai, who ended up becoming the 7th man in history to run sub-2:05 (2:04:58), as Makau didn't pull away until after the 40km mark.
In history, there have only been six sub-2:05 races and in three of them, there were multiple people under 2:05, as clearly competition late in the game makes people run faster. In 2003, Paul Tergat was the first to break 2:05 when he ran 2:04:55 to Sammy Korir's 2:04:56. Last year in Rotterdam, there was yet another epic finish as Duncan Kibet edged out James Kwambai in a race were both were timed in 2:04:27. World record holder Haile Gebrselassie is the only man who has gone under 2:05 more than once (he's done it three times) and he's also the only man to have run under 2:05 without someone also pushing him all the way past 40k (although James Kwambai actually did push Geb for most of his 2:03:59 WR, as Kwambai ran 2:05:36 in that race).
Coming in third and fourth in Rotterdam on Sunday were two jubilant runners in Vincent Kipruto (2:05:13) of Kenya and Feyisa Lelisa (2:05:23) of Ethiopia. Lelisa, a young, precocious 20-year-old Ethiopian, who won his first two marathons before Rotterdam, now holds claim to the title of "Fastest 4th placer in marathon history." The previous holder of that title? None other than today's race winner in Patrick Makau, who was fourth last year in Rotterdam in 2:06:14.
How The Race Unfolded - Fast And Steady Through 20k
In Sunday's race, six pacemakers made the tempo fast from the gun in an attempt to one-up the 2009 performances. Timing reports say that 15km was passed by all the main contenders in 43:56, or just under world record pace.
Video: Patrick Makau talks after his win in Rotterdam.
The blazing early pace slowed significantly between 20k and 30k as the runners ran into the wind. Reports indicate this 10km section was run in "only" 30:18, or 2:07 full marathon pace. The race became tactically exciting as young Ethiopian Feyisa Lelisa and others pushed the pace in surging fartlek style and slimmed down the lead pack. Eventually Mutai and Makau were the only ones left in the lead group.
Makau said after the race that he was confident after 30k and after 35k, waiting patiently while others did the work. During the last 5km, Makau and Mutai battled with Makau eventually breaking away in the final 2k. When asked about the world record, Makau responded, "Of course I was capable of doing the world record if there was not [so much] wind."
Debut Marathoners Come Up Short Of Record
Makau was not the whole story in Rotterdam. There was talk of two young Kenyans making their marathon debut, World Half Marathon 2nd-place finisher Bernard Kipyego and Jonathan Maiyo. Both men had hoped to break Evans Rutto's debut marathon world best of 2:05:50 but ended up missing the mark. Kipyego finished in 2:07:01 (5th) and Maiyo faded to 2:12 for 11th place.
Perhaps the first-timers can be heartened by Makau's story. Once a half-marathon ace like Kipyego and Maiyo, Makau's first marathon came one year ago in Rotterdam when he ran 2:06:14 for 4th. He then DNFed in New York last fall. This year, with more training and experience under his belt, Makau became one of a handful of the fastest men in history. Comparing this year to last year, Makau said training made this year's 2:04 seem much easier than last year's 2:06. "If you train, [and] you train hard," Makau said, "Then most of the times you win easily. So [this year] is not like last year. I had done just little training. So I finished last year and I was so tired."
The stats show that the training did indeed pay big dividends for Makau, as it's worth noting that his 30km split this year (1:28:58) was actually slower than last year's (1:28:52), but he ran the final 12.2km 1:26 faster this year.
The video below shows Makau's finish just ahead of Geoffrey Mutai.
Video: The 2010 Rotterdam Marathon finish. Patrick Makau, 2:04:48.
Winning First, Time Second
Makau's pre-race buildup will surely be studied by some coaches and athletes to see what it takes to prepare for a sub-2:05 race and a strong finishing burst. Some might be shocked to see he ran only 66 minutes in January's Zayed International Half Marathon. But in March's City-Pier-City Half Marathon in The Hague, Makau ran a race that gave him great confidence because of the sprint-finish style win and the time of 59:51. Perhaps his patience in the race in January - a performance that could have shaken a 58-minute half marathoner - will be noted as the key to a high performance in April.
As he told a reporter after the race, Makau's focus has been on winning Rotterdam, not on time. "My high target was to win," Makau explained, "Even though the pace was high, my high target was to win."
Kwambai Again Reduced To Lowest Gear
After his stunning 2009 Rotterdam performance, James Kwambai returned to the race this year hoping to replicate last year's magic. He was confident before the race, saying, "My body responded quite well to training and if we get good pacemakers like those we had last year coupled with favourable weather conditions, then nothing will stop us from smashing the world record."
His finishing time of 2:24:07 is extremely misleading, as he stayed with the leaders through 30km and was only 45 seconds back at 35k, but then he hit the wall big time. And we mean big time. He "ran" the 5km from 35k to 40k in 27:00 before covering the final 1.2k in 12:32. It's basically the 2nd straight marathon where he ended up walking late in the race, as last November he was with the lead pack late in the ING New York City Marathon before stopping and ultimately visiting the hospital.
In Kwambai's two marathons post-2:04:27, he has DNFed in New York and completely bonked in Rotterdam. After New York, won amid great pageantry by American Meb Keflezighi, Kwambai's coach Dr. Daniele Rosa said he had no explanation for Kwambai's physical failure to win (or even finish), as his workouts and training had been perfect. This latest performance, again following a thorough buildup, may further shake the talented Kwambai's confidence.
Women's Race - Magdalena Lewy Boulet Runs 2:26:20
Poland-born Magdalena Lewy Boulet proved that it is possible to run well at World Cross-Country and the marathon distance by running a strong 2:26:20 for 2nd place only fourteen days after helping the US senior women's team to a bronze medal in Bydgoszcz, Poland. Almost a minute ahead of Boulet was Ethiopian Aberu Kebede, who ran unchallenged for essentially the entire race.
For 2008 Olympic marathoner Lewy Boulet, a decade of improvement continues in sweet fashion, as the 36-year-old is now the 5th-fastest American female of all time at the marathon and a World Championships medalist - all in the span of 14 days. Lewy Boulet was 20th at World Cross and on Sunday, she was unfazed by the 20k-30k headwind, as she recorded a 1:13:55-1:12:25 negative split (that's 90 seconds faster over the second half of the race).
For those of you looking for inspiration, Lewy Boulet's first marathon came in 2001 when she was 3rd in the Cleveland Marathon in 2:44. In 2006, Lewy Boulet ran 2 marathons in 2:40 and 2:50.
Other Results - Carney Struggles In 2nd Half
American James Carney, the 2008 US half marathon champion in 62:21, managed about a 60-second marathon PR in his second attempt. Carney finished 13th in 2:15:50, but ran 1:05:50 for the first half and only 1:10:00 for the second half. The Boulder-based Carney ran with the 2:11-paced pack, which he admitted was ambitious for him, and struggled in the second half of the race.
Kenya-based Dutchman Koen Raymakers won the Dutch Marathon championship with a 9th-place 2:11:09 out of the Carney group.
---
More Links:
*Official LetsRun.com Rotterdam Marathon Thread
*IAAF Recap
*Video Highlights
*Race Video Replay
---
Men's Results (From IAAF)
1. Patrick Makau KEN 2:04:48 PB
(splits: 14:48-29; 16-43:57; 58:40; 1:02:08; 1:13:51; 1:28:58; 1:43:52; 1:58:38)

2. Geoffrey Mutai KEN 2:04:55 PB
3. Vincent Kipruto KEN 2:05:13 PB
4. Feyisa Lelisa ETH 2:05:23 PB *fastest-ever 4th-placer
5. Bernard Kipyego KEN 2:07:01 PB debut
6. Francis Kiprop KEN 2:08:53
7. Daniel Rono KEN 2:09:49
8. Elias Chelimo Kemboi KEN 2:10:29
9. Koen Raymaekers NED 2:11:09 PB Dutch champion
10. Yared Dagnaw Sharew ERI 2:11:28
11. Jonathan Maiyo KEN 2:12:45 PB debut
12. Michael Shelley AUS 2:13:05 PB debut
13. James Carney USA 2:15:50 PB
14. Evans Kiplagat KEN 2:16:25
15. Ronals Schroer NED 2:16:28 PB second in Dutch championship
16. Rens Dekkers NED 2:17:10 PB third in Dutch championship
17. Jeppe Farsoeht DEN 2:18:47 PB
18. Jason Warick CAN 2:21:09
19. Rachid Benjira SWE 2:21:20
20. James Kwambai KEN 2:24:07 (second last year in 2:04:27)
---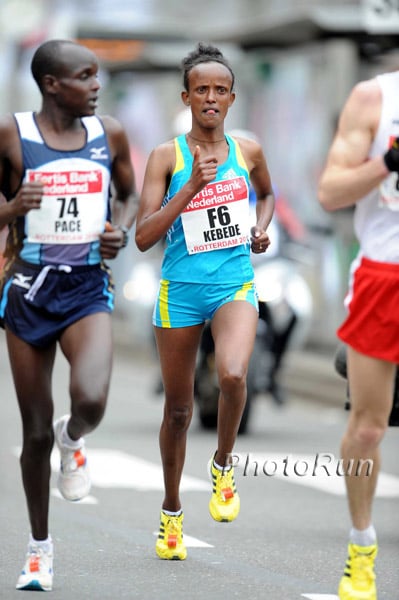 Women's Results (From IAAF)
1. Aberu Kebede ETH 2:25:25 PB
(splits: 17:03; 33:57; 51:10; 1:08:02; 1:11:59; 1:24:58; 1:42:00; 1:59:17; 2:17:15)
2. Magdalena Lewy-Boulet USA 2:26:22 PB
3. Xialin Zhu CHN 2:29:42
4. Yevgenia Danilova RUS 2:31:44 PB
5. Beatriz Ros Blanco ESP 2:32:28
6. Alina Istadura ROM 2:33:36 PB
7. Zoila Gomez USA 2:33:54
8. Meseret Mengistu ETH 2:34:07 PB Debut
9. Olga Glok RUS 2:38:10
10. Merel de Knegt NED 2:38:41 PB Dutch champion
11. Xenia Luxem BEL 2:39:01 PB Debut
12. Anna von Schenk SWE 2:39:20
13. Inge de Jong NED 2:40:55 PB Debut, second in Dutch championship
14. Miriam van Reijen NED 2:41:24 PB third in Dutch championship
15. Colette Fagan GBR 2:46:32
---
Runner's World &
Running Times



Combined Only $22
a Year
Save $87

---

Running & Track and Field Posters
---


More Nice Offers: Nike Lunar Glide Savings Super popular shoe from Nike featuring Flywire and Lunar Foam

*Nike Air Max Moto Sale $69.99 for this shoe from our partner.
---