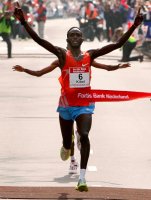 Rotterdam: Duncan Kibet Edges James Kwambai in Thrilling (and Fast) Rotterdam Marathon
This race had it all, fast times, a thrilling finish, and US television coverage. James Kwambai (who had battled Gebrselassie deep into his 2:03:59 world record run last year in Berlin) and Duncan Kibet (a 2:07 marathoner who came to life yesterday on LetsRun.com thanks to a video from his agent from the Netherland's version of LetsRun which you can see on the righthand column on this homepage) battled step for step at a blistering pace dropping, half marathon star Patrick Makau in his debut. Kwambai pulled ahead the final 500m and appeared to have it won, but then Kibet put on a furious charge to pass Kwambai in the final 10 meters to get in the win in a stunning 2:04:27. Yes 2:04:27 for both men. This letsrun.com message boarder was right when he posted yesterday "Expect a couple 204s in rotterdam tomorrow, maybe even wr!" saying "All these guys running under an hour in the half are going to make 206 look as commonplace as under an hour has become. The marathon is finally starting to get as fast as it should be based on the the 5k and 10k in recent years by the africans."
*Video of Race (The Last 5 Minutes (Well 1 Minute) Is a Must. You can Skip Around and Ed Eyestone is on the commentary)
Cathy Freeman Getting Married in Top Secret Wedding on Easter
US Track Action
Texas Relays: *Results *Video
*Texas Relays Recap (Andra Mason Takes Crack at American Record in High Jump)
*Destinee Hooker Jumps World Leader In HJ Then Gets Engaged At Texas Relays
*Texas produces a high school prodigy, Craig Lutz The sophomore ran 9:03 for the 2 mile win and ran 30:46 for 10k on the roads last week.
Florida Relays: *Results
*Demps helps UF pass competition
*Florida Win Six Events To Conclude Florida Relays
*Video
Oregon Duck News
*Oregon Men Lose 800, 1,500 and Steeple & Meet To Indiana
*Duck Women Want Titles Just Like The Men
*Video From Meet
*Great Preview Of Oregon's Pepsi Team Invitational
*Check Out The First Outdoor NCAA Team Rankings
Seb Coe's New Book Coming April 16th
Coe on Rivalries:

The book looks interesting and is causing Seb to do a series of pieces and videos online. Three below"
*SebCoe Writes (And Talks on Video) In Detail About the Olympics, His Rivalry With Ovett, and the Need for Rivalries in the Sport
*Great Seb Coe Interview - His father's boat was sunk in WWII and he escaped from German captivity.
*Seb Coe Writes (and Talks on Video) About His Coach (His Dad) and Coaching Youngsters Today
Sad News: Swede Legend Arne Andersson Dead At 91 *Another History Lesson - Andersson's Wikipedia Page
Duncan Kibet Comes To Life Before Rotterdam
Race directors and agents need to do a better job of putting a human face on their Kenyan and Ethiopian stars, so we're glad to see this video (which is from a Dutch running website). Duncan Kibet talks about his technology (his 2 iphones, his Nokia touchscreen phone, and why he has a mac computer "It's anti-virus") plus sexism in Kenya (why you won't see him washing his clothes) and even Sunday's race. Solely because of this video we were rooting for Duncan in Sunday's race and yelled, "YEEESSS!!" at the tv after his incredible, stunning comeback victory in Rotterdam. Race video here.
April Fools
April Fools Archives:
Judging from the emails and phone calls, a lot of viewers fell for our 2009 April Fools homepage.
*2009 *2008
*2007 *2006
*2004 *2003
*2002 *2001
We were threatened with a lawsuit for our 2004 edition.
LRC World XC Coverage
LRC Post Race Coverage: We break down World XC, give props to Moses Kipsiro, tell you why the Kenyan system is broken, try to save World XC for the future, tell you why Dathan Ritzenhein's big XC win from 2005 may not have in reality been a big win, analyze how steep the course was and give you exclusive post-race interviews with Kim Smith, Ryan Gregson and Julie Culley. Plus the scoop on the post-race party thrown by the Prince and the challenge Ryan Gregson issued German Fernandez. You can watch the races online here, read recaps,/see results here, and see photos here.
LRC: The Week That Was 2009
*Week 13: World XC - What's wrong with the Kenyans? Gregson & Fernandez united.
*Week 12: Training advice from Hall, Goucher wins in Lisbon and Port-a-Potties in Boston.
*Week 11: NCAAs, Gate River, what Eli Manning and Galen Rupp have in common.
*Week 10: Last chance, European Indoor, D. Chambers and Diamond League.
*Week 9: USAs, NCAA conferences, World's Best 10k.