The Week That Was In Running - April 4-10, 2011
To read last week's LRC Week That Was, click Here.
To read any 2010 LRC Week That Was, click Here.
By LetsRun.com
April 11, 2011
German Fernandez & Texas Relays
What's the old saying? Pictures are worth a thousand words. That certainly is the case this week. Did you miss the Jerry Thompson Invitational Men's Mile at the Texas Relays last week? If so, the following picture sent to us by Judge Bert Richardson, who is a Senior District Court Judge in Texas, tells you all you need to know.


Full Texas Relays Photo Gallery Here
When runners are sprinting for home in lane 5, one knows that the pace was slow - very slow. In windy conditions, the opening 809 meters was covered in 2:15.97 and the opening 1,209 in 3:18.35. In the end, NCAA indoor 800-meter champ Fred Samoei of Alabama won pretty convincingly considering the race was slow, as he won by .21 in 4:13.86. As we said in our recap of the race, it was a bit surprising the last lap leader-to-leader split was "just" 55.71.
After the race, the buzz (as is often the case) was about German Fernandez's 13th-place showing in 4:17.71. Currently, there are more than 215 posts on the message board in two different threads about Fernandez's performance in a single race (German Fernandez 13th in 4:17.81 and GERMAN FERNANDEZ RESULTS AT THE TEXAS RELAYS??? NOW!!!).
Before we get to analyzing the race, let us send out a quick message to whoever ends up being Fernandez's future agent. Please realize the kid is a way bigger deal with the true track and field geeks than, say, 2008 Olympic semifinalist and 2009 World Championships finalist, Leo Manzano, who also was in the race and who also won the NCAA 1,500-meter title as a freshman. Manzano finished 4th in 4:14.59 and the internet world didn't explode like it did with Fernandez.
Some on the message board are saying that German Fernandez is done. After winning NCAAs as a freshman, Fernandez basically missed his sophomore track season and hasn't done anything spectacular so far in 2011.
All we can say to them is - you are idiots.
First, when a pro mile is run in 4:13, if you want to draw no conclusions from it, that is perfectly reasonable to us. Stop reading and go to the next article. A 4:13 pro mile tells us very little about any of the competitors.
One of our favorite sayings about the sport of distance running - which we credit to Nick Willis, even though we aren't 100% sure we first heard it come from him - is this: "Talent doesn't go away."
Fernandez is a TREMENDOUS talent. Ever since he performed poorly at the last chance mile qualifier indoors, we've been a little concerned, but that concern in our minds only relates to this year. When he failed to break 4:00 in the mile at the last chance qualifier, we basically said it's time to pay real close attention to his next few races to see if something is amiss. The problem is he really hasn't run a legitimate race since then. At NCAA indoors, he had his shoe stepped on and made it five meters. Since then, all he's done is run an 800 and then this mile.
What do we think of this mile? If Fernandez had run 4:17 and been beaten by nearly four full seconds and had no excuses, we'd be worried. But the fact of the matter is once again Fernandez had a shoe stepped on and he ran much of the race with that shoe half off, and he was still there until 100m to go. It seems that some people don't realize that Fernandez had shoe problems while others seemingly thought it was a made-up excuse. As a result, we encourage everyone to see the following photos:
The one on the left is screen-shot taken from the flotrack video of Fernandez's race by UT computer science student Henri Sweers. In addition to emailing us, he also emailed the people at Flotrack and they have even better proof here.
Hopefully those photos once and for all end the "Fernandez shoe-gate," but given the fact that conspiracy theorists thrive in every generation, we doubt it will end there.
So what do we take away from Fernandez's race? Absolutely nothing. There is no fair way to evaluate someone running with 1.5 shoes. Fernandez said in a post-race interview, which you can watch on Flotrack, that he had shoe problems for 2.5 laps.
Other things to note from Texas Relays - Texas A&M put on a clinic in the 4 x 400s, as their women ran 3:27.33, with their anchor Jessica Beard splitting 49.6 twice on the weekend. The Texas A&M men were even better, as they came within a second of the collegiate record by running 3:00.45 (very, very fast for April - the collegiate record is 2:59.59), as the top four teams all broke 3:03.
Additionally, Leo Manzano may not have won the mile, but he did win the 800 which you can see here.
We've got to give it to Flotrack visitor Wes Ward, who watched the Manzano 800m race and the sparse crowd and wrote, "This is sad. There will be more people at my Fresh/Soph Quad Meet on Tuesday then there was at this race ... sure Leo isn't in his primary event but still."
That is our Quote Of The Week #1 (That Wasn't Quote Of The Day).
The Lack Of Popularity Of Track & Field And What We Can Do To Make It More Popular
Speaking of small track crowds, we are officially tired of people asking, "When will track and field be widely popular like it once was?" Our answer is simple - It won't be.
The nature of track and field will always limit it's appeal.
1) A regular season track meet really is basically a practice. The regular season in the NBA may not generate playoff ratings, but at least the results matter. In track, the results for all events save the championships are largely meaningless.
2) The average college or high school track meet takes forever. The Oregonian's Ken Goe talked about this when he talked about how he is worried that track wouldn't be real popular on the upcoming PAC-12 television network when he wrote:
"If you're a casual Oregon sports fan (or a casual fan of any other Pac-12 school), would you rather tune into a regular-season baseball or softball game featuring two teams at the top of the standings, or the Payton Jordan Cardinal Invitational, which includes a series of distance races, one after the other, each taking somewhere between 15 and 30 minutes to complete, only one or two of which might include a runner from your school?

Now don't accuse us of being haters. We love distance running and are huge fans of the sport. We are just stating the truth. Heck, the whole popularity of letsrun is an offshoot in a weird way of track and field's inherent problems. Why sit at a track meet for 8 hours to watch two great races when you can come to letsrun and relive it in five minutes?
Every city, though, can have one or two huge running events that are popular each year. Add those up and you've got a hell of a year. Track is much like horse racing where a few big events are huge but daily events are not and we feel that it will stay that way.
The one thing people in the sport can do is make track more popular by trying to make the track meets that actually want to attract fans more entertaining. Let's face it, the majority of track meets you're not going to go to unless you know someone competing. The ones that even want to attract fans often make no attempt to entertain people in the stands and don't have schedules conducive for fans.
Oregon's "Bowerman Pack" Attempt To Attract Student Fans
Some schools are reaching out and attempting to change that. Texas A&M is doing that by having more scored events. Oregon is also having scored meets. Oregon, the one place where people actually understand track and might watch a meet with no attempt to entertain the fans, is not sitting on its laurels. It has introduced a Student Section, "The Bowerman Pack," and is attempting to get college students in the stands for meets and keep them entertained. Oregon had over 5,000 fans for the Pepsi Invite this past weekend. They could easily say, "We've actually got fans, we don't need to do anything off the track to entertain them." That's what too many programs did for years and look how popular track is now.
Thumbs Up to Oregon for creating the Bowerman Pack. *Message Board Thread On The BowermanPack With A Link To A Newspaper Article On It Here
More: *LRC: Texas Relays Photos *Texas Relays Results *LRC: NCAA 800m Champ Fred Samoei Wins Slow Texas Relays Mile Over Leo Manzano And German Fernandez *Texas A&M Brings It At Texas Relays: Gerald Phiri 10.06 100m, 3:00.45 4 X 400, 6 Relay Wins The Aggies have upped their game for sure. Jessica Beard twice split 49.6 for the women's 4 x 400. *Jeremy Wariner Motivated For Gold After Anchoring Adidas Team At Texas Relays To 3:04 Win Good thing they weren't in the college race. *Alex Austin, Son Of Olympic Champ Charles Austin, High Jumps 6'8" With 5 Weeks Of Training *Pre-Meet Article On Austin: He High Jumped 6'7" In His 2nd Practice Session Ever
#####
Caster Semenya Impresses
Last week, Caster Semenya's coach declared she was 100% fit and then she went out and backed up those words by completing the 800/1,500 double at the South African champs by running 2:02 and 4:12. Or some say she sort of backed out of those words, as before the race her coach, Michael Seme, was very clear that the goal was a sub-2 clocking. He told the AP, "We want to run under two minutes and then she can go to Europe. We will decide on the Golden League events immediately once she runs under two minutes."
In the end, Semenya won the 800 by more than two seconds and led wire to wire. Is she unbeatable? We don't know yet. She'll be having her first major test of the year at the Pre Classic. After that race, we may be able to tell you if it's just a matter of who is going to finish second in both the 800 and 1,500 or not.
#####
Quote Of The Week #2 (That Wasn't Quote Of The Day)
"I don't skip training. I'd have to be sick."
- European indoor 3,000 gold medallist Helen Clitheroe responding to The Telegraph about when the last time she skipped a training session was. The quote reminded us how dedicated the average elite distance runner is. In some ways, running actually becomes automatic and the very first thing on the athlete's priority list. For the pros, the hard thing is having the courage to take the day off because of illness or overtraining, not getting out the door.
#####
Leilani Rios Resurfaces
Does anyone remember the story from 2000 of Leilani Rios? Rios was a Cal State-Fullerton track and field athlete who was booted off the team in January of 2000 for being a stripper, even though the men's baseball players at Fullerton weren't kicked off their teams for watching her perform. The double standard created a ton of publicity for Rios, who was featured in ESPN The Magazine, was represented by a constitutional law specialist and eventually posed in Playboy.
The article from ESPN is quite good and a Recommended Read for sure as it explains how running really was a way out for Rios and something she really enjoyed. Ten years later, that love for running still is thriving for Rios as she was spotted running at this year's Carlsbad 5k a week and a half ago.
Rios ran a pretty respectable 18:03 at Carlsbad.
A little research by LetsRun.com also reveals she won a local 5k - the Dove Dash - in 18:25 on March 23rd.
More: *ESPN The Magazine Feature On Rios *Playboy Section On Rios (warning: includes nudity)
#####
#####
Rotterdam Marathon A Prelude To London And Boston
This coming weekend is going to be an unbelievable one for marathon fans. First you've got the most competitive marathon in the world, the Virgin London Marathon, on Sunday (LetsRun.com fans can for the first time ever watch London on demand on Sunday without knowing the results - click here for more info) and then on Monday, you follow it up with the most historic, Boston. We'll have our LetsRun.com previews later this week.
While Rotterdam may not be a World Marathon Major, it may be the world's fastest marathon. It's got a big budget to attract some of the sports stars, and a tremendously fast course.
How fast? This year, Wilson Chebet won over Vincent Kipruto in 2:05:26, as they both broke 2:06 and their two performances made Rotterdam the course with the fastest average of the top 10 times on the course, as pointed out by stats man Ken Nakamura.
However, while Chebet and Kipruto may have pushed Rotterdam atop the record books, their runs were actually a step down from the last two years at Rotterdam.
Each of the last two years, Rotterdam had a different pair of runners go sub-2:05. Think about that for a moment. Two guys in the 2:04s both of the last two years at Rotterdam. Super, super fast.
10 guys ever have gone sub-2:05. 4 times at Rotterdam, 4 times at Berlin, once at Dubai and once at Frankfurt. Yes, Frankfurt.
And if there has been a 2:04 clocking at Frankfurt, a marathon only the most hard-core fans of the sport are going to know even exists, perhaps it is time to raise the bar on what a truly exceptional marathon is.
Just three years ago in early 2008, five guys had ever broken 2:06 in the marathon, four did it two years ago on the day of Rotterdam, a day coach Renato Canova called a "historical Sunday that changed the marathon in the world." Now, 24 guys have gone sub-2:06, as Ken Nakamura points out.
So 2:05:xx is truly world class, and 2:04:xx is blazing fast.
More Rotterdam: Wilson Chebet Wins Sub-2:06 Duel in Rotterdam
Turn Back The Clock: Rotterdam 2010: Patrick Makau Over Geoffry Mutai, As Both Break 2:05
*2009: 2:04:27 x 2
#####
Other Happenings Of Note
*Dave Bedford, Race Director Of London Marathon, Quits Role As Organizer For Olympic Marathon Over His "Frustration" With Locog "We [the London Marathon] are a professional business run by professionals and it was very difficult to work for another organisation who in the main have never organised an event of their own."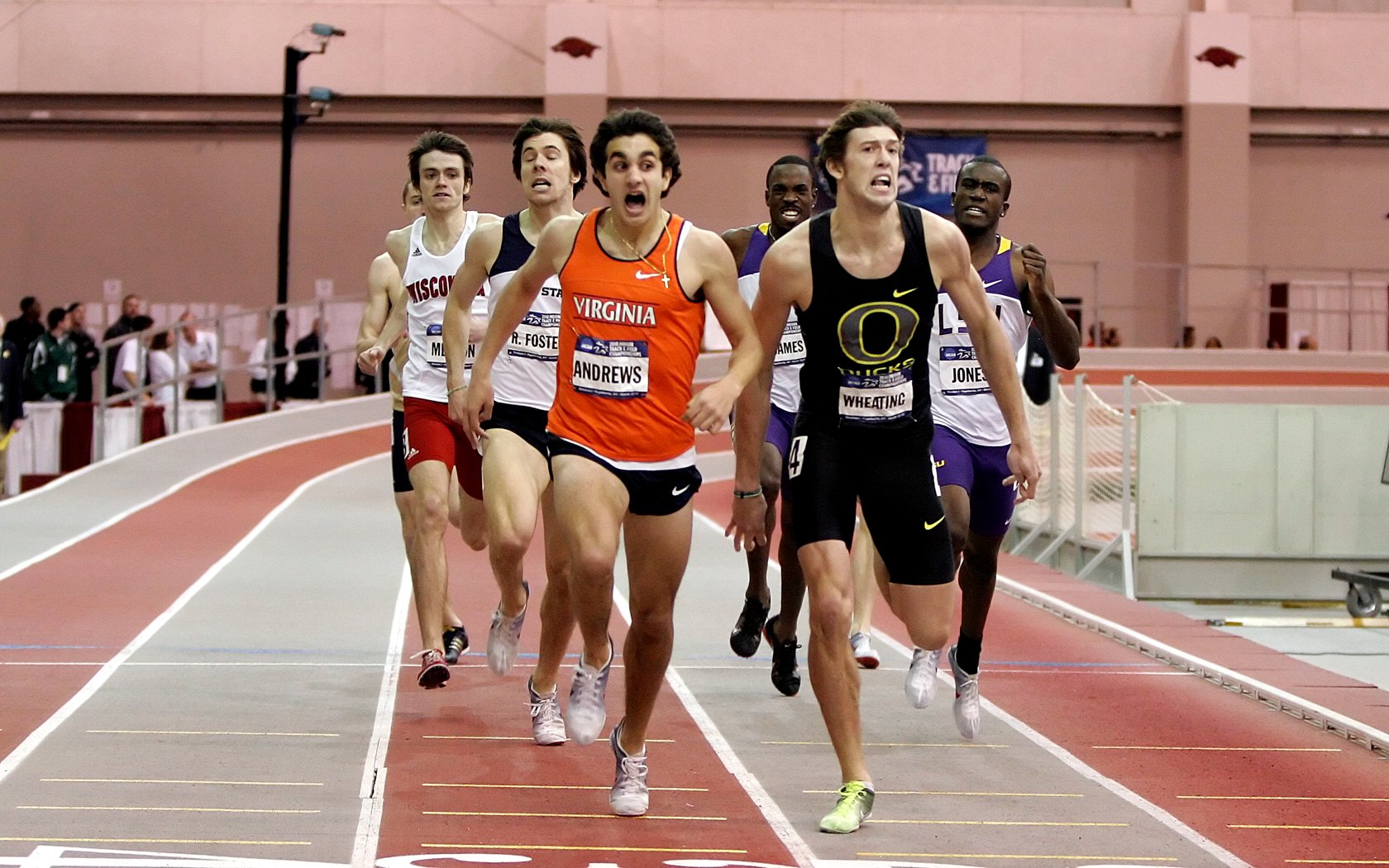 *Robby Andrews Returns To Action On Saturday For UVA The sophomore phenom who defeated Andrew Wheating to win a NCAA title as a frosh is back and ran 1:49 last weekend.
*Amazing: 80-Year-Old Ed Whitlock Runs 3:25:40
*Qatar Basically Fires Renato Canova As It Starts To De-Emphasize Track After Getting World Cup & Getting Beat By Bahrain At Asian Games People may not realize this but developments like this are HUGE for any American man's chances for a medal at 5k or 10k.
*Army/Navy: Men: Navy Sweeps All Distance Events But Loses Star Meet To Army 87-93 The all-time score is Army 44, Navy 41.
*Navy Women Crush Army
#####
Looking Ahead (Time To Start Getting Excited For ...)
Aprl 17: London Marathon: Live Telecast Starts At 3:55 AM Est, Watch The Race Replay W/O Knowing Results Whenever You Desire Here
April 18: Boston Marathon: *New England Residents Can Watch Live On-Line Starting At 9AM Here Others must pay universalsports.com.
April 30: Drake/Penn Relays: Olympian Webb To Run Mile At Drake Relays
#####
Quotes Of The Day From Last Week
Monday: "You really know somebody when you're out there running with them over an hour a day, two hours a day at times. You get to know every little thing about them. If someday they come out and say, 'OK, I'm gay,' it's like OK. It doesn't change anything. I think all athletes can relate to that. They're practicing, they're on the court, they're on the field. It shouldn't change anything if they're really friends and good teammates."

- Eastern Michigan's James Hughes on his teammate Austin Hendrix coming out of the closet and being one of the few openly gay male Division I athletes. More on Austin here.
---
Sunday: "The first time he jumped, we were just messing around, but I was like, 'Whoa.' Then the second practice session we had, he jumped 6-7. No technique. No nothing."

- Olympic high jump champ Charles Austin on his son Alex. Alex, who jumped 6' 10" last week, regressed this week and "only" jumped 6' 8" for 2nd at the Texas Relays in his 5th week of high jumping.
---
Saturday: "Eleven years ago I graduated from U.C. Berkeley and decided that I wanted to be an Olympian, and a professional runner. I gave every ounce of energy to those goals and succeeded in making a career out of my hobby, but fell short of my Olympic dream. A long series of injuries has kept me from doing the work I know it takes to succeed, so regrettably, I'm throwing in the towel and moving on to new challenges ...
The pressure of racing at a high level is all consuming. It isn't something that is easily conveyed unless you've put in the work, and toed the line with everything riding on that one race. I always thought my edge was being able to get the best out of myself in the cauldron of pressure that is marathon race day. Others had more talent, but I prided myself on delivering a good race when it counted."

- 2:12 marathoner Peter Gilmore, an old-fashioned runner, retiring from the sport in a new way, on his blog.
---
Friday: "I would have chosen not one of my athletes if I was recruiting for a Division I school. Zip! None! Even Meyer, he had everything going for him, but he didn't believe in himself ... (So when Bill Rodgers became the genial face of the first running boom and started tellling others about his training in magazines), I had to pull him aside and give him the facts of life. I said, 'Look pal, we're just little nerds who are kicking the world around. None of you people would I pick to be outstanding. But the program works. If you want to radio it out to the world they're going to kick your can, because they're better than you, ya hear me? You're only good with the group I trained. So just shut your mouth!'"

- Legendary marathon coach Bill Squires, who coached people like Dick Beardsley, Bill Rodgers and Alberto Salazar, talking in a Running Times profile.
---
Thursday: "If I can dominate at this world championship, then I'm going to have a psychological advantage going into the Olympics. Everybody is going to be like, 'Oh, God, this kid is too good.' Then they're going to be worried, really worried."

- Usain Bolt, explaining in his USA Today interview why he thinks it's important to show up well at World Champs and why people should be afraid. How will he do on race day? To find out we'll just have to look at his face as he says: "As long as I'm in good shape you'll always see me smiling. If I'm not smiling so much, you know there is a little bit of a problem there."
---
Wednesday: "It was painful for me then and is a pain that is still there in my life. I was strong in the Boston Marathon and had a fast result, so it was hard as I never had another chance to go to the Olympics. I was in the United States during the summer leading up to the 1992 Olympics and in great racing shape as I ran personal bests that year at many distances. It was hard to watch the Olympic Marathon as I should have been running with the women. Still I was young and thought I would do it the next time, but the next time didn't happen."

- Boston marathon winner in '92 and '93, Olga Markova, speaking in an interview about the pain of being left off the Russian 1992 Olympic team even though she had run 3 minutes faster than any other Russian woman in history. Later injuries kept her from competing successfully at the marathon later in her career, but she still runs competitive times in shorter distances as a masters runner today.
---
Tuesday: "In the end Sally was doing fine, getting appearance fees and bike contracts, but for a long time in between her college days (at Duke) and getting comfortable as a pro it is a hard life. There are registration fees, travel costs, lodging and so many things you don't think of until you are far in debt. If we can help someone bridge that gap, then maybe we are keeping someone on the right course in their career instead of falling short because they just couldn't do it anymore financially. It is something Sally would love."

- Sally Meyerhoff's father, Tom Meyerhoff, announcing the purpose of the foundation they have started to help aspiring runners avoid some of the financial struggles that Sally had to endure at the start of her professional career.
---
Last Week's Homepages
*Mon (March 28) *Sun (March 27) *Sat (March 26) *Fri (March 25) *Thu (March 24) *Wed (March 23) *Tue (March 22)
---
Runner's World &
Running Times



Combined Only $22
a Year
Save $87

---

Running & Track and Field Posters
---

Offers of interest: Nike Lunar Glide Discount Discounting on this shoe not allowed until recently.
---