Day 10 Recap: 17-Year-Old Erriyon Knighton Makes Olympic Team in 200, JuVaughn Harrison Completes HJ-LJ Double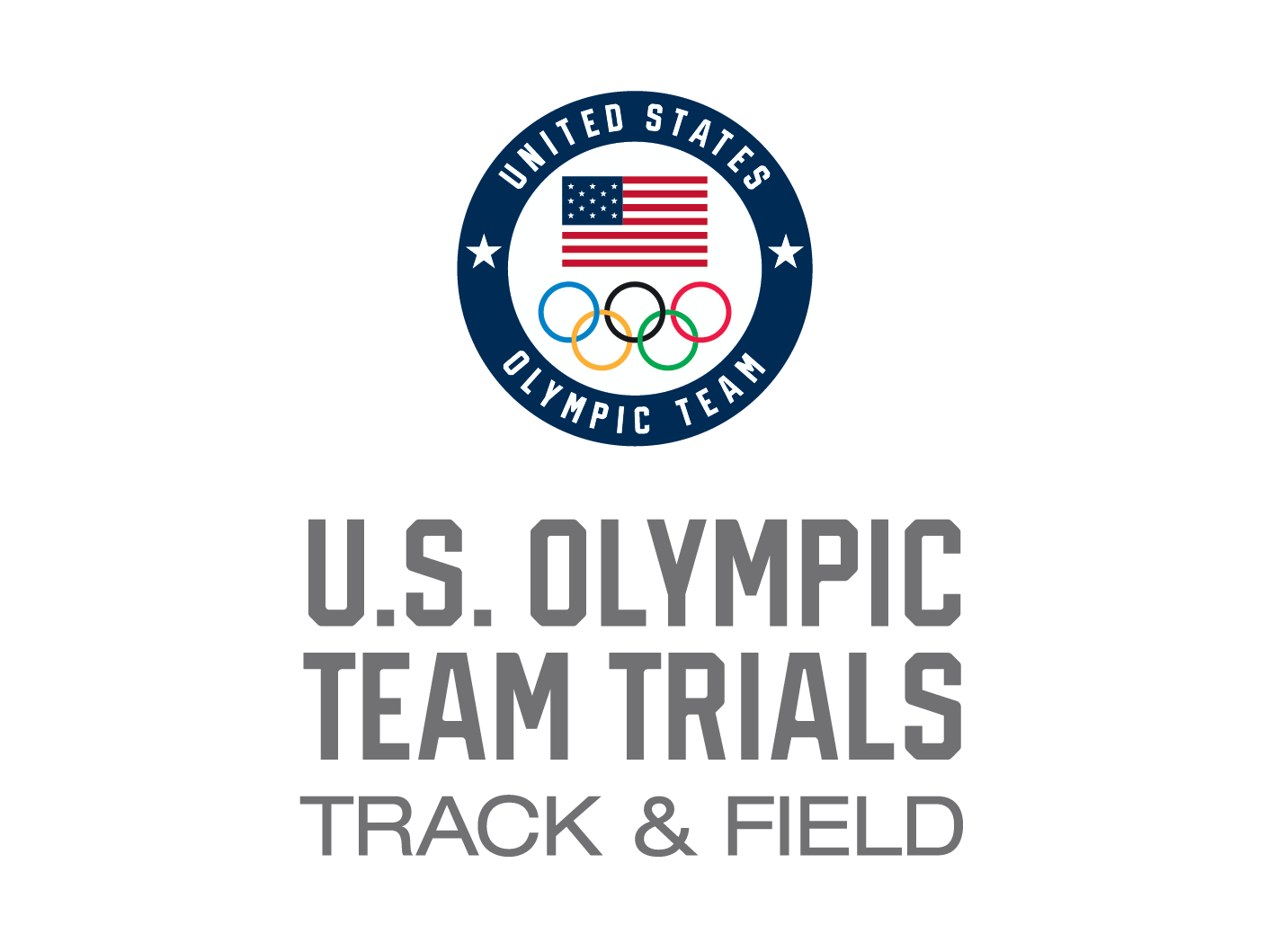 June 18, 2021 to June 27, 2021
By LetsRun.com
June 27, 2021
(Support independent journalism and join our Supporter's Club now to gain access to our feature articles and bonus podcasts, 20% shoe discounts (US visitors), exclusive forum features including the ability to follow posters and filter out non-running posts, a free 12-week training plan and much more. Go to LetsRun.com/subscribe)
The final day of the 2020 US Olympic Track & Field Trials in Eugene gave us a little bit of everything: extreme heat, a race being moved earlier in the day (men's 5k), several races being moved to later in the day (after heptathlete Taliyah Brooks fainted in the 100+ degree heat), a world record (women's 400 hurdles), a meet record (women's 800), a much-anticipated showdown living up to its billing (men's 1500), a rare field event double, and a 17-year-old making the Olympic team. The evening's action included 40 minutes of madness on the track, capping 10 days of excitement and action at the new Hayward Field and completing a meet that occurred a year late due to a global pandemic.
Article continues below player
Sydney McLaughlin's world record in the 400 hurdles gets its own article here. Paul Chelimo's victory in the men's 5000, morning edition, gets a story here. 19-year-old Athing Mu's dominant victory in the 800 gets the solo treatment here. College sophomore Cole Hocker's defeat of Olympic champion Matthew Centrowitz in the 1500 gets its own piece here. The remainder of tonight's action is recapped below.
Men's 200: Lyles retains title, 17-year-old Knighton makes it to Tokyo
All season long, world champion Noah Lyles has told us that everything is fine and that there was no reason to panic. Tonight, he showed that was the case (in the 200 at least — he missed the Olympic team in the 100) as he ran a seasonal best and world-leading 19.74 (+0.3 m/s) to win the men's 200 over Kenny Bednarek (19.78) and high school sensation Erriyon Knighton (19.84), who both PR'd to make the team. Former 400 ace Fred Kerley, who surprisingly made the 100 team, ran a big pb as well (19.90, previous pb of 20.08) but was only 4th.
The Race
Bednarek had the best turn but Lyles went from third to first over the final 100 to get the win. Knighton had an even better final 100 but he had a lot of work to do as he was only sixth coming off the turn. When Knighton competes in Tokyo on August 3, he'll be the youngest male US track Olympian since Jim Ryun way back in 1964. He'll be 6,396 days old (17 years, 6 months and 5 days old, or 15 days older than Ryun was in 1964).
Watch it here:
Quick Take: Reminder, Noah Lyles has only lost one outdoor 200 as a pro
While Lyles hasn't looked great this year in the 100, it needs to be remembered he's really good at the 200, having only lost once outdoors as a pro. This was his second consecutive US outdoor title in the event. He's still a long way from his 19.50 pb, but what's interesting is this year seems to be the opposite of 2019. In 2019, Lyles ran 19.72 (losing to Michael Norman) and 19.50 in his first 200s of the year but at the end of the year won Worlds with a much more modest 19.83.
If he can keep improving or just stay at the same level, it's going to be hard for anyone to touch him. That applies to his two teammates as well, as a US medal sweep is a real possibility. The only two non-Americans under 19.90 this year are Divine Oduduru of Nigeria (19.88) and Canada's Andre De Grasse (19.89).
Quick Take: Knighton does what Lyles could not in 2016
Back in 2016 in Eugene, Lyles and Norman were the high school stars competing against the pros in the 200 and trying to grab a spot on the Olympic team. Lyles fell narrowly short in the final, running 20.09 for fourth place, a US high school record at the time. At this meet, Knighton not only made the team but broke the high school record three times (once in each round) and the U20 world record (formerly held by Usain Bolt) twice. Lyles was excited for Knighton:
"I'm so proud of him…and after I won I looked up at the screen and I was hoping his name would pop up after Kenny's… to watch him PR in each round I was thinking, 'Don't gas out, don't gas out,'" Lyles said. "I was like, 'Bruh, you did it, you did what I couldn't do'… he did it, I'm just so happy for him."
Reminder: Knighton just finished his junior year. He still has another year of high school to go.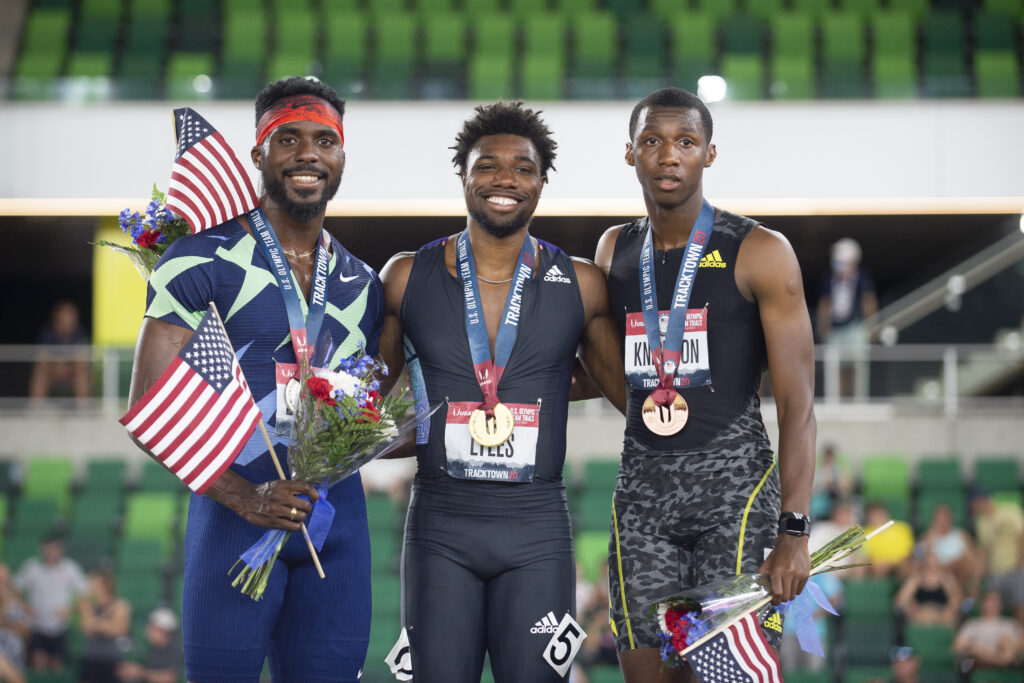 Quick Take: Kerley joins rare club
Despite missing the team tonight, Kerley's first career sub-20 in the race tonight put him into an exclusive club. He joins Michael Norman and Wayde van Niekerk as the only men in the history of sprinting to run under 10 seconds for 100 meters, under 20 for 200, and under 44 for 400. Kerley is the reigning Worlds bronze medalist at 400 and qualified for the Olympics in this meet in the 100.
Women's heptathlon: Annie Kunz takes first US title
Texas A&M product Annie Kunz entered these Olympic Trials with a heptathlon personal best of 6153, well short of the 6420 Olympic standard. Kunz shattered that today in the brutal Eugene heat with a world-leading mark of 6703. She won the shot put with a 15.73-meter throw and was second in the long jump in a personal-best 6.50 meters.
"I never in a million years thought I could score what I scored tonight," Kunz said of the 550-point PR. "Hard work pays off. It really does."
Kunz won a tight competition that saw ASICS athlete Taliyah Brooks faint before the sixth event because the temperature was in the triple digits. NIKE's Kendell Williams finished second in the competition with a personal-best 6683 score, while fellow NIKE athlete Erica Bougard finished third in 6667. Both Williams and Bougard already had the Olympic standard so all three women are headed to Tokyo.
Men's high jump: JuVaughn Harrison takes it
Prior to the postponement of the meet, two-time NCAA outdoor champ JuVaughn Harrison won the men's high jump in 100-degree weather, his first US title and first Olympic berth. Both he and NCAA fourth-placer Darryl Sullivan both cleared 2.33 meters, but Harrison did so with a clean sheet while Sullivan required two attempts at the opening height of 2.16 and three attempts at 2.24. 2019 NCAA indoor champ Shelby McEwen earned the third spot on the team, clearing 2.30, as two-time Olympian Erik Kynard was third with a best of 2.27.
Men's long jump: Harrison does the double
The postponement of the meet benefited no one more than Harrison, who got to rest for hours after the high jump rather than mere minutes. The double double NCAA champ (indoors and out, HJ and LJ) used the extra recovery time to his advantage, winning the long jump with a third-round leap of 8.47 meters, a personal best. Harrison is ranked #2 in the world this year in both the long jump and high jump.
Marquis Dendy, who qualified for the Olympics in 2016 but could not compete in Rio due to injury, leapt a seasonal-best 8.38 meters in the second round to take second. Texas senior Steffin McCarter, who was only fifth at NCAAs, jumped a PR-equaling 8.26 meters in the third round to get third and punch his ticket to Tokyo. Reigning Olympic champion and Worlds silver medallist Jeff Henderson could only manage sixth in 8.08 meters.
Harrison is the first American man since Jim Thorpe in 1912 to make the Olympic team in both the high jump and long jump.
Talk about today's action on our world famous fan forum/messageboard.
(Support independent journalism and join our Supporter's Club now to gain access to our feature articles and bonus podcasts, 20% shoe discounts (US visitors), exclusive forum features including the ability to follow posters and filter out non-running posts, a free 12-week training plan and much more. Go to LetsRun.com/subscribe)