Athing of Beauty: Mu Runs #2 Time in U.S. History to Win Women's 800 by Daylight
By Karl Winter
June 27, 2021
(Support independent journalism and join our Supporter's Club now to gain access to our feature articles and bonus podcasts, 20% shoe discounts (US visitors), exclusive forum features including the ability to follow posters and filter out non-running posts, a free 12-week training plan and much more. Go to LetsRun.com/subscribe)
The magical 2021 campaign for 19-year-old Athing Mu continued tonight as the NCAA record holder at 400 (49.57) and 800 (1:57.73) destroyed the field in the final 200 to win her first US outdoor title in 1:56.07,  a world leader and the second-fastest time in American history.
The new Nike pro seized the lead from Nike OTC's Chanelle Price at the bell (57.53 for Mu) and elevated to another gear with 200 meters to go (1:27.58). She put 10 meters on the field in the final turn and won by closer to 15 meters, crushing everyone by nearly a second and a half thanks to a final 200 of 28.49. The mark also broke the Olympic Trials record.
Reigning World silver medallist Raevyn Rogers ran a personal-best 1:57.66 for second (29.67 final 200), getting from sixth to second in the final 200 meters, while American record holder Ajee' Wilson (reigning Worlds bronze medallist) came from even farther back, from 6th to 3rd in the final 100 to make the team with a seasonal-best 1:58.39 (30.43 final 200).
The Race
Mu got out hard in the first 100 meters out of lane 6, looking like she was going to take the pole position. Instead, Nia Akins of the Brooks Beasts clipped Mu's heel as the teenager's long legs stretched out behind her. Akins fell to the track and Mu stumbled, falling back into the pack.
Price took the lead instead and pressed the pace, leading the field through the bell at 57.44 with Wilson on her outside shoulder and Mu moving up on the outside. As soon as the bell sounded, Mu moved into the lead but remained on the outside of lane 1 for the third 200. With 250 to go, Mu continued to lead Price, but Hanna Green and Kate Grace passed Wilson on either side. Rogers was back in sixth.
With 200 to go, Mu held her position, not moving onto the rail, and Rogers passed Wilson on the outside. Mu stepped on the gas to gap the field while Rogers and Wilson moved up toward Price, Green, and Grace. Rogers made the pass into second with 70 meters to go, but Mu was away and clear by that point. Wilson, running on the outside of lane 2, made the pass on Grace and Price into third with 50 to go. NCAA champ Michaela Meyer of Virginia finished like a train to move up from eighth into fourth in the final 100, while Grace and Green faded hard into seventh and eighth.
Race Video: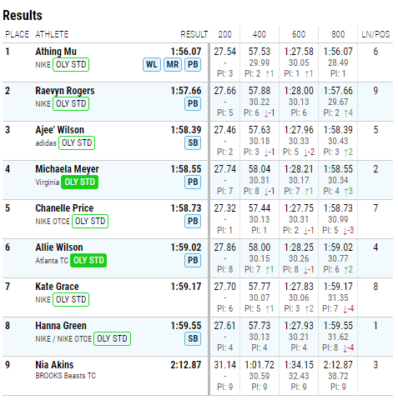 Quick Take: Mu's poise was world-class
Had she not gotten clipped in the first 150 meters, Mu may have cracked Wilson's American record (1:55.61) tonight. She appeared as if she wanted to take this race from the front, but instead, she stumbled. Mu took the early-race setback like a pro, slowly moving up the field into second in the following 250 meters, then taking the lead. 
Not only that, but Mu saved a kick in a fast race. The first 200 was quick, with the whole field (save Akins, who fell) going through the 200 mark between 27.3 and 27.8. Then Mu essentially ran 30 seconds flat for the next two 200s. She was able to move to the lead yet not waste too much energy doing so. We often write about only getting "one move" in the 800, and Mu saved hers for a burst of speed in the final 200, closing in 28.49, much faster than anyone else in the field (Rogers was the only other runner to close under 30 seconds).
Article continues below player.
Make no mistake, if Mu chose to run the 400 at these Trials, she would have won that too, as her NCAA-winning, collegiate record mark of 49.57 was faster than the Trials-winning mark this year (49.78). The combination of 400 speed and the tactical acumen that she displayed today makes her the favorite to win gold in Tokyo.
Despite getting clipped early, Mu pretty much kept to her pre-race plan.
"I wanted to go out in a 57 and we did," Mu said. "I just wanted to get around and make my moves. The backstretch just keep my composure. The last 200 is where I started to gear up. Towards the last 100 just run all the way through the line."
*Athing Mu post race interview
Quick Take: Wilson and Rogers were tactically brilliant to make the team
Wilson and Rogers, the reigning World medallists, did not look like the best versions of themselves entering this meet. Facing a deep field, they would have to use more than just fitness to make the team, and that they did.
Wilson entered the meet with a seasonal best of 1:58.93 and had yet to run a race against a particularly competitive field. In these Trials she won her heat and semifinal then ran a seasonal best today, despite admitting after the semifinals that her buildup had been less than ideal. Wilson being in sixth place with 100 to go gave us shades of Donavan Brazier missing the team in the men's 800, but Wilson did not panic and saved plenty for the home straight. She lost her first US final since 2016 (indoors or out) today, but she showed that she will still be a factor in Tokyo with another month of training in prospect. 
Rogers entered the meet having placed no better than fifth in her previous two 800s, both in races with American-heavy fields (USATF Golden Games and Portland Track Festival). She also steadily improved as these rounds went on. Today she simply didn't try to do too much, waiting in the middle of the pack and then utilizing her patented kick to perfection. She ran within herself and blasted everyone except Mu in the last 200.
Quick Take: This race proved how tough of a team this was to make
Entering the Trials, eight Americans had run under 2 minutes this year, and that wasn't including the NCAA champion (Meyer). Today Meyer ran a big personal best of 1:58.55 and it wasn't good enough to make the team as everyone but Ajee Wilson in the top 6 ran a personal best including Price (1:58.73) and Allie Wilson (1:59.02) who finished fifth and sixth, respectively. 
2016 Olympic finalist Grace seemed to run a little impatient and ran a lot of the race on the outside but she still managed a solid 1:59.17 and finished seventh. That type of depth in one race proves America's talent in the women's 800 right now. Though four non-American women have also gone under 1:58 this year, all three of the Americans also have a good chance of getting a medal in Tokyo. The Tokyo final in this event should be very exciting.
Quick Take by Robert Johnson: Wilson said she's 100% healthy but once again didn't want to specifically talk about what setbacks she's had to overcome this year
After the first two rounds, Ajee Wilson mentioned she'd had a lot of setbacks this year but said she didn't want to specifically talk about what that meant. She stuck to that script tonight. 
The good news is she says she's 100% healthy now and says she's had "six solid weeks" of training and is optimistic about how much she can continue to improve over the next 5 weeks until the Olympics.
"We've all had a crazy year [because of Covid], [but it's been] unusually crazy for me," Wilson said. "I know I'm not in a terrible place but I'm super encouraged [that I have time to get it together for the Olympics]."
Talk about today's action on our world famous fan forum / messageboard.
(Support independent journalism and join our Supporter's Club now to gain access to our feature articles and bonus podcasts, 20% shoe discounts (US visitors), exclusive forum features including the ability to follow posters and filter out non-running posts, a free 12-week training plan and much more. Go to LetsRun.com/subscribe)