Paul Chelimo Uses Tokyo Drift to Win Olympic Trials 5,000m Title
By LetsRun.com
June 27, 2021
EUGENE, Ore. — Who says there are no rivalries in track & field? 
On a hot and sunny morning at Hayward Field, Paul Chelimo reclaimed his US title and gained the upper hand in his one-man war on the Bowerman Track Club in a testy and wildly entertaining men's 5,000-meter final at the 2020 US Olympic Trials. After frequently gesturing back at his competitors for clipping his heels, Chelimo found himself in a three-way kick for the win with BTC athletes Grant Fisher and Woody Kincaid over the final 100 meters. Rather than run the shortest possible distance to the finish, Chelimo kept drifting wider and wider to prevent Fisher and Kincaid from getting around him. They couldn't, and the result was all three men finishing in lane four as fourth-placer Cooper Teare of Oregon looked on in bemusement from lane 1.
Embed from Getty Images
Chelimo, who was upset by Lopez Lomong in the US final two years ago and then called out Lomong for skipping USA Indoors in 2020, didn't get the chance to earn his revenge against Lomong, who scratched from the event after injuring his hamstring last week's 10,000-meter final. Instead, he had to settle for outkicking Kincaid and Fisher — who went 1-2 in the 10k nine days ago — to win his third US outdoor title in 13:26.82. Chelimo showed he was back to his medal-winning form by closing with a world-class 52.83 last lap (just .01 off Bernard Lagat's 52.82 last lap at the '16 Trials, though Lagat's winning time was nine seconds slower and he did not run in 88-degree heat).
It was Kincaid who had the fastest last lap, however, splitting 52.74 despite running way more than 400 meters. Kincaid was only sixth at the bell and boxed in, which meant he had to run most of the first turn and all of the second turn in lane 2 just to draw close to Chelimo. And even when he got there with 100 to go, Chelimo would not allow Kincaid to run the shortest distance, forcing him out almost to lane 5 and a third-place finish in 13:27.13 (Fisher was sandwiched in between and took second in 13:27.01 with a 52.99 last lap).
Considering the weather, the opening 3k split of 8:07.26 (13:32 pace) was actually fairly quick running, but not enough to break apart the field as 13 athletes from the 16-man field were still in the lead pack with three laps to go. Chelimo spent much of that time near the front of the pack and repeatedly gestured back to the field, saying he was clipped from behind no fewer than six times. Part of his reason for running at the front in the first place was to avoid getting his legs tangled.
Embed from Getty Images
"I was just telling them it's just becoming too much," Chelimo said. "The big reason [I ran at the front] is because I have really long legs, and my tactics I have to run at the back or the front, but the middle is not good for me."
NCAA XC champion Conner Mantz made the first serious move at 4k, dropping a 64.26 lap to lead with two laps remaining and whittle the pack to eight men. With 550 to go, Chelimo moved to the front, and he would control things the rest of the way. Fisher pushed hard for the lead on the first turn of the bell lap and into the back straight, but Chelimo fought him off. By 200 to go, Chelimo, Fisher, Kincaid, NCAA champion Cooper Teare of Oregon and Emmanuel Bor of the Army WCAP had separated, but Chelimo still led and, most importantly, was running the shortest distance in lane 1 while Fisher ran on the line between lane 1 and 2 and Kincaid fully in lane 2. Chelimo still led off the final turn and would protect his advantage all the way to the finish as Fisher and Kincaid could never get around him.
Results (Analysis below results)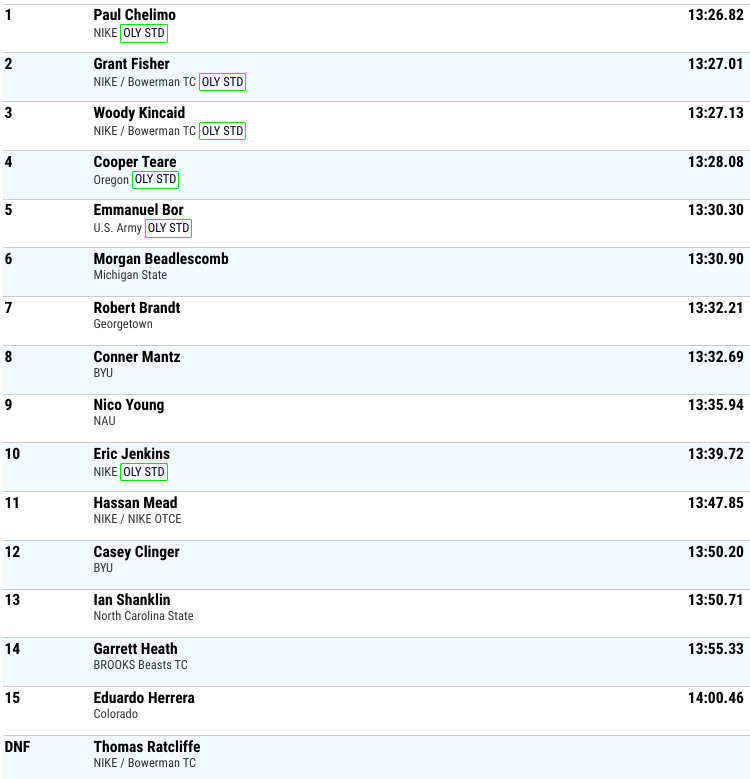 Video highlights
Quick Take: Should Chelimo have been DQ'd?
Article continues below player.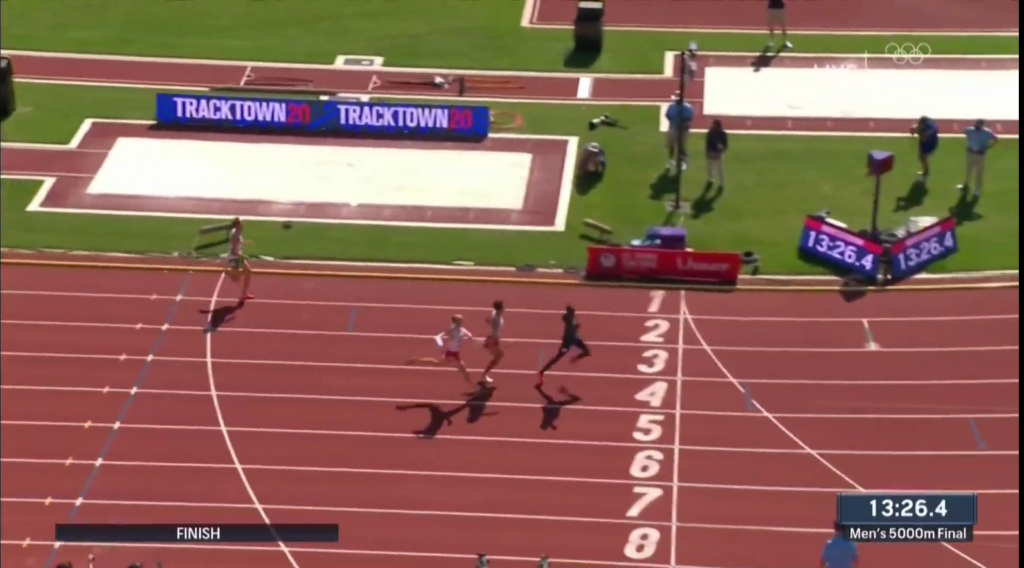 This is the question on a lot of people's minds after he drifted out from lane 1 to lane 4 in the finishing straight, forcing Kincaid and Fisher to run wide.
USATF Rule 163.3 states: "Each competitor shall run in a direct line after entering the final straightaway in all races of two or more turns unless there is another competitor in his or her path." 
But the USATF rulebook does not list any penalty for violating Rule 163.3. Whereas Rule 165.5 states that "any competitor or participant responsible for jostling, running across, or obstructing another competitor or participant so as to impede his or her progress shall be liable to disqualification." That rule also contains a note at the bottom: "Some factors to be considered when determining a disqualification include safety, equitable competition, severity of the infraction and resulting consequence."
USATF rules 163.5 and 163.6 all mention disqualification as well.
Did Chelimo break Rule 163.3? Yes. He did not run in a direct line to the finish — unless you consider running diagonally from lane 1 to 4 "direct."
Embed from Getty Images
But let's use some common sense here. It's not as if Chelimo threw out his arms to prevent Fisher or Kincaid from passing him. He was always ahead of them.
"That was one of my goals, drift them all the way to the stands as long as I don't impede them," Chelimo said. "It's fair. I didn't touch anyone's hands. I didn't impede anyone."
Chelimo should only be DQ'd if everything athlete who drifts out from lane 1 to lane 2 should be DQ'd. Considering World Athletics rules say nothing about running in a "direct line" to the finish, USATF rules mention nothing about disqualification, and the focus of the rules is on impediment, we don't think Chelimo should have been DQ'd.
Grant Fisher himself agreed, saying, telling NBC's Lewis Johnson, "That's smart racing right there. That's the correct strategy — when someone's on your shoulder, force them out, make them run longer and on the final stretch, force them out again."
He added to LetsRun in the Zoom call after the race, "I don't think that should be illegal or… grounds for DQ. if I were on the inside lane, and I felt someone on my right hand shoulder, I would also drift out. It's just how you race."
Thread: Grant Fisher Himself Said Chelimo Should not be DQd – "It's just how you race" 
*Post Race Interview w Fisher
Embed from Getty Images
Quick Take: Chelimo has made serious strides in five years
Any honest assessment of Paul Chelimo at the 2016 Olympic Trials and Paul Chelimo at the 2021 Olympic Trials would give the 2021 version a better chance of medalling at the Olympics. That doesn't mean that Chelimo will be able to replicate his silver-medal feat from five years ago — the field is stronger now than it was in Rio — but his Trials performance was more impressive this year.
In 2016, Chelimo misjudged his effort and went too hard, too early with 200 to go, barely holding on to the third spot on the team. Today, Chelimo knew that with so many men still in contention late in the race, positioning would be key. He got to the lead, and like Mo Farah in his prime, refused to be passed, forcing others to run extra distance on the turns if they were to pass him.
Chelimo said that while he thinks he could show up to some Diamond Leagues and run 12:50-something right now, he doesn't see the point in racing much between now and the Olympics.
"At the end of the day, that really, really wears you out," Chelimo said. "My big goal is to do less racing, and show up in big championships when I'm hot and ready. From now until Tokyo, my fitness is exactly where I want it to be."
*Post Race Interview with Chelimo
Quick Take: Woody Kincaid had the best lap lap despite running a lot of extra ground
Kincaid's last lap of 52.74 was the best in the field but he was third as he was too far back at the bell (6th). If Kincaid ran the entire final lap in lane 2, he ran roughly an extra seven meters, which would mean he would have covered 400 in 51.83. After the race, Kincaid said starting with three laps remaining he knew he was in a box and wanted to get on the outside but never could do it and he credited Cooper Teare for keeping him boxed in.
He said at one point on the last lap, he thought about cutting inside but was afraid he'd take out his teammate Grant Fisher so he played it safe and ran even wider.
As for the early part of the race, he said at one point he thought Chelimo and Emmanuel Bor (whom Kincaid repeatedly called Hillary Bor) wanted to alternate laps and push the pace and he was game to try to help them out. But when he got up front with them, he said he realized his legs didn't feel great.
As for the lane 4 finish, Kincaid said he had no problem with how Paul Chelimo ran and didn't think he should be DQ'd.
Kincaid said he and Fisher are both planning on doing the 10k/5k in the Olympics and there is a rumor the BTC will head to Hawaii before the Games. He said he'll just follow Jerry Schumacher's orders, but the goal is to medal.
Kincaid had run sub 13 minutes in the past, but he wasn't known as a US distance star. Now he is.
*Post Race Interview with Kincaid
Quick Take: Cooper Teare caps an outstanding 2021 season with a fourth-place finish
Embed from Getty Images
Teare entered the 2020-21 academic year among the better runners in the NCAA — he had finished 4th at NCAA indoors in the 3k and 6th at NCAA XC in 2019 — but after putting in some serious work during the pandemic, he emerged as one of the top runners in the NCAA, clocking a 13:17 5k pb in December, a 3:50 NCAA mile record in February, and winning a couple of NCAA titles in the DMR indoors and 5000 outdoors.
After today, it is clear that Teare is not just one of the best runners in the NCAA, but the entire United States. He was proud of his ability to hang with the likes of Chelimo, Fisher, and Kincaid, closing in 53.97 for his last lap. 
"Honestly, that was a class field, there's Olympians in there, there's guy that have run top-5 all-time US times," Teare said. "I think it's sweet, for sure. Definitely sucks missing out but…I think I put myself in a great position. I gotta respect those guys. Those guys are going for medals at the Olympics, and to be mixing it up with them, I'm grateful for the opportunity."
Technically Teare could still be an Olympian this year if Fisher or Kincaid chooses to scratch the 5k to focus on the 10k in Tokyo (for now, both men plan on doubling), but if today's result helped anyone, it was Ben True. Fisher and Kincaid's medal hopes are best in the 5k, and the 10k is before the 5k in Tokyo. 
If they want to go all-in on the event where they have the best shot at a medal, scratching the 10k would make sense (if both scratched the 10k, True and Emmanuel Bor would go as they were the top two finishers with the Olympic standard).
Up next for Teare is a big decision: whether to turn pro or not. He has eligibility remaining in both cross country and outdoor track, and at just 21 years old would be in demand from the shoe companies. Teare will make that choice soon, but for now he will be enjoying himself after a month of great racing on his home track.
"The last month, it's been the time of my life, really," Teare said.
*Post Race Interview with Teare
Quick Take: Fisher and Kincaid finally get to race the big boys
Woody Kincaid has been a professional runner since 2016, Fisher since 2019. Remarkably, neither has ever raced overseas as a professional. In fact, of the two, only Fisher has run any kind of international race — and that was way back in 2013, when Fisher ran at the World Youth Championships in Ukraine as a 16-year-old. Now both have two big international races on their schedule: the 5,000 and 10,000 meters at the Tokyo Olympics.
Dicsuss this race on our running messageboard: