DUCK, DUCK, GOOSE: Cole Hocker Takes Down Matthew Centrowitz to Win Men's 1500 as Yared Nuguse Grabs 3rd
By Jonathan Gault
June 27, 2021
EUGENE, Ore. — Matthew Centrowitz had four months, thirteen days, and a five-hour weather delay (it was 106 degrees in Eugene today) to make his move on Cole Hocker.
And he still went too early.
With 120 meters to go in tonight's US Olympic Trials 1500-meter final at Hayward Field, Centrowitz, the reigning Olympic champion, took a quick glance over his right shoulder, then his left. He was looking for Hocker, who had won the NCAA title for Oregon two weeks ago on this track, just as Centrowitz had 10 years earlier. Centrowitz saw a gap of about three meters and in a split second, weighed his options. He could accelerate to top gear and try to win the race then and there. Or he could wait, saving something for the final 50 meters in case Hocker, who has quickly become famous for his final 200 meters, had a move up his sleeve.
Centrowitz chose the former. It did not work out. But perhaps it didn't matter in the end, because over the final 100 meters he was overwhelmed by the force of nature that is Cole Hocker, who has rare talents. Not only does Hocker own one of the best — no, this race proved it — the best kick in the United States right now. He also possesses the uncommon ability to make every race he's in the most exciting thing in the world at that given moment. Whether it was his astounding mile/3000m double at the NCAA Indoor Championships in March, his thrilling NCAA 1500 victory over Notre Dame's Yared Nuguse on June 12, or his pulse-pounding duel with Centrowitz down the home straight tonight — one he won after edging by Centrowitz with 35 meters to go — Hocker is guaranteed entertainment. When he rears back and reaches top speed — chest heaving, arms flying, man-bun bobbing in his wake — he creates the same sense of anticipation as when Bernard Lagat got on his toes, eyes bulging and chain bobbing. You know something exciting is about to happen.
Tonight's race — in which Hocker outdueled Centrowitz for his first US title, 3:35.28 to 3:35.34, stirred memories of a similar race from a decade prior (Nuguse grabbed the third spot on the Olympic team, pulling away from 2019 US champ Craig Engels to take third in 3:36.19). At USAs in 2011, a 21-year-old Centrowitz turned back a 35-year-old Lagat to win his first US title. It was a changing-of-the-guard moment, America's best miler of the 2010s seizing the crown from America's best miler of the 2000s. It is too early to say if the sparse but vocal Hayward Field crowd witnessed the same tonight when the 20-year-old Hocker passed the 31-year-old Centrowitz (there is this kid named Hobbs Kessler you may have heard of, and who knows who will emerge next year). What the 4,836 in attendance tonight (and anyone caffeinated enough to stay up for the 12:40 a.m. ET Monday morning start) did witness was a fitting coda to 10 days of track & field that once again proved there is no meet in America better than the Olympic Trials.
The hype for this race had been building for months. It began, strangely enough, in the B heat of a 5,000-meter race (odd) in a track meet in December (odder) in Southern California. Centrowitz, sporting a black Air Jordan t-shirt under his Bowerman Track Club singlet that made it feel like a glorified practice (which it kind of was), sat on Hocker (wearing a handwritten bib) for over a mile before sniping him at the finish line, 13:32.92 to 13:32.95. It produced a cool photo and a fanciful hypothetical, Man, wouldn't it be neat if those guys could somehow race again at the Olympic Trials with something on the line?
Then the calendar turned to 2021. Hocker ripped a 3:50 indoor mile in February, Centrowitz returned to championship form after an injury-battered 2020, and suddenly we went from what if to this is definitely happening. Other characters joined the fray. Nuguse set a collegiate record of 3:34.68 at the ACC Championships. Engels ran a personal best of 3:33.64 in Portland only to be overshadowed by a high schooler, Kessler, finishing just behind him in 3:34.36 (Kessler was eliminated here in the semifinals). The hype had been built so high that it seemed impossible for any scenario to match it.
Article continues below player.
Somehow, this race exceeded it.
The Race
Tonight's race had originally been scheduled for 4:40 p.m., during which the temperature was 106 degrees in Eugene, but was postponed barely an hour before it was due to start because of extreme heat. That left a number of athletes in an awkward position as they had already begun their pre-race routines — even Centrowitz, who has been in two Olympic finals, mentioned he was battling anxiety during the five-hour delay as he had already drank his pre-race coffee, which made it difficult for him to relax.
Once the gun finally fired, the pace for the first two laps was moderate, the field passing 400 in 58.50 and 800 in 1:59.13 with Colby Alexander, one of four current or former Oregon Ducks in the race, leading after two laps. At that point, Centrowitz sat second, perfectly poised to strike on Alexander's shoulder, trailed by Sam Prakel on the inside. Engels and Nuguse were also positioned well in fourth and fifth, ready to react should Centrowitz move, while Hocker was back in ninth, boxed in but running the shortest possible distance.
Just before the bell, Centrowitz eased past Alexander into the lead; as he did so, Hocker also moved up, sliding by Engels on the rail all the way into fifth place. Centrowitz' form never betrays any hint of effort — 62- and 52-second pace looks the same when he is running it — but it was clear from the eight men lined up behind him with 200 meters to go that he had yet to truly unfurl his kick; the split from 800 to 1200 had been just 57.06, well within this field's capability.
It was not until midway into the final turn that Centrowitz finally managed to open a gap. The kickers responded in kind. And that is when Hocker had to act. Sitting in only sixth place with 200 to go, Hocker had been content to ride the rail, but now Nuguse was coming hard on his outside and with Alexander and Prakel occupying the inside of lane 1, he had no option but to swing into lane 2.
| | |
| --- | --- |
| Overall | |
| Comfort | |
| Cushioning | |
| Durability | |
| Appearance | |
| Value | |
"I just knew I had to get out in front of him and not get boxed in," Hocker said. "I saw an opening and I just went for that gap. And then there was just one man in front of me, and I did my best to hunt him down."
Hunt he did, running his final 400 meters in 52.5 and final 200 in close to 25-flat (it may have been under; race footage proved unclear) to take down the Olympic champion and become the youngest US 1500m champion since 1974* and youngest US 1500m Olympian since Marty Liquori in 1968.
Behind them, Engels, Nuguse and 2019 USA third-placer Josh Thompson hit 100 to go three abreast, the final spot to Tokyo hanging in the balance. It was Nuguse who kicked best, gapping Engels midway down the home straight and relegating Engels to 4th — his second time finishing in that spot at the Trials following his run in the 800 five years earlier.
*Tom Byers was the top American at the 1974 AAU Championships — then recognized as the US national meet — but at the time, international athletes were able to compete at USAs as well. Byers was second in the race behind Rod Dixon
Results *Full results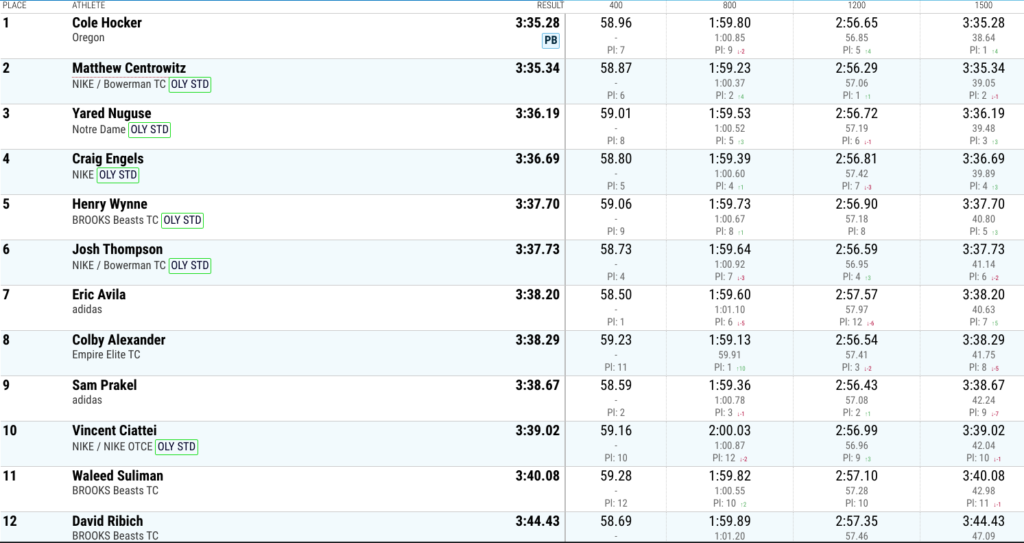 Quick Take: Cole Hocker has arrived (and yes, he could medal in Tokyo)
Cole Hocker may still not even have the Olympic standard (we'll get to that), but tonight's run — and everything else he has done in 2021 — showed that he has the tools to be a factor on the biggest stage in the sport. If you can run your final 200 in 25 seconds while running extra distance on the turn in a 3:35 race in your third race in four days, you can medal at a global championship.
That doesn't mean Hocker will medal.  If Timothy Cheruiyot ends up on the Kenyan Olympic team and turns the Olympic final into a 3:29 race like he did in Doha in 2019, maybe Hocker can't hang (his only 1500/mile defeats this year have come in time trial-type races). But if Tokyo runs like a typical championship final, Hocker has a kick capable of winning a medal.
Consider: Hocker didn't run a perfect tactical race tonight. Centrowitz, a three-time global medalist who before this meet said he was in close to career-best shape, had a three-meter lead on Hocker with 120 to go and ran no extra distance. Hocker still ran him down. Centro spoke after the race of having made a tactical error in going too early, and maybe he did, but sometimes you just get beat by a superior athlete. It's not often that Centrowitz is the second-best athlete in a US championship, but that was the case today.
One knock on Hocker moving forward is that he has been racing — and racing at a high level — since January. Can he keep up these kind of performances for another six weeks? At this point, why not? He has passed every checkpoint thus far. 
"I kind of felt like I was proving myself to the world [this season] but also just proving my talents to myself," Hocker said, referencing the shh gesture he made upon crossing the finish line. "There was a lot of negative talk out there and I just wanted to silence everyone this whole year."
*Cole Hocker Post-race interview
Quick Take: Yes, Hocker will be in Tokyo
Despite running a pb of 3:35.28 tonight, Hocker still does not have the 3:35.00 Olympic standard (which is proof enough that the system needs to change and countries like the US with 5+ athletes qualified in an event should be able to pick whichever team they choose). But you don't need to worry about that. Hocker's time tonight, plus the 100-point bonus he gets for winning the race, will boost his world ranking high enough that he will be the first guy without the standard in line for Olympic selection. Since only 38 athletes have the Olympic standard worldwide (after taking the three-athlete-per-country limit into account) and the field size is 45, USATF will name Hocker to the team and he will easily get in.
Quick Take: There is no Hocker-Centro beef
There has been plenty of social media buzz, memes, and t-shirts (okay, we're responsible for that last one) following Centro's decision to clap back to Hocker's Oregon teammate Carter Christman who tagged Centro and wrote "your move" in the comments of an Instagram post Hocker made following his 3:50 mile in February. Since then, there has been plenty of speculation about the relationship between Hocker and Centrowitz, especially after they pulled away from the rest of the field in their semifinal on Friday and Centrowitz said something to Hocker just before they crossed the line. With neither Hocker nor Centrowitz stopping for the virtual mixed zone that day, the running world was dying to know what was said.
"That was the most popular question I've gotten all year," Centrowitz said.
So much so, that Centrowitz, during his post-race interview, made sure to clear the air over the Hayward Field PA system. Later, in the media Zoom, he said he could not remember what he said, but it was certainly nothing malicious.
"I wish I could tell you there was some shit-talking and I wish I could tell you I said 'your move' back to him, but that's not the case. We both jogged off the track and then we were in the tunnel together, me and Cole, just pretty much stroking each other, we were just giving each other kudos. I think Cole mentioned it's been an honor racing me the past couple days, and I just told him, hey, I have the utmost respect for you, what you have accomplished this past year."
Quick Take: Centro makes the team (again)
Matthew Centrowitz made his first US team in 2011, shortly after Cole Hocker's 10th birthday. He has made every US outdoor team since then, a total of eight, counting tonight. It's remarkable longevity for a man who has dealt with his fair share of injuries — he was hurt this time last year — but always pieces it together for the US championships. Centro has now finished in the top two in his last nine USATF Championship appearances — every year since 2011, excluding 2014 (when he skipped the meet) and 2020 (when there was no meet due to COVID).
Quick Take: Nuguse's plan comes to fruition
Last fall, when it was announced the NCAA Cross Coutnry Championships had been moved to March 15, the same weekend as the NCAA Indoor Championships, athletes and coaches had a choice: focus on XC, focus on track, or try to do both. Two collegians wound up making the Olympic team tonight, and each athlete (and their coach) chose a different option. With Oregon having a shot at the indoor team title, Ben Thomas and Hocker focused on track and didn't run XC at all. Clearly that worked out well as Hocker won two NCAA indoor titles, Oregon won the indoor team title, and Hocker won NCAA and US titles outdoors.
Nuguse and his coach Sean Carlson chose to focus on XC during the winter, with the hope that he would be able to help Notre Dame to a podium finish on the grass and achieve strength benefits that could help him on the track. Mission accomplished.
Nuguse was 23rd at NCAA XC to help the Irish to a runner-up team finish (its highest placing since 1957). That in itself would have been a success for Nuguse, the ultimate team guy (remember, he scratched the individual mile at NCAA indoors in 2019 so he could anchor Notre Dame's DMR fresh). If he couldn't turn it around in time to be a factor in the 1500 outdoors, well, who could blame him?
But Nuguse was more than a factor; he was better than ever, running 3:35.96 in his first race to beat Hocker and a solo collegiate record of 3:34.68 in the ACC prelims. His race at NCAAs, closing in 1:49 to run 3:35, was incredible and would have been enough to win almost every other year. And now he's on the Olympic team after outkicking the reigning US champ in Craig Engels. Heady stuff for a guy who just turned 22 this month.
Quick Take: Craig Engels comes up short
Reminder: it is really, really hard to make an Olympic team. Tonight there were four guys better than everyone else, but unfortunately for Craig Engels, he was the fourth. He actually ran less distance than Nuguse on the final turn and almost drew level entering the final straight, but Nuguse had more left over the last 50 and that was the difference.
Engels was 4th (in the 800) and 5th (in the 1500) at this meet five years ago, and there wasn't much heartbreak considering he was a 22-year-old college kid who still didn't really know what he was doing. This one will sting, however. At 27, Engels is in his prime and said this week this is the fittest he's ever been. This was his best shot to make an Olympic team, and unfortunately, he wasn't quite good enough tonight. It was the end to a rough week for Engels, who had to watch his friend and training partner Donavan Brazier miss the 800m team on Monday.
Talk about today's action on our world famous fan forum/messageboard.