Non USA Action / Jamaican Champs
The Week That Was Returns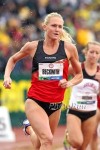 The WTW is back! We praise Molly Beckwith-Ludolow, praise the increased competitiveness of women's track, show you just how dominant the SEC and PAC-12 are at NCAAs and make a $10,000 guarantee that Galen Rupp won't set the 10,000 WR. Plus why it's unacceptable for commentators to talk about the weight of female track stars.
USAs Final Day Non-Distance Coverage *Full Results
IAAF Recap: Oregon Freshman Devon Allen Stuns As U.S. 110 Hurdles Champ In Sacramento Allen ran a slightly wind-aided 13.16 to beat defending champ Ryan Wilson by .005; David Oliver was 3rd. Jeneba Tarmoh (you remember her from the 2012 dead heat fiasco) won the 200 (22.06) as Curtis Mitchell ran 20.13 to beat Wallace Spearmon (20.19). Inika McPherson gets HJ title in 2.00m PR (previous best 1.96m) beating Chaunte Lowe and Brigetta Barrett. Kori Carter takes 400H as Johnny Dutch wins for the men (48.93). Sam Kendricks won the PV (5.75), Jeffery Henderson the LJ, Gia Lewis-Smallwood the discus and Sean Furey the javelin.
Ken Goe: The Legend Of Devon Allen Hurdles Onward True freshmen Allen is a football player and asked between NFL football and the Olympics, he said, "That's the question. Making an NFL roster would be fun, but you have to ask 'Super Bowl or Olympics.' The Olympics is huge. It's something that happens every four years. The Super Bowl happens every year."
Sac Bee: Big Hurdles Cleared On Final Day Of USA Track & Field Outdoor Championships – Sports 400H champ Johnny Dutch: "I was on the verge of giving up track," Dutch said. "Injuries, personal things, near misses, I was ready to stop. I'll be a waiter. Glad I didn't."
Spiked Up, Psyched Up: Grading Sacramento, The Good And The Bad
Former Stanford Runner Kori Carter Wins First National Title In 400-Meter Hurdles Carter turned pro early after her junior year last year, but is still very into her education as she finished her undergrad degree this year and wants to get her masters in "prosthetics and robotics."
Sacramento Bee: New Mom Stephanie Brown Trafton Triumphs In Competing The US record holder finished 4th in the discus after taking last year off to have a baby.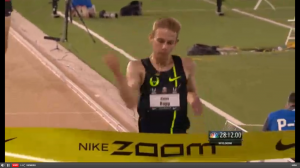 LRC Men's 10,000: The Race Goes According To Form As Galen Rupp Kicks Away From Chris Derrick In The Last Lap To Win His 6th US 10,000m Title As expected, Rupp was dominant over the final 400 and easily won over Derrick in 28:12. Behind them the best of the rest was 2:10:57 marathoner Ryan Vail, who had a big kick to get 3rd.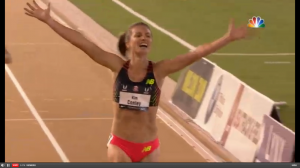 LRC Women's 10,000: Kim Conley Comes Back On Jordan Hasay, Wins First U.S. Title In Front Of Hometown Fans Hasay passed Conley with 230 meters to go but Conley fought back bravely and eventually pulled away for good with 50 to go, sending the crowd into a frenzy. *Sac Bee
LRC Women's Steeple Semis: All The Big Names Through Bridget Franek and Emma Coburn won their respective heats, both in 9:39. After the race, we spoke with Coburn as well as Stephanie Garcia, who recently set a PR by 13 seconds.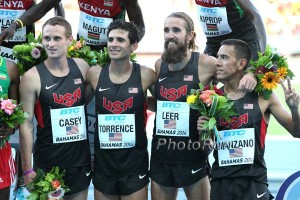 LRC Men's 1,500 Semis: David Torrence Goes Home Early – Leo, Lopez, Leer And Casey All Advance David Torrence's first USAs under new coach Jama Aden turned into a nightmare, but it was a great night for a number of underdogs like Ford Palmer who find themselves in the USA final.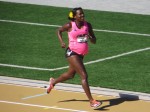 Instant Analysis 3 Thoughts On The Men's And Women's 800 Heats: A Very Pregnant Alysia Montaño, The Group Of Death, And The Favorites Move On (Mostly) The track action at 2014 USAs is underway and the 800 heats are in the books. Get our instant analysis of the heats which included a very pregnant competitor. MB: WTF is Montano doing on the start line?!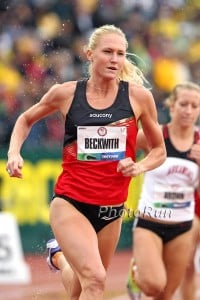 LRC 800 Post-Race Reactions: The Athletes Talk About Their Races Post-race reaction from Chanelle Price, Ajee Wilson, Brenda Martinez, Phoebe Wright, Lea Wallace, Laura Roesler, Charles Jock, Cas Loxsom, Robby Andrews, Sam Ellison and Duane Solomon.
Non-USAs Results: Kenya Chooses Its World Junior Team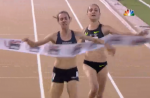 LRC What A Race: Molly Huddle Triumphs Over A Brave Effort From Shannon Rowbury In 2014 USATF 5,000 Huddle and Rowbury waged an epic battle to the line with Huddle prevailing in 15:01.56 to Rowbury's 15:01.71. NCAA champion Marielle Hall was 3rd as Stanford's Aisling Cuffe was 4th.
MB: Shanon Rowbury should have been DQ'd from the 5000. What do you think?  Watch the video and tell us what you think.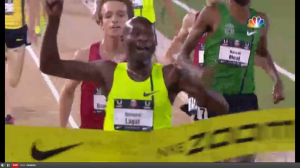 LRC Bernard Lagat, At Age 39, Wins His Seventh USA Men's 5,000 Title – Two Quick Thoughts + Lots Of Post-Race Talk Lagat got the job done yet again as expected since Galen Rupp wasn't in the field. Or was he?
*Goe: Andrew Bumbalough does everything but win the men's 5,000 final "You always know he's coming," Bumbalough said.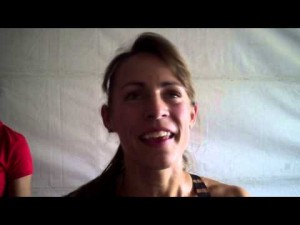 LRC Cain Vs. Efraimson Fizzles – 3 Thoughts On the Women's 1,500 SemifinalsThe attention was on the teens but the accomplished veterans Morgan Uceny and Jenny Simpson got the heat wins. Analysis and post-race interviews. *MB: Yes, that's right, Cain just cruised to beat Efraimson
LRC Men's 800 Semis: The Big Boys – Solomon, Greer, Sowinski – Advance To Set Up A Great Final A great final with Duane Solomon, Erik Sowinski, Elijah Greer, RobbyAndrews, Cas Loxsom and others is all set, but we're still wondering about a questionable DQ of Nick Hartle.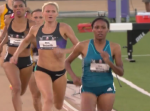 LRC  800 Semifinals 2014 USA Nationals: Chanelle Price Scratches, Ajee Wilson Impresses, And So Does Laura Roesler The future looks very bright for Laura Roesler, who won her heat ahead of Brenda Martinez. If you believe that, then remember Ajee Wilson is two years and five months younger.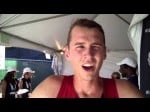 LRC  Steeplechase Semifinals Go According To Form: Andy Bayer Still Learning, Ben Bruce Wins 3.5 Weeks After A Marathon Recap, results, post-race interviews.
*Women's Steeple: Mr. Mom: Alan Webb Took Over Child Care Duties So His Wife Julia Could Compete In Steeple She failed to make the final.
Who's The Greatest American 10,000-Meter Male Runner Of Them All? Rupp, Mills Or Shorter?
Women's 5,000 Mania OTB!!!
Abbey D'Agostino NOT Running 5k, Taking A Break From Racing, Will Next Gear Up For Making World Cross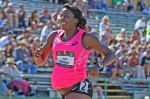 Bet You Didn't Think You'd See This On LetsRun Alysia Montano Pregnant 800m Photo Gallery We had a TV station in LA call us about our interview with Alysia from last night.
Updated 1:00pm Eastern Saturday Day 1 Photo Gallery Click Below
Caught With EPO
LRC Chris Derrick, Ryan Vail And Other Elites React To Mo Trafeh EPO Bust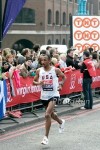 LRC Exclusive Mo Trafeh – American Record Holder At 25k – Caught With EPO, Is Retiring From The Sport The 2-time Foot Locker finalist, 8-time US road champion, and the US 25k American Record holder was recently caught with EPO in his possession, which he admits to purchasing for intended use but never actually using. *Discuss
Upcoming: Ryan/Sara Hall Racing Napa Half; Lauren Fleshman Making Debut
Want a Better Running Shoe?
Beta Better Running Shoe Site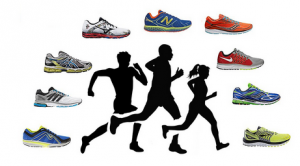 It's Time to Change How We Find Running Shoes