Day 4 Quotes From 2014 US Championships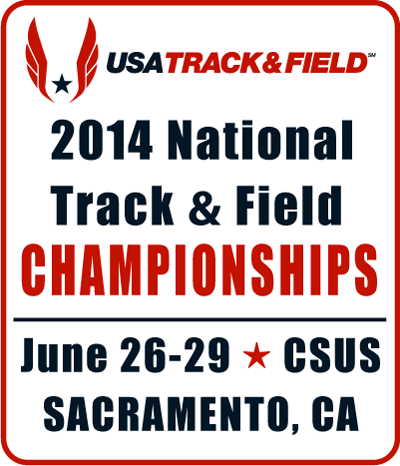 June 26, 2014 to June 29, 2014
USATF Press Release
June 28, 2014
Day 4 Quotes – USATF Outdoor Championships
Women's 20km Racewalk
Article continues below player
Maria Michta, winner
"It was beautiful. I went out with a goal pace to be much faster than I ended up finishing. My legs just felt flat and I really needed someon to push and pull me today. I'm disappointed that I couldn't go faster on my own but I've had a great season and I'm really happy to cap it off with my fifth title."
"I got three American records (this year) —technically four since I broke my own record—so you can't really ask for more than that. It sets me up really well looking forward two years. It's not about how I'm doing in American and my times, it's about how I'm doing internationally. The goal is to keep moving up."
"I'm getting married next Thursday, so it's a much slower walk I'm preparing for."
Men's 200 meter Prelims
Heat 1: Dedric Dukes, winner
"It was a good race. I just did what I needed to do to get to the finals. I didn't want to do too much; just wanted to make it to the finals."
Heat 2: Wallace Spearmon, winner
"The first race is always very difficult. There's just nerves and emotion. It's very hard. It didn't need to run faster but I know I can. I conserved just enough energy to get to the finals."
Heat 3: Sean McLean, winner
"It was pretty good. The first hundred was kind of tight, but I opened up in the last 100."
Heat 4: Curtis Mitchell, winner
"It was nice. I just did what my coach told me to do. Tomorrow, I just want to execute and have fun."
Men's 110 Hurdles Prelims
Heat 1: Ryan Wilson, winner
"I did some things right and wrong. USA trials are the best to try to get better execution wise.Tomorrow try to improve my body position."
Heat 2: Ronnie Ash, winner
"It was pretty good race. You think of every hurdle as a new set better and better and try to correct. Keep your composure and not over think.
Heat 3: Devon Allen, winner
"Trying to get to the next round. I am happy. It is nice weather here. Rest up and keep doing what I am doing. "
Women's 400 meter Hurdles Prelims
Heat 1: Tiffany Williams, winner
"It was very good. I'm glad to be back, to be able to finish strong and finish first. I just have to focus tomorrow; execute one more time and get it done."
Heat 2: Cassandra Tate, Winner
"I like my start, but towards the end I started struggling a little. But I was able to finish well and win the heat. I just need to stay focused on my hurdle and my lane and not worry about what anyone else is doing.
Heptathlon
Sharon Day-Monroe, winner
"It feels awesome especially in an off year. I feel like I have been making great progress in various events. It feels really good to win another championship in front of a great crowd and in my home state."
Barbara Nwaba, 2nd Place
"Surprisingly a good day. I PR'd in the long jump and I'm finally in the 600 club. It feels great and my hard work paid off for it."
Men's High Jump
Erik Kynard, winner
"It was really good. I have been harboring an injury for the last three weeks. I'm moving along and back in rhythm and progressing. I jumped 2.35 today. It's all about timing. "
Nick Ross, 2nd Place
"I am proud of my performance today. Overall, I cannot complain about the day and secured a second place position. Something I am proud of. It means a lot to win second place."
Women's Hammer Throw
Amanda Bingson, Winner (Stadium record 246–3)
"My series went better than expected. I'm pretty happy with it. I'm not quite satisfied because I didn't hit as far as I wanted to. But overall I'm happy. It's still fairly early on in the season.
"It means a lot to win a national championship. After winning last year, this is the first time I felt a little pressure to win again. It was really kind of nerve wracking. Now I'll have to do it again next year and go for a three-peat."
Jessica Cosby Toruga, 2nd place
"This meet ended a lot better for me this year as opposed to last year. (Laughing) Last year I walked away with a concussion and some bruised ribs so I'm happy to be walking away from this competition standing on my own. I feel like I'm progressing; coming along in the right direction. I'm beginning to feel like the old competitor I was in the past."
Men's 400 meter Hurdles Semis
Heat 1: Johnny Dutch, winner
"It went pretty well. It was really consistent, really smooth. I just tried to relax and bring it home and not finish too hard. Tomorrow, I just going to run with my heart and see where that takes me."
"I love the track. I'm all about running in new places. I love Eugene with all my heart but it's refreshing to run somewhere else on the West Coast. This is my first time in Cali. I have a good first impression."
Heat 2: Bershawn Jackson, winner
"I thought it was a great race. I knew we were going to go out pretty hard. I tried to stay in my lane, concentrate on my last 200 and get ready for tomorrow."
"It would mean a lot (to win). I've overcome so much adversity over the last two years. 2012 was my year to make my dream a reality and it turned around just like that. Last year I torn my hamstring. This is my chance to start to turn it around and let people know that Batman is still relevant."
Women's Long Jump
Brittney Reese, Winner
"For me to get the I was even more happy. The track is real fast and I was constantly moving back. I am happy about the win."
Tianna Bartoletta, 2nd Place
"My team and I had a specific strategy coming into this meet to be on the podium in both the 100 and long jump. My conditioning and strength allowed me to not only run three great rounds in the 100 but to put together a solid and consistent long jump series in spite of having headwinds of over 2.0 mph in both events. I'm pleased with how I was able to perform this Nationals and am really proud of my team who helped bring me back from injury so that I could become national champion in the 100 and take silver in the long jump."
Women's 400m
Francena McCorory, Winner
"I ran my lights out today. It was also great running against a great field and you know the times will be good. It is more motivation. Starting out strong was my main focus today."
Sanya Richards-Ross, 2nd Place
"I felt my race went really well. I went hard and got in striking distance. I felt good; no complaints. I was able to focus on each round. I am very proud of my friend today getting a PR in the race."
Women's 3000m Steeplechase
Emma Coburn, winner (Meet and stadium record 9:19.72)
"With three-and-a-half laps to go, I kind of took off and when I saw my time at the end, I was really surprised. I'm not great in the heat. It shows that I'm in better shape."
Ashley Higginson, 2nd place
"I'm really excited. I believed in the process."
Men's 1500m Final
Leonel Manzano, Winner
"It's a blessing to win a title. I spent a year and a half without a sponsor and this goes to show that every athlete needs support. Thanks again to my coach John Hayes."
"The overall strategy was to be in the front. Unfortunately, that didn't quite work out. U.S. distance running has come a long ways and any time you race against these guys it's not going to be easy. They gave me a good challenge today. Fortunately I was able to pull away in the last 100 meters."
Pat Casey, 2nd place
"As soon as the gun went off, I knew it was going to be slow. I had all the confidence in the world. I might have made my move a little early and I kind of ran out of steam in the last 50. I'm proud of the effort I've put in and proud how from I've come over the last year. You come this far and you want to win, but second place, I'll take it."
Men's 400m
Gil Roberts, Winner
"I just tried to hit the curve and maintain technique throughout the last 100. I can't really focus on anybody else is doing. I can only focus on myself. "
Josh Mance, 2nd place
"The goal all season was to get to this race and whatever happens happens. I wasn't really worried about anybody coming up on me, I just tried to stick to my race plan. The Worlds are next year, so I'll build off this and get strong and get faster for next year."
Women's 100m Hurdles
Dawn Harper-Nelson, Winner
"I'm in a very good mood. I was a pretty good race. I knew coming into it that us 100 hurdlers are fierce and competitive. We don't give up. I knew that everyone was going to show up for the finals and I had to show up as well. Bob Kersee said, "You know you're not making a team, so just go run and have fun and run your race and that's what I did.
"I feel good about my lean. I think if it comes to the lean, Dawn's going to get it. I'll take it."
Queen Harrison, 2nd Place
"It was a really close race. It all came down to the dip. More real estate always works better for me. It was a good run. I'm really excited about it. I feel like I executed my race very well. I was this close to being victorious. It was a great run altogether."