Francena McCorory Becomes Fifth-Fastest American At 400, Emma Coburn And Dawn Harper-Nelson Capture Third U.S. Titles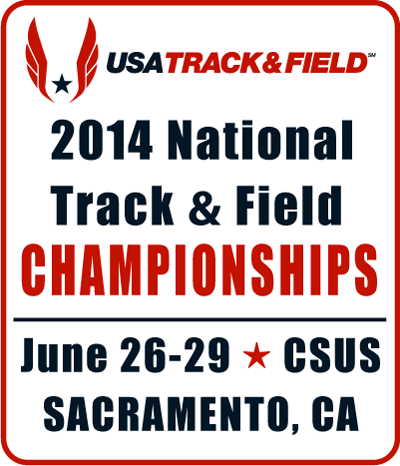 June 26, 2014 to June 29, 2014
USATF Press Release
June 28, 2014
SACRAMENTO, California — The accolades for Francena McCorory continued from indoors to outdoors as her USATF Outdoor Championships finish in the BMW 400 meters not only earned her a title, but also ranked among the top-five all-time American performances.
The BMW women's 400m came down to the last 100 as reigning World Indoor champion McCorory (Hampton, Virginia) added a USATF Outdoors title to her belt. McCorory and Sanya Richards-Ross (Austin, Texas) moved ahead of the pack after the final curve before McCorory kicked in an extra gear for a close finish in 49.48, a mark that makes her the fifth-fastest American woman ever. Richards-Ross, the American record holder, had a season-best 49.66 in second.
Article continues below player
Olympic silver medalist Erik Kynard (Toledo, Ohio) overcame an early bobble to win the men's high jump with a clearance at 2.35m/7-8.5, equaling the Hornet Stadium record set at the 2000 Olympic Trials by Nathan Leeper. Kynard, who missed his first try at 2.25m/7-4.5, had the bar raised to 2.41m/7-10.75, one centimeter better than the American record, but missed on all three attempts.
Dawn Harper-Nelson (East St. Louis, Missouri) and Queen Harrison (Richmond, Virginia) raced stride for stride as the top two in the Nike women's 100-meter hurdles final. Harper-Nelson earned the narrow .01-second victory in 12.55 with Harrison in at 12.56. Lolo Jones (Des Moines, Iowa) finished third in 12.65.
Reigning champion and American record holder Amanda Bingson (Las Vegas, Nevada) set a new stadium record in the women's hammer throw, utilizing her second toss of 75.07m/246-3 to capture her second national title. Her throw was also the third longest ever by an American.
2012 World Indoor 4×400 gold medalist Gil Roberts (Oklahoma City, Oklahoma) stepped up to the top of the podium in the BMW men's 400 for the first time, zipping to a lifetime-best 44.53. Josh Mance (Chino, California) was second in 44.89, and U.S. indoor champion and 2014 World Indoor 4×400 gold medalist Kyle Clemons (Rowlett, Texas) set a personal best of 45.00 in third.
Maria Michta (Long Island, New York) dominated the women's 20 km race walk as she immediately stepped out ahead of the pack, creating a 50-meter gap before the event left the stadium for the road. She never looked back as her separation from the field increased, and she broke the tape nearly a lap ahead of the next closest finisher in 1:35:55 to claim her fifth straight national title.
Emma Coburn (Crested Butte, Colorado) was striding solo at the bell in the women's 3000m steeplechase as she cruised to her third national title in 9:19.72, the third-fastest time ever by an American and a new USATF Outdoor Championship record.
A highly competitive Nike men's 1500m saw the entire pack together through 800 in just over 2:00. Pat Casey (Eugene, Oregon), Lopez Lomong (Beaverton, Oregon) and Garrett Heath (Winona, Minnesota) had a slight lead with one lap to go, passing the bell in 2:45.77. Down the backstretch, Leo Manzano (Austin, Texas) moved into contention as, coming off the final bend, Manzano caught Casey and sprinted away to win his second U.S. title in 3:38.63., .31 ahead of the second-place finisher. Lomong and Will Leer (Portland, Oregon) leaned together, with Lomong taking the third spot by six thousandths of a second in 3:39.11.
Brittney Reese (Gulfport, Mississippi) marked 6.92m/22-8.5 (+1.9), earning her sixth national outdoor title in women's long jump. After fouling on three of her first four attempts, Reese made her fifth jump her best to seal the victory. Tianna Bartoletta (Elyria, Ohio) was the runner-up, jumping 6.86m/22-6.25.
USA Outdoor Championships continue Sunday. For complete results, click here.
BROADCAST SCHEDULE – USATF OUTDOOR CHAMPIONSHIPS
Sunday 6/29
10am ET/7am PT – Racewalk – LIVE on USATF.tv
2:30pm-3pm ET/11:30am-12pm PT – All Events – LIVE on USATF.tv
3pm-4pm ET/Noon-1pm PT – LIVE on Universal Sports (Field Events will be LIVE on USATF.tv)
4pm-6pm ET/1pm-3pm PT – LIVE on NBC (Field Events will be LIVE on USATF.tv)
6pm ET/3pm PT – COOL DOWN – on USATF.tv