Friday Quotes From 2014 US Track And Field Championships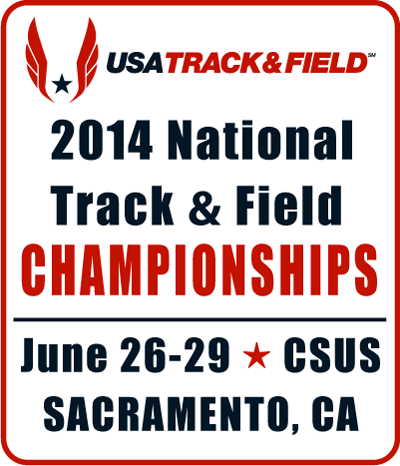 June 26, 2014 to June 29, 2014
USATF Press Release
June 27, 2014
Men's 100 meter Final
Michael Rodgers, winner
Article continues below player
"I felt good. I was kind of mad that they turned it around (ran in the opposite direction), but it was a good time into a headwind. I felt like the last 20 my body just kind of shut down."
Ryan Bailey, 2nd place
"I don't know what it is this year, but I've been struggling with the first 40 meters of every race. Every rounds been the same thing, playing catch-up. Once I get up and running in full stride I'm running pretty well, but that first 40 is killing me."
Women's 100 meter Final
Tianna Bartoletta, winner
"I had two great races today and I'm just glad I came out on top. I've got to get ready for the long jump (Saturday)."
Barbara Pierre, 2nd place
"I've had a rough season until today. This is the fastest I've run all year, and I'm ready to go. I'm pleased with the way I ran today and look forward to the rest of the season."
Women's 5000m
Molly Huddle, winner
"The plan was to try and run easy the first two laps to see if anyone would try to take it and then stay in a comfortable spot on the outside for me. I tried to pick it up in the middle. I was starting to get a little nervous leading in the middle. I just tried to make sure I had enough left for a 100 kick because I knew Shannon is a great closer.
"I tried to measure my kick a little better. I used to go all out at the bell but I went 80 percent at the bell because I knew the move would come at 200. Shannon went around me and I thought, 'just go with her.' We kind of were weaving all around. I was ready for a lean. I knew it was going to be close and I just went until my legs went numb."
Men's 5000m
Bernard Lagat, winner
"I feels so good. I came over here and have been training really well. I didn't run really well at the Prefontaine so I vowed to come back and had to races before here because I needed the races.
"The training I've done, if it had been 64–64 (seconds) it would have been okay, but it was 66–67. It was slow. I knew it was going to be a tactical race. I had to know where everybody was and stay out of trouble. I felt really good going into the last 800 meters."
Andrew Bumbalough, 2nd place
"The difference for me this year is a little more confidence. To be able to do what I need to do to finish as high as I can. I think I've been a little timid in the past. Sometimes you have to trust your instincts. I felt a soft spot with 1600 meters to go and I decided to move on it. There's less risk in a year with no world championship so I decided to roll the dice a little bit. Maybe you'll see more of that from me in the future. It obviously worked out tonight."
Men's Decathlon
Trey Hardee, winner
"It was very consistent. There weren't really many good things that happened, but on the flip side of that, a lot of athletes struggled. But I was on par. Like golf, I felt like I had a lot of pars. I was very consistent. That's what you want in the dec.
Men's Discus
Hayden Reed, winner
"It was not my best day, but then again I don't think it was anyone's best day. But it was a win. It was not a favorable wind, but the wind blows the same for everyone. It is a privilege to be out here. It was an honor to be out here."
Bryan Powlin, 2nd Place
"I think it went really. I was pretty consistent. I think good to see all the other competitors in this type of field and be able to perform and compete against them for the first time, and be able to put things together at this stage. I am pretty excited and have a lot more in me. It feels good to have an consistent performance at this time."
Women's 400m Hurdles Prelims
Heat 1: Kori Carter, winner
"I felt good. I'm working on my stride. I definitely felt good today. I am ready for the finals."
Heat 2: Tiffany Williams, winner
"I have been so blessed. My training has been going very well. I ran 54 seconds for the first time."
Men's 400m Hurdles Prelims
Heat 1: Bershawn Jackson, winner
"My plan for the round was to win my heat. I feel pretty good health-wise. I'm in pretty good shape."
Heat 2: Johnny Dutch, winner
"I felt good. I didn't expect to be so fast, but I'll take that. I was really focusing on executing my race and now it's onto the next round. It has been a very challenging year with a few injuries."
Heat 3: Michael Stigler, winner
"I felt like it was a good race. I stayed open and stayed relaxed."
Women's Heptathlon
Sharon Day, 1st Day Leader
"I felt pretty good. My goal today was to score 4,000 points. I was a little disappointed, but I still set an overall PR for day one. It was a weird day for me. The hurdles were good, but I struggled through all the events, but I came out with good marks so I'm happy.
"Overall the day was good, the heat kind of bothered me in the 200. It was a long day in the heat, but I feel good."
Women's 100 meter Hurdles
Heat 1: Lolo Jones, winner
"It was a good race. I tried to focus on the middle to end part. It was getting a little bit sloppy because the wind was pushing the hurdle up on the hurdler, so you really had to focus or you'd have a problem. It's always good to get the first one out of the way so you can on on with your routine."
Heat 2: Dawn Harper, winner
"Today was just supposed to be about going out and executing. That's what Bob Kersee told me to go out and do. Tomorrow is always a different ball game. It's turn up time. You make it to the finals and it's jets full blast. I think you're going to see some great performances tomorrow. None of us girls back down. It's going to be fun."
Heat 3: Queen Harrison, winner
"It was good. I was working on my start and trying to be powerful in my first three steps. Overall it was a great run."
Men's 3000m Steeplechase
Heat 1: Evan Jager, winner
"I felt control. Definitely a good heat. It is hot out there."
Thoughts on the finals: "Going at it and racing hard; it's not going to be easy, it will be hot, so might not be fast."
Heat 2: Benjamin Bruce, winner
"I wanted to get into a rhythm after doing road race. It is my first race as a father. I got through it. I wanted to take this one for my son."
Becoming a father two weeks ago: "It was amazing. It is great."
Women's Pole Vault
Jenn Suhr, winner
"I'm happy with the win. Each title has its own specialness. Now we go back and start training and get ready for our series in Europe. (Laughing) I think any time you can make bars on your first few attempts and walk away without an injury it's a good meet."
Sandi Morris, 2nd place
"I didn't perform the way I wanted to at NCAAs and I think that lit the fire in me to comeback and I'm so happy I was able to accomplish that. I was driven and confident and I think that's a big part of the pole vault. You've got to come out ready to hit it, to nail it, and I'm so proud of myself. I couldn't have done it without my coach and all of the support I'm given."
"It's an honor to get second behind Jenn Suhr. It's seriously a dream come true."
Men's Triple Jump
Will Claye, winner
"I am not always blessed to have family at meets like that. I had so much family here and it was big energy. They gave me lots of energy and I had to showed them I appreciate them. I am going to make the best of it as I can, while I can, because I am not going to be able to jump forever. I wanted to compete with the guys and entertain the crowd. This was the best track I have ever been on."
Christian Taylor, 2nd place
"When Will (Claye) and I are together, it's going to be a battle. It keeps us on our toes."
"I've been improving every competition, and this is a season's best."
"I've never been to Sacramento before. I really hope USATF brings more events here."
Women's 1500m Prelims
Heat 1: Morgan Uceny, winner
"It was really exciting. My last race I felt really comfortable and racing in the right direction. Today, I was very anxious about racing. Yesterday, I watched the 800 and they seemed really exciting. It feels good to run and compete.
Heat 2: Jennifer Simpson, winner
"Good. It is important day and I took it really serious. Rest and hydrate and get myself mentally prepared for the next race."
Women's 400m Semifinals
Heat 1: Sanya Richards-Ross, winner
"I feel really good. I've been training hard and its just nice to feel it paying off today. It was a tough semi, but I glad I made it through and I'm looking forward to tomorrow. I'm feeling really confident. I plan to execute like I did today and finish strong."
Heat 2: Dee Dee Trotter, winner
"I haven't had the season I've wanted to have, so to come here and to really compete is truly a blessing and I'm very thankful for today's race. I want to work on my first 300. If I'm there at 300, i can race. So that's what I've been focused on."
Men 400m Semifinals
Heat 1: Kyle Clemons, winner
"I feel great. I've been working on my finish and I can tell that paid off today. Tomorrow I want to get out a little faster than I did today and have the same kind of finish."
Heat 2: Gil Roberts, winner
"My goal was to get through and get to the final. I won the heat so I'll get a good lane draw tomorrow. I've been distributing my energy better instead of using it in the first 200 meters. I'm juiced for the final. I'm excited to be going in No. 1, I've just got to execute the same way so I can come out with the victory."
Women's 800m Semifinals
"Heat 1 winner: Laura Roesler
"My position. I worked hard in the 250 and run hard for 30 more seconds. I wanted to secure my spot rest up tomorrow and come back for the final."
Heat 2 winner: Ajeé Wilson
"I am feeling good. I felt relaxed. The last 120 I kicked it in a little bit. I am ready for the finals."
Men's 800m Semifinals
Heat 1: Duane Solomon, winner
"I just ran the first half aggressive to break things up and then, when I had time and space I could let up. I felt like I could have put a good time down today, but the plan was just to qualify. I'll run aggressive like I always do, but my goal is to win it."
Heat 2: Elijah Greer, winner
"It was definitely close. I felt the wind a little bit, I felt myself tire out. The time was nothing special but I'm in the finals Sunday. I'm excited about that.
"I made a pretty strong move (with 300 meters to go). The wind was at my back so I felt comfortable moving harder there. I need to be further up in the final. It's definitely anyone's game."