An Insider's Look At the Jeneba Tarmoh, Allyson Felix 100m Tie Fiasco
Roughly Three Hours After the Race Tarmoh Sees the Photo of the Finish on the LetsRun.com Computer
*More: LRC An Exclusive Interview With The Man Responsible For Reading The Allyson Felix 100m Finish Picture
by: Steve Soprano, Employee 1.1
LetsRun.com
June 24, 2012
To a casual fan watching the US Olympic Track and Field Trials, things might seem pretty organized - officials everywhere, high-tech equipment measuring results and timing races, huge jumbotrons posting race results for everyone to see. The top officials in our sport are in control of this meet and if you're told something you can take that to the bank. There is a system in place, a procedure that is followed, and a way to settle any possible disputes. Sport at this level of competition is not left to chance and rules and procedure are not created on the fly. Wrong, wrong, and wrong.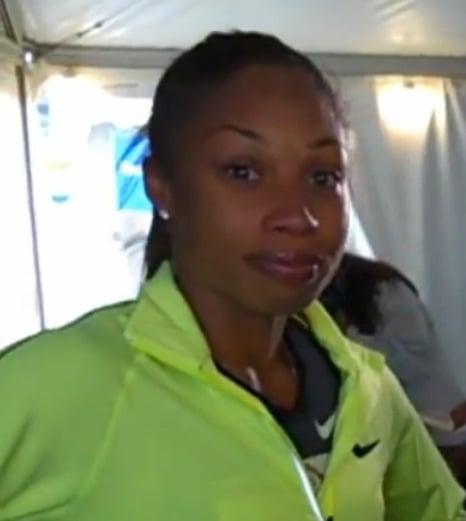 The Women's 100 Final: Allyson Felix Leaves Devastated
Hayward Field was dead silent. I had just watched the women's 100m final of the US Olympic Trials. The results were up on the board with Carmelita Jeter first in 10.92 and Tianna Madison second in 10.96. But who was 3rd? Two time Olympic 200m silver medallist Allyson Felix or unheralded Jeneba Tarmoh? I couldn't tell and neither could anyone else. Some said they thought the fast charging Felix had got it, others had no idea and I waited staring at the board ready to sprint to the mixed media zone afterwards so I could get interviews with the athletes as they walked through. The third place spot on the board remained empty for about a minute although it felt much longer to me. I stood their and waited in anticipation as fans, coaches, athletes, and I can only assume those watching at home, sat there staring at the Hayward jumbotron. Then the result: Tarmoh over Felix by one one-thousandth of a second. Tarmoh celebrated, Felix was devastated, and the Hayward crowd cheered the three women who they thought would go on to represent the United States at the London Olympics.
As soon as I saw the result I sprinted down the stands and out to the mixed media zone, but it would turn out that my sprint wasn't required as I would end up waiting a good 20-30 minutes to interview Allyson Felix after her disappointing finish.
There were at least thirty reporters all crowded around one point in a gate where we were promised Felix would eventually be brought to us. However, after waiting around for a while we saw Felix outside the media area leaning over a fence looking away from us. She was visibly upset and being consoled by a man and a woman. They sat there talking for a long time and at one point Felix turned our way and it was obvious she was crying. She eventually began to make her way back around to the inside of the media area but she justifiably took her time before walking over as she stopped one more time to talk with an official. It was at this point when I realized why journalists get such a bad rap as some of those around me started to sigh in frustration and role their eyes. Some even got extremely angry and started complaining very loudly about having to wait so long to talk with Felix - as if them meeting deadline is more important than a devastated fourth placer composing herself.
Kudos to Felix for even coming to us because unlike virtually every other professional sport - there is no mandate that people talk to the media or fine system in place to punish you if you don't. Some disappointed athletes just walk by - blowing off fans and media alike.
When Felix addressed us (video below) she was all disappointment as she said, "It is the worst. Just disappointed. I felt like I worked really hard and it just didn't come together ... I'm happy for my teammate who got the 3rd spot, but it hurts." When asked about protesting the results, she didn't even consider it saying, "I haven't given it any thought at all. That's my teammate who got 3rd and I'm very happy for her. So, it is what it is." There were tears in her eyes and her words were genuine; as far as she was concerned she was 4th.
Jeneba Tarmoh Presented as an Olympian at the Press Conference an Hour After the Race
A while after the interview with Felix, there was the post-race press conference, where the US women's Olympic 100m team was introduced to the world (minus 2nd place Madison who was unavailable). Jeter and Tarmoh were introduced to and addressed the media as the 1st and 3rd place finishers and both were extremely happy to have made their "first Olympic teams". Jeter stated, "I'm so excited to be a part of this team, and I'm excited for Jeneba who also made the team and we have to go up there and represent for the red, white, and blue."
However, unbeknownst to the athletes, behind the scenes there was talk of a "dead heat". For the full run-down of those events, see our exclusive article here (LRC An Exclusive Interview With The Man Responsible For Reading The Allyson Felix 100m Finish Picture), but in brief, the Flash Results timer Roger Jennings reported immediately after calling Felix 4th unofficially that he wanted his decision reviewed and it was eventual determined there was a dead tie between Tarmoh and Felix for 3rd.
And this is where USATF made its first screw up. How do you send someone to a post race press conference thinking they're an Olympian when there is a dispute about the result going on behind the scenes? This is totally unacceptable. Tarmoh was being paraded around as an Olympian AN HOUR after the race. It wasn't like someone didn't know it was a dead tie or at least incredibly close. According to the head timer, he knew this needed extra attention immediately following the race. He effectively protested his own decision. Yet they made no announcement in the stadium, nor shared this information with the athletes. If you're USATF how do you let this happen?
And to make the situation even more awkward for all those involved, during the press conference one reporter got wind of what was going on as the results were now up online as a dead heat and asked Tarmoh about it. Tarmoh had absolutely no clue. She said, "They told me they had to go to the thousandths to get our time ...and that was it." She ended the conference still convinced that she was going to London, saying, "I'm so excited to be on this Olympic team and the hard work really paid off."
So for the next hour plus everyone was in a state of uncertainty as we waited to hear something official from USATF. Finally, after all the other press conferences, hours after the 100m final had taken place, USATF communication head Jill Geer's addressed the media saying that it was in fact a dead heat, and there was no procedure in place to break the tie. She could give no information on when a decision might be made and when asked why Tarmoh was presented as the 3rd place finisher in the original press conference, Jill said in the mixed zone, it was discussed there was a protest going on. If that's the case, it's an even bigger mistake to present Tarmoh as an Olympian.
This whole thing is just ridiculous and a perfect example of how our sport has not kept up with the times. It's hours after the race, the press conference has been held, the stadium is empty, and we don't know who the hell is on the Olympic team. Could you imagine going to the Kentucky Derby and having to wait until the next day to find out who won? Even worse, can you imagine them announcing the winner and then taking it back? The gamblers of the world would absolutely kill you. But you know that's horse racing; this is just track and field. In horse racing, they quickly review the results and announce the winner when it's final. Not in track and field.
And if it's super, super close in horse racing, they are smart about it as they put up "Photo" or "Inquiry" on the board so people know - hey, they are going to have review this. The worse thing you can do is put up an incorrect result.
Behind The Scenes With Tarmoh's Agent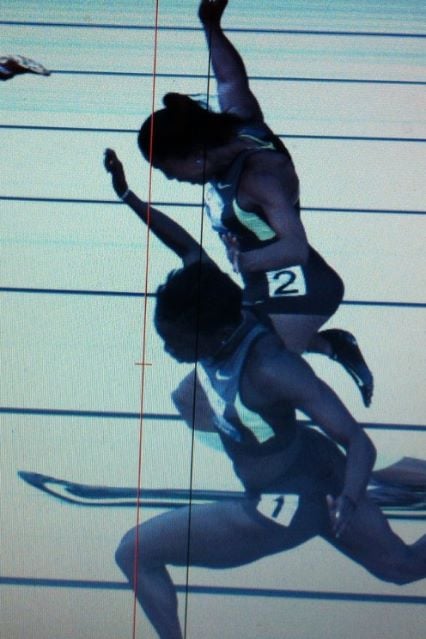 So now it hours later. The press-conferences are finished, the meet is being cleaned up, the stands are empty and the post-race party is starting to die down. Members of the press are leaving the media tent and going home for the night. By chance, Weldon Johnson and I find ourselves in a conversation with a woman sitting nearby and start talking about the situation with Tarmoh and Felix. We had no idea who she was, but gave our honest opinions on the situation and hypothesized what might happen. Well, it turned out that the woman we were talking to was actually Jeneba Tarmoh's agent, Kimberly Holland. When we found this out we introduced ourselves and asked her what she knew. We had already thought the situation had been handled horribly, but what we learned from Tarmoh's agent, surprised us even more.
Neither Holland, nor Tarmoh really knew anything more than you or me what was going on. They were in the dark on this - and actually they knew less. I always figured the agents were in constant communication with some committee. Nope. I believe, but have not confirmed, they first found out about this officially at drug testing which occurred AFTER the press conference.
Then in the middle of our conversation with Holland, her phone rings and she excuses herself as she's finally getting a call from the USATF. But she comes back seconds later as her phone died right at the start of the call and she has no way of getting in touch with the USATF. Thankfully I had my cell phone charger in my bag and we were able to recharge her phone so she could call back.
Twenty minutes and a phone conversation later nothing had changed with the situation. It was now roughly 9 o'clock.
Tarmoh Sees the Finish Photo for the First Time on the LetsRun.com Laptop
At this point Tarmoh herself came into the media working area along with, 2004 Olympic 200m champion Shawn Crawford, and his wife 4th placer in the 100m hurdles, Virginia Crawford.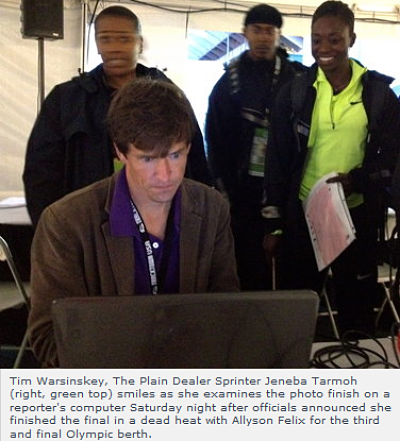 Now, roughly 3 hours after the race, neither the athlete (Tarmoh), nor the agent (Holland), had seen the finishing photo. And I thought we were the ones out of the loop. The photo now was on the USATF website.
So next thing I know, Tarmoh and crew are crowding around Weldon's computer looking over Weldon's shoulder at the finishing photo. Photographers then gathered around to take Tarmoh's picture and as a result ours. Holland asked for some privacy so you likely won't see me in any newspapers tomorrow but it was pretty bizarre. The Cleveland Plan Dealer has an article up describing and photo up (see right) showing Tarmoh looking at the LetsRun.com computer.
We then showed them our exclusive interview with timer Roger Jennings explaining how the decision was made and we all preceded to debate the finish photo. And again, this is the problem here. It's 9 o'clock at night, Tarmoh and her agent have only now been informed of the situation, and they are being filled in on the specifics of the LetsRun.com staff. This would never happen in another sport and shouldn't happen here. It's a clear example of why many people don't take our sport seriously. First of all there is absolutely no reason a photo finish can not be decided and finalized within five minutes like in horse racing. If for some reason things go beyond that, there should be an open line of communication among all those involved, but instead it all happened behind closed doors.
Can you name another sport that you don't know the result when the broadcast goes off the air? We can't.
And a dead heat is certainly possible in sports/life. I've got no problem with that - but have a system in place so that's announced and not an incorrect result.
Interviews below.
| | |
| --- | --- |
| Allyson Felix Devastated After Her "4th Place" Finish | Awkward Situation As Jeneba Tarmoh Is Told About The Dead Heat During The Post-Race Press Conference |
| Oops: Jill GeerSays It's A Tie | The Man Behind The Results: Flash Results Timer Roger Jennings |