W 10K: Kim Conley Comes Back on Jordan Hasay, Wins First U.S. Title in Front of Hometown Fans
By LetsRun.com
June 26, 2014
SACRAMENTO, Calif. — Kim Conley certainly has a flair for the dramatic. Two years ago at the Olympic Trials, she nipped Julia Lucas at the line in the epic 5,000 meter final to make her first Olympic team. And on Thursday night at the 2014 USATF Outdoor Championships, Sacramento resident Conley gave the hometown crowd something to cheer about as she pulled away from Jordan Hasay with 50 meters to go to win in 32:02.07 for her first U.S. title.
It looked like the 22-year-old Hasay might be the champion when she moved with 230 meters to go, but she couldn't quite break Conley, who fed off the crowd to pull even and eventually pass Hasay on the home straight.
The Race
The conditions were great for distance running, with temperatures in the high 60s and no wind; the sun that baked the 800 and 1500 runners earlier in the day was setting. The race began at an honest clip, with Rachel Ward leading a large group of women through opening miles of 5:12 and 5:16. The pace slowed a little with a 5:18 third mile, but shortly after 5k, 2012 champ Amy Hastings took the lead and slowly sped things up. Instead of running 78s and 79s, the leaders were running 76s and 77s, and by four miles (5:10 fourth mile), the pack was down to six: Hastings, Hasay, Conley, Ward and collegians Emma Bates of Boise State (2014 NCAA champ) and Juliet Bottorff of Duke (2011 NCAA champ). A lap later, Ward had dropped. Five runners remained.
With 6.5 laps to go, Conley went to the front and began her long drive to the finish. Hasay and Hastings responded immediately but Bates and Bottorff, running their second 10,000 in two weeks (NCAAs) had nothing left and dropped off.
Results (click here to view splits)1 Kim Conley   New Balance / SRA Elite   32:02.07
2 Jordan Hasay   Nike Oregon Project  32:03.28
3 Amy Hastings   Brooks 32:18.81
4 Juliet Bottorff   Duke  32:40.61
5 Rachel Ward   Ragged Mountain Racing   32:49.45
6 Emma Bates   Boise St.  32:51.49
7 Stephanie Dinius   New Balance Silicon Valley   32:56.14
8 Katie Kellner   Hansons-Brooks Distance Project  33:06.82
9 Kara Lubieniecki   HTS Elite   33:09.84
10 Kara Foster   Oiselle  33:11.18
11 Meghan Peyton   Saucony / Team USA Minnesota   33:11.63
12 Alia Gray   Brooks / HTS Elite   33:14.22
13 Carrie Dimoff   Bowerman Track Club   33:34.01
14 Kristin Anderson-Swisher   Unattached   33:47.87
15 Kristen Rohde   Bowerman Track Club   34:38.89
16 Bradi Hutchison   Unattached   35:22.52
DNF   Allison Mendez   Adidas/RogueAC
Conley ran another 74 and with five to go she and Hasay had opened up a gap on Hastings that would only continue to grow. Conley was trying to break Hasay and it was clear from her form and her facial expression that it was taking a lot of effort. Hasay, meanwhile, stayed right behind Conley in second — after her 1500 win at the Portland Track Festival two weeks ago, she was in a good position.
Article continues below player.
The two ran the penultimate lap in 72 seconds and with 400 to go, Conley looked exhausted but managed to pick the pace up. Hasay matched her, and with 230 to go, Hasay took the lead. But, conjuring memories of Lawi Lalang and Edward Cheserek in the NCAA 5,000 meter final, Conley kept the gap to a few strides and by the time she and Hasay entered the home stretch, the two were level.
Just like Lalang, Conley eventually re-passed Hasay, though she did it with 50 meters to go, giving her enough time to celebrate as she crossed the finish line. Hasay was a well-deserved second, with Hastings third and Bottorff fourth.
Quick takes are below.
Quick Take #1: This was a fast race.
Championship 10ks don't always go fast, but this one was honest from the beginning and the pace never relented as Hastings, and then Conley pushed it over the second half of the race. Only three women coming in had run faster than 32:15 — Conley, Hasay and Hastings — so it was no surprise that they were the top three tonight with a winning time of 32:02.
| | |
| --- | --- |
| Overall | |
| Comfort | |
| Cushioning | |
| Durability | |
| Appearance | |
| Value | |
Conley and Hasay ran very fast second 5ks: around 15:36 for Conley and 15:37 for Hasay. Conley also ran her penultimate mile in 5:00 and her last one in 4:47 with a 65-second final 400. That's 30:34 pace over the last two miles.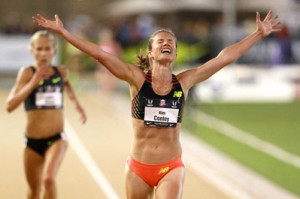 Quick Take #2: You know a distance race is special when someone is passed in the last 250 and comes back to win.
More often than not in high-level 5ks and 10ks, if the leader gets gapped with less than 250 meters to go, the race is over. A gap formed at NCAAs in the men's 5k and it happened again here tonight, but both Lalang and Conley deserve tremendous credit for keeping the gap small and fighting back to win the race. It's extremely tough mentally for an athlete to come back from being passed that late in a race but when it happens it's a real treat to watch for the fans.
Quick Take #3: Kim Conley thrives in the big moments.
This was Conley's first U.S. title and the biggest win of her career. She said that it had been a goal of her for a long time and she thought she could have achieved it at U.S. Cross last year before Shalane Flanagan — who was a late scratch here tonight — pulled away for the win. She certainly picked the right time to do it as she had a lot of family in the stands, including some who had flown in from Australia. She said that all she wanted to do was be close with 120 to go and from there she would use the crowd to carry her home.
Conley led for almost the entire final 6.5 laps and did yeoman's work in breaking first Bottorff and Bates, then Hastings and, finally, Hasay. "I just kept saying one word over and over again and that was courage," Conley said. "It's a dangerous place to be, at the front."
She said that she was worried about Hasay's kick because Hasay had told her last summer in Stockholm that she would occasionally close workouts with 57-second 400s. Conley said that it was one of those things she'd prefer not to know considering she's never broken 60 seconds for a 400 in her life.
Conley also compared the race to the 2012 Olympic Trials, when she passed Julia Lucas and Abbey D'Agostino at the line to grab the final spot on Team USA and said that it was a similar situation in Sacramento on Thursday.
"When it's an emotional moment for me and it's very very important to get something done, I can pull it out," Conley said.
Quick Take #4: 1964 Olympic 10,000 gold medalist Billy Mills liked what he saw from Conley.
Mills lives in the Sacramento area and we were fortunate enough to talk to him for almost 10 minutes after the women's 10,000. He said that Conley was a real diamond in the rough and thinks she is capable of great success on the global stage in the coming years.
He spoke about how he's rooting for an American to win gold in the 10,000 in 2016 since he's the only American to do it, male or female. Mills was there in person when Galen Rupp got second to Mo Farah in 2012 and said that he still follows the sport and loves going to the Olympics.
Mills, a Native American, also spoke about how he's trying to empower native populations around the globe and how he helped lobby for Tokyo to get the 2020 Olympics (Mills won his Olympic gold in Tokyo).
Quick Take #5: Jordan Hasay is getting a lot better.
Last year, Hasay wasn't even in the NCAA 10,000 final. This year, she easily dropped the NCAA champion Emma Bates.
Last year, in a time trial at Stanford, Hassay could only manage a 32:06, here, she ran a 32:03 in a championship.
Earlier this year, Hasay was getting destroyed in the final 300 of virtually every race she ran. Here, she kept things close until the final 50. Hasay couldn't quite hold off the extremely tough Conley, but she has to be happy with her first full outdoor season as a pro as she should be. Five PRs and very nearly a U.S. title.
Quick Take #6: Jordan Hasay: "It's one of those heartbreakers where I did everything I could, but she was just the better runner. I don't think I would have done anything differently."
Hasay was fairly subdued in her interview and clearly not happy about losing by a second in the last 100, although she recognized that it was the strongest finish she's had in a championship race.
Talking about her pre-race plan she said that she was "bummed" that Shalane Flanagan scratched from the race as they had planned on Flanagan setting a fast pace and Hasay was hoping she could get pulled to a PR. She said initially they had thoughts against doing the 10,000 as coach Alberto Salazar didn't want her in a situation where she had to choose between racing for 2nd or going out at a "suicidal" pace with Flanagan, but then they thought she was in good enough shape to run 31:00 so they decided to go for it. Flanagan scratching changed the race dramatically though as she was mentally prepared to be hanging on the whole race and instead it was a very easy pace for most of it.
She felt she executed well and was happy when Conley made the move with about a mile and a half to go which dropped Hastings. She said it was really hard to be patient and sit there behind Conley, but Salazar said he'd kill her if she went with more than 200 to go. She felt good and gave it everything she had, but Conley was just better.
Quick Take #7: Amy Hastings was happy with her race saying that her speed wasn't ready to be there at the end with Conley and Hasay, but is happy with the way her training is going.
She knew coming in it would be very hard to beat the speed of Conley and Hasay so lead a bit and pushed hte pace to hopefully take some of the "snap" out of their legs, but wasn't able to push it enough to do that. Her next race will be the Peachtree 10K and then she'll be training for a fall marathon.
Quick Take #8: Juliet Bottorff said that she was still feeling the effects of NCAAs two weeks ago (she was third) and that she was okay with fourth at USAs.
Bottorff said her next race will likely be the Peachtree Road Race in Atlanta on July 4 and that she's trying to sort out her professional plans since she's out of eligibility. She said she's been looking at a couple of options and will ideally have something finalized before Peachtree.
Quick Take #9: NCAA 10,000m Champion Emma Bates wasn't that thrilled with her 6th place finish saying she was "indifferent".
Bates said she came in wanting to have fun and it was "fun for a while, but then it got really hard" and she just couldn't keep pace with Conley, Hasay and Hastings when they started pushing. Bates said this year was a "building year" and thinks with another year of training she can be in it next time. She was a little disappointed she wasn't able to contend for top 3, but that she's very happy with her year overall so this was just "icing on the cake". Now she'll take a break and get ready for NCAA XC in the fall where she hopes to get a win after missing by 3-seconds last time.