Men's 1,500: Leo Manzano Comes Through When It Counts Again, Wins Second Outdoor 1,500 Title
by LetsRun.com
July 28, 2014
SACRAMENTO, Calif. – It was hot at Hornet Stadium on the fourth day of the 2014 USA Outdoor Track and Field Championships as temperatures were in the mid-80s with a beating sun and not a cloud in the sky. That did nothing however to quell the kick of Leo Manzano as he closed in a blazing 52.64 seconds to win his second outdoor 1500 national title (5th US title overall) in 3:38.63. Challenging him all the way down the last straight was Pat Casey, who grabbed second, losing to Manzano by .31 seconds as Lopez Lomong edged a fast-closing Will Leer to take third.
The Race
The gun went off and the whole field was out hard immediately with Garrett Heath and Casey going right to the front. Heath continued to lead with Casey sitting right on his right shoulder and the field tucked in behind them. Dorian Ulrey was in third right on the rail, Lopez Lomong in fourth, Manzano in fifth with Leer back in ninth as they went through the first 400 in 58.43.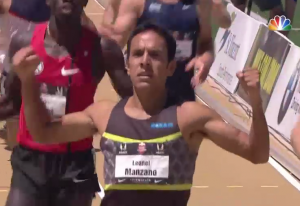 The race would continue in this fashion for the next 400 meters as they slowed down on the next lap with a 62 and went through 800 in just over 2:00. Coming up to 600m to go Lomong moved up on Heath's shoulder, but Heath kept the lead with everyone bunching up behind him as they gathered for the final lap kick.
On the penultimate homestretch Heath kept the lead and Casey went wide on Heath's shoulder as Lomong sat right behind Heath. Manzano was close in fifth place although slightly boxed and Leer was boxed in back in 10th. Once on the backstretch with 300 to go (hit 1200 in about 2:59) Heath surged to try hold off an attempted pass by Casey with Manzano going wide to get around into 3rd. Into the last 120 meters Heath finally relinquished his lead as Casey moved past and entering the final straight Casey had a slight lead on Manzano and Lomong as Heath was fading and a fast -losing Leer was moving up.
Article continues below player.
In the final meters Manzano used his brilliant speed to kick past Casey and get the win in 3:38.63 to Casey's 3:38.94. Lomong just held off Leer as they both finished with 3:39.11 with it going to the thousandths place to break the tie, Lomong getting Leer by .006.
Quick Take (QT) #1: In a US Championship, you can never count out Leo Manzano.
What had the 2012 Olympic silver medalist done in his last race before USAs? Well, earlier this month he lost to three guys most people probably have never heard of as he ran 3:59.31 to take fourth at the Adrian Martinez Classic in Concord, Mass. Before that, he ran a good race at the Pre Classic winning the International Mile with a 3:52.41 and beating many top Americans in the process, but before that he almost cost the US a silver medal at World Relays with a 3:46.7 1500 split in the 4×1500. Very inconsistent to say the least.
However, this is USAs and Manzano is a guy who always peaks well for the championship meets and is a beast in non-rabbited races. This was his second national title but even more impressive is his consistency. It was Manzano's ninth USATF meet and his ninth straight top-three performance. The other names come and go — Alan Webb, Bernard Lagat, Andrew Wheating, Matt Centrowitz — but one name that is always in the top 3 is Leo Manzano.
Leo Manzano's USATF History
Year Place Time Winner
2014 1st 3:38.63
2013 2nd 3:45.35 Matt Centrowitz
2012 1st 3:35.75
2011 3rd 3:48.16 Matt Centrowitz (Bernard Lagat 2nd)
2010 2nd 3:50.91 Lopez Lomong
2009 2nd 3:41.82 Lopez Lomong
2008 2nd 3:40.90 Bernard Lagat
2007 2nd 3:35.29 Alan Webb
2006 3rd 3:39.49 Bernard Lagat (Gabe Jennings 2nd)
2005 1st NCAAs as a freshman – did not run USAs
QT#2: Manzano is in a good place right now with his training.
Post-race, Manzano said that running without a sponsor in 2013 was very rough, but winning here meant a lot to him. Manzano said, "You know, it's a blessing. As you guys know, I spent a year and a half without a sponsor.  Probably, the roughest year. And this just goes to show that every athlete needs support. I spent all that time and it was rough, but thanks to my coach, John Hayes, Hoka One One, and my new agent, Howie Keflezighi, we were able to come back up again."
He said had planned to be closer to the front throughout the race, but he moved up smartly over the final lap and was in great position to kick with 100 to go.
Now that he's healthy and training with a new coach in John Hayes, Manzano has been able to incorporate more speed work into his training, something he couldn't do much of while he was dealing with injuries last year. That speed was on full display here closing in 52.64.
Manzano said that he loves to compete in championship races but he'll be looking to improve his performance in paced races over the remainder of 2014. He'd like to get in a few 800s and has goals of sub-1:44 for 800, sub-3:32 in the 1500 and sub-3:50 in the mile.
QT#3: Hoka One One's Manzano sponsorship pays off.
The most recent addition to the ever-growing group of shoe companies trying to make their way into the track and field market gets its first US champion.
QT#4: Pat Casey continues his breakout year with his second runner-up finish to Manzano at a US Championship.
Casey has been on fire this year setting a big 3:35.95 PR at Oxy and then running a great lead off leg for the US 4×1500 at World Relays. Back in late April he was second at the US 1 Mile Road Championships in Des Moines where he also lost to Manzano, only by a tenth of a second. Here he kept himself in good position off the shoulder of Garrett Heath and was the first to get around Heath and go for the win. He finished well and was able to beat everyone except to the line except Manzano.
Afterwards Casey said he was very pleased with the progress he's made in 2014 and said that no matter what others projected, he was always confident in himself. He thought he have made his move a little early since he ran out of steam over the last 150 meters, but he's proud of how far he's come over the last year — from third at NCAAs last year to second at USAs.
Casey said his 3:35 at Oxy opened his eyes to what he was capable of. This was his first USA final and now he wants to be like Manzano and Leer who consistently make the final and are competitive year after year.
Under coach Martin Smith at Oklahoma, Casey focused on developing his strength and now that he's with the Oregon Track Club, he's added more speed work to his training. He said that Smith prepared him perfectly for his pro career and now he feels confident in any kind of race.
QT#5: Will Leer kicked big, but came from too far back.
Leer actually had the fastest last lap of everyone in the race besides Manzano as he was in 10th at the bell and closed in 52.71 to grab fourth, losing to Lomong by only six thousandths of a second. His problem was poor tactics as he was too far back at the bell as evidenced by this screen shot. Passing nine people on the final lap in a (relatively) slow race is nearly impossible.
Post-race, Leer admitted that was the issue, saying that he was too boxed in and too far back with 400 to go as he should have been in the top four on someone's shoulder instead of tucked in back in 10th. He said he found himself in that position as there were some aggressive moves with about 600 to go that he didn't want to go with and thought people might die off in the last 100.
QT#6: Ford Palmer concludes his first US Championship meet with another big kick and a fifth-place finish.
After the prelims two days ago a lot of people were wondering who the was the guy who had a big kick in the last 100m to beat out everyone except for Pat Casey. We introduced you to Palmer in our prelim recap, the guy who never made NCAAs and has never broke four minutes for the mile. After his prelim he said,  "Although I've been running really well all year nobody saw me coming. And that's fine, now they're going to see me coming Saturday." Well he was right as he was the best of the rest after the top four guys who were fighting for the win as he closed in 53.61 to move from seventh to fifth on the last lap.
He said this meet has showed him he can run a lot faster than he has and he's looking forward to doing more work and getting his mileage up to 90 miles a week for next year. He thought he closed well, but was just too far back as the top guys went with 300 and he wouldn't let himself start really kicking until 200. He said the heat really affected him and even 10 minutes after the race he was having trouble breathing.
On the boards: Ford MF Palmer
QT#7: Garrett Heath ran a tough race, but faded at the end after leading the whole way.
Heath said he ran the way he planned as he wanted it to be a somewhat honest race since he's more of an endurance-based runner and he knew everyone in this field has pretty good kicks. He said he didn't want it to come down to the last 50m and felt like he executed the way he should have, but was pretty disappointed to fade like he did in the last 100 and only finish ninth as he came in thinking he could fight for a podium spot.
It's hard to lead every step of a 1500 race of this caliber and still have something left for a kick in the last 100 and Heath deserves credit for running tough and holding off challenges from the field for as long as he did. As it did for many of the runners today, the effort in the heat seemed it took a toll on Heath as he had to sit down in the shade shortly after our interview.
QT#8: Good decision for Andrew Wheating to skip this one.
Two weeks ago Andrew Wheating won the Portland Track Classic in his first race of the year in 3:38.53, a time .10 faster than Leo Manzano's winning time today. Wheating was ecstatic afterwards saying, "I'm back, baby. I've been waiting three freaking years to say that. I've been running too many races unsure of myself and unconfident. (Coach Mark) Rowland has transformed me into a monster and I cannot wait to see what becomes of it."
Wheating then skipped USAs and some were wondering why. Likely it was because he wasn't ready to perform at this level. Sure, his time was .10 faster than the winning time today, but Wheating ran his final lap in 57.95 in Portland. Manzano's final lap today 52.64.
Confidence is a fragile thing and Wheating needs to get his back. A loss here likely wouldn't have helped his confidence, so we actually see why coach Mark Rowland held him out. Wheating has run 3:30.90 for 1500m so he clearly has the physical tools.
We found the interview below that Rowland did with a local TV station in Eugene where he talks about Wheating not running USAs. Rowland says, "I'm not going to rush it. I'm not going to push him to an environment (where he's not ready)… He's  just not going to be ready and I'm not going to put him in that arena."
QT #9: Not a bad day for AJ Acosta.
Acosta was a Foot Locker champ in high school, had a decent college career for Oregon with a runner-up NCAA finish in the 1500 in 2010 when Oregon went 1-2-3 (Wheating won by .07, Matt Centrowitz was third). He graduated in 2010 and ran quick times that summer with a 3:53.76 mile and 3:36.48 1500. However, since then he's done very little as he's only made one US outdoor final (2011 where he was 11th) and only lowered his 1500 PR by .07. Last year he barely raced and put up times of 4:05 (mile) at Drake Relays and 3:53 for 1500 at Pre.
After four years of struggling, finishing sixth in a very competitive USA final is a big step in the right direction. The 3:39.97 he ran here is the fastest he's run since setting his PR in May of 2012. Props to Acosta for sticking with it. (See our interview with Acosta from after the semis here. He's now self-coached and living at home after a long time under Vin Lananna.)
Results below. Full splits here.
| | | | | |
| --- | --- | --- | --- | --- |
| 1 | Leo Manzano Hoka One One | 3:38.63 | | |
| 2 | Pat Casey Nike / Oregon TC Elite | 3:38.94 | | |
| 3 | Lopez Lomong Nike / Bowerman Track Club | 3:39.11 | [3:39.103] | |
| 4 | Will Leer Nike | 3:39.11 | [3:39.109] | |
| 5 | Ford Palmer NJNY TC | 3:39.78 | | |
| 6 | AJ Acosta Unattached | 3:39.97 | | |
| 7 | Riley Masters Brooks | 3:40.05 | | |
| 8 | Dorian Ulrey Nike | 3:40.15 | | |
| 9 | Garrett Heath Brooks | 3:40.28 | | |
| 10 | Eric Avila Southern Oregon Univ | 3:41.29 | | |
| 11 | Liam Boylan-Pett NJNY TC | 3:45.58 | | |
| 12 | Matt Hillenbrand Kentucky | 3:50.31 | | |