*IAAF Full Meet Recap

Men: LRC Men's 3,000: Hagos Gebrhiwet Makes A Statement With Impressive 3,000 Win - 18-Year-Old Phenom Seems To Be The Man To Beat In 2013 Mo Farah's probably going to be training a bit harder tomorrow after seeing this one as Ethiopia may soon have a third king in the Haile-Kenenisa line of rulers.


LRC Men's 800: David Rudisha Has To Work For It But He Opens 2013 Season With World-Leading 800 Win Those of you that may have watched this might not have been impressed but we were. Rudisha put on a clinic on how to control an 800 from the front. The entire field was seemingly right behind him with 200 left but he closed faster than he did in London to win.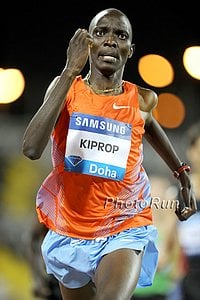 LRC Men's 1,500: Asbel Kiprop Is Back - Kenyan Dominates 2013 Diamond League Opener In Doha Kiprop may have flamed out at the Olympics but lots of people seem to have forgotten he was injured. He killed everyone in Doha.
*Johan Cronje Breaks South African 1500 Record With 3:33.46 For 8th Place

MB Talk About Doha: MB: Official 2013 Doha Diamond League Discussion Thread
*Gatlin, Carter, Rodgers, and Collins in Doha 2013 100m
*any world records at Doha tonight?
*Jama Aden Group will open their season today in Doha DL
Non-Doha Weekend Action
Next Weekend: World Cross Country champions Japhet Korir And Emily Chebet Lead Fields For May 19th TCS World 10K Bangalor Road Race Korir will face Moses Masai, Ukranian Sergiy Lebid and GB's Scott Overall while Chebet will race Lucy Kabuu and Pascalia Kipkoech (second fastest woman over road 10k in 2012).

LA Times Reports That Security Assessment 5 Days Before Boston Cited The Finish Line's "Vulnerability"

Sad News: Woman Runner Fatally Mauled By Dogs In California

Pre-Meet Doha News
LRC Who Says The Track Stars Avoid Each Other? 2013 DL Kicks Off In Style: Rudisha Vs. Aman, Kiprop Vs. Kiplagat, Aregawi Vs. Dibaba Plus Hagos Gebrhiwet The 2013 Diamond League season will get under way on Friday with some truly incredible mid-d and distance action. The world's two best pre-Olympic male and female 1,500 runners will clash. David Rudisha will try to avenge his season-ending loss to Mo Aman and the great Hagos Gebrhiwet will open up outdoors in his last race as an 18-year-old. If he wins convincingly, Mo Farah's days on top may be numbered.
*IAAF Overall Meet Preview *DL Event-By-Event Preview *AP

She's Such A Big Star, She Even Does Photo Shoots In The Middle East: LRC 4 Photos From Today's Doha Photo Shoot With Lolo Jones
Other Weekend Action
Previous Doha News
*Allyson Felix Will Try To Keep Her 10-Win Streak In Doha Going When She Faces 2011 World Champ Amantle Montsho & Olympic Silver Medalist Christine Ohuruogu In The 400
*Elites Felix, Shelly-Ann Fraser-Pryce, Brittney Reese and Christian Taylor Visit Olympics Past and Present Exhibition Before Meet
*IAAF: Diamond League Is A "Valuable Property"
*IAAF President Lamine Diack Says He Isn't Worried About The Loss Of The Diamond League Sponsor And Says That The Series Will Continue To Thrive
Other Upcoming Road Action
Mid-D News
Two Interesting Reads From The UK
Re:Run San Diego Was Sunday Morning
San Diego Tribune On Mary Cain's Great Run Nice read by Mark Zeigler. We wish people would stop comparing Cain to Mary Decker. Mary Decker has a drug offense on her record and is not someone to emulate.

Results: Duane Solomon Wins 800 In 1:46.54 Over Erik Sowinski And Lopez Lomong; Brenda Martinez (1:59.59) Wins Women's 800 As Mary Cain Runs 2:01.68 In 4th (updated with splits) In the mile races, Paul Robinson won in 4:04 after the field went out in 2:10, beating Jordan McNamara in 2nd (4:04.71); David Torrence was 6th (4:05.38). For the women, Susan Kuijken won in 4:27.13 over Brie Felnagle (4:28.90).
*OTB: Mary Cain 2:01.68!!! *Mary Cain-2:01.68 @ Re:Run *Re:RUN San Diego Results & Discussion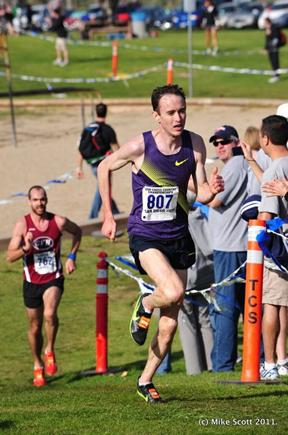 Non-Conference Results: Ethiopia's Belete Assefa (34:21) Wins Bloomsday 12k Over Kenya's Emmanual Bett (34:33) Brent Vaughn was the top American in 8th place (35:28) as Abdi Abdirahman was 10th (35:46) and Zach Hine 13th (36:09). For the women, Ethiopia's Buzunesh Deba dominated in 39:53 as Kellyn Johnson was the first American in 5th (40:42). *Top Results *MB Thread
*Kenyan James Kirwa Defends His Title To Win Pittsburgh Marathon In 2:13:37 As American Mary Akor Won The Women's Race In 2:37:35 Kenyans Julius Kogo and Risper Gesabwa took the 13.1 mile titles in 1:02:32 (CR) and 1:13:16 respectively.
*AP: Pittsburgh Marathon Run Amid Tightened Security
*Feisha Ayelle (47:02) and Askale Merachi (53:45) Win Broad Street Run 10 Miler In Philadephia (results)
*HS: Oregon Recruit MaryBeth Sant Runs High School Leading 11.38 To Win 100 At St. Vrain Invitational In CO She also ran 23.91 at the same meet.

Big 12: *Big 12 Full Results *Texas Men, Kansas Women Claim Big 12 Titles Both meets were close with Texas beating Oklahoma 146.5 points to 133 and Kansas winning with 158 over Texas with 145. Final day highlights included Oklahoma going 1-2 in the 1,500 as Patrick Casey set a Big 12 record of 3:40.04, beating out Riley Masters (3:41.22), OK State going 1-3 in the 5k led by Kirubel Erassa (13:53.53), who won over Girma Mecheso (13:54.62) and Tom Farrell (13:55.47), Betsy Saina winning the 5k by 33 seconds in 15:41, Natalja Piliusina winning her 3rd straight outdoor 800 title in 2:03.99 and Texas' Trevor Van Ackeren winning the steeple (8:49).
*Texas Article *Big 12 Meet Site

Heps: *Full Men's Results *Princeton Men Win 3rd Straight Heps Princeton was trailing Cornell, but put 3 in the top 5 of the 5K to pull ahead, led by Michael Franklin's win (who also won the 10k). Princeton's Peter Callahan won the 1,500 in 3:49.74.
*Full Women's Results *Cornell Women Defend Heps Title, Beating Columbia By 24 Points Abbey D'Agostino dominated the 1,500 in 4:11.94 and also won the 3k in 9:21.79. Cornell's Rachel Sorna won the steeplechase in 9:58.96. All-Americans Sorna and Katie Kellner had impressive distance triples, each winning their specialty event, to help the Big Red cause.
*Day 2 Highlight Video
*Hepstrack.com

Big East: *Men's Results *UConn Men Win Their Big East Crown In Close Battle With Notre Dame Notre Dame's Jeremy Rae won the 1,500 in 3:47.76.
*Women's Results *Notre Dame Women Dominate Big East Championships Villanova's Emily Lipari won the 1,500 in 4:24.25.

Patriot: Patriot League Report, Final Day: Bucknell Sweeps Men's And Women's Titles *Results

PAC-12: Oregon's Dakotah Keys Wins PAC-12 Decathlon Title; Arizona State's Keia Pinnick Won The Heptathlon Multi events are the week before the rest of the meet for the PAC-12. *Results
Saturday Conference/US Track News
Non-Conference Results: Lukas Verzbicas Runs 4:11 1,500 At Oxy Invite
*Video: Newly Minted Sub-4 Miler Michael Rutt Wins, Beating Robby Andrews For The Second Week In A Row Last week, it was the mile at Penn Relays. This time it was an 800 where Rutt ran 1:47.51 to Andrews' 1:48.35. *MB Thread
*Andres Arroyo Wins 3 Titles (1,600/800/3,200) At Florida State Meet In The Span Of 2 Hours 4:15, 1:54 and 9:30 in rainy conditions.
*OTB: Andres Arroyo wins 800, 1,600, 3,200 at states
*Rorey Fraser - new 4:03 Colorado soil record
*Past Dopers run well at Indy 500 Mini-Marathon

Big 12: *Live Results *Big 12 Championships Report, Day 2: Texas Men, Kansas Women In The Lead Oklahoma went 1-2 in the 10k with Kevin Schwab winning in 29:12.
*Iowa State Women Dominate Big 12 l0K As 5 Score And Meaghan Nelson Wins In 35:05 And this is without Betsy Saina.
*Big 12 Meet Site
*Erik Kynard Becomes First 3-Time Big 12 HJ Champ
A Bit Tired From Stanford, But Betsy Saina And Iowa State Are Ready For Big 12s
*MB: What happened in Big 12 10k? 3 dqs...

Heps: Men, Day 1: Princeton And Cornell Neck-And-Neck (Princeton Leads By 3 Points) Princeton was down going into the 10k, but put 4 in the top 5 to pull ahead. *Men's Results
*Women, Day 1: Cornell Leads Katie Kellner defended her 10k title as Cornell put 4 in the top 6. *Results
*Day 1 Video Recap
*Hepstrack.com

Big East: *Men's Results *Women's Results *Connecticut Men And Notre Dame Women Lead After Second Day Of Big East Champs Providence's Emily Sisson won the 10k in 33:02.
The Inspiration That Leads To A Champion Racewalker: SA/African Champ Lebogang Shange: "When I saw [race walking on TV] I thought it would be much easier than running, so I decided to become a race walker."
Doping News
2 Reviews & 1 Book Excerpt From John McDonnell: The Most Successful NCAA Coach In History
LRC Book Review By Former Hog Marlon Boykins: "Two Thumbs Up:" - "The book is full of insight into the hard-working, team-first ethos that made us such a successful." We had two people review the book, including the 1:47 man Boykins, who was at Arkansas at the pinnacle of its heyday. "It was a self-contained UBER-COMPETITIVE atmosphere ... the sprinters, jumpers and distance guys all trying to show which group reigned supreme ..."

Book Excerpt The Legendary Story Of The 1989 Penn Relays DMR, Where 4 Kids From Arkansas, Texas And Missouri Beat 4 African Olympians And The Olympic 1,500m Champ The 1989 Mount St. Mary's Penn Relays DMR team featured 4 African Olympians, including 1988 Olympic 1,500m champ Peter Rono. John McDonnell's Arkansas squad featured 4 kids from Texas, Missouri and Arkansas. A legendary motivational speech by McDonnell and Joe Falcon on the anchor made for one of the great upsets in Penn Relays history. Read all about it in this excerpt from the new John McDonnell biography.

LRC Review #2 John McDonnell D2 Coach Torrey Olson We had Olson, who has an MFA in creative writing, give his take. "It's got a lot to offer anyone interested in an incredibly sustained passion for the both the sport and the profession."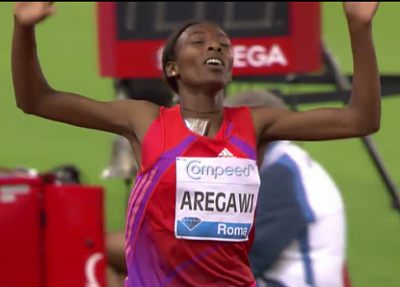 Women: LRC Women's 1,500: Sweden's Abeba Aregawi Wins As Three Women Run 3:57.54 Or Better!!! In terms of quality, the women's 1,500 was race of the night. Coming into the race, only two clean women had run 3:57.54 or better in over a decade. Three did it in the season opener, including a new teen star from Kenya, Faith Kipyegon, who didn't even win. One other person who didn't win - a very happy American in Gabriele Anderson.

Pre-Race: RRW American Gabriele Anderson Looking To Step Up Her Game With Diamond League 1,500 Debut In Doha

LRC Women's Steeple: Lydiah Chepkurui Pulls Off A Big Upset Five of the top six from the Olympics lined up but a non-Olympian got the win thanks to a 2:57 last 1k.
*RRW Doha Distance Recap
Olympic News
Sprint News: Sally Person Is Healthy And Racing
News At Home
In The Next Month
LRC Men's Results And Flash Recap Ben True's big season continued as he won the 5k, but the most improved American is Eric Jenkins, who came into the meet as a 14:04 guy but is now one of the 10 fastest collegians in history thanks to his 13:18! Chris Solinsky's comeback to relevance took a BIG step forward while Alan Webb's took somewhat of a hit.
*Ashton Eaton Was 3rd In PV With 16 Feet, 3/4 Inch As His Fiance Brianne Theisen Won The HJ With 5-11-1/2
*Brett Larner Looks At Japanese Weekend Results: Suguru Osako (27:38.31) And Yuki Sato (27:39.50) Go 2-3 And Come Up Just Short Of 27:35.09 NR At Payton Jordan Elsewhere at Oda Memorial Meet in Hiroshima, Kenya's Paul Tanui won the 5k in 13:16.57 as Martin Mathathi was 6th (13:41.80) and Yuki Kawauchi 18th (14:09.88).

LRC Women's Results And Flash Recap The good news is Jordan Hasay is now one of the 5 fastest collegians in history. The bad news is she missed the "A" and "B" standards. The breakthrough of the night came from Jamie Cheever, who went from 9:51 to 9:29 in the steeple.
*MileSplit Weekend HS Coverage: At Payton Jordan, Elise Cranny Finished 3rd, Running The 3rd Fastest All-Time HS 1,500 At 4:15.07 The time is only behind the 4:10.77 by Mary Cain at Drake and Jordan Hasay's 4:14.50.

Stanford On The Message Boards:
MB: Official Payton Jordan Updates Thread
MB: WEBB IS BACK, BABY, 13:37
MB: JORDAN HASAY: 32:06 UO/PAC 12 #1 ALL TIME, NO. 4 NCAA ALL TIME - WOW
MB: #3 AT HS 1500m-Elise Cranny at Payton Jordan
MB: Olympic Triathlon Champion Brownlee runs 28:32 for 10k at Stanford
MB: Alistair Brownlee running Stanford 10K
MB: Twin Robertsons
The Virgin London Marathon - The World's Most Competitive *Top Results LRC: Photo Gallery
Women's Race: LRC Priscah Jeptoo Finishes First In Women's London Marathon Marred By Wheelchair Collision Jeptoo was very special over the second half, but the race was marred by the fact that Olympic champ Tiki Gelana was wiped out from behind in a horrific collision with a wheelchair racer.
*Top Results LRC: Photo Gallery

More London: *Video Of Wheelchair Collision
Good News: Wheelchair Racers May Start Before Professional Women Next Year
*Josh Cassidy (Wheelchair Racer Who Hit Gelana): "One of these years a woman is going to have a leg broken, a career ruined."
*London Honors The Victims In Boston
*Some Are Selling Boston Memorabilia On EBay And Giving Proceeds To Charity
Recommended Read: Paula Radcliffe And Her Husband Reflect On Her 2:15:25 Marathon WR, Which She Ran At London 10 Years Ago
Interesting Distance Runner News
Pretty Amazing: 15-Year Old Charlotte Brown Is One Of Two Pole Vaulters Competing In Their High School State Championships This Weekend She is pretty good as she qualified for the state meet with 11-6 and said she's recently jumped 12-5.

His Reign Continues: Isaiah Kiplagat Is Unopposed For Athletics Kenya President Position
Thursday Night's Medtronic Twin Cities Mile *Full Results *Photos
Nick Willis And Sarah Brown Win Over Competitive Fields At Medtronic TC 1 Mile In Minneapolis (link updated) Nick Willis (3:56.2) was the class of the field where six men broke 4:00, as Garrett Heath was 2nd - Will Leer 4th. Brown got a narrow victory over Nicole Sifuentes, 4:33.3 to 4:33.4. *Elite Results
*Longer Medtronic Recap From DownTheBackStretch
Two Recommended Reads
Recommended Read: Religion Blog: What Truths Does Iconic Image Of Boston Marathon Truly Capture? "Just as Jews pray to celebrate Passover 'next year in Jerusalem' and Muslims pledge to visit Mecca, marathoners want to 'run Boston.'"
*More Boston: Runners Start An Online Petition To Grant A Spot In The 2014 Boston Marathon To The 5,700 Runners Who Were Stopped Before They Could Finish More than 21,000 have signed; the BAA say they haven't made a decision yet.

RR#2: John Mayer: Western State's Ian Butler On Remarkable Run In Life's Goal To Succeed The D2 All-American suffered two brain injuries as a kid and has had people tell him he's retarded and the memory of a goldfish. Hanging out with the wrong crowd in 9th grade, he's now of track to be a college grad.
LRC The #1 Recruit In The Land Signs With ... New Mexico? The #1 recruit in the land has decided where he'll be running next year and coach Joe Franklin is a very happy man as a result. Whom do we consider to be the top recruit???
The Week That Was - Our Weekly Recap
LRC Mary Cain And Tyson Gay Are Fast, Pat Casey's Undefeated, Cory Leslie Gets The "A," David Rudisha Doesn't Run Very Much And Paula Radcliffe Leads The Anti-Doping Fight This week, we show you a breathtaking video of Mary Cain, annoint Pat Casey as the NCAA mile favorite, praise Paula Radcliffe for leading the anti-doping fight, talk about David Rudisha's mileage, praise Tyson Gay, unearth a 12-year-old video of Matt Tegenkamp dusting Dathan Ritzenhein and wonder why the Big 12 sucks so much at the 800.
UK Professor Talks About The Decline In Performance And Physical Fitness With Age And How It Can Be Mitigated With Continued Exercise "An active 50-year-old can have a similar aerobic capacity to a sedentary 30-year-old."
One We Missed From The Weekend: Lukas Verzbicas Ran A 14:53 5,000 After 4:11 1,500 At Occidental Meet We mentioned the 4:11 1,500, but according to the schedule, the 5k was later that night - about 6 hours later. The 5k is obviously a much better result, especially considering last month he only ran 15:22 at Carlsbad.
Boston Getting More Serious About Possible 2024 Olympic Bid
Think The Sub-2-Hour Marathon Is On The Horizon? Think Again
LRC The Myth Of The Sub-2-Hour Marathon The mainstream media thinks it may be close but in reality most people reading this will be dead when it happens.
*Science of Sport's Ross Tucker agrees: Pacing, fatigue and the brain. Lessons from London.

*Jason Henderson Of Athletics Weekly Disagrees: Why the two-hour marathon is possible
*MB: Sub 2 Hour Marathon Discussion: My Thoughts and Yours
Doping News
"Mr Tyson Gay Is Back In Business"
VCB 11.01
Oregon Twilight: *Results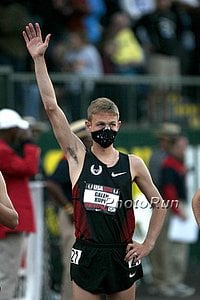 Recap: Rupp Switches From 800 To 3k & Defeats Ritz In 7:46, Centro Wins 800, And NAIA Star Hillary Holt Pulls Huge Upset In 1,500 Ken Goe of the Oregonian with recap of the meet, which saw Rupp switch events due to hamstring tightness. The big surprise was Hillary Holt lowering her PR by 7 seconds in the 1,500 and winning.
*Register-Guard Recap
*University Of Portland Steeplechaser Jared Bassett Disappointed The Competitive Field Was Hurt By Withdraws He ran 8:57, winning by 13 seconds.
*Photos *More Oregon Twilight Photos
*On The Boards: Galen Rupp Moved To 3k Due To Hamstring Tightness, Wins In 7:46 With Ritz 2nd In 7:47
*MB: MB: Rupp running 3000 tonight at Oregon Twilight and not the 800
MB: Galen Rupp Has NO CHANCE Of Breaking 7:35

MB: HS Ben Saarel Runs 8:49 3,200 at 4,500 Feet of Altitude
Doping News
It's Official: Olympic 1,500 Champ Asli Cakir Alptekin Charged With Doping Nevin Yanit, who was 5th in 100H final, also was charged.
*AP *Reuters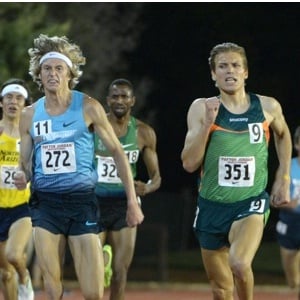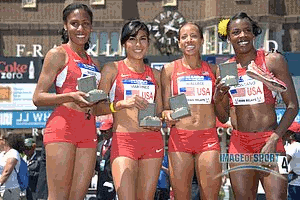 What Americans Can Go To Worlds?
Blue Collar / Inspirational Runner Of The Week
LRC Meet Conner Paez: "Please don't cut off my leg. Please just don't amputate my leg. I can't lose my leg. I need to run." Two years ago, Conner Paez was on top of the world as a freshman at the University of Pennsylvania (8:16, 14:18). Then his life turned in a second as he was broadsided by a car while on his motor bike. The injuries were bad, very bad. He almost lost his leg, then some toes. Doctors told him he'd never compete again. What's he doing this weekend? Competing again.
Prince Harry And Richard Branson In London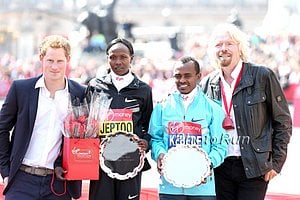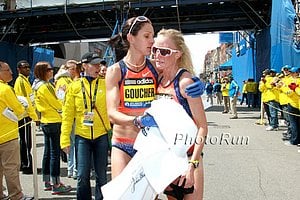 Learn From The Pros
LRC Ten Training Tips From Bernard Lagat, Dathan Ritzenhein And Abdi Abdirahman The American men took center stage at the NYC Half on Thursday. You can watch video interviews with the top American men (Lagat here, Ritz here and Abdi here) and we will have more on their race preparations on Friday, but in the meantime we compiled ten training tips from Bernard, Dathan, and Abdi that you can use in your own training.