Hagos Gebrhiwet Makes A Statement in Doha With Impressive 3000 Win
18-Year old Phenom Seems To Be The Man To Beat in 2013
by LetsRun.com
May 10, 2013
Alberto Salazar and Mo Farah, your worse nightmare came true tonight in Doha.
Article continues below player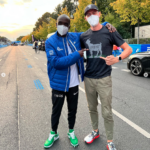 Kipchoge loves the 1:59:40 Shirt Get Yours Today
What a legend!
Heading into tonight's 3000 which featured much of the top young talent in the world, we wrote: "Quick Take #1: HAGOS, HAGOS, HAGOS. It's time for a new ruler. If Hagos Gebrhiwet wins this race impressively, it's all over. Raise the white flag, Mo Farah and everyone else. Not really, but it will make Moscow that much more interesting."
Well Hagos did win and boy was it impressive. The young Ethiopian running in his last race as an 18-year old gave himself an early birthday present (his birthday is tomorrow) as he crushed everyone over the last 400 meters to win in an outdoor world leading 7:30.16 thanks to a blistering last lap of 53.93.
After the last lap was over, commentator Tim Hutchings summer things up perfectly.
"He's torn this field apart," said Hutchings. "He's really thrashed them."
Indeed he had as second place was almost 1.65 back in 7:32.01. The runner-up was 2012 Olympic bronze medallist, Thomas Longosiwa of Kenya. The third placer, Olympic finalist and 12:48 5000 man Yenew Alamirew of Ethiopia, was the only other guy to finish within 3-seconds of Gebrhiwet as he ran 7:32.64.
The race
Gebrhiwet wasn't focused on running a fast time today. The focus was clearly on competing as he ran in the middle of the pack throughout the early stages of the race and the pack, led by Kenya's Augustine Choge showed no real interest in going right with the rabbits. The rabbits did their job as they hit 1k in 2:29 and 1500 in 3:44 as Choge stayed roughly 8 to 10 meters behind the rabbits. At 2k, Choge had the lead but the time was 5:05.09.
The real racing didn't begin to the bell and near the end of the first turn Gebrhiwet struck and went to the lead. Soon he opened up a sizable gap. 200 remained, had the youngster gone too early? No, his lead would only grow to the finish.
With each step his margin over second increased and with each step, our doubts as to Mo Farah's ability to defend his 2011 World and 2012 Olympic 5,000 title grew just a little bit.
Quick Take (QT) #1:  We've been wondering all year whether Gebrhiwet is going to be the next in line in the Gebrselassie-Bekele line of Ethiopian track and field kings. We started our talk prior to Boston, where he beat Galen Rupp. However, that race victory wasn't nearly as dominant as in Doha. Because it wasn't dominant, we held off on anointing Hagos the next king.
In Boston, Hagos ran 7:32.87 and closed in 29 high. Here he ran 7:30.36 and closed in 53.94 for the final 400. He's coming along nicely and one can see why he won by so much.
Is it all over for Farah? Nope. Farah's got great wheels himself. The Olympic 5000 was much more tactical than this race (13:40 winning time) but Farah's last 400 was 52.94. At the 2011 world champs, which also was more tactical than this race, Farah closed in roughly 52.8 in a 13:23 race.
That being said, in London, Longosiwa was .70 behind Farah. Tonight, Longosiwa was 1.65 behind.
QT #2: We had Gebrhiwet at right around 2:56 flat (maybe 2:55 high) for his last 1200 and 1:53 mid for his last 800, but it all really came in the last lap. From 1200 to 800, he ran roughly 62 mid to high, from 800 to 400, he ran 59 mid.
QT #3: Gebrhiwet's 7:30.36 is the outdoor world leader. Galen Rupp ran 7:30.16 for the indoor world lead leader. So Rupp was slightly faster but the close wasn't nearly as impressive. In Stockholm indoors, Rupp closed in 28.21 for his final 200 (not sure of the last 400 as the video only shows 250 meters). Unofficially, we had Gebrhiwet a 7:03 with 200 to go so Gebrhiwet was at least one-second faster over the last 200.

QT #4: Before everyone including ourselves annoints Gebrhiwet as the 2013 world 5000 champ, it should be remembered that in 2011 in Doha the results were incredibly impressive up front for a slew of people. In that race, Yenew Alamirew won in 7:27.26 with a 54 last lap and he didn't even end up at Worlds for Ethiopia that year.
Of course, we feel a bit better about hyping Gebrhiwet as he's run 12:47 for 5000 in the past. At the time, Alamirew's 5000 pb was 13:10 (as mentioned above, his pb is now 12:48).
QT #4: We forgot to mention in our preview that surprise 2013 World Cross Country champion, 19-year old Japhet Korir of Kenya, was in this race as well. He really struggled and was last in 8:10.20. Korir told us after worlds he wants to focus on the 5000 this year but given his 12k success, you think he might want to try to the 10,000. His 5000 pb is 13:11.
QT #5: We believe the fourth place 7:34.57 finish by 2013 European indoor champ Hayle Ibrahimov was a new Azerbaijan record. Ibrahimov was born in Ethiopia.
More: MB: Grebrhiwet runs 53.93 final lap to run 7:30.36 and crap on the field
POS    ATHLETE    COUNTRY    MARK    DETAIL    POINTS
1    Hagos GEBRHIWET    ETH     7:30.36         4
2    Thomas Pkemei LONGOSIWA    KEN     7:32.01         2
3    Yenew ALAMIREW    ETH     7:32.64         1
4    Caleb Mwangangi NDIKU    KEN     7:33.92
5    Hayle IBRAHIMOV    AZE     7:34.57
6    Isiah Kiplangat KOECH    KEN     7:36.28
7    Augustine Kiprono CHOGE    KEN     7:37.70
8    Abrar OSMAN    ERI     7:39.70
9    Jairus Kipchoge BIRECH    KEN     7:41.83
10    Geoffrey Kipkorir KIRUI    KEN     7:42.26
11    Geoffrey BARUSEI    KEN     7:48.60
12    Mohamed MOUSTAOUI    MAR     7:49.05
13    Yigrem DEMELASH    ETH     7:59.87
14    Japhet Kipyegon KORIR    KEN     8:10.20
Vincent RONO    KEN     DNF
Aziz LAHBABI    MAR     DNF
More LRC Coverage of Doha :
*Men's 800: Men's 800: David Rudisha Has To Work For It But He Opens 2013 Season With World Leading 800 Win
*Men's 1500: Asbel Kiprop Is Back – Kenyan Dominates 2013 Diamond League Opener in Doha
*Men's 3000: Hagos Gebrhiwet Makes A Statement With Impressive 3000 Win – 18-Year Old Phenom Seems To Be The Man To Beat in 2013
*Women's 1500: Sweden's Abeba Aregawi Wins As Three Women Run 3:57.54 or Better!!!
*Women's Steeple: Lydiah Chepkurui pulls off a big upset