2013 Diamond League Kicks Off Friday in Style: Rudisha vs. Aman, Kiprop vs. Kiplagat, Aregawi vs. Dibaba Plus Hagos Gebrhiwet
A Fan's Guide To The 2013 Diamond League Opener; 2013 Opener Is A Mid-d Fans Dream
2013 Doha Schedule, Start Lists and TV/Internet Viewing Info
by LetsRun.com
May 8, 2013
Article continues below player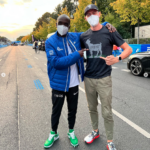 Kipchoge loves the 1:59:40 Shirt Get Yours Today
Shirts are $10 off if he breaks the world record and you order today.
The 2013 IAAF Diamond League season will get under way in grand fashion on Friday in Doha, Qatar. Mid-d and distance wise, this meet has some INCREDIBLE early season match-ups.
The highlight from the mainstream media perspective likely will be an epic clash between the seemingly unbeatable 800 meter world record holder, David Rudisha of Kenya, and the one man on the planet who has beaten each of the last two years, Mo Aman of Ethiopia.
That's a tremendous match-up. The other mid-d and distance races might be even more compelling.
In the men's 1,500, the top two fastest men in the world in Asbel Kiprop and Silas Kiplagat of Kenya will be looking to make amends for their London disasters from last year as they face the Olympic bronze medallist Abdelaati Iguider and three others who were all in the top 10 last year including 20-year old Ayanleh Souleiman of Djibouti.
The women's steeple has five of the top six finishers from the Olympics in it.  The meet will end with a super compelling men's 3000 that that is stacked with most of the top young talent on the planet. Afterwards, we may know if Hagos Gebrhiwet is on his way to being the next ruler of the track in the Haile Gebrselassie – Kenenisa Bekele Ethiopian dynasty.
The race of the evening very well may be the the first mid-d event, the women's 1,500, where our two best bets for Moscow gold will clash in Abeba Aregawi and Genzebe Dibaba.
We preview the mid-d and distance action for you below in the order that events occur.
Internet/television coverage starts at 12 noon ET. *2013 Doha Schedule, Start Lists and TV/Internet Viewing Info
For a preview of the full meet, see the IAAF preview.
12:14 pm ET: Women's 1500: Genzebe Dibaba and Abeba Aregawi To Clash
Athlete
DATE OF BIRTH
Nation
PB
SB

25.06.1986

USA

4:04.84

4:10.32

12.01.1991

MAR

4:05.80

05.07.1990

SWE

3:56.54

13.11.1991

UAE

4:08.87

08.02.1991

ETH

3:57.77

02.05.1986

MAR

4:01.33

13.12.1983

KEN

4:02.32

22.12.1983

KEN

3:59.25

10.01.1994

KEN

4:03.82

29.11.1987

KEN

4:03.18

07.12.1980

MAR

3:59.35

11.08.1984

ESP

4:04.84

11.03.1979

SLO

4:02.13

27.07.1996

ETH

4:23.10

4:23.10

10.04.1988

KEN

4:04.26

15.02.1988

KEN

4:12.95
This race could be the race of the day as Ethiopia's Genzebe Dibaba resumes her rivalry with former Ethiopian and now Swede Abeba Aregawi. The two 22-year olds were the talk of the 1,500 world early last year as both were phenomenal early in the season.

Last year, Aregawi opened the DL season with the first sub-4 of her a career with a 3:59 run in Shanghai. But she lost that race to Dibaba who ran 3:57 and was really good early in the year as she also won World Indoors. Aregawi would go on to break 4 two more times including a 3:56.54 in Rome on May 31st. Perhaps it was a little too much too soon or perhaps the controversy about which country would she run for in the Olympics got to her as she was only 5th in London.
Dibaba  struggled as well after her early season success, as a hamstring injury left her crumpled on the track in London.
Both Dibaba and Aregawi seem to have put last year's Olympic disappointments behind them and be back in fine form in 2013. Dibaba enjoyed an undefeated indoor campaign during which she ran a stellar 4:00.83 in Birmingham where she was utterly dominant but upset she didn't run faster. She also ran 8:26.95 for 3000m.
Aregawi was even better indoors. While Dibaba gave sub-4 a scare, Aregawi gave the 3:58.28 world record a big scare as she ran 3:58.40 in Stockholm.
2011 Worlds 4th placer Ibtissam Lakhouad is also in the field, looking to rebound from a disappointing Olympics. Prior to London, she went sub-4 in Paris before ending up as a DNF in the first round of London.
Kenya's best hope for victory comes in the form of 29-year old Viola Kibiwott. The 6th placer in the Olympic 5000 broke 4 in the 1,500 last year and was 7th at world cross earlier this year.
In terms of Americans, Gabriele Anderson deserves your support. She's the only American in an 'A' heat of a mid-d or distance heat in Doha (Tyler Mulder is in the 'B' heat of the men's 800). The 4th placer at last year's Olympic Trials will be looking to get the 'A' standard for Moscow of 4:05.50. If she can't get that, she'll want to at least get the 'B' of 4:09.00. In her lone 1,500 outdoors so far this year, Anderson ran 4:10.32 at Drake and just edged Mary Cain in the process. Her pb is 4:04.84.
More on Anderson here: RRW Gabriele Anderson Looking to Step Up Her Game With Diamond League 1,500 Debut in Doha
Quick Take (QT) #1: With the Turks in drug trouble, Aregawi and Dibaba are the two women to beat for the world title in 2013. Given her form indoors and her fast start last year outdoors, we believe Aregawi is the favorite here.
12:27 pm ET: Men's 800: David Rudisha Tries To Get Revenge on Mo Aman
Athlete
DATE OF BIRTH
Nation
PB
SB

10.01.1994

ETH

1:42.53

19.03.1989

QAT

1:45.19

1:48.18

11.05.1992

FRA

1:44.97

17.12.1992

KEN

1:43.96

1:46.51

20.11.1994

KEN

08.05.1990

KEN

1:43.76

20.11.1994

KEN

1:42.53

19.02.1988

GBR

1:43.77

03.02.1986

GBR

1:43.89

17.12.1988

KEN

1:40.91
After his incredible 1:40.91 world record at the Olympics last year, David Rudisha was at the top of the track and field world. Ethiopia's Mo Aman knocked him off his pedestal in the rain of Zurich as for the second-straight year he gave Rudisha a season-ending loss in the rain. This one cost Rudisha the Diamond League point title and $40,000 as well.
We've checked the forecast and it's not going to rain in Doha so we expect King David to be on top of his game.
This race isn't just a two person battle between Aman and Rudisha. Also in the field is Kenya's 18 year old Olympic bronze medallist,  Timothy Kitum. Kitum ran 1:42.53 last year. He and Aman were both at Penn Relays with Kitum splitting 1:45.4 and Aman splitting 1:44.0.
There are two other another Kenyans of note in the field, 22-year old Job Kinyor, who PRd in Doha last year for 2nd at 1:43.76, as well as Anthony Chemut, who made the Olympics for Kenya last year despite having only the 7th best seasonal best in Kenya (1:43.96).
Also in the field are two of Britain's Olympians in the 800. 25-year old Olympic finalist Andrew Osagie is here as is 27-year old Michael Rimmer. Rimmer ran his seasonal best of 1:44.86 in Doha last year.
America's Tyler Mulder is in the 'B' heat of the 800. Mulder, the 2008 NCAA indoor champion, ran a strong 3:57 mile at Penn Relays and appears to be in good shape. Considering he was 5th at the Trials last year and old-man Khadevis Robinson may not run this year, Mulder has a real good shot of making the Moscow World team for the US. His 'B' heat is stacked with four 1:43 guys so he might be able to get the 'A' standard of 1:45.20.
QT #1: Despite Aman's past wins over Rudisha and his good indoor form, the question to us isn't whether Rudisha wins. We assume he will. The question is by how much?
Even though we expect Rudisha to win, don't expect him to be necessarily clear of the field until the end. Remember last year, he had company for more than 700 meters.
If anyone beats Rudisha, we think it would be Aman who had a great indoor campaign this year as he set two world junior records, one at 600m (1:15.60) and one at 800m (1:45.05).
QT #2: At the end of last year, we said despite his brilliance and despite the fact that he's only 24, Rudisha faces a tough task at staying on top through the 2016 Olympic cycle as the world is loaded with young talent. The biggest being 19-year old Olympic silver medallist Nijel Amos, who isn't in Doha.
Mo Aman is at the top of the list of potential Rudisha beaters not named Nijel Amos. Other potential challengers to Rudisha who aren't in Doha include 18-year old Leonard Kosencha  (1:43.40) who set Kenya's youth record at 1:44.04 at age 17 and 19-year old Abraham Rotich (1:43.13).
QT #3: This year's race in many ways is a re-run of last year's Doha race which went as follows:
1    David Rudisha    KEN    17 Dec 88    1:43.10
2    Job Kinyor    KEN    2 Sep 90    1:43.76
3    Andrew Osagie    GBR    19 Feb 88    1:44.64
4    Antonio Manuel Reina    ESP    13 Jun 81    1:44.65
5    David Mutua    KEN    20 Apr 92    1:44.66
6    Michael Rimmer    GBR    3 Feb 86    1:44.86
7    Andreas Bube    DEN    13 Jul 87    1:44.99
8    Jakub Holuša    CZE    20 Feb 88    1:45.12
9    Abdulrahman Musaeb BalaQAT19 Mar 891:45.19
10  Nabil Madi    ALG    9 Jun 81                   1:50.46
12:47 pm ET: Men's 1500: Asbel Kiprop and Silas Kiplagat Resume Their Rivalry and Try To Prove They Still Have It

Athlete
DATE OF BIRTH
Nation
PB
SB

01.07.1992

QAT

3:34.61

4:10.40

17.10.1988

BRN

3:31.49

06.08.1988

KEN

3:31.00

26.01.1983

ESP

3:32.70

25.09.1987

KEN

3:32.08

13.04.1982

RSA

3:33.63

3:38.13

11.10.1988

ETH

3:31.45

25.03.1987

MAR

3:31.47

18.08.1988

KEN

20.08.1989

KEN

3:29.27

30.06.1989

KEN

3:28.88

16.01.1985

KEN

3:33.31

27.11.1984

KEN

3:29.02

27.03.1988

BRN

3:31.61

03.12.1992

DJI

3:30.31

19.05.1991

ETH

3:33.82

18.04.1984

ETH

3:35.38
Last year, there weren't any better 1,500 meter runners in the world than Silas Kiplagat and Asbel Kiprop of Kenya except for when it mattered most – at the Olympics.
Prior to London, Kiplagat put up the world's #2 time (3:29.27) and picked up victories in Doha, the Kenyan Trials and at the London DL meet, whereas Kiplagat ran the world's #1 time (3:28.88) and picked up victories in Eugene, Oslo and Monaco. But it all came crashing down for the Kiprop and Kiplagat in London as they (and the third Kenyan as well, Nixon Chepsaba who was third fastest on the year) failed to medal.
In 2013, undoubtedly, the two will be out to re-prove themselves.
They'll try to start that on Friday in Doha where they will face the 4th (Ayanleh Souleiman, 3:30.31), 8th (Bethwel Birgen 3:31.00), and 9th fastest men from 2012 (Mekonnen Gebremedhin 3:31.45). Update May 9, 2013: Somehow we left out the Olympic bronze medallist Abdelaati Iguider. He's in the field as well (Note we added him to the intro as well).
This is a fantastic early season field.
QT #1: If Kiprop or Kiplagat lose, we think Souleiman is your winner. The 20-year old from Djibouti was a revelation of the first half of the year in 2012.
QT #2: Kiprop is the pick here for us. He ran 1:44.08 last week in Kenya so we know he's sharp. After that race, Kiprop said he'll limit his Grand Prix racing this year to focus on Moscow. To us, he doesn't need to change much. Ignoring a winter pre-season trip to Australia, he only did five big meets before London (Doha, Eugene, Oslo, Kenyan Trials, Paris) which isn't way too many. Ok there was an 800 in Shanghai which we think is just too much travel to be worth it. So get rid of that and maybe one 1,500 and you're fine.
Kiprop's problem last year wasn't over racing. It was very basic- he he got hurt at the wrong time. If you are injured, it's real simple, you aren't going to defend your Olympic title. He was in the form of his life up until that point as he PRd in Paris just before the Olympics.
QT #3: This isn't an official Diamond League event for this meet so the results don't count in the DL standings.
1:08 pm ET: Women's Steeple: Four of 5 Sub-9:10 Women From 2012 To Race
Athlete
DATE OF BIRTH
Nation
PB

18.06.1989

ETH

9:28.27

14.11.1987

ETH

9:09.00

06.03.1990

ETH

9:09.61

21.11.1991

ETH

9:22.51

20.01.1987

ETH

9:20.23

26.02.1986

KEN

9:07.14

23.08.1984

KEN

9:14.98

10.08.1990

KEN

9:35.03

10.05.1991

ETH

9:14.07

09.04.1984

TUN

9:08.37

01.05.1989

LAT

9:27.21

13.08.1991

KEN

9:35.61

03.08.1992

GER

9:23.52

20.07.1993

KEN

10:24.6h

02.01.1988

KEN

9:13.16

08.08.1988

KEN

9:18.03
The women's steeple is stacked as four of the five sub-9:10 women from last year are racing. The field also includes five of the top six finishers at the London Games. The one person missing from London is the gold medallist Yuliya Zaripova of Russia, who only raced on the pro circuit once last year and that was after the Olympics.
QT #1: In case you forgot, the Olympic results were as follows.
1    Yuliya Zaripova    RUS    26 Apr 86    9:06.72
2    Habiba Ghribi    TUN    9 Apr 84    9:08.37
3    Sofia Assefa    ETH    14 Nov 87    9:09.84
4    Milcah Chemos    KEN    24 Feb 86    9:09.88
5    Hiwot Ayalew    ETH    6 Mar 90    9:12.98
6    Etenesh Diro    ETH    10 May 91    9:19.89
QT (#2): If are trying to pick the winner, we'd say avoid Assefa. While we know she's in good form (she was 7th at World Cross), she rarely wins races. Last year, she was second in Shanghai, Eugene and Oslo and third in Paris.
Chemos would be our pick as she won all of these meets last year and was even more dominant in 2011 prior to Worlds. She's the queen of early season DL victories. Hopefully she gets her peak better this year as she was 4th in London and third in Daegu.
The Olympic silver medallist Ghiribi looks to be in good shape. She set a national record of 8:52.06 for 3000 on April 28th.
1:45 pm ET: Men's 3000: Teen Sensation Hagos Gebrhiwet and Many Of World's Best Youngsters Will Battle
Athlete
DATE OF BIRTH
Nation
PB

01.01.1994

ERI

7:40.89

27.05.1990

ETH

7:27.26

01.01.1994

KEN

7:52.02

14.12.1992

KEN

21.01.1987

KEN

7:28.76

28.01.1994

ETH

11.05.1994

ETH

7:45.11

18.01.1990

AZE

7:45.92

16.02.1993

KEN

19.12.1993

KEN

7:30.43

30.06.1993

KEN

7:40.37

03.02.1991

MAR

7:45.16

14.01.1988

KEN

7:30.09

02.04.1985

MAR

7:43.99

09.10.1992

KEN

7:30.99

01.01.1982

KEN

7:41.18
This race is a big one as it's the 2013 outdoor track opener for teen phenom Hagos Gebrhiwet. Given the fact that he ran 12:48 last year at age 18 (he turns 19 on Saturday), we've openly speculated as to whether or not he'll be the next Ethiopian ruler of long distance on the track. First Gebrselassie was king, then Bekele, is Hagos next?
Quite possibly. The early returns for Gebrhiwet so far in 2013 are impressive. In February, he crushed Galen Rupp at 3000 in Boston. Then he won the world junior cross country title in Poland.
He's so young and so good that at the Boston marathon, 2012 Olympic 5000 silver medallist Dejen Gebremeskel of Ethiopia admitted to us that for Moscow he's more worried about Gebrihwet than double 5000 world champion Mo Farah.
Gebremeskel is just one of many very young and very talented guys in the field. There are at least four other super-talented youngsters in the field.
Isiah Koech – KEN – 19-years young. Was 4th in the 5000 at worlds in 2011 at age 17 and 5th at the Olympics at age 18. Won the Allstate Sugar Bowl Crescent City 10k in New Orleans earlier this year.
Yigrem Demelash – ETH – 19 years young.  2012 10,000 world junior champ. 69th at world xc this year.
Caleb Ndiku – KEN – 20 years young. 2010 world junior xc and 1,500 champ. Ran 7:31.66 in Stockholm earlier this year when Galen Rupp got the AR. Also ran 3:52.9 DMR split at Penn Relays after going out in 26.2 for first 200.
Geoffrey Kirui – KEN – 20 years young. 26:55 10,000 pb. 15th at world xc this year.
The race doesn't belong only to youngsters however. 31-year old Thomas Longosiwa, who won a London 5,000 bronze last year and ran 12:49 in Paris, is in the field as is 26-year old Augustine Choge. Choge ran 7:28.76 in Doha in 2011 and somehow was only 4th as the top three ran as follows:
2011 Doha Results
1    Yenew Alamirew    ETH    27 May 90    7:27.26
2    Edwin Soi    KEN    3 Mar 86    7:27.55
3    Eliud Kipchoge    KEN    5 Nov 84    7:27.66
Quick Take #1: HAGOS, HAGOS, HAGOS. It's time for a new ruler. If he wins this race impressively, it's all over. Raise the white flag, Mo Farah and everyone else. Not really, but it will make Moscow that much more interesting.
---
  More: *2013 Doha Schedule, Start Lists and TV/Internet Viewing Info
IAAF preview of women's 400: Felix and Montsho set to battle once more in Doha
Re-live last year's meet: *2012 Doha Recap: LetsRun.com's Recap Of Doha 2012: The Samsung Diamond League Starts Off In Style
*2012 Doha Results
*2012 LRC Doha Preview