Already A Winner In NYC And Washington, Caroline Rotich Hopes For Prague Victory
By David Monti
(c) 2013 Race Results Weekly, all rights reserved
May 10, 2013
(10-May) — Ask Caroline Rotich where she is most relaxed during a race and she will be quick to tell you that place is within the lead pack of contenders.
But recently, the Kenyan has found herself running outside of her comfort zone.
Take, for instance, the New York City Half-Marathon in March, when Rotich unexpectedly found herself alone in the lead from the three mile (5 km) mark until 10 miles (16 km) into the race, when she was caught by Diane Nukuri-Johnson of Burundi and upstart Croatian Lisa Stublić.
Article continues below player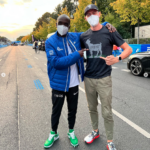 Kipchoge loves the 1:59:40 Shirt Get Yours Today
What a legend!
"Actually, that was the first time that has ever happened to me because I always go with the group," Rotich said in a phone interview from her training base in Santa Fe. "I was actually wishing I could go back and wait for the group and then go with them again. In that spot I didn't really know what to do, but my body told my mind that I could go and see what happened by running my own race in front."
What happened was neither Nukuri-Johnson nor Stublić was able to drop Rotich, who eventually regained the lead en route to winning her second title since 2011 in 1:09:09.
"My mind was ready because someone can always come up from behind," she said. "When they came, I was ready. I didn't freak out because I was prepared for that. When they came up but didn't go by me, I was able to sit back, recover a little bit, and then go for the win."
At the Credit Union Cherry Blossom 10-Mile in Washington, D.C., in April, Rotich pushed a pace that strung out what had been a large lead pack at about five miles and ran alone in the lead for three miles before World Cross Country Championships bronze medalist Belaynesh Oljira of Ethiopia pulled even. It wasn't until the final half-mile that Rotich was able to secure her victory in a personal-best 52:46.
Coming off those two performances, Rotich feels as if she is most well-prepared for any challenges that might arise during Sunday's Prague International Marathon, where she is among the race favorites in a women's field featuring four sub-2:24 marathoners.
Lydia Cheromei of Kenya has the fastest PR in the field at 2:21:30 from the 2012 Dubai Marathon and is coming off an eighth-place finish in the Roma-Ostia Half-Marathon in 1:11:05 in March. Koren Yal of Ethiopia, who ran her PR of 2:22:43 in Toronto in 2011, will be looking to rebound from a DNF at the Dong-A Seoul Marathon in March. Her compatriot Ehitu Kiros finished runner-up in the Dubai Marathon in January in 2:23:39.
"Those two races have made me feel like I can run from anywhere and be confident with what I am doing," Rotich said. "Since I got back here, I have been training with my coach to run from anywhere and be able to hold it and keep going. It gives me a confidence that I don't have to have someone there like pushing me. I just have to be able to run my race."
While these most recent results might seem to indicate that Rotich's race has evolved from sit-and-kick to a more aggressive approach, she said she is unlikely to try to turn the Prague race into a solo effort.
"The marathon is a long race to go and try and lead from the start," she said. "Of course, I will always talk to my coach and see what each race looks like. But knowing myself and no matter what the pace is that I can hold it is giving me a new outlook when I go to a race. If I feel it is slow I can go, or I can hold back and run with the group."
Rotich, who trains in Santa Fe under Ryan Bolton, an Olympic triathlete, said that her confidence has been on an upswing since last October when she ran a personal-best 2:23:22 to finish fifth at the Bank of America Chicago Marathon. She added that she hopes to avoid repeating the same mistakes in Prague that cost a chance at victory in Chicago.
"The way I ran my PR in Chicago, I feel like I can do more in the marathon," Rotich said.  "Chicago taught me that when your body and your mind tell you something during the marathon, sometimes you have to follow that because you don't know when it is going to shut down. I learned that when I feel like I can push from wherever after the half, then it is better to do that. I think I held back a long ways in Chicago and by the time I tried to go, everyone was recovered and we only ended up dropping each other."
One thing that will be a new experience for Rotich in Prague is running on cobblestones. Approximately nine kilometers of marathon course features the uneven, roughly paved medieval surface. Rotich said that she typically does not survey an entire marathon course beforehand, but may do so this time to familiarize herself with the cobbled areas.
"I am very much looking forward to seeing what happens in Prague," Rotich said. "If I win, it is going to be great, but if I am able to go out and run my PR, I think it is going to be even more great. I am going in with those two goals and trying to be ready for everything."