Mary Cain and Tyson Gay Are Fast, Pat Casey's Undefeated, Cory Leslie Gets the 'A', David Rudisha Doesn't Run Very Much and Paula Radcliffe Leads The Anti-Doping Fight
by LetsRun.com
Mary 8, 2013
Last week's Weekly Recap can be found here.
This week we show you a breathtaking video of Mary Cain, annoint Pat Casey as the NCAA mile favorite, praise Paula Radcliffe for leading the anti-doping fight, talk about David Rudisha's mileage, praise Tyson Gay, and unearth a 12 year old video of Matt Tegenkamp dusting Dathan Ritzenhein and wonder why the Big 12 sucks so much at the 800?
Article continues below player
****
A little bit of cleaning up from last week before we move onto this week's news.
Last week, we praised Northeastern's Eric Jenkins for becoming the youngest sub-13:20 guy in US history and gave some props to his new coach, Ryan Vanhoy. We received a number of emails along the lines of, "Hey what about the coach who guided him from being a 4:15 high school miler to the NCAA final round of the 1,500 as a frosh (the only true frosh to make it that far) in 2011 and a sub-4 in 2012? He deserves a ton of props as well as."
We agree. Renny Waldron who guided Jenkins for his first 2.5 years of college and ran at Iona in college and now is a volunteer coach at Harvard, did a great job with Jenkins.
Waldon's friend, Paul Ryan (no not the VP candidate, this one has actually broken 3:00 in the marathon), summed up the situation perfectly with the following facebook post:
"Having a proud moment from afar…one of my best friends, Renny Waldron's once-in-a-lifetime atheletes, Eric Jenkins of Northeastern Univ ran 13:18 for 5k at Stanford last night. Renny's not his coach at the moment, but I know the work he put in to recruit him to Northeastern and developing him from a 4:15 miler into the runner he is now. All those threshold runs, the steady progression in mileage, the well placed speed sessions, etc. Renny predicted this a while ago, but would have seemed crazy to say it out loud. just very very impressed right now and happy to see this coming to fruition."
The situation is similar to when Dathan Ritzenhein ran 12:56 for 5000 in 2009 just 3 plus months leaving Brad Hudson for Alberto Salazar. Brad set him up nicely to run that time. And then often with a new, slightly different stimulus, there is a quick short-term jump.
####
Last week at Stanford, Kevin Castille smashed his own M40 American 10,000 record by running 28:53.54.
Also at Stanford, high school junior Elise Cranny of Colorado ran a 4:15.07 for 1500 meters to become #3 on the all-time 1500 list for US HS girls. Her coach? Non other than 2012 and 2013 4th placer at the Boston Marathon – Jason Hartmann. Hartmann does a great job coaching himself and apparently high school girls as well.
More: Kevin Castille crushes own M40 American record in 10K at Stanford
*Jason Hartmann: Top Marathoner, Good Coach
****
2013 NCAA Action – The Big 12 Struggles in the 800, Kyle Merber Struggles, Patrick Casey The Mile Favorite? Kansas Women Win
The NCAA conference action got under way in full force last week as roughly half of the conference championships took place. That being said, there were only three national collegiate leading new marks set and they all came at the Big 12.
Texas' 21 year old freshman Johannes Hock of Germany scored 8293 in the decathlon, Texas' sophomore shot putter Ryan Crouser threw 69′ 2.5″ in the men's shot, and Kansas Diamond Dixon ran 51.73 in the women's 400.
In terms of mid-d and distance action, there were a few surprises in the Big 12. It boggles our mind that a 'major' conference only has two men on the year sub-1:50 at 800 in the Big 12. 69 guys nationallly have done it but only two from the Big 12 and zero did it at the Big 12 meet.
How can this be you say? Surprisingly, coaches often don't like giving out scholarship to 800 guys.
A distance guy can double up at conference (5k/10k) and run cross country. Sprinters can do multiple events (100, 200, 4 x 100 or 400, 4 x 400). Often times, 800 guys just run the 800. No relays and no cross country.
That being said, the Big 12 pales in comparison to the other five 'major' conferences in terms of number of sub 1:50 guys.
# of sub-1:50 performers outdoors in 2013
SEC – 14
Big Ten – 11
Pac 12 – 7
ACC – 6
Big East – 3
Big 12 – 2
Kudos to the Ivy League. They actually mix it up with the big boys quite well in the 800 with 7 sub-1:50s themselves.
####
Speaking of Ivy League and the Big 12, the 5th year struggles of former Columbia star Kyle Merber continued last week at the Big 12 meet. Merber, who ran 3:36 last year, only was sixth in the Big 12 1500 in 3:47.52 in a race that Patrick Casey dominated in 3:40.01.
Last week, we wondered if Mac Fleet was the NCAA 1,500 favorite. Fleet and Casey are the co-favorites at this point in our book, with the slight edge probably going to Casey. Casey, who doubled up indoors at Big 12s in the 1k/mile, hasn't lost a 1500/mile all year (after doubling at Big 12s indoors, he didn't run NCAA indoors).
Check out Casey's 2013 results for the 1,500/mile:
1/25/2013 – 3:56.28 win at Arkansas. Margin of victory: 1.92 seconds.
2/23/2013 – 4:00.81 win at Big 12 meet. Margin of victory: 1.21 seconds.
4/20/2013 – 3:40.07 win at Mt. Sac Relays. Margin of victory: .71 seconds.
5/5/2012 – 3:40.04 win at Big 12s. Margin of victory: 1.18 seconds
And his dominant win at the Big 12 meet came over the NCAA leader in his teammate and 3:38.79 man Riley Masters.
We slammed Casey for leaving Montana State where he was a local hero mid-career for Oklahoma but there's no doubt he's running very well. An NCAA title will definitely give him the last laugh.
###
One last thing from the Big 12 meet, a big Thumbs Up to the Kansas women who won their first ever Big 12 outdoor crown.
More: KU track basks in title *Coaches Association Conference Championship Central Page
****
Stat of The Week I/Performance Of The Week
9.91 – season opening 100 m time that Usain Bolt ran last year in Kingston Jamaica on the first Saturday in May when the wind is factored in (9.82 with a 1.8 m/s tail wind).
9.87 – season opening 100 m time that Tyson Gay ran this year in Kingston Jamaica on the first Saturday in May when the wind is factored in (9.86 with a .2 m/s tail wind).
And just last week, we lamented the fact that Yohan Blake was out with a hamstring injury and said sprinting needed a big rivalry. Our wishes may soon be granted as Tyson Gay is healthier than he's been in a long time and seems poised to have a great season after his super-impressive opener in the 100m last week in Jamaica.
Earlier in the week, we were thinking it was likely wishful thinking when the 30 year old Gay said his best days were still ahead of him. Maybe Gay, the ultimate of all professionals, was telling the truth. A 30 year old PRs in the 100 isn't unprecedented. It's worth pointing out that King Carl – Carl Lewis – ran his 100 meter pb in 1991 at the age of 30. His time? 9.86 – the same that Gay ran last week.
More: 2013 Jamaican Invitational Results
*Tyson Gay Says His Best Years May Lie Ahead Of Him
*MB: Tyson Gay opens with 9.86
****
Stat of The Week II

60km (37.28 miles) – approximate mileage per week that David Rudisha runs in his base phase according to his coach Brother Colm O'Connell in an IAAF article.
When you've got a lot of speed (and Rudisha does as he lowered his 800 pb from 45.50 to 45.15 last week) and the 800 is your event, you don't necessarily have to run a lot of mileage.
More: "Staying focused is a huge challenge," says Rudisha's coach, Colm O'Connell
*David Rudisha Opens Season In Style – Lowers PR From 45.50 To 45.15

****
Stat Of The Week III/Video Of The Week I

5:15 – mile time that Mary Cain ran in 5th grade.
The stat comes from a nice story in the San Diego Tribune on Mary Cain's 2:01.68 800 run at the inaugural Re:Run San Diego meet in San Diego by Mark Zeigler.
As for Cain's 2:01.68, lots of people seemed overly excited about it. We're not sure why – that's kind of where we expected here to be.
Since earlier we talked about previous coaches not getting any credit, people need to remember that Cain was a phenom long before Alberto Salazar started coaching her. Many casual fans may not realize that under the guidance of Bronxville coach Jim Mitchell, who often has power house teams, Cain split 2:03.74 for 800 two years ago as a freshman in high school. Yes, as a freshman.

We watched the video of that split last week for the first time and just want to say, "That split is a thing of beauty."
More impressive than the time is how beautiful it was. If you haven't watched the video of Cain's 2:03.75, you need to do so now (it's embedded below). Cain went out in 58 and looks like a sprinter. At the end, she jogs across the line. Perhaps she was tying up but her form is so beautiful it's hard to tell (she definitely let up a little bit regardless).
Watch it below for yourself thanks to runnerspace filming at the 2011 New Balance HS nationals. Cain's leg starts at the 6:40 mark (Editor's note: Some people are having technical difficulties so if the video isn't embedded below, click here to see it on Runnerspace. It's really worth watching).
[raw][/raw]
Because of Cain's past, the 2:01 didn't stun us at all. The reason why everyone has been raving about Cain all winter/spring is because she is the total package – amazing endurance and speed. Her old coach thought she'd break 2:00 in HS.
Contrast Cain's speed to Jordan Hasay's. Hasay was a teen 1500 star but her 1500 potential was totally limited by her lack of world-class speed. Cain ran 2:03 as a frosh in HS. Hasay's 800 PR came last year as a junior in college and it's 2:08.32. As a result, Hasay is now a 10,000 runner.
More: San Diego Tribune: Teen phenom Mary Cain highlights Balboa meet
*Results: Re:Run Sandiego Results: Duane Solomon Wins 800 In 1:46.54 Over Erik Sowinski And Lopez Lomong; Brenda Martinez (1:59.59) Wins Women's 800 As Mary Cain Runs 2:01.68 In 4th
*OTB: Mary Cain 2:01.68!!! *Mary Cain-2:01.68 @ Re:Run *Re:RUN San Diego Results & Discussion
****

And while we're talking about Mary Cain's run we've got to give a thumbs up to Pete Hess and James Kehaya (Alice Schmidt's husband) who put on the Re:Run meet in San Diego where Cain ran her 2:01.68.
Hess and Kehaya are attempting to bring new fans to the sport of track and field. The concept is a good one, have a road race in the morning with a short compact track meet immediately after it. A road racer is a good candidate to become a new fan of track and field.
Hess and Kehaya had sponsors, a reported $60,000 in prize money for the races, and very good fields as evidenced by Brenda Martinez running a world leader and Duane Solomon winning.
Now, supposedly the road race only had 67 finishers (ht @DailyRelay), but we hope this event can be back for year #2. Even if it doesn't make it, Thumbs Up for trying to grow the sport.
*More on Hess and Kehaya from Toni Reavis here
****
Cory Leslie Impresses in The Steeple/Japan's 10.01 Man Turns Down Interview Requests
After he smoked Olympic silver medallist Leo Manzano, two-time NCAA mile champ Lee Emmanuel and Nick Symmonds in the mile at the Kansas relays, many including ourselves were wondering what Cory Leslie could run for a steeple. A big breakthrough seemed likely.
The breakthrough came last week in Tokyo where Leslie became the first American with an 'A' qualifier in 2013 as he lowered his pb from 8:31.08 to 8:20.08.
Speaking of Tokyo, how great was it that the parents of Japan's 17-year old 10.01 sprint sensation, Yoshihide Kiryu, didn't want him doing interviews at school as they don't want him to be "distracted" by his new found fame. Meanwhile, in the US, press conferences are held at countless schools in the country when kids sign college scholarships.
More: *Japanese Sprinter Declines Media Requests – Parents Don't Want Him "Distracted" By His New-Found Fame
*Full Seiko Golden Grand Prix Results
*MB Cory Leslie 8:20 steeple opener!
*LRC 2013 Moscow World Track and Field Championships – Men's American 'A' and 'B' Qualifiers
*LRC 2013 Moscow World Track and Field Championships – Women's American 'A' and 'B' Qualifiers
****
Paula Radcliffe Leading The PED Fight Yet Again/Operation Puerto
A big thumbs up to Paula Radcliffe (and Andy Murray in tennis) for calling on the more than 200 bags of blood in Spain's Operation Puerto scandal to be held onto and not destroyed. Radcliffe also said last week that she feels it's fair that people consider Spain's doping history when considering Spain's 2020 Olympic bid. We 100% agree. Why give countries something they desperately want if they are going to go soft on doping?
Last week's actions makes us wonder if all the people who think Paula Radcliffe was on drugs and is no different than say a ruthless Lance Armstrong do not realize that for over a decade she's consistently raised awareness for the PED fight and called for the PED fight to be waged with bigger weapons. From the call for EPO cheats to be exposed over a decade ago, to blood samples to be frozen, to last week's action, she's always realized that the drug problem is ruining the sport.
Yes, we'll admit that in and of itself doesn't mean she's clean. For sure, a doper could talk tough but then cheat behind closed doors, but we don't know of any outspoken leaders of the PED fight who have ever been exposed. Generally, the biggest dopers are those like Armstrong who act like doping wasn't a big problem or hide behind the "I never failed a test" motto that Marion Jones used to love.
The whole problem with having drugs in sport is it ruins the fan's enjoyment. We'll admit it's somewhat logical for people to assume that when there are drugs in sport that all the top performer are on drugs, or how else could they be winning, but that's not always the case. Well we hope it's not.
More: Paula Radcliffe says Operation Puerto blood must be saved
****
Inner City Cross Country
As they stretch, Bernie asks which of their two routes they want to run for practice today: the 1.5-mile "Chinese Run," which loops through the West End between three Asian restaurants, or the two-mile "Hood Run"?
– excerpt from a fantastic multi-part series written by the Connecticut Post's Tim Loh on running high school cross country for an inner-city school. Loh, who ran track/xc for Notre Dame ('2007) and freelances for LetsRun for events in the NYC area, spent the fall following the exploits of Bridgeport Ct's Bassick High School and its coach Bernie Lofton and its star runner, Saman Hassan.
His focus on Lofton, Hassan and Bridgeport is definitely our #1 Recommended Read of the Week. If you like Loh's piece, you may also enjoy some of his other recent work exploring the extreme wealth gap in Fairfield County – which has the nation's highest income inequality.
*Feature on Running high school cross country for an inner-city school
*For single mother in affluent Greenwich, getting by is a daily struggle
*Despite economic setbacks, immigrant remains confident in future
*Tim Loh Twitter Page
*Tim Loh Connecticut Post Page
****
Video Of The Week II…. Teg Outkicks Ritz FTW!!!! (in 2001)
We were doing some computer house-cleaning the other day and found this on one of our hard-drives and decided to upload it to youtube. Below you'll see the final 400 of the 2001 US junior cross country championships where Matt Tegenkamp outkicks Dathan Ritzenhein for the US junior crown. At worlds, Ritz would win bronze and Teg would get fifth.
****
Photo Of The Week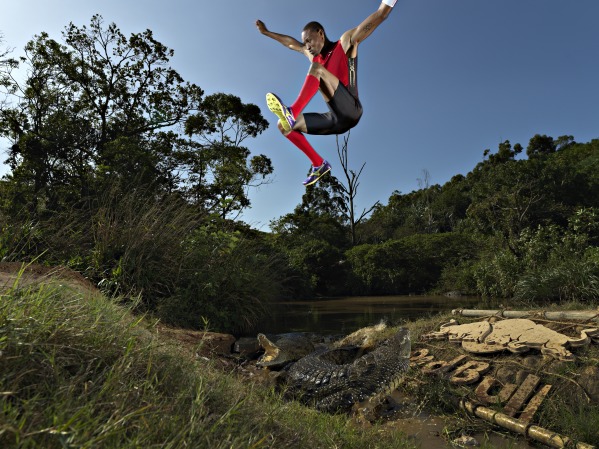 What you are seeing is South African's Olympic silver medallist Godfrey Mokoena long jumping over some crocodiles as a publicity stunt for Red Bull. That's probably an ideal way for coaches to make sure guys get a jump off and don't just run through the board.
****
Quote of the Week I (that wasn't quote of the day)
"On the track, all the mental focus is about how you finish the race. Racers worry about how they are going to beat people at the end of the race. Often on the track I bet those guys can't even tell you what times they've run for the first kilometres.
"For the marathon you have to flip the race, so that 5km is 37km (from the finish), 10km is 32km (from the finish). The reason being, if you can't push every last step of the marathon, the race beats you and you'll throw minutes and seconds out the window. Marathon is one big arm wrestle. If you are lucky, you'll finish the race winning the arm wrestle."
–Sean Hartnett, the 'professor of the marathon', talking to Spikes Mag.
More: Meet Sean Hartnett: Professor Marathon
****
Quote of the Week II (that wasn't quote of the day)
"He (Erik Sowkinski) was splitting under 48 in high school. Speed-wise, he's got the speed to run 1:42; the only thing that's been lacking is his aerobic, and he's getting better all the time….
"The U.S. is loaded in the 800 but he's got the benefit because those guys are 28, 29 now and by 2016 they'll either have to move up (to longer races) or they'll be done. Erik will be 27 and in his prime."
– Josh Johnson, one of Erik Sowkinski's high school coaches, talking about Sowkinski's prospects for the next few years in a profile of Sowinski in the Milwaukee's Journal-Sentinel.
More: Erik Sowinski turning heads in U.S. Track & Field
****
Quote of the Week III (that wasn't quote of the day)
"Would I rather have given everything and finished fourth or sat on my arse and achieved nothing at all?"
…
"I remember coming back to training after six weeks and Malcolm [Arnold, his coach] gave me a pat on the back and said, 'We did the best we could', and that was how I felt after a few weeks of training."
– 2011 world 400h champ, but 2012 4th placer in London, Dai Greene, talking to The Independent about how he was proud of the fact that he battled back from injury last year even though ultimately he ended up agonizing short of an Olympic medal.
More: Dai Greene & gold: Brit aims to rule the world after Olympic agony
****
Quote of the Week IV (that wasn't quote of the day)
2011 World Champion Jenny Simpson, when asked about the differences in her training under Mark Wetmore versus Juli Benson:
"I'm not a coach. I don't want to be a coach. I made a change from one coach's system to another but I really just focus on what I'm being asked to do and don't try to break down their philosophical differences. I think the most important thing for myself going into the competitive year is to have a really qualified coach and to believe in the training. So far, I've had that every year of my career."
More: Q&A With Jenny Simpson
****
Messageboard Thread of The Week:
Kudos to messageboard poster "bored and lonely " for starting a very interesting discussion on the messageboard last week. The title of the thread says it all: MB What would be the world record for marathon if a person could run each mile at different times in 24 hour period
For the record, we asked LetsRun.com coaching guru/stat man John Kellogg for his thoughts on the topic. He said he'd have to think about it. Maybe, he'll post a reply on the thread in the next few days.
****
Quotes Of The Day & Last Week's Homepages:
Note: To see a particular day's homepage, click on the hyperlink of the date. The hyperlink below the date on the quotes will take you to that particular article – not that day's homepage.
---
"It wouldn't be right to accept prizes. I'm here for the people, and if that helps make the race more popular then I've accomplished my mission."

– Japan civil servant runner Yuki Kawauchi talking after running 1:05:45 to win a Japan half-marathon on Sunday and declining the prize (after also running/winning one on Saturday). Too bad more elites don't have this attitude towards the sport.
---
"I'm getting back to full fitness, but I am being very patient with it. I am feeling good, the best I have been in a long while, and I am looking forward to Moscow and will give it all I've got."
– Tyson Gay talking after opening his season with a 9.86 win at the Jamaican Invitational Saturday. *Full Results
---
"For somebody who has achieved what he has done, the difference between being a good athlete and a great athlete is somebody who can pull motivation out of nowhere. … David is Olympic champion, world champion, record holder you might wonder, what next? What can he do? What is left to achieve? Great athletes can be able to move a notch higher in their motivation and that is something David has to look at this season."
– Brother Colm O'Connell talking about the great David Rudisha, who didn't be seeming to be lacking in motivation when he opened his 2013 campaign on Friday with a 45.15 PR (45.50 previous PR).
---
"The Spanish anti-doping agency is only just bringing into line its national legislation with the rest of the world to make it a criminal offence to take part in doping and to supply doping, and that was probably done to support the bid to host the Olympics in 2020."
"This certainly could have supported that a whole lot more and made it look as though Spain was being tough and coming with the rest of the world on anti-doping. Instead, it looks like they've gone against it."
– Paula Radcliffe criticizing the Spanish court's decision to destroy evidence (about 211 blood bags from 35 athletes) in "Operación Puerto" doping scandal. WADA may appeal the decision, but if that fails many of those 35 athletes will get off scot-free. *Sign Petition To Not Have Evidence Destroyed
---
"When I went into the 2012 Boston Marathon I didn't know what the future held and I was putting everything into that race. I actually had a job interview about the same time. I pursued that race with no regrets. At the starting line I knew that many runners would be taken out of their games because of the high heat. I thought that whatever happened was going to happen but that I wasn't going to quit. A lot of people quit that day who had the potential to beat me if they stayed in the race, but I kept plugging away and plugging away and told myself I was doing well, to relax and that I'd be okay."
"This year I pursued it the same way in that there is no tomorrow for me. I figured that if this race was going to define my career that I wasn't going to beat myself. There were times this year when my foot was hurting badly, but I told myself to relax and that I was all right. I talk to myself and am a coach to myself during the races. As I plug away and other runners are coming back to me I get more confidence. All of the fans are going crazy and I keep telling myself, 'You can do it! You can do it!' That has been beneficial to my success in both races."
– Jason Hartman, talking about his thoughts during the 2012 and 2013 Boston Marathons where both times he finished 4th as the top American.
---
"When we talked about the new season, I told him: 'No other Kenyan has ever achieved what you have done since 2010. Where do we go from here? Where do you pull motivation out of this?"
"Staying focused is a huge challenge. I compare his situation with Haile Gebrselassie and Usain Bolt. These two have also achieved everything and managed to go on from there. It is a new scenario for David."
"On the other hand, there was something at the end of the year which helped me – the defeat in his last race in Zurich. He has realized that he is not unbeatable. Number two – Nijel Amos, this young guy from Botswana, who ran 1:41.73 in the Olympic final. Number three – He is a marked man. Everybody will run against him. He has young people on his heels. Defending the World title is a challenge. And looking more ahead – defending the Olympic title in 2016 which no Kenyan has ever done."
– David Rudisha's coach, Brother Colm O'Connell, talking about Rudisha keeping motivation after he's seemingly done everything an athlete can do winning World and Olympic titles and breaking the World Record. In 2012, he was yet again denied a perfect season as Mohammed Aman beat him in rainy Zurich.
---
"[At] Oxy I'm going for the 'A' standard. If I can get the 'A' standard … I know I'm not in the same league as Galen, Lagat, Lomong right now, but I'm coming for them. You guys hear that? I'm coming for you."
"But just one step at a time. If I can get the 'A' standard at Oxy, even the 'B', I still have a chance. You know, line up at USA's and anyone's got a shot. So as long as I get the standard I got that much more hope than I had before to get to the World Championships."
– A very excited Chris Solinsky talking after his 13:23.62 5,000 at Payton Jordan about trying to get the 'A' standard at the Oxy High Performance Meet on May 17th and his chances at making the US team for Moscow 2013.