1500m Stars Asbel Kiprop, Abdalaati Iguiden and Silas Kiplagat Ready for Doha But Admit It's Hard To Equal Dominance of Past Legends
'There is no king in 1500 m, but it is good for the show' say Kiprop, Kiplagat and Iguider
Courtesy of the IAAF
Doha 09.05.2013 – The 1500m may not have Diamond League event status, but it can boast three "golden" racers nonetheless. 2008 Olympic Games gold medallist and reigning World Champion, Asbel Kiprop; the London 2012 bronze medalist and World Indoor Champion from last year's event in Istanbul Abdalaati Iguider; and 2010 Commonwealth Games Champion and silver medalist in the 2011 World Championships in Daegu Silas Kiplagat: these three athletes are among others from Africa who shared the titles in major events over the last years – but the striking point is that no one has emerged to completely dominate the event.
Article continues below player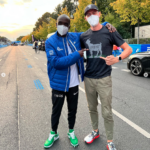 Kipchoge loves the 1:59:40 Shirt Get Yours Today
Shirts are $10 off if he breaks the world record and you order today.
Iguider, who comes from a strong Moroccan tradition of 1500m runners, acknowledges the crown of the king is for the taking: "There is no clear leader in this event, unlike in the past when we had Hicham El Guerrouj, Said Aouita and Salah Hissou. The solid training system and structures we had aren't there anymore, and the sport in the country has suffered."
His Kenyan rivals seem to agree with Iguider. Both Kiplagat and Kiprop concur in admitting there is no one who can currently match the performances of the past, but that is not necessarily a bad thing.
"It is good that there are many athletes that can win, because this is a challenge and add a bit of motivation for all" says Kiplagat, while his countryman states "no athlete now can run the performances of El Guerrouj, times around 3.26.00".
For Silas Kiplagat, the challenge in Doha will not only be to win the race, but to try and beak the meeting record. "I came to try my best and I hope to run quickly".
His rivals are also looking forward to a solid performance. "It is my first race of the year," says Iguider, "I want to have a good outing and run quick."
"I expect a good race, because so many good athletes are participating and therefore a quick time should be on the cards."
For Asbel Kiprop, the 2013 season will also be crucial to overcome the disappointment of the London Games. "Two weeks before London I pulled my hamstring: it couldn't heal in time and my chances were gone. I was prepared and winning was my priority".
---
More: Meet Preview: LRC Who Says The Track Stars Avoid Each Other? 2013 DL Kicks Off In Style: Rudisha Vs. Aman, Kiprop Vs. Kiplagat, Aregawi Vs. Dibaba Plus Hagos Gebrhiwet
Editor's comment: We know the quotes above about not equaling the past will lead some to talk about drugs given the past drug talk associated with some of the top former 1,500 stars as shown here, here and here.