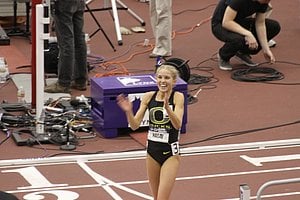 Day 2: LRC 3ks: Hasay Becomes a Legend, Heath Unleashes His Legendary Kick As of Fri. night, Jordan Hasay was viewed as the former teen prodigy who couldn't quite kick for the big one in college. Now, just as was the case for Galen Rupp two years ago, she is college distance running's biggest star as she won the mile and then came back in the 3k to make herself into a legend by turning the tables on Sheila Reid. Stanford's Elliott Heath's kick was even more lethal as destroyed a super talented men's 3k field over the final 140m. Includes last lap video coverage.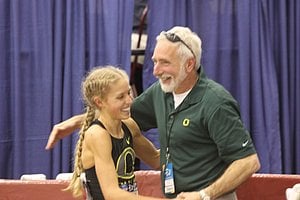 Day 2: LRC Mid-D: Hasay Gets Title #1, Batty Gets Title #2, Fred Samoei Wins a Nailbiter, and BYU's Bleazard Dominates After being outkicked in the DMR on Fri. night, Jordan Hasay outkicked the competition to grab her first NCAA title as BYU's Mile Batty completed the double in the men's mile as he held off a spirited challenge from Tulsa's Chris O'Hare. The men's 800 featured the best finish of the night as Michael Rutt's bold move to the lead 400 meters in almost held up. In the women' s 800, BYU's Lacey Bleazard won her 2nd indoor title - it's a shame the ESPN3 announcers had no idea who she was. Includes last lap video coverage.
Day 2: *Oregonian: Tough, Determined, Jordan Hasay Leads Oregon To The NCAA Women's Title
*AP: Florida & Oregon Repeat In Dominant Fashion A day after being the runner-up in the lj, Will Claye set a meet record in the TJ as Jeff Demps took home the 60m.
*Jeff Demps Goes To Gatorade Bath To Celebrate
*AP Photo Gallery
Day 1: LRC DMR: Villanova's Reid Outkicks Oregon's Hasay, BYU's Miles Batty Holds Off Incredible 3:53 Anchor From Andy Bayer Both DMRs had great finishes. The women were first and 'Nova's Sheila Reid and Oregon's Jordan Hasay put on a battle for the ages. On the men's side, Andy Bayer split a sick 3:53 to take Indiana from 9th to 2nd, but it was not enough to overtake BYU's Miles Batty, as the night of incredible men's distance running continued with three sub-3:55 splits. Arizona's Lawi Lalang split 3:56.9 and his team lost 3 spots. Recap, interviews, photos, and video of last laps.


LRC 5,000m Recaps: Unheralded Leonard Korir Storms To NCAA Record, Jackie Areson Impresses, Mia Behm Surprises Everyone The men's 5,000m witnessed Iona's Leonard Korir winning a scorching-fast 5k in 13:26.01 over Sam Chelanga, as three guys broke the previous NCAA meet record. On the women's side, Jackie Areson put on a display over the last 600m and Mia Behm, who was 7th at the Big 12, shocked everyone to get 2nd. Recap and interviews

Day 1: AP Recap In the multis, Brianne Theisen broke her record in the pentathlon.

LRC 800 Prelims Recap: The hard-to-predict men's 800 just got harder to predict as four of the top 8 seeds bombed out. Among the casualities - #1 seed Elijah Greer, world junior silver medallist Casimir Loxsom, and Aaron Evans. The women's #1 seed Kea Wallace went out as well. Who looked the best? Fred Samoei, Christina Rodgers and Chanelle Price.

LRC Mile Prelims Recap: The unprecedented depth in the men's mile showed itself on Friday, as both heats featured incredibly tight finishes, including one that left last year's third placer - Patrick Casey - out of the final. Last year's runner-up in Mac Fleet also was a casualty, but that was sort of expected. In the women's races, the big names advanced.

More: News: Mixed Results From Oregon - Women Set Stage For National Title As Men Have Horrendous Day Led by a WR in the penthathlon, the Oregon women had a tremendous day. For the men, it was a disaster, as #1 seed Elijah Greer vomited and didn't make the 800 final, Luke Puskedra was lapped in the 5k, Mac Fleet went out in the mile and the DMR dropped the stick and lost a shoe.
*With Only Indoor Eligbility Left, Jackie Areson Will Cherish Her 1st NCAA Title She put on a clinic in the 5k.
*Meet Texas A&M's Joey Roberts The profile of the 800 is a good one and it came out before he false started in the prelims.

NCAA D1 LRC Talk
800: *Greer!? *Greer and Loxsom ... WTF happened?
Mile: *Mile prelims NOW *4:00 mile at altitude doesn't translate to anything at sea level
DMR: *Congratulations to Villanova women's team on an XC champs, and DMR champs double! *Tired Jordan Hasay gets beat by fresh Sheila Reid *Hasay would have won had she not had to lead 7 laps
5k: *5k Play-By-Play *LEONARD MF KORIR!!! *Sam Chelanga: what does his future hold? *Women's 5K - Van Dalen - DNF??

LRC Previews: Mayhem In The Distance Races: Men's Preview, Women's Preview Not a single defending distance champ is back at this year's NCAA meet, and that - in conjunction with perhaps the fastest fields ever - makes it a real interesting meet. We break down the men's and women's events, give you our picks, and take a look back at the last time indoors was in Texas, 2009, the coming out party for Galen Rupp. Plus we compare German Fernandez to Rupp at this stage in their careers. *LRC Chat: Men's Meet *Women's Meet
*AP Preview: Top Coaches Talk About Changing The Format Of NCAAs To Make Track More Popular
*Meet Probably Will Be A Sellout - Less Than 200 Seats Remain For NCAAs

More Women's News: Even Without Kosinski, Vin Lananna Thinks Oregon Women Can Win We do as well. Nice to see that Brianne Theisen wants pentahlon record without asterisk.
*NCAA XC Champ Sheila Reid Looking For National Indoor Title In The 3k
*Vin Lananna Texts: Alex Kosinski's Injury Is A Stress Reaction, Not Fracture
*RR: Meet UF Freshman Sensation Cory McGee The 2010 Millrose champ is seeded #4 in the ladies' mile after winning SECs by more than 5 seconds.
*Oregon's Alex Kosinski's Withdrawal Puts The Ducks' Title Hopes At Risk Everyone has been saying that the meet is Oregon's to lose, but now with star distance runner Alex Kosinski out due to a possible stress fracture, the meet could be a lot closer. Kosinski was ranked 2nd in the 5k and 5th in the 3k. *LRC Chat: Kosinki withdraws from championship

More Men's News: Favored Florida Men Focused On Getting Better, Not Repeating If they get better, they will win the meet in a blowout.
*Arkansas Coach Chris Bucknam Comments On His 4:09 Miler Beating 3:55 Miler German Fernandez
*Sam Chelanga To Run 3K/5K Double
Sad News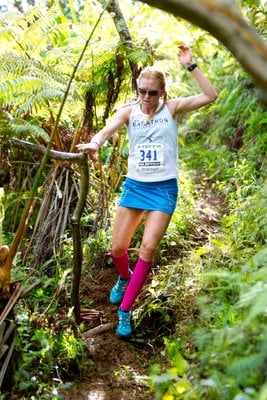 Sad News: Sally Meyerhoff Killed In Cycling Accident The two-time All-American and US Olympic Trials qualifier as well former US champion at 25km was killed on Tuesday in a cycling accident at the young age of 27 while she trained for the Ironman World Championship. *LRC MB: Sad News: Sally Meyerhoff Killed in Accident
*Abc15.com Article With Video On Meyerhoff's Death
*Ahwatukee.com Article On Meyerhoff's Death
*AZcentral.com Article
*USATF Article
*New York Road Runners Article
*More Sad News: Florida High School Track Athlete Sarah Landauer Dies After Collapsing At Practice
Bolt
IAAF: Usain Bolt Will Race In Golden Spike Meet At Ostrava He is not sure if he will run the 100, 200 or 300. He has the world record at 100 and 200 meters, but the 300 world "best" is still held by Michael Johnson from 2000 at 30.85. Bolt ran 30.97 last year in rainy conditions, but maybe after this meet he will have all three? *Note: The IAAF does not recognize the 300m as a world record because the distance is not used at major events.
The Good, The Bad & Sad
News From Europe
Lake Biwa Marathon
2:04:57 Guy Wilson Kipsang Turns Back Deriba Merga's Surges To Win In 2:06:13 Merga was broken at 38k and then staggered in, losing 3 minutes to Kipsang in the final 3k.
*IAAF Article On Kipsang Kipsang mentions that he "hopes to run the world record in the future." Hiroyuki Horibata is the top Japanese runner, sneaking onto the World Champs squad by running 2:09:25, just under the 2:09:30 standard.
Do You Remember Josh McDougal?
Recommended Read Running Times: The Rise, Fall And Rebirth Of Josh McDougal The article follows the career of 2008 NCAA XC champion Josh McDougal, starting with his relative obscurity as a home-schooled high schooler to his NCAA cross title over Galen Rupp to his injury-induced downfall afterward. Will the man who ran 115 miles the week of his NCAA win be back? Is being that focused even worth it? *LRC Chat: Running Times: The Rise, Fall And Rebirth Of Josh McDougal
Boston Elite Field And Other News
A Dream Outdoor US Track Matchup In March In Australia
LRC: Bernard Lagat Wins And Leads Five To "A" Standard; Jeff Risesey Stuns Kiprop And Willis (And Webb) In 1,500; David Rudisha Cruises To 1:43.88 Win In 800 The Melbourne Track Classic was full of hot distance action. In the 5k, Lagat (13:08.43) pulled away from Chris Solinsky (13:10.22) and then held off a shocking late charge by Australia's Ben St. Lawrence, who had a massive 15-second personal best to finish second, as Matt Tegenkamp and the surprising Andrew Bumbalough also got the "A"' standard. In the 1,500, Jeff Riseley came in saying he was in even better shape than last year and then backed it up by getting an upest win for the second-straight year in 3:36.71, as American Alan Webb (3:37.82) drastically improved his 2011 fortunes by finishing right behind the Olympic gold medallist Asbel Kiprop (3:37.63) and well ahead of the Olympic silver medallist Nick Willis (3:38.76), as David Rudisha (1:43.88) and Nick Symmonds (1:45.08) opened fast.
More Melbourne News:
Week In Review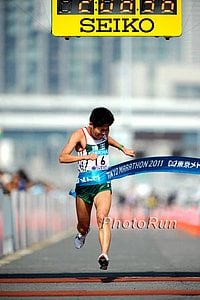 LRC Week That Was: Haile G Jokes, Bernard, Galen And Jenny, The Track & Field Labor Dispute, And Our Hero Kawauchi We span the globe to cover the running world like no one else. From the roads of Tokyo to the mountains of New Mexico, we've got it covered.
Interesting
Nike's Holy Grail: Bowerman's Waffle Iron Unearthed A Nike historian likens it to "finding the Titanic."
Have An Extra $250,000?
Lee Evans Wants To Sell His 400m And 4 x 4 Olympic Gold Medals For Charity
Day 2: Jenn Suhr's American Record, #2 Performer All-Time And Jillian Camarena-Williams AR In Shot Highlight Suhr got a rare 4th attempt to get the record due to an official error. The distance races saw Jenny Simpson complete the mile-3k double, Jeff See win the mile, Phoebe Wright continue her fine form by winning the 800, and Duane Solomon get the men's 800m crown. All in all, there were 7 world leaders at the meet.
*Jenny Simpson Wins 3k To Complete 3k/Mile Double And Says, "Take that everyone who thought I wasn't going to be back." Co Gazette
*MBoard: Jeff See wins USATF indoor mile
*Jenn Suhr Sets American Record On Her 4th Attempt (With Video) Trackfocus
*Mike Rodgers Runs 6.48 To Win His Third 60m National Title
*Day 2 Photos


LRC Bernard Lagat Wins 3,000m At USA Indoors And Makes It Look Easy Galen Rupp tried his best to beat Bernard Lagat on Saturday night, but Lagat ran away from Rupp with ease on the final lap, reminding us how damn good he is at 3,000m. Last year, when Lagat won World Indoors, we said he was "Utterly Brilliant." This one was "utterly smooth." Jenny Simpson ran away from Sara Hall on the last lap to win the women's 3,000m. More Sunday.
*On The Boards: USATF 5000m: Lagat, 7:57.17, Rupp 7:59.91
*Day 1 Photos
Earthquake Relief Meet *Results *Donate
Willis Wins Mile, Gets His Olympic Silver, Alan Webb 3rd In 800 On an emotional afternoon, an hour after being presented with his Olympic silver medal, Nick Willis won the mile in 3:58.4 over Will Leer's 3:58.8. Brandon Bethke was 3rd. Lee Emanuel went down hard with 220-250 meters to go and did not finish. Afterwards, Willis was grateful to his American competitors for helping lead and break the wind. Alan Webb was third in the 800m in 1:52.2 and then paced the mile.
*MB Thread *NZrun.com Thread
*Cool video promo on the meet with Webb, Willis and Warhurst on the right of this page or here.
*Donate To Earthquake Relief Here
Ju$tice Is Achieved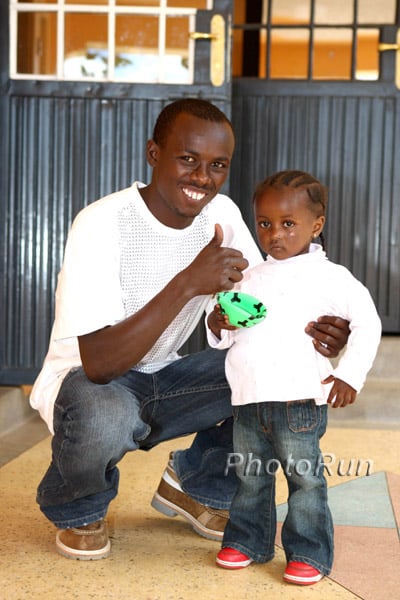 We Wonder How Much It Cost
Sammy Wanjiru's Attempted Murder Charge Is Dropped He may still have to face charges for having an illegal firearm, but the Olympic marathon champ's wife and watchmen have dropped their accusations. In case you missed it, Wanjiru and his wife reconciled very publicly on Valentine's Day as shown by this video newscast. *Article From Kenyan Paper On Charges Being Dropped
Having Marital Difficulties? Read This: Olympic champ discovers love is truly a marathon.
The Toughest XC Race In The World
Geoffrey Mutai Dominates Kenyan XC, Linet Masai Outkicks Vivian Cheruiyot, Defending Champs Ebuya And Chebet Out Of Worlds If you're looking for the best runner on the planet right now, look no further than Geoffrey Mutai, as he is on an incredible roll and he kept it going Saturday in Kenya. Mutai, who averaged 2:05:03 in his 2 marathons last year (neither of which he won), has now won 3 XC races in a row in Kenya by dominating margins, as he won by 44 seconds on Saturday if the results are correct.
On The Boards: Renato Canova On Mutai: "At the moment, there is an athlete clearly stronger than any other in the World, and (it) is Geoffrey Mutai ... There is a reason for this: Geoffrey is preparing Marathon ... Preparing marathon in the modern way, it's possible to be very much competitive in a Cross, 4 weeks before. But preparing a cross with the Kenyan system, you can forget that is possible to run a marathon 4 weeks later.
*Geoffrey Mutai Is Confident Going Into World Cross
LRC Mary Keitany Runs 1:05:50 WR At RAK Half Marathon To Pocket $75,000 Keitany is an absolute stud and her run Friday in the UAE was the first sub-66 clocking on a totally legitimate course, although Paula Radcliffe has run 65:40. On the men's side, former Boston champ Deriba Merga went out in a ridiculous 13:37, set a new 8km world best of 21:51 for the roads, and then held on for a 59:24 - good enough for a 20-second win. Patrick Makau, one of the pre-race favorites, appears to be in marathon training mode as, after trying to stay with Merga early on, he only managed a 63:51.
*IAAF Recap
On The Boards: OMG did Mary Keitany just run sub 1:06 half marathon WR?
*Official RAK Half Marathon Thread
The Secret Is ... There Is No Secret
Coaching: There Are No Secrets, Substitutes Or Shortcuts For Success ... Do The Work
Russell Brown Cruises To 3:54 Win, Webb, Manzano And Verzbicas All Over 4 The men's mile featured Alan Webb, Leo Manzano, Nick Willis and high school star Lukas Verzbicas, but the star of the night was Russell Brown, who crushed the field winning in 3:54 as Webb, Manzano and Verzbicas all didn't break 4. Afterwards, Webb threw a tantrum (seriously, that's a fair way of describing it) before addressing the press, and we'll have more on that Sunday. In other action, Sally Kipyego turned back Jenny Simpson in the 3k, Phoebe Wright got another win in the 800m, but the performance of the night may have been Dejen Gebremeskel running 7:35 and outkicking Mo Farah with a last lap of 26 while having one shoe on for most of the race.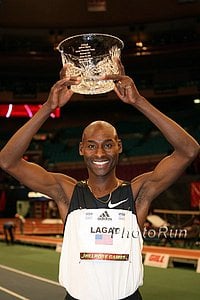 LRC Analysis
Millrose Behind The Scenes: Lagat Goes Down, Millrose Entertains Employee #1 and his able assistant went into the bowels of Millrose to tell you what really happened at the grand-daddy of track and field meets in the world. High schoolers flashing U of O symbols, overlooked 3:34 1,500m runners, and pros addicted to LetsRun.com - we've got it covered.
US 15k: Mo Trafeh And Jen Rhines Win US 15k Titles In Jacksonville Ben True, the guy who arguably had as much talent as Galen Rupp in high school (True skied in the winter, Rupp trained like a pro), continues to improve and was second on the men's side.
*Official USA 15K Gate River Run Championship Thread

Lucas Verzbicas (14:06.78) & (Waverly Neer) 16:35.15 Set National HS 5,000 Records

LRC Chat: *Verzbicas 14:06i High School Record! *D2 and D3 DMR's.... Really??
From The Archives - Hasay's Fantastic NCAAs Made Us Want To Relive The 2009 NCAA Meet When Galen Rupp Dominated (See The Whole Post 2009 NCAA Homepage Here)
2009 NCAA D1 Indoors - Men *Results/Start Lists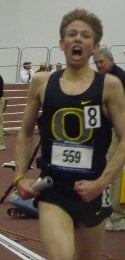 LRC Day 2: Rupp And Oregon updated Galen Rupp's victory in the men's 3k was so dominating it won't be appreciated. Rupp powered away from the field on the first lap and the rest of the runners waved the white flag as Rupp went on to win in 7:48.94, capping the greatest NCAA indoor meet ever by a distance runner. Rupp's weekend was one for the ages and led Oregon to the men's title. Jacob Hernandez won the men's 800 and New Mexico's Lee Emanuel was a surprise dominant winner in the mile.
*Video Coverage Of The Last Laps Of The Distance Races
*Arkansas' Chris Bucknam: "We'll have to go back and reevaluate a little bit." The Hogs got 8th.
LRC Day 1 Men: The Incredible Galen Rupp!!! The guy who used to not be able to close out races now is a monster. He closed the last 800 of the 5k in 1:55 and then came back and did the nearly unthinkable - outkicking the milers, including Ulrey by .72, to give the Ducks the DMR win. Rupp had 0 NCAA track wins before Friday. Now he has two and he's going for an unprecedented triple on Saturday. His sick double had never been done before. Recap, results, photo links, video interviews above. Interview with Derrick fixed.
*Oregonian On Rupp's Incredible Day *Video Of Last 400 Of DMR
*Arkansas In 3rd After Day 1 Ulrey: "They put me in position to do it and I let them down."
*Chelanga Can't Match Rupp's 1:55.3 Close *Live Blog From Oregon Ducks
Non NCAA News
Nagoya Int'l Women's Marathon Cancelled After Earthquake
*National University Men's Half Marathon Championships Cancelled After Earthquake
*Locals To Take Center Stage At Nagoya Women's Marathon: IAAF Preview
Paul Tanui Says "Work Of God" Put Him On This Year's World XC Team Others might say it was inept bureaucrats who put Tanui on the team, as the 8th placer at last year's Worlds was off until Komon was kicked off. The religious Tanui has been named the pastor for the team.
Sally Meyerhoff News
What A Guy
Tokyo Marathon 3rd Placer Yuki Kawauchi Gives $72,000 BMW Prize To Mother
Other US Races To Watch
*Recommended Read: Profile On Edward Cheserek, Who Will Race Lukas Verzbicas In HS Indoor Nationals 2 Mile Edward Cheserek finished runner-up to Lukas Verzbicas at Nike Cross Nationals and has some legit PRs (14:30 5k and 29:30 10K). Verzbicas ran 8:43 earlier this year, taking a close shot at Gerry Lindgren's 1964 indoor record (8:40.0). With these two in the same race and Cheserek's tendency to take out 1,600s in 54, this will definitely be a race to watch, and Lindgren's record is in serious jeopardy.
*Mo Trafeh & Katie McGregor To Defend US 15k Titles At Gate River Run This Saturday Mo Trafeh is this year's half marathon champ and will race a compeitive field including 2008 champ Andrew Carlson, 2008 Olympian Jorge Torres, 2010 US 20k champ Sean Quigley, 2010 US 10 Mile champ Fasil Bizuneh and 2-time US XC Team member Scott Bauhs. *USATF Preview
A Long Overdue Debut
Noriko Matsuoka Is Ready To Finally Make Her Marathon Debut At 31 Years Old Noriko Matsuoka will debut at Nagoya International Women's Marathon and fight for one of the last spots on Japan's World Champs marathon squad. In 2001, she was a promising young talent dreaming of making an early marathon debut, but she was hit by a cyclist and seriously injured, with broken bones all over her body. Even after recovering, she still had chronic lower back problems and only now, 10 years later, has she been able to build herself back up to being ready to run the marathon.
European News
Japan Running News
Kenya XC And Roads
Week That Was
LRC Week That Was: Melbourne, Old School Performance(s) By Current NCAA Guys You've Never Heard Of, German Fernandez's 4:03 Mile, Josh McDougal, And Runner A Vs. Runner B We span the last week and the globe in the running world like no one else. In addition to the headlnies above, we cover an 81-year-old dude who won his first national championship after trying for 61 years (he made the 1952 Olympic Trials).
Random US News Of Note
Leonard Komon Affair Not Over
Athletics Kenya Says Leonard Komon Matter Is Finished (But From Reading The Article, It's Not) Komon says AK still hasn't met with him or apologized. Some regional AK officials may sue on his behalf. Meanwhile does anyone know if Geoffrey Mutai is in camp?
*Victorious Kenyan Team At Africa XC Champs In S. Africa Is Stranded Their After They Miss Their Flight
2011 NCAA Last Chance Meets
Day 3:
EUROPEAN INDOOR CHAMPIONSHIPS - CLITHEROE DELIVERS, KSZCZOT SURPRISES ON FINAL DAY At age 37, Helen Clitheroe wins her first Euros medal by winning the 3k, just edging out Russia's Olesya Syreva by .03 seconds. In the women's 800 meters, Britain's Jenny Meadows was upset by Russia's Yevgeniya Zinurova in the last 10 meters after leading the entire race. *2nd Clitheroe Article
Francis Obikwelu Upsets Defending Champ Dwain Chambers And Christophe Lemaitre In Euros 60m Final *2nd Article
Day 2:
EUROPEAN INDOOR CHAMPIONSHIPS - FARAH DEFENDS 3,000M TITLE In a tactical race, Mo Farah is forced to lead the last ten laps and works hard to hold off Azerbaijan's Hayle Ibrahimov for the win in 7:53. After the race, he announced that he will be skipping World XC Champs in Spain to instead join training partner Galen Rupp in the NYC Half Marathon on March 20th. *Post-Race Video With Farah
*Mo Farah Passing Up World XC For NYC Half
Highlights From Day 2 UK's Jenny Meadows remains undefeated in the indoor 800, winning the semis in 2:00.65, 17-year-old Jodie Williams makes the 60m final with a PR of 7.21, and Dwain Chambers has a poor start, but comes from behind to win his 60m heat in 6.61. *More Highlights
IAAF Recap: Renaud Lavillenie Sets French National Record At 6.03m To Win Pole Valut And Is 3rd All-Time Indoors Misses in attempt at world record.
Kawauchi Update
Rupp To Run A Half, Plus Alberto Speaks
LRC It's Official: Galen Rupp To Make Half Marathon Debut At 2011 NYC Half Marathon Denied an attempt at the American 10k record because of the NZ earthquake, Rupp will be taking his endurance-based fitness to the streets of New York on March 20. Read about the thinking behind the decision as Alberto Salazar talked in great length about Rupp's training, the Oregon Track Club/Oregon Project split, and much more. Also, Eugene fans, get ready for a hot 10,000 in early June that won't include Rupp.
Tokyo Marathon: A Legend Is Born *Photos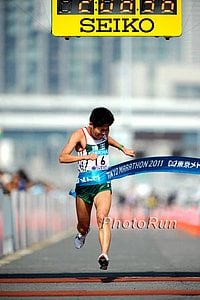 Hailu Mekonnen Wins, Japanese Amateur Yuki Kawauchi Runs Amazing 2:08:37 For 3rd And Faints At Finish Yuki Kawauchi's story is amazing. A 13:59 5ker and 29:02 10ker, he has a full-time job and has stayed away from the Japanese collegiate and professional system, yet he stunned all of Japan with a 2:08:37 run. Dreams do become reality.
*On The Boards: 13:59 5k, 29:02 10k Japanese AMATEUR Runs 2:08:37 at Tokyo Marathon and Passes Out

*Yuki Kawauchi Is "The Rocky Of The Marathon World" *He will race at World Champs by taking vacation days from his full-time job.
*Japanese Federation Feeling Impact Of Kawauchi's Run
*Summary Of Post-Race Press Conference

*Chilean Miner Edison Pena Runs 5:08:19 In Tokyo, 30-Minute PR
Week That Was
LRC Week In Review: Proof That The Kenyan Training Camps Do More Harm Than Good, An In-Depth Look At The 2012 Olympic Track & Field Schedule, Boston Changes Things Up, And Much, Much More This week, we have it all covered for you once again. We start by ripping the Kenyan training camp system, then tell you who is likely to attempt Olympic doubles in 2012 and who isn't, then we get sidetracked by sexting, Oprah Winfrey and Robby Andrews' family's exploits. We also praise some amateurs for promoting the sport and tell the elites running for Nike they need to do more.
Galen Rupp & Mo Farah Set National 5k Records! (13:11.44 and 13:10.60) The two Alberto Salazar-coached athletes put on a brave battle, with Farah coming out on top on the last lap, as Rupp regained his American record from Bernard Lagat by .06. Rupp and Farah will be training together through 2012 and their partnership is off to a strong start. Rupp is scheduled to go for the American 10k record next week in New Zealand. The meet also saw a cool 400m hurdles race (video here or on the right), an 8:30 3k and American Morgan Uceny going sub-2:00 in the 800.
*Mo Farah Breaks British 5,000m Record With His New Coach Alberto Salazar One Of The 8,000 In Attendance Telegraph.co.uk
*Farah Credits Salazar's Coaching
*Rupp/Farah 5k Video
Week In Review
LRC The Week That Was: Brent Vaughn And Russell Brown Surprise, Shalane Flanagan And Ashton Eaton Impress, Gebremeskel Wins With One Shoe, And Yenew Alamirew - The Next Great Star? There was a ton of incredible action last week, from Russell Brown's surprise win in Boston to the XC champs to the heptathlon to a sub-4:00 mile at altitude, and we've got it covered. We compare Brent Vaughn to Dathan Ritzenhein, wonder when Ashton Eaton will beat Bryan Clay and Trey Hardee, and ponder whether Yenew Alamirew is the next great star of the sport.
*Video Of Alamirew's 2 Impressive 3k Wins
US XC Champs In San Diego *Results

Brent Vaughn Wins Convincingly, Shalane Flanagan And The Other Winners Dominate Vaughn, the CU record holder at 5k (think about that for a second) dominated the field the 2nd half of the race to win by 6 seconds, the smallest margin of victory of the day. Shalane Flanagan totally destroyed Molly Huddle, winning by 44 seconds, and getting a little revenge for Huddle taking her 5k American record last year. Foot Locker champ Aisling Cuffe won the junior girls race convincingly. 49-year-old Master Pete Magill won in the men's masters ranks, while Colleen De Reuck showed she was in the wrong race, winning by 1:34.
Good Read: Jerry Schumacher Profile In Portland Paper Got to be a quote of the day in here somewhere.
Men: LRC Mo Trafeh Outkicks Ryan Hall Ryan Hall, Mo Trafeh and Patrick Smyth battled together on the streets of Houston for 11 miles. In the twelfth mile, Hall tried to push ahead. Smyth was the first to crack, but Trafeh stayed on Hall's heels. With 200m to go, Trafeh gave it one final surge and passed Hall to get the win.
*Photos
*Video Of Men's Finish *Men's Post-Race Interviews


Women: LRC Jen Rhines' Return Trumps Burla's After a 4-year absence, Jen Rhines made a return to the longer distances with a win and a PR. However, her comeback was the least impressive of the day, as that award definitely goes to Serena Burla. Burla was second just as she was last year. However, in the last year, she had been diagnosed and beaten cancer. Pretty amazing. Mother of three, Nan Kennard, who trains with Colleen De Reuck, was a surprise third.
*Photos
*Video Of Women's Finish *Women's Post-Race Press Conference
The 10 Best High School XC Runners Ever
LRC Week That Was: The 10 Best High School XC Runners Of All Time, Verzbicas, Tribute To Gary Reed, The NY Times & The NE Patriots And More We've got the entire running world covered from San Diego to Japan, from the high school ranks to the pros, and even talk about the NE Patriots and the NY Times.
Jordan Hasay Holds Off Sheila Reid
Elliott Heath Destroys Mens 3k Field
NCAA Title #1 For Hasay
Final Lap Men's Mile
Sheila Reid Outkicks Jordan Hasay
Miles Batty Holds Off Andy Bayer
Jordan Hasay After DMR Final
Leonard Korir After His NCAA 5k Record
Highlights Of 1,500m In Australia (Webb 3rd, Riseley Over Kiprop - With Riseley, Willis Interviews)
Highlights Of 800m In Australia (Rudisha Over Symmonds - With Interviews From Both After)
Last 250m Of Melbourne 5,000m With Post-Race Interviews With The Stars (Lagat, Solinsky, Tegenkamp, Bumbalough, Mottram, St. Lawrence)
XC News
Sprint News
Definitely Worth A Read
Hall Of Fame Running Back And Olympic 400m Bronze Medalist (46.8) Ollie Matson Dies Our sport's history is amazing, as is Matson's story. He was on the 1951 Univ. of San Francisco team that he called the "greatest of all time" (they went undefeated and are the only college football team with 3 future NFL Hall of Famers on it). However, there was one "problem" with the team. It had two black players on it. That meant bowl inviations only if the black players didn't play. The team said no, the team lost $70,000 and the school CANCELLED football the next year. Amazing. Great Frank Litsky writeup.
Cool Video With Webb, Willis And Warhurst For Christchurch Earthquake Appeal Meet (To Donate To the Cause, Click Here)
Last 800m (Or Full Race) Of Galen Rupp's And Mo Farah's 5,000m Dual In Britain
This Is Awesome: Indoor 400m Hurdles At Aviva Birmingham Meet
Training Talk Is Back
Training Talk With New Marathon Star Stephanie Rothstein And Ben Bruce Stephanie lowered her marathon PR by over 10 minutes, skipping the 2:30s entirely, running 2:29:35 in Houston. And she's still got her sights on lowering it another 10 minutes. Textual recap coming later, but you can listen above or download the podcast here (1:30).
Last 250 (Or Full Race - Rewind It) Of Dejen Gebremeskel Outkicking Mo Farah In Boston With 1 Shoe
Save Some Cash

Two Of The Best Running Movies Of All Time (Don't Believe Us? Click Here)
Alberto On Rupp And Ritz's Training
Relive Men's NCAAs: *Recap *Results *Photos *New (2nd Photo Album Added Here)
Relive Women's NCAAs: *Recap *Results *Photos *New (2nd Photo Album Added Here)
800m Royalty Together For The First Time Ever: Juantorena, Coe, Kipketer And Rudisha (It's Well Worth A Watch If You Have The Time, Or Read The Recap Here)
Save Some Cash

Train Smarter
Great Deals

Universal Sports Back To Top