LRC Day 3 Indoor Worlds Coverage: Lagat Is Utterly Brilliant In Men's 3k
Alysia Johnson Surprises With Bronze In Women's 800
By LetsRun.com
March 14, 2010
*IAAF Event Reports
*Full Results
The final day of the 2010 World Indoors proved to be a good one from an American perspective in the middle distance and distance events, as Bernard Lagat ran utterly brilliantly to earn a dominant victory in the men's 3,000 and Alysia Johnson earned a surprise bronze medal in the women's 800.
Men's 3k: "Laughing, smiling and waving as he crosses the line" - Amazing Easy Win For Lagat
In the end when this race was over, it was kind of stunning really. Did Bernard Lagat just make a mockery of this field? Yes, he did.
Lagat joined some of the biggest names in track and field history who can all call themselves as world indoor 3k champion (previous champions include Olympic champions Said Aouita, Haile Gebrsleassie, Hicham El Geurrouj and Kenenisa Bekele) with an utterly brilliant performance. His sub-4 final 1,600 simply way too much for anyone to handle and as a result, he got to enjoy this one as he came down the final stretch he truly was "laughing, smiling and waving" as the IAAF announcer described it on the telecast.
The pace was fairly honest from the start, as the opening 1,600 was covered in 4:11.03 thanks to the early pace work done by Kenya's Augustine Choge and the defending champion, Ethiopia's Tariku Bekle. It was clear that Bekele wanted the pace honest. At the 1,600, it was he and his compatriot Dejen Gebremeskel first and second with Lagat and Spain's European indoor record holder Sergio Sánchez just behind.

The pace would get hotter and hotter all the way to finish, as 2400m was hit in 5:12.32 and the pace got quicker still. At around the 6-minute mark, Bekele made his final bid for repeat glory as he threw down the gauntlet and really stepped on the accelerator. Lagat was the only one to respond and while the two of them were clear of the field with 600 remaining (6:10.65), it was clear that the 58-second lap had done no damage to Lagat. After a 29-second third-to-last lap, Bekele and Lagat had 7 or 8 meters on Sánchez, who himself was 10 meters clear of the field heading into the final 400 (6:39-40).
But in hindsight, Lagat was just waiting. Just prior to the bell (7:09.58), he went to the lead and never looked back. Bekele's bid for repeat glory had been bold but it had done absolutely no damage to Lagat - all it did was destroy Bekele himself as in the final 100 he really struggled and ended up out of the medals. It was a shame really that Bekele was passed by Sánchez and then by Kenya's Sammy Mutahi (right before the line in the latter case), as Bekele was in our minds clearly the 2nd-best runner in this field. Clearly, Bekele didn't come to Doha to run conservatively and get a medal, he wanted to take home gold once again and for that he should be applauded.
But nothing was stopping the brilliance of the master tactician in Bernard Lagat. A sub-4 final 1,600 and final 1k of 2:25. Game over.
Behind Lagat, Galen Rupp ran a credible race to move up from the back to finish 5th.
| | | | | | |
| --- | --- | --- | --- | --- | --- |
| 1 | 347 | Bernard Lagat | USA | 7:37.97 | (SB) |
| 2 | 117 | Sergio Sánchez | ESP | 7:39.55 | . |
| 3 | 221 | Sammy Alex Mutahi | KEN | 7:39.90 | . |
| 4 | 119 | Tariku Bekele | ETH | 7:40.10 | . |
| 5 | 358 | Galen Rupp | USA | 7:42.40 | (PB) |
| 6 | 108 | Jesús España | ESP | 7:42.82 | (SB) |
| 7 | 233 | Hicham Bellani | MAR | 7:44.15 | . |
| 8 | 271 | James Kwalia C'Kurui | QAT | 7:46.12 | . |
| 9 | 274 | Essa Ismail Rashed | QAT | 7:47.94 | (SB) |
| 10 | 122 | Dejen Gebremeskel | ETH | 7:48.69 | . |
| 11 | 217 | Augustine Kiprono Choge | KEN | 7:53.42 | . |
| 12 | 104 | Hais Welday | ERI | 8:04.10 | |
Women's 800: Alysia Johnson Earns A Bronze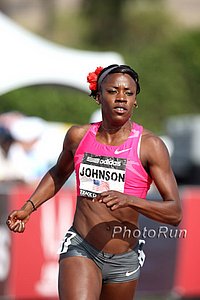 American Alysia Johnson is back.
In 2007, the 23-year-old American looked like she might be a future player on the world scene, as she won both NCAAs and USAs with 1:59 clockings. However, an injury in 2008 stalled her career and some wondered if she'd ever get back to the same level. She did manage a 2:01.08 last year but there's a big difference between 2:01.08 and 1:59.29 (her PR). But after tonight's surprise bronze medal performance, there can be no doubt - Johnson is better than ever.
Johnson only got into the final as one of the "fastest losers" and when she bolted to the lead and took the field through 28.01 and 58.18, the announcers actually wondered if it was a case of nerves and a deer being caught in the headlights. Clearly not, as when the race was over, Johnson was back under 2:00 minutes once again and had her first World Championships medal.
The race for the top two medals was a good one. Just before 600, world outdoor bronze medallist and British record holder Jenny Meadows suddenly accelerated and took a 5-meter lead into the bell (1:28.73). 2009 European indoor champion Mariya Savinova gave chase and pulled up behind Meadows entering the final turn. It looked like it was all over for Meadows, but Meadows wouldn't go away quietly. She put a brave fight before succumbing to Savinova's pressure in the final 15 meters.
Savinova got the win 1:58.26 as Meadows got the silver in 1:58.43, which was good enough for a new British record. Johnson ran 1:59.60.
American Anna Pierce was never a factor in the race for the medals but she did finish 4th in an indoor PR of 2:00.53.
| | | | | | | |
| --- | --- | --- | --- | --- | --- | --- |
| 1 | 6 | 209 | Mariya Savinova | RUS | 1:58.26 | (WL) |
| 2 | 4 | 93 | Jennifer Meadows | GBR | 1:58.43 | (NR) |
| 3 | 1 | 266 | Alysia Johnson | USA | 1:59.60 | (PB) |
| 4 | 5 | 280 | Anna Pierce | USA | 2:00.53 | (PB) |
| 5 | 2 | 150 | Egle Balciünaité | LTU | 2:01.37 | (NR) |
| 6 | 3 | 213 | Yevgeniya Zinurova | RUS | 2:01.68 | |
Women's 1,500: The Teen Sensation Shines
The women's 1,500 was vindication of the brilliance of the people behind LetsRun.com, as all winter, we've been praising the merits of 18-year-old Kalkidan Gezahegn. Gezahegn proved our faith in her was well warranted, as she captured her first global title tonight in 4:08.14.
After opening splits of 66.57, 2:15.30 and 3:21.30, it was time to race and heading into the bell (3:37.32), you had a grudge match. Taking the lead was Spain's Natalia Rodriguez, who had crossed the line first at World Outdoors in August after fouling Ethiopia's Gelete Burka with 200 meters remaining and sending her sprawling to the track. Today, Burka and Gezahegn were in hot pursuit and halfway down the backstretch, it looked as if justice would be served when Burka went into the lead. However, youth would ultimately be served, as Gezahegne soon would overtake Burka and get the win and Rodriguez would fight to come back on Burka to get the silver.
American Erin Donohue had a very credible performance to finish 6th in a new indoor PR of 4:09.59. Donohue ran the early stages of the races in the back, but at the 1k mark, she really helped get the race going by surging to the lead. The other American in the final, Sarah Bowman, finished next-to-last, albeit in a new indoor PR of 4:10.72.
Men's 800 - Kaki Repeats
Two years ago, Abubaker Kaki won his first world title at the age of 18 by leading wire-to-wire in a scintillating 1:44.81 in a race where he towed everyone in the final to an indoor personal record. If it worked two years ago, why not try it again this year in Doha?

Kaki did exactly that and the result was exactly the same - another world indoor title - albeit in a much slower winning time.
Kaki took it out fast in 24.96 and was followed by Kenya's Boaz Lalang, Poland's Adam Ksczot and the Olympic silver medallist in Sudan's Ismail Ismail. Remember those names and that order, as literally the order of the runners didn't change at all the entire race. That may sound boring, but the last lap was actually entertaining. The pace wasn't incredibly fast and going into the final 100, it seemed as Kaki had just set himself up to be passed by Lalang and/or Ksczot, but in the end, Kaki was able to respond to his challengers and get the win.
A great silver medal for LRC favorite Lalang, who paid his own way to get to Worlds because Kenya only is given (or has) money to send six to Worlds. Maybe the Kenyans ought to figure out a way to send everyone who qualifies, as they might pick up more medals. We're sure that Kszczot is thrilled with his bronze as well. The 800 is going to be interesting for years to come, as Kszczot (like Kaki) is only 20 himself.
---
For non mid-d and distance action, please see the IAAF coverage.
---
Runner's World &
Running Times



Combined Only $22
a Year
Save $87

---

Running & Track and Field Posters
---

Running Shoe Savings: Nike Lunar Glide 20% Off Super popular shoe from Nike featuring Flywire and Lunar Foam
---