800m Royalty: Alberto Juantorena, Sebastian Coe, Wilson Kipketer And David Rudisha All Together For The First Time Ever
By Weldon Johnson, LetsRun.com
November 20, 2010
As far as LetsRun.com is concerned, there rarely has been as much royalty in one room as there was Saturday night in Monaco, as the last four world record holders at 800m: Alberto Juantorena, Sebastian Coe, Wilson Kipketer and David Rudisha all gathered to reminisce and to pay their respects to one another and the distance they love, the 800m.
It was the first time the four had ever been together and they were a bit giddy. Wilson Kipketer handed his camera to journalists to make sure he had a keepsake of the special moment. The elder statesman of the group, Juantorena - the self-proclaimed "dean" of the group, who turns 60 tomorrow - also made sure people were getting pictures on his personal camera. And then when it was all over, he said, "If you produce a video, please give it to us. It's a unique opportunity to enjoy this beautiful night. I am very proud to be here." 1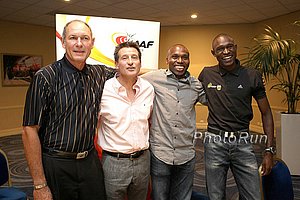 It was clear the men had tremendous respect for one another and what it takes to break the 800m world record. The men were all smiles and laughs and it was obvious the pleasantries were not for show. What was less clear but was my impression was that all four warriors also believed that if you raced them head-to-head in their prime, they each would have come out on top. It was a great occasion to say the least.
Hearing them talk, you immediately sensed their love and respect for the 800m, and you can see how vividly their world record runs remain in their heads. Listening to Juantorena talk about his record run made me think I had actually seen his world record run live, yet clearly that wasn't the case as I was 3 when it happened.
The entire video is well worth a watch or listen. We've never been big fans of just throwing up videos without giving some context, so we will try to recap what happened below. Our favorite parts are listed below in bigger font.
You should get a good feel for what went on by reading the guide to the video below, but if you have time, take it and listen to the whole thing. If you only have limited time, we have listed the time of each segment so you can maybe watch a snippet or two.
Full recap below the videos (keep reading). Our favorite parts are denoted with the bigger font.
Note: The video is in two parts. The vast majority - 35:40 of the video - is in the first part.
Part I (35:40)
Part II 3:40
Full recap here. Our favorite parts are denoted with the bigger font.
Introductions (Start-1:20)
Alberto, Seb and Wilson talk about when their records were broken and their respect for the event and one another. (1:20-4:45)
This section is a good start and has some good quotes and you see real quickly how much respect these guys have for one another and the event.
"I remember seeing him in Montreal and thinking, 'I'm in the wrong distance.' This was a record that was sensational." - Seb Coe
"I realized this guy who had my record was a great runner, a very good friend. But he's a better person than a runner; I have the privilege of being the friend of my brother Sebastian Coe." - Alberto Juantorena
Kipketer has praise for Rudisha and says he can get the Olympic 800m title, something Kipketer and Coe never got.
David Rudisha talks about what it means being in the same room with the other guys. (4:45-5:45)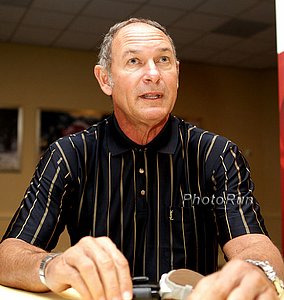 A joke about them running a 4 x 800 at London. (5:45-6:25)

Are we near the limits of the 800m? (6:25-8:20)
All 3 Veterans - Juantorena, Kipketer and Coe - discuss whether we are near the limits of the 800m and this section is full of good quotes. All 3 veterans agreed we are not near the limits, although lowering the record is not easy.
"This record belongs to the future - 1:41.01." and "You never know the limit of a human being." - Alberto Juantorena
"I don't think we're anywhere near them (the limits of the event) ..." - Seb Coe
"In 800 it is possible to run under 1:40. It is still coming." - Wilson Kipketer
Juantorena talks about only running two 800m before moving to the event at the 1976 Olympics and setting the world record. (10:00-12:30)
Juantorena unbelievably only started running the 800m in 1976, the year he would first break the world record in the Olympic final by running 1:43.50 (that's the best place to break a world record). He said, "I was a quarter miler. It was my best event. I refused the first offer of my coach (to run the 800m)." Once Juantorena started running the 800, he was a natural and one can tell how much he loved his new event by just listening to him recall some of his 800 races. He remembers the times to the hundredth of a second and the split times of his races during the Olympics. He talks like he ran the races yesterday and it was nearly 35 years ago. He also points out how he ran every single day of the track competition of the Olympics in 1976 (the 800m used to have 4 rounds and Juantorena also got gold in the 400m and ran the 4 x 400m).
Seb talks about the 800m distance and its challenge, how it attracts different types of runners and how he believes the 800m is not as deep as it one was because its focus is not on endurance anymore. (12:30-14:58)
"I started out as a 3,000m runner and running cross-country. I think 800m is the toughest distance on the track to get it right. It demands so many different things. It demands the endurance of a 5,000m runner, it demands the speed now of a world class 400m runner ... I only felt comfortable at the distance when I could run a 1,500m as well."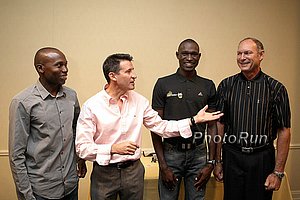 "When we took one of the rounds out of the 800m in Los Angeles and we made it a 3-round competition, with a day between the semi and the final, it may have ceased to become truly an endurance event. That's a very personal view. And why maybe we still have athletes at the very highest level (he gestured at Kipketer and Rudisha), I think the strength and depth at the distance is not as strong as it used to be. If you go back through the ranking list, 10th or 11th place on that ranking list is, I'm guessing it is not as quick as 10th or 11th ten or fifteen years ago. I think that is probably because there is slightly less endurance needed because you don't have as many rounds to cover."
In the days to come, we'll try to look into Seb's comments on the depth of the 800m, but this would be a great topic of conversation on the message boards.
Wilson Kipketer talks about how he stayed with the 800m because to be top in the world in the 1,500m, you had to run 3:29 and that was too tough for him. (14:58-16:25)
"The 800 is a special event. It's a sprint. It's a long distance." In 1998 (after he set the world record in 1997), he got malaria and had to start over. He considered running the 1,500m but he said to be in the top 5 of the world you then had to run 3:29, which was too tough so he stuck to the 800.
Can Rudisha break the 100-second barrier (1:40) for 800m? (16:25-18:25)
In this segment, Rudisha said he knows he can run in the 1:40s but under 1:40 will be tough. Seb and Juantorena did not want to rule it out. Wilson Kipkter says something about others now running 1:42 in Rieti and to that Seb threw in a pretty funny joke, "Everybody runs 1:42 in Rieti" (Rieti is the home not only of Rudisha's current 1:41.01 world record but also 7 others).
David Rudisha talks about planning to break the world record. (18:25-20:10)
David Rudisha talks about when he started believing he could break the world record. He said last year after he broke African record was when he thought for the first time he could break the world record. Then after winning African champs this summer and running a stunning 1:42.84 at altitude, he was ready to train for it and go for it this year. The plan was to do it in Rieti, but then they added a first chance in Berlin (he broke it in both places).
They discuss whether Rudisha will be athlete of the year. (20:10 -21:07)
Interesting Segment: "What qualities does Rudisha have that you didn't?" and "The secret of the 800." (21:07-23:50)
In this segment, this is where we got the impression that the competitors, while respectful of one another, do not think by any means that the guy who broke their record is the better runner and that in a race head-to-head-to-head, they'd all like their chances.
Seb Coe answered the question "What qualities does Rudisha have that you don't?" the most humorous way first: "About a second." Juantorena: "More time (has passed), the different situation, the different quality of track, inspiration, motivation, technology is different." Kipketer: "The clothes, the shoes, the track (are different) ... but he is stronger ... he is powerful. We have different times and different ways of training. I think it (the training) is more professional." To that comment, Seb Coe responded, "My father is rolling in his grave at this moment." (Coe's dad was known for his scientific approach to training and has written two books on training).
The conversation then turns to the nature of the 800m. "If you look at 800m, nobody knows the secret of 800." - Seb Coe. Wilson Kipketer interrupts at one point - "It's a tough distance" and points out only 4 guys ever have run under 1:42.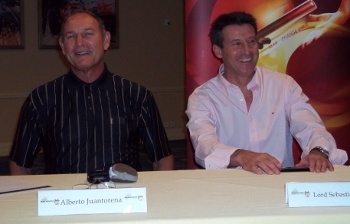 The runners talk about the crowds during their world record runs. This segment is good because they vividly describe their races like they were yesterday (plus praise for Mike Boit of Kenya). (23:50-29:00)
Seb said the crowd was very important. When he first broke record, he said he ran 600m alone.
Juantorena then talked about his second record. When describing the race it really comes alive. He talks like the race was yesterday and clearly in his head it was. He remembers the second place time (1:45.67) exactly, and hearing him talk about the record lets one enjoy the experience of reliving the race through his mind.
Seb Coe then gives high praise to Mike Boit of Kenya: "There is an athlete who could be sitting at this top table and that's Mike Boit. If I had a fifth great 800m it's Mike." (LRC Editor's Note: Joaquim Cruz, the only non-record holder to go under 1:42, who won the 800m in LA over Coe is another candidate it would seem.) Juantorena also gave Boit praise.
Then Kipketer recaps his first world record in Zürich. After tying Seb's world record (1:41.73) earlier in the year, Kipketer broke the record in Zürich (1:41.24) despite going out in 48.03 (I think that was the rabbit's split). Less than a month later, he lowered the record to 1:41.11, but some consider Kipketer's Zürich run to be superior due to the fast opening 400m. Kipkter said, "In Zürich when I ran 48.03 for the first 400m, the last 50m was like another 1km." Kipketer, however, does not say he should have necessarily gone slower because he was right on the rabbit and the "the tension was there" and you can hear Kipketer describing a very special moment. Zürich must have been special as three world records were set in 70 minutes. The others were Haile Gebrselassie in the 5k (he's been around a long time, hasn't he?) and Wilson Boit Kipketer (no relation) in the steeplechase.
They discuss whether Rudisha will be Athlete of the Year. (29:00-30:30)
Rudisha gets laughs when he said he'd vote for himself.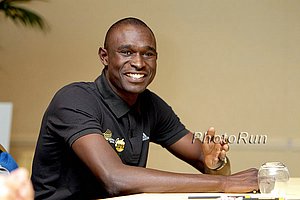 What's the ideal pace for the first 400m? How to improve the 800m WR? And Seb helping Kipketer break his record. (30:30 - Until 8+ Minutes End)
The discussion starts on the ideal pace for the first 400m and turns into what is the best way to improve the 800m world record. A pretty good segment.
Seb says, "The big advantage that these guys had is that the science is very much more exact." Juantorena: "I'm very lucky these 3 men came up after I retired."
Seb then talks about the history of the world record: "The improvements on the distance normally come by people covering the distance early on (faster). The biggest shift before this guy (Juantorena) in the 800m was in (19)36-37, by Rudolph Harbig (who took the record from 1:48.4 to 1:46.6), the German athlete who ran 1:46.6 and he did it by running very much quicker over the first phases of the race than anyone else was doing at the time. This guy (Juantorena) made the next big breakthrough by doing the same thing ... I did the same thing ... I think there is a pattern of 800m records where people are prepared physically and mentally to commit earlier on in the race."
Juantorena then has maybe the quote of the evening: "When you are right to 700m, this part of the curve (gesturing with his hand), you say, 'Oh my god where is that finish line? Who has stolen the finish line?'"
Seb then tells a story about how he got a phone call from someone associated with the Zürich meet the night Kipketer would break his world record. Seb was told the weather was bad, but that it would be better in an hour, and was asked whether they should move the 800m. Thankfully, Seb said to move it and that hour ended up being pretty special for, as we said earlier, three world records were set in 70 minutes that night (this is a humorous segment when you watch it).
Rudisha says he knew Kipkter had split 49 to break the world record, so he figured he'd have to run 49 at least or 48 to break it.
(End) Everyone shows their appreciation.
This is where Juantorena says, "If you produce a video, please give it to us. It's a unique opportunity to enjoy this beautiful night. I am very proud to be here." Seb Coe then adds, "I have my Christmas Cards sorted out (meaning a picture of the 4 record holders)."
---
Notes: 1 After Juantorena said, "If you produce a video, please give it to us. It's a unique opportunity to enjoy this beautiful night. I am very proud to be here," an IAAF spokesman came up to me and said, "You were the only one in here with a video camera."
My heartbeat quickened a bit as I wasn't totally sure everything was captured on video decently. All day I was having problems with the sound on my tiny Flip video camera since there was no microphone.
Thankfully, because I had figured this event with the 800m runners might be truly special and was so worried about my cameras (my still camera was having problems too), I went out and bought an extra $100 digital camera that takes both still and video literally seven minutes before the members of the 800-meter royalty were to start speaking. I literally ran back to the event from the store. Upon sitting down, I realized the event might exceed the memory of my memory card and was still worried about the sound, so I decided to start recording and then pick up with a second camera midway through in case the sound wasn't great. Fortunately, things turned out okay - at least as I've listened to it on my computer.
Note: The video is in two parts. The vast majority - 35:40 of the video - is in the first part.
Part I (35:40)
Part II 3:40
*IAAF Recap Of This event Here
More LRC Monaco: *Photo Gallery #1 (Distance Runners at the Gala, Glamour Shots of Monaco, Casino, and Cars)
*Photo Gallery #2 (Professional Photos of the Gala)
*Dayron Robles And David Oliver Agree On One Thing - Allen Johnson Is The Best Hurdler Of All Time
*Bernard Lagat Says The 5k Is His Focus; Watch Out For His Brother, Robert Cheseret
*US Sprints Stars Jeremy Wariner And Allyson Felix Look Back At 2010 And Ahead To 2011

---
Runner's World &
Running Times



Combined Only $22
a Year
Save $87

---

Running & Track and Field Posters
---

Great Offer: Nike Lunar Glide Sale Multiple colors of this shoe available.

*Nike Air Max Moto 7 Get 2 Pairs for a Crazy $112
---