The Week That Was In Running - February 14-20, 2011
To read last week's LRC Week That Was, click Here.
To read any 2010 LRC Week That Was, click Here.
By LetsRun.com
February 22, 2011
Kenyan XC Trials/Quote Of The Week #1 (That Wasn't Quote Of The Day)
"As long as Athletics Kenya allow me to train at my Iten camp, I will happily compete for the country in Spain and bring the nation glory. If they do not, I will concentrate on the Boston Marathon that I have been invited."
- Geoffrey Mutai, arguably the world's hottest runner, talking to the IAAF after dominating the 2011 Kenyan cross-country trials, where he won by a ridiculous 44.4 seconds, if the official results are to be believed. We say that because the IAAF recap of the results says that he put the hammer down with 800 to go and there is no way anyone can gap someone by 44 seconds in 800 meters.
Regardless, Mutai won what many consider to be the world's hardest race in dominating fashion. If anyone was going to dominate the Kenyan trials, it probably was going to be Mutai, who entered 2011 after having had an unreal 2010. In case you didn't read our November praise of Mutai, where we recounted his incredible 2010 campaign, we will now remind you how incredible he's been over the last calendar year.
Geoffrey Mutai's Great 2010 Continues Into 2011:
2010
January 23 - 37:41 1st Place In Kenyan XC Race
February 19th - 59:43 1st Place RAS Al Khaimah Half Marathon
February 28 - 27:44 3rd Place World's Best 10k
April 11 - 2:04:55 2nd Place Rotterdam Marathon
June 26 - 27:27 2nd Place Kenyan 10,000 Champs
July 28 - 27:33 3rd Place African 10,000 Champs
September 26 - 2:05:10 2nd Place Berlin Marathon
November 21 - 59:38 1st Place New Delhi Half Marathon
2011
January 8 - 1st Place In Kenyan XC Race (KCB/AK) By 47 Seconds
January 15 - 1st Place At Kenyan XC Police Championships By 25 Seconds
January 19 - 1st Place At Kenyan XC Trials By 44 Seconds
US fans should be excited because Mutai is running the 2011 Boston marathon, where he will undoubtedly be the favorite.
If he runs World Cross-Country on March 20th (four weeks a day before Boston), he also will be the favorite. We can think of nothing more "old school" in this day and age of specialization than for a runner to win World Cross-Country and Boston in the same year.
We certainly hope that Mutai is allowed to continue to train on his own, as so often the Kenyan training camps end up killing Kenya's best. Whenever we are at a international event, we always hear coaches/agents talking about how they have to have their athletes barely qualify for a Kenyan team because if they dominate the trials, they inevitably will be burned out by all of the hammering that goes on in the Kenyan camps. The facts back us up.
A little bit of research reveals that the winner of the Kenyan Trials for the last five years has only once been the top Kenyan at World Cross-Country.

Kenyan Trials Winner / Finish At Worlds
2006 - Hosea Macharinyang - 3rd Kenyan, 6th overall
2007 - Moses Mosop - 1st Kenyan, 2nd overall
2008 - Gideon Ngatuny - 4th Kenyan, 7th overall
2009 - Moses Mosop - 4th Kenyan, 11th overall
2010 - Paul Tanui - 4th Kenyan, 8th overall
Famed coach Renato Canova had great insight into this phenomenon last week on the message board. If you are looking for our Weekly Free Coaching advice, please read that thread.
Sadly, as we are finishing up our weekly recap, it has come out that Athletics Kenya won't let Mutai train on his own, so it looks like he will not be going to World Cross-Country if they stick by that decision. Ridiculous.
As for the rest of the Kenyan Trials, recent 12:53 5ker Isiah Koech won the junior race as expected.
In the women's action, world 10k champ Linet Masai outkicked world 5k champ Vivian Cheruiyot for the win, as defending world champ Emily Chebet failed to make the team. Masai has finished second at Worlds the last two years and seems more than motivated to get her first World Cross title.
The biggest non-performer was defending world champ Joseph Ebuya, who failed to make the team. When he was running European races in November and December, we were wondering to ourselves, "How is he going to still be race ready come the end of March? That's a really long time to maintain your form."
We guess the answer is, "He won't be racy ready come the end of March."
More: Athletics Kenya General Secretary Says It Is Not Possible For Geoffrey Mutai To Train On His Own For World XC *After Two Silvers At World XC, Linet Masai Wants Gold This Year Four seconds separate her from 2 World XC titles.
*Geoffrey Mutai Dominates Kenyan XC, Linet Masai Outkicks Vivian Cheruiyot, Defending Champs Ebuya And Chebet Out Of Worlds *Koech XC Thread *Ebuya: "It was too fast for me and I have problems with my stomach. I'm sad I will not be able to defend my title in Spain." *Video Recap From Kenya
On The Boards: Renato Canova On Mutai: *Geoffrey Mutai Is Confident Going Into World Cross
*****
Olympic Schedule Changes
The 2012 Olympic track and field schedule was released last week and it seems few if any media outlets have commented on what it means for America's top athletes who might be contemplating doubling in two events if the schedule permits.
As for possible doubles, here is what is and isn't possible.
10,000/5,000 - Chris Solinsky/Molly Huddle
Very doable for both genders.
American men hoping to make the US 5,000-meter team may be a bit upset to learn that's it's going to be exceedingly easy for someone like Chris Solinsky to do the 10,000/5,000 double. For the men, the 10k final is on day 2, 5k day 6 and day 9. Women's 10k final is on day 1. 5k first round is on day 5 and 5k final is on day 8.
10,000/Marathon - Galen Rupp/Dathan Ritzenhein
Very doable for both genders but much more doable on the men's side than on the women's, though.
The women's 10k final is at the end of day 1 and the women's marathon is at the beginning of day 3. For the men, the men's 10k final is at the end of day 2 and is traditionally the case, the men's marathon final will end the track activities at the beginning of day 10.
800/1,500 - Andy Wheating/Morgan Uceny/Caster Semenya?
Men's Side: Not happening. Someone like Andy Wheating, who conceivably could do the 800 or 1,500 or both, will have to decide, as the men's 800 semifinal is just 1:20 before the 1,S00 final.
Women's Side: Not unless they are truly dominant.
On the ladies side, it's conceivable that someone could do a double, but it is not going to be easy. Only someone truly dominant - like say Caster Semenya - would probably attempt it. On only one day would one have to run both races, but there is ample time between the two races. On day 6, one would have to run the first round of the women's 800 at 11:35 am before running the semifinals of the 1,500 some eight-plus hours later at 7:45. However, if one did the 800/1,500 double, they'd have six races over six days, as they'd run on day 4 (1,500 first round), twice on day 6 (1,500 SF, 800 1st round), day 7 (800 sf), day 8 (1,500 final) and day 9 (800 final).
We kind of wish they had made the 800/1,500 double basically totally impossible on the women's side like on the men's, as if Caster wins both, it will undoubtedly be one of the biggest stories of the Olympics, but in our minds it won't be a positive development for women's athletics or sports.
Steeple/1,500 - Jenny Barringer/Anna Pierce
Women's Side: This double conceivably could be done, but one would have to run two races on the same day. On day 2, one would run the steeple prelims with the steeple final coming on day 4, some nine hours and five minutes after the first round of the 1,500. On days 6 and 8 the final two rounds of the 1,500 would take place.
For the men, no one will attempt this double. The semifinal of the 1,500 is just 1:10 before the final of the steeple. Additionally, the first round of both events are also on the same day (although 7:05 apart).
Steeple/5,000 - Jenny Barringer
Very doable for both genders.
For the women, the steeple takes places on days 2 and 4 and 5,000 on days 5 and 8. For the men, the steeple is on days 1 and 3 and the 5,000 is on days 6 and 9.
1,500/5,000 - Jenny Barringer/Bernard Lagat
Women's Side: Not possible. The women's 1,500 and 5,000 finals are just 50 minutes apart on day 8.
Men's Side: Doable, but Lagat won't do it. The double is very doable but likely will be done by only who views the 1,500 as their better event. Four years ago, Lagat would do this double but not in 2012. The 1,500 races occur on days 1, 3 and 5 and the 5,000s appear on days 6 and 9.
One other thing about the Olympic schedule - certain athletes will now be getting a bye in the 100 meters. Those with the A or B standard won't have to run in the first round ... ummm, we mean the preliminary round. This decision has enraged some purists like Ato Boldon. In principle, we feel all athletes should face the same hurdles in getting gold. In actuality, that will still be the case, as - let's be honest - no one without the B standard is even going to make the semifinal.
That being said, we don't like the decision. Why? Because you are treating the athletes in the preliminary round like second class citizens. Either you are happy to have them in the Olympics or you don't want them there.
If the bureaucrats in charge are still going to let countries enter athletes without the A or B standard, then they need to be welcomed with open arms and be allowed to compete against the world's best. What's the point of having them show up to run against each other in the morning?

More: *London Olympics Will Introduce A Bye From The First Round For Top Athletes In The 100m *2012 T&F Schedule *Ato Boldon Says WTF On Olympic Sprint Bye *Athletes React To Top Sprinters Getting A Bye In Round 1 Of The Olympics
*****
Boston Marathon Signup Process Changes
The Olympics weren't the only ones changing their qualifying process last week.The Boston Marathon changed how one can qualify and sign up for the races last week by announcing that those who beat the qualifying standard by 20 minutes will be able to sign up first, then two days later, those who beat it by 10 minutes will be able to sign up, and then ultimately everyone else will be able to sign up.
Some might think that since LetsRun.com is devoted to covering elite level distance running that we are big fans of the changes. Not so much.
We certainly think the system is much better than what occurred this year, when basically it was whoever was fastest on the computer that got to sign up and everyone else was left out. That being said, much like with the Olympics, we don't like how some qualifiers are treated as second-class citizens. In our minds, if you qualify, you should be able to race. That's sort of the definition of qualify, isn't it? The new system basically means that Boston is saying to some, "You've qualified ... well, maybe if no one else signs up before you."
The Boston "Qualifying Time" is not a Boston Qualifying Time at all. If you run over the qualifying time (which will be 5:59 faster in 2013), you won't be running Boston unless you get a charity spot. But if you run under it, there is no assurance you are in. The race website says, "the fastest qualifiers (in relation to their age and gender) being accepted first until the race is full."
At the very least, Boston ought to have a lottery to those that qualify but they don't have room for. Or guarantee them entry the very next year.
Additionally, we think it's ridiculous that Boston has a new qualifying window that doesn't include the major fall marathons. If the point of Boston is to have the fastest people line up and race a marathon, then having the qualify window include the most recent major races should be a requirement.
More: LRC MB Boston Marathon Announces New Signup Process *Fetterman: New Boston Marathon rules challenge hopefuls *Boston! Is the Glass Half Full for You?
*****
Quote Of The Week #2 (That Wasn't Quote Of The Day)
"The guys have always been very inclusive, but there are certain things the guys don't want to do or talk about. Understandably. They don't want to talk about Oprah. And they don't want to go get pedicures."
-2008 Olympic bronze medallist and US 10,000-meter record holder Shalane Flanagan talking in an article in The Oregonian by Ken Goe about how she is thrilled to have Lisa Koll as a female training partner, as there simply are some things the men in Jerry Schumacher's group don't want to talk about.
*******************
Quote Of The Week #3 (That Wasn't Quote Of The Day)
"The evidence shows that Mr Chuene played a central and pivotal role in breaking every rule in the ASA book."
- Excerpt from a detailed report of a disciplinary inquiry panel looking into the shortcomings of former Athletics South Africa head Leonard Chuene, who was finally fired and banned from the sport for seven years last week. The aforementioned sentence sums things up perfectly for Chuene. From trying to push Caster Semenya to race when her gender wasn't settled, to buying a Mercedes for 12.8 cents, to having an affair with a staffer who licked his fingers while her salary was tripled, Leonard Chuene is indeed a total disgrace. How Chuene doesn't end up in jail is beyond us.
More: S. African Athletics Boss Leonard Chuene Had Affair With His Staffer, She Licked His Fingers In Public In Front Of Employees, And He Sexted Her With Explicit *Leonard Chuene Is Fired & Banned From Sport For Seven Years *Chuene Vows To Return To Court *Chuene Lied & Stole
*****
Track Promoter Of The Week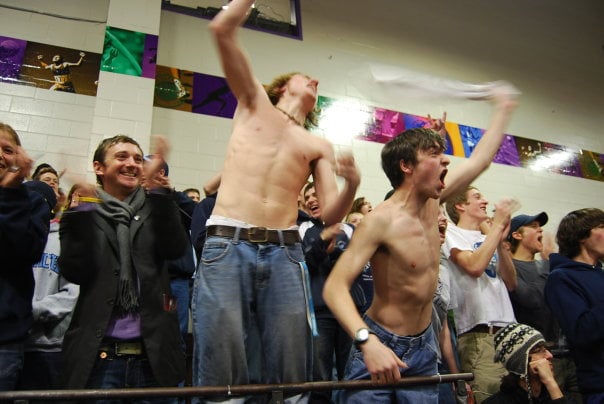 Recently, we've been harping a lot that everyone involved in the sport needs to do their job to promote it. We here at Letsrun.com are going to try our best to figure it all out, as clearly many of the pros feel no need to publicize what they are doing. <--- Click on that link to read about Nick Symmonds going to Australia and telling none of his fans or the media. Galen Rupp tried to break the 5,000m American record in Germany two weeks ago and then did break it last week and there was not a single pre-race article on either attempt even in the Oregon papers. Shalane Flanagan went after the 3,000m record yesterday in Germany, and although she apparently did tweet she was heading to Germany, basically no one seemed to know she was running. Star athletes have an obligation to tell their fans and the media when they are racing. For the sport to grow, fans need to know when their favorite stars are running. Imagine if, after the fact, you just heard your NBA team had a game last night.
In that light, we received a great email from the fan pictured on the left. Steve MacDonald was pumped to see his picture in last week's The Week That Was and wrote us the following:
I was just looking over the week that was from the 7th-13th of February and came across my picture again, the same one that was used last year. I was excited to see it used again, and I am sure the rest of my team and shirtless friend was as well. I also did some reading on people's thoughts about why the fan base of track is not as broad as other sports. I agree with this, but in high school my team followed professional track very closely and was always eager to see the best competition. I think this comes from coaching, out coach would always tell us, "if you can name the five starters for the Boston Celtics, you should be able to name the best distance runners in the country," and we all took that to heart. Every year our team made it a huge deal to go to the Boston Indoor Games, hence the shirtless picture during Lagat's 5K AR, and I believe that if coaches preach the sport, athletes will love the sport. It is seen on our team. Here is a video of our team preparing and watching the meet and some of our crazy antics. I thought this might be interesting to show how high school athletes can be fans of the sport. It shows our coaches talking and all of our reactions to the various races throughout the meet. Our sport is great, and the fan base it has is phenomenal, in order for it to improve high school coaches must be more like mine. Thanks for your time.



Kudos to Steve for sending us the video and to his coach, Stephen C. Infascelli of the Sandwich Indoor Track & Field team.
It's certainly true many HSers don't know squat about the elite side of the sport. LetsRun.com co-founder Robert Johnson estimates 1/3rd of his freshmen at Cornell didn't know who Haile Gebrselassie was (admittedly, most of them were mid-d oriented) when he asked for an informal raising of the hands earlier in the year.
Not everyone is totally ignoring our call to help promote the sport. Some coaches and pros are rising to the occasion, as this email and photo from after the New Balance Indoor Grand Prix reveals.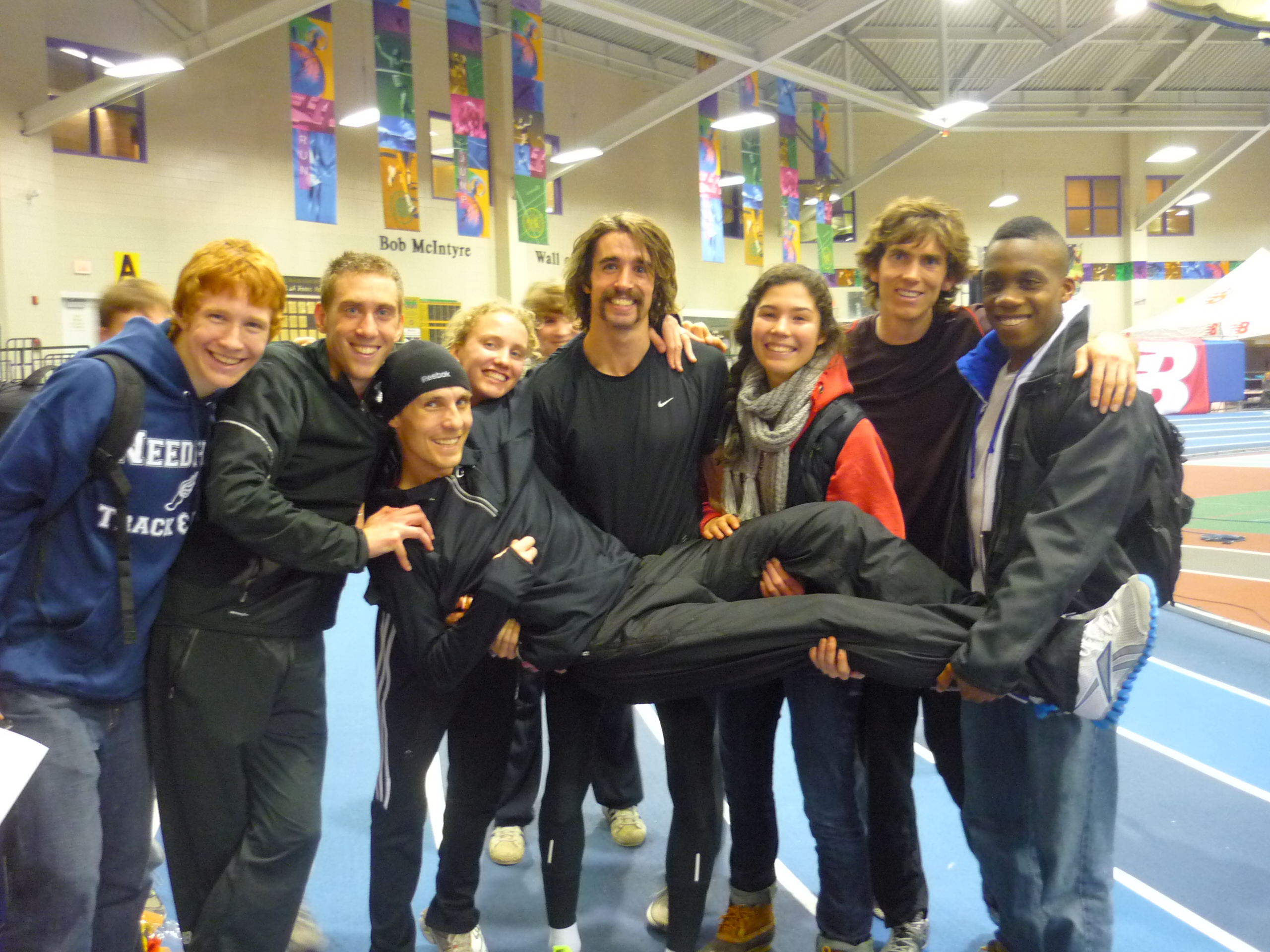 This may be too late but I'll send it anyway. I loved this picture from the Boston Indoor Games (oops - "the NB Indoor Grand Prix"), especially in light on Webb's un-classy behavior post-race. The rest of the milers were jogging together goofing off, and when some of my high school kids asked if they could get a quick autograph, the guys said why not a picture, and - well, you can see the rest. What a great group of guys, they made my kids' day just for the hell of it. Enjoy the pic. Hey, imagine this happening at an NBA game ...
Brandon Newbould
Phillips Exeter Academy (coach)
*****
Thumbs Up Aviva Birmingham Grand Prix For Trying Something Different
While we're on the subject of broadening the sports fan base, not only does the sport need to reach out to those who already follow the sport, but perhaps most importantly it needs to attract new fans. And that means making track meets entertaining (last week we noted how un-fan friendly many college track meets are in the US). Well, the Aviva Birmingham Grand Prix had an indoor 400m hurdles race where the runners did not have to say in their lanes. It is pretty damn cool. We won't spoil it if you haven't seen it, and it is definitely worth one minute of your time, as the finish is great.
Indoor 400m Hurdles

*****
Galen Rupp Gets Back The American Indoor 5,000m Record
The big news for Americans from the Aviva Birmingham meet was the American indoor record in the 5,000m by Galen Rupp, as he ran 13:11.54 to just nip under the old record of 13:11.60 by Bernard Lagat. Rupp's new training partner Mo Farah got the win on the final lap (and the British record as well). One of Rupp's most amazing qualities is his ability to race frequently and at a consistently high level. Two years ago, Rupp ran 13:18 indoors, tore up the NCAA indoor circuit and still ran 27:37.99 at Worlds. Last year, Rupp ran 13:14 indoors, and 13:07 and 27:10 outdoors.
Rupp has been earning his frequent flyer miles this winter. A week ago in Germany, Rupp went out even harder and ran 13:21, then he set the American record in Britain, and this weekend he's supposed to go for the 10,000m American Record outdoors in New Zealand. Pretty amazing. Those worried about Rupp burning out can look at his past track record success, along with news from Alberto Salazar that the plan this year is to actually do things a bit differently. The plan is to take a 2 week break after this winter campaign and then gear up for a separate outdoor peak. Before that happens, Rupp fans can see what he does this weekend in the 10,000m in New Zealand. The Kiwis have done a good job of promoting Rupp's appearance and it is one we've all been looking forward to.
In the meantime, check out the thrilling battle between Rupp and Farah in Birmingham (we've got it set up to show the last 800m but you can watch the whole race).


*****
Robby Andrews' Family Impresses
While Robby Andrews is not making headlines on the track this winter (we guess he's redshirting, although he did pace Bernard Lagat in his 2 mile American record), his family is.
We received this following info from track journalist and 1956 Olympian Elliott Denman on the Andrews' family exploits.
Subject: Quite a weekend for the Andrews Family ... thought you'd be interested ...
FROM ELLIOTT DENMAN
On Sunday, Feb. 20, running in the USATF-NJ Indoor Championships at the Bennett Athletic Complex "bubble" facility in Toms River, N.J., Bob Andrews, 52, father of Robby and Kristin and a former University of Pennsylvania standout, anchored the Shore Athletic Club to an American Masters 50-and-up club team record of 9:02.56 in the 4x800 relay. Shore AC, with Dan Kelly, Dr. Tom Cawley and Tony Plaster running the first three legs, erased the former record of 9:06.90 set by the Colonial Road Runners in 2008. Kelly, of Staten Island, led off Shore AC with a 2:20.9 split. Dr. Cawley, of Hazlet, broke open the race with a blazing 2:06.6. Plaster, of Neptune, followed with a 2:18.4 and Andrews, of Manalapan, anchored the record-breaking team in 2:16.4. They erased the prior American record of 9:06.90 set by the Colonial Road Runners team in 2008.
On Saturday, Feb. 19, competing in the Atlantic 10 Conference Championships at Kingston, R.I., St. Joseph's University senior Kristin Andrews, Robby's big sister, anchored the Hawks to the A-10 women's 4x800 relay title in 9:09.23. For St. Joseph's, it was its first victory in this event since 1999.
*****
RAK Half Marathon - Keitany And Merga Impress
At the RAK Half Marathon, Kenyan Mary Keitany showed she's the best half marathoner on the planet for women, as she blitzed to a new world record of 65:50. It's not the fastest half ever run, as marathon world record holder Paula Radcliffe ran 65:40 on the record-ineligible, point-to-point Great North Run course in 2003, but for a distance runner on the roads to even be mentioned in the same breath as Paula Radcliffe is something special (also Susan Chepkemei, who would later serve a doping suspension, ran 65:44 on the point-to-point Lisbon course in 2001). It definitely will be interesting to see what she does at the Virgin London Marathon this spring.
Given her half marathon prowess, her third place debut in the tactical ING New York City marathon last fall was viewed by many to be a disappointment. We're wondering if Keitany's marathon career might end up imitating that of former men's half marathon ace Patrick Makau. He also started a bit disappointing in the marathon (a 2:06:14 4th place in Rotterdam and a DNF in New York in 2009) before becoming the world's best in 2010 (a 2:04:48 win in Rotterdam and a 2:05:08 win in Berlin).
Makau, like Keitany, was racing the RAK Half as he gets ready for London, but the fast early pace set but Ethiopia's Deriba Merga proved too hot to handle, as after going out in 13:47, Makau faded to a 63:51. Kind of scary that Merga got credited for the fastest 8km ever on the roads at 21:51 - in the middle of a half marathon where he faded and still ran 59:24. It will be interesting to see what Merga does in less than two weeks when he races 2:04:57 man Wilson Kipsang at the Lake Biwa Marathon.
*****
*******************
Other Happenings Of Note
*Uninvited Janet Rono Surprises To Win Hong Kong Marathon Rono wasn't invited as a pro athlete, so she paid $1,000 for a plane ticket, entered as a general member of the public, slept on a friend's hotel room floor, and woke up the next day to win the race in a record time of 2:33:42, earning $34,000 in the process. Maybe Meb should pull a stunt like this in Boston?
*World Championships Silver Medalist Yoshimi Ozaki Wins Yokohama International Women's Marathon In Record Setting 2:23:56 *IAAF Article
*Jason Lehmkuhle Wins Ome 30 km Road Race First American win since 1983.
*China Hires Agent Jos Hermens To Help Win Medals
*France's Teddy Tamgho Breaks Own World Triple Jump Record With 17.91
*MO FARAH to train with OTC
*Women's World 4x800m Relay Record Falls In Moscow – Russian Indoor Champs Wrap-Up A team of Aleksandra Bulanova (2:01.8), Yekaterina Martynova (2:03.1), Yelena Kofanova (2:00.4) and Anna Balakshina (2:00.6) clocked 8:06.24, breaking their own club's record by 6 seconds.
*Largely Unknown Yulia Rusanova Runs World-Leading 1:58.14 Rusanova has never run a major event outside of Russia, although she did run 1:58 indoors two years ago.
*Olesya Syreva Runs WL 8:41.35 3k That's actually nothing for her, considering she ran 8:29.00 in 2006.
US NCAA Conference Action - More Results Here
*Connecticut Men, Louisville Women Are Big East Champs *Notre Dame Men Finish 2nd
*A First for Louisville's Women - A Big East Indoor Ttitle
*Navy Men Win 2011 Patriot League Indoor Track Championship in Dramatic Fashion

*****
Looking Ahead (Time To Start Getting Excited For ...)
This Weekend: NCAA Indoor Conference Action All Across The Country, USA Indoors
Next Weekend: NCAA Last Chance Meets, European Indoors
Two Weeks From Now: NCAA Indoors, National Scholastic Indoors
Three Weeks From Now: World Cross-Country, NYC Half Marathon
*******************
Quotes Of The Day From Last Week
Monday: "At the moment, there is an athlete clearly stronger than any other in the World, and (it) is Geoffrey Mutai ... There is a reason for this: Geoffrey is preparing (for the Boston) Marathon ... Preparing marathon in the modern way, it's possible to be very much competitive in a Cross, 4 weeks before. But preparing a cross with the Kenyan system, you can forget that is possible to run a marathon 4 weeks later."
- Renato Canova, coach of arguably the world's greatest runner right now, Geoffrey Mutai. Canova, in his post on LetsRun.com, is challenging Athletics Kenya to let Mutai to continue training with him and not in the official Kenyan camp for World Cross-Country. If AK insists on Mutai training in their camp, Mutai will skip World Cross-Country. Mutai dominated the Kenyan XC Champs (the world's toughest footrace) and averaged 2:05:03 in his 2 marathons last year. Read about his Kenyan XC win here.
---
Sunday: "As long as Athletics Kenya allow me to train at my Iten camp, I will happily compete for the country in Spain and bring the nation glory. If they do not, I will concentrate on the Boston Marathon that I have been invited."
- Geoffrey Mutai, a dominating winner of the Kenyan XC Champs, and arguably the top runner in the world right now (he averaged 2:05:03 in his 2 marathons last year), challenging Athletics Kenya. AK has insisted athletes go to their camps if they want to run the World Champs.
---
Saturday: "It's not a risk. It's about as an athlete how much do you want it? Do I want a medal or do I want to be thinking back 'That was a great opportunity, should I have taken it?'"
"I thought about it last year and the year before that but things weren't quite right and everything has seemed to come together now. I don't want to regret it thinking 'He could have done that, he could have got me a medal' ..."
"I've met him a couple of times and got on very well with him and I believe he can just make that ½% difference to get close to a medal."
- Brit Mo Farah talking to the BBC about why he's dumping his coach Alan Storey for Alberto Salazar after a year that saw him win double European gold plus break 13:00 for the first time. Farah will be going for Nick Rose's 29-year-old British indoor 5k record of 13:21.27. *LRC MB Talk: MO FARAH to train with OTC.
---
Friday: "It's not hard to sell a winner."
- Legendary college coach Dick Booth (now the assistant at Florida, previously John McDonnell's assistant for many years) on how recruiting got a lot easier once McDonnell's Arkansas Razorbacks started winning.
---
Thursday: "I think when an individual has a phenomenal race they cross the line, and they can be unaware of place or time and they just know. It's like, reaching the pinnacle of any sport, when you hit that climax you just absolutely know you did it, you did everything right. That's the type of race I had on Saturday and that's the type of race I want to replicate at the NCAAs.
- Binghamton University's Erik Van Ingen on his 3:57.11 mile, which he ran to win the BU Valentine's Meet last Saturday, ranking him 4th in the country so far this season.
---
Wednesday: "We all know what the secret to success is - it is so obvious it has no right to be even called a secret ... here it is for free. Work harder, more consistently than anyone in your sport in the world ensuring that you commit everything you have - physically, mentally, technically and tactically to every training, recovery and competition experience.
There is no piece of equipment - there are no sports nutrition products - there are no short cuts - which can take you from coaching mediocrity to coaching mastery."
- Wayne Goldsmith explaining to new coaches that they need to focus less on training gimmicks which provide a "shortcut to success" and more on simple, honest, hard work and dedication.
---
Tuesday: "I've spoken to the coach and the father. I've tried to change their minds but I've failed to convince them. I am not in the position to hijack her, put a chain around her neck, put her in a plane, put a gun in her back and say, 'Now you're going in the blocks.' I can't do that."
- UK Head Coach Charles van Commenee conceding that he can't kidnap and force 17-year-old national 60m Champ Jodie Williams to represent the UK at the World Championships. We're glad he knows this.
---
Last Week's Homepages
*Mon (Feb. 21) *Sun (Feb. 20) *Sat (Feb. 19)*Fri (Feb. 18) *Thu (Feb. 17) *Wed (Feb. 16) *Tue (Feb. 15)
---
Runner's World &
Running Times



Combined Only $22
a Year
Save $87

---

Running & Track and Field Posters
---

Offers of interest: Nike Lunar Glide Discount Discounting on this shoe not allowed until recently.
---