Donavan Brazier Bombs As Clayton Murphy Wins Men's 800 In World-Leading 1:43.17
By Robert Johnson
June 21, 2021
For the record, it should be stated that Clayton Murphy won tonight's men's 800 final at the 2020 US Olympic Track and Field Trials in Eugene in a world-leading 1:43.17. Murphy is certainly capable of making some major noise in Tokyo and possibly ending America's 49-year gold medal drought. NCAA champion Isaiah Jewett of USC, for the second time in 10 days in Eugene, ran the race of his life to grab the second Olympic spot in a huge PR of 1:43.85 to move to #3 on the 2021 world list. Bryce Hoppel, who was 4th at Worlds in 2019, ran a seasonal best of 1:44.14 to grab the third spot as he held off Isaiah Harris, who ran 1:44.58 in 4th.
But in the short term, the headline has to be that none of the names mentioned so far was Donavan Brazier. Brazier, the reigning world champion, who hadn't lost an 800 final in over two years (May 3, 2019), surprisingly faded over the final 200 to a last-place finish in 1:47.88.
"I'm sad. I'm very sad. I think with about 200 left, I tried to match Clayton and I couldn't match it…I just didn't have it with 200 left," said Brazier after the race.
"I've had some things bugging me but there's things that champions overcome and I couldn't overcome 'em so obviously I'm not of that championship caliber that I need to be at. The things that were bugging me were things that I should be able to push through and nothing I can make excuses for for this race.
"This is the first time under my coach Pete Julian that I couldn't really bring it in. The first one is a couple of years for sure — it was just really bad timing, right?"
Murphy was just 5th at 400 but his time was fairly quick (51.67) and his last lap was a masterpiece. He ran a 51.50 final 400 to run one of the fastest negative-split 800s ever.
Article continues below player.
Murphy himself recognized how well he ran.
"You can say I executed it to perfection. It was one tough last six months, especially the past eight days. It was an individual 1:43, but far from an individual accomplishment," said Murphy, who said the Thursday before he left for Eugene he had a "pretty serious hamstring strain" that had allowed him to run just 13 miles since then — including warmups, cooldowns, and races.
But coming in with an injury scare and as an underdog fueled Murphy.
"I like the chip on the shoulder, the doubt," he said.
Full race replay and analysis below.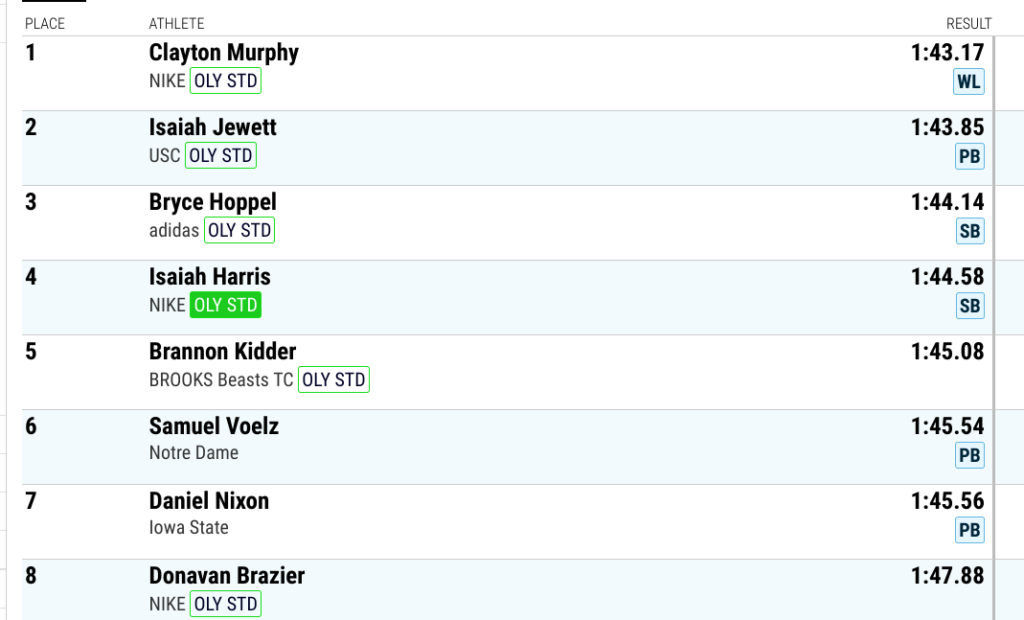 Quick Take: The way Brazier handled this in the short term was amazing, how will he respond in the long term is now the question.
Normally when a big star comes up massively short, they don't handle it well. We've seen athletes jump fences to avoid the media. Donavan Brazier on the other hand handled it with TOTAL CLASS. We were so inspired we have uploaded his post-race interview to YouTube and started a thread praising it: 
I've got way more respect for Donavan Brazier now than ever before. He is TOTAL CLASS. Must-watch post-race video 
If you are a Donavan Brazier fan, the actual race was very tough to watch. Midway through the final turn it was clear Donavan Brazier was in serious trouble and before he'd even hit the final 700, it was clear he wasn't going to Tokyo. 
It will be interesting to see what he does the rest of the summer (when asked about future races, he said his first aim is to get 100% healthy and take it from there). Is he simply not in great shape? Was he sick today? Was it simply an off day? Remember, that happens at times. Less than two weeks ago, Isaiah Jewett was really lucky to get out of the first round at NCAAs.
While Brazier hadn't lost an 800 this year, it must be pointed out that he'd scratched from one 800 and only raced one outdoors — a 1:45.09 win on May 29. A 1:45 win in a season opener is great for most people but here's a crazy stat for you. Prior to that race, Brazier hadn't run 1:45 or slower in any non-championship 800 since June 8, 2017.
What's interesting to think about is if Brazier does rock it the rest of the year, then it's going to be hard to not wonder if tonight's disaster was the result of a mental block. Given the fact that Brazier dominated and won a world title in 2019, a comparison to to former US mile standout Steve Holman isn't fair at all but I know that there were a ton of US track fans over the age of 40 making that comparison when they watched Brazier fade tonight.
When US distance running wasn't very good at all in the 1990s, Holman regularly ran super fast but failed to make US teams. In 1995 and 1996, Holman ran 3:50 for the mile and both years he failed to make the US team.
Unlike Holman, Brazier has won a ton of European races and world titles.
Quick Take: Is Clayton Murphy the gold-medal favorite?
He's the world leader, won bronze last time, and looked fantastic tonight. The previous world leader was the 20-year-old Brit Oliver Dustin, whose PR was 1:46.84 heading into the year. Then the only other guys under 1:44 this year were all Kenyan. Yes, Kenyan champ Michael Saruni beat Murphy at Mt. SAC, but that Murphy looked nothing like the one we've seen here (and Hoppel beat Saruni there).
Let us repeat. Murphy's winning time was 1:43.17. At Worlds in 2019, it was a fast race and 1:43.47 got Amel Tuka the silver and 1:43.82 got Ferguson Cheruyiot the bronze. Two-time global medallist Tuka's seasonal best is 1:44.76. Other finalists from 2019 haven't been doing great either as Wesley Vazquez hasn't run this year, Adrian Ben hasn't run faster than 1:45.10, etc.
Quick Take: Isaiah Jewett wanted to leave it all on the track … and for good reason: he needed to hurry back to the hotel to finish a 10-page paper
The post-race comments about Jewett were great as it was clear he was focused on the process of giving it his all and not the outcome which makes things much easier mentally.
"I wanted to get everything out of this race that I wanted," said Jewett.
"My coach told me to stay confident through the first lap, and the second lap he literally told me to have fun…..It was more about me wanting to give everything I had. I think that's where my confidence comes from. I don't care if I win or lose. I just want to be out there and give everything I have. Slow or fast."
Jewett certainly did leave it all on the track. Have you taken a look at the splits tonight? Jewett took it out fast – 50.60 and then he put the pedal down and increased the pace between 400 and 600 – running it in 25.06. Amazing. He hit 600 in 1:15.66 and his 28.20 final 200 was able to put him on the team. Murphy's third 200 was a ridiculous 24.99 (final 200 of 26.52).
After the race, it didn't sound like Jewett would be able to celebrate too much.
"My legs feel really good. Mentally I'm tired. I need to sleep. I have a 10-page essay due tonight. I'm trying to refocus and get that done tonight. My teacher didn't give me an extension," said Jewett.
Quick Take: Isaiah Harris should feel no shame in finishing 4th
Finishing 4th at a Trials is never easy but the reality is Harris reason a seasonal best (1:44.58) tonight and his pb (1:44.42) isn't as fast as what Hoppel ran to make the team (1:44:14). All told, most guys in this field ran well, as 6 of the 8 ran seasonal bests with three producing personal bests and one producing a world leader.
Talk about the day 4 action on our messageboard/fan forum.
Did you enjoy this article? Support independent journalism, get access to exclusive LRC features and podcasts and a free 12-week training plan and save 20% on US shoe purchase by joining our Supporter's Club.
---
Note: When the article was initially published the information about the super-fast third 200 wasn't included.