Centro Update
Eugene Register Guard Quotes Source Saying Centro Will Get $400,000 to $700,000 a Year In case you missed it the World Championship 1500m bronze medallist is giving up his final track season to turn pro.
Discuss: Centro Jr Turns Pro
*Centro 30:05 at a turkey trot
Introducing the LRC PUMA 55
LRC Introducing the LRC PUMA 55 The first 55 (out of 100) LRC visitors worthy enough to represent you in the PUMA Faas Challenge have been chosen. They share one thing in common- their passion for running. Instead of releasing all 55 at once, today we present to you the first 5 and will keep releasing a new batch until we're done (the 12 Days of Puma). Today we've got a boxer who has run 130 miles a week, a 16 year old inspired to be a state champion by LRC, a D1 Runner sick of free Nike gear, a US Army Major who kept running while deployed, and a woman inspiring others to run. You think you're worthy to put the Puma Faas shoes to the test? Enter the LRC Puma Faas Challenge here.
Administrative/Sponsor News
Show Me The Money
Matthew Centrowitz Explains His Decision To Leave Oregon Early To Turn Professional "I weighed both ends of this. It took me a couple months to decide. ... I had to make the decision based on what would keep me progressing, and keep me hungry."
*Centro Jr. Turns Professional *Matthew Centrowitz Jr., World Championships bronze medallist, has given up his final year of track to run professionally. Financially, it seems like a no-brainer for the former Oregon Duck.
Discuss: Centro Jr Turns Pro

LRC Archives: Worlds: Men's 1,500m: Matt Centrowitz Closes In 51.6 To Get Bronze As Asbel Kiprop And Silas Kiplagat Get Gold And Silver
USATFs: Men's 1,500m Final: Matt Centrowitz Jr. Pulls Away From Bernard Lagat
Video: *Centro's 1,500m Bronze Race *Post Race Reaction/Interview
News From Europe
Random
Stuff We Missed From Over The Weekend
News From The UK
Non Distance News
Saturday's High School Action
Foot Locker NE: A Man Amongst Boys: Edward Cheserek Wins Foot Locker XC Northeast Region, Breaking John Gregorek's Course Record Gregorek was a 2-time Olympian.
*Foot Locker NE Runner-Up Abbey Leonardi Commits To Oregon

Foot Locker South: Texans Cali Roper, Craig Nowak Win Foot Locker South As Nowak Upsets Ahmed Bile Bile is the son of 1987 World 1,500m Champ Abdi Bile.

Midwest: Futsum Zeinasellassie, Molly Seidel Win Foot Locker Midwest

California State Meet: Saugus Wins Its Record Sixth Straight California State Title On The Boards: DQ at California Meet May ShakeUp NXN Bids

NXN NY: Fayetteville-Manlius Survives

High School On The Boards (More In HS Forum)
Former Princeton Steepler Ashley Higginson Moves Into The Post-Collegiate Running World
Other News:
*Greek Track Suspended Over Cuts
*Spain's Steepler Marta Dominguez Says Unlikely She'll Be In Shape To Medal In London She's still on the comeback from childbirth.
Manchester: Brian Olinger, Sally Kipyego Win 75th Manchester Road Race ZAP's Landon Peacock and Team USA Minnesota's Andrew Carlson were 2nd and 3rd.
*Local News Coverage www.courant.com
*MB: Brian Olinger, Sally Kipyego Win

Silicon Valley: David McNeill, Jackie Areson, Win Silicon Valley Turkey Trot McNeill ran 13:33, Arizona redshirt Stephen Sambu was 2nd, Diego Estrada was 3rd only 3 days after NCAAs, Ritz was 5th (13:49). Race videos/photos posted here.
*Video Interviews With McNeill, Areson And Estrada
*MB: Ritz running 5K on Thanksgiving

Australia: Craig Mottram Runs A Comfortable 13:46 To Win Victorian Champs 5k

Sacramento: Stember Runs 19:30

*Adam Goucher Lists 10 Running Things To Be Thankful For
*10 Things To Be Thankful For In TrackTown USA
Historic Irish Track (Home Of 4 X 1 Mile Record) To Be Ripped Up *MB: Historic Track Ripped Up
Some Interesting Science
*Science Of The Sport Examines Talent Vs. Training And Refutes The "10,000 Hour Rule" Says the "10,000 hour rule" is "nothing more than the realization of genetic potential."
*How Laziness Makes You A Better Runner Basically a study says your body tries to finds a stride/form that uses the least energy when running.
LRC Jason Vigilante Leaves The University Of Virginia Vigilante (the coach of Alan Webb and Robby Andrews), who rose to fame as the mid-d and distance coach at the University of Texas, has confirmed to LetsRun.com that he is no longer leading the Virginia program after three plus years in Charlottesville. *Discuss: Vig out at UVA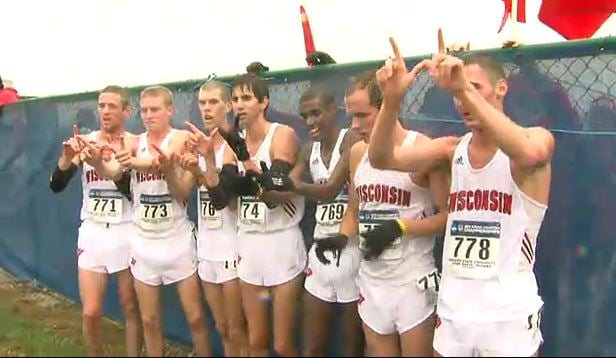 Men: LRC Wisconsin Badgers Take Control Early As Lawi Lalang Dominates Lawi Lalang waited until 5k before deciding it was time to crush the competition once and for all, while #1 Wisconsin showed no fear and put a stranglehold on the competition from the very beginning and held off a belated charge from Oklahoma State and a surprising Colorado team as the Cowboys tried to three-peat. American Chris Derrick took home individual runner-up honors to cap a brilliant career in style. *Discuss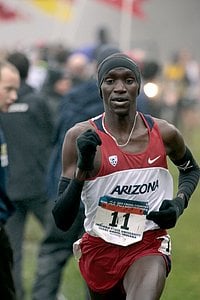 More: Wisco #1: *Give 'em five: Badgers lay claim to program's fifth national title *Krause earns redemption as Badgers storm to fifth national title host.madison.com
OSU #2: *Dave Smith Calls Loss "Disappointing" - But Expected www.okstate.com
Colorado #3: *Wetmore Calls Medina Most Improved Runner In Country www.denverpost.com *CU Coach Mark Wetmore Pleased With Buffs 3rd Place Run
Individual: Coach Li - I Think Lalang Would Have Got Course Record If He Was Pushed www.arizonawildcats.com
NCAAs On The Boards
UK Shot Putter Gets Nine Months In Prison For Trafficking Steroids, UK Anti-Doping Trying To Figure Out Who Drugs Were For Give him one month less of prison for every athlete he spills the beans on.
Olympic Marathon Trials Are Less Than 2 Months Away
Australians In The News
*RIP: Two Runners Die After Collapsing In Philly Marathon A 21-year-old man collapsed at the finish line and a 40-year-old collapsed about a quarter-mile before it.
*Philly Marathon: Tuko Folisho Wins In 2:19:16 Mariska Kramer wins women's in 2:35:46.
*Philly Half Results: Samuel Ndereba Wins In 64:04 (Close Race Places 1-6) Yihunlish Delelecha wins women's in 1:12:42.
International Weekend Results
Q&A With World University Games 800m Champ Lachlan Renshaw Includes video with a pretty crazy last 100m. Renshaw is part of OTC and trains with Nick Symmonds and Tyler Mulder. Gives some insight into the OTC mid-distance training under Coach Mark Rowland, whose program seems to emphasize mileage more than many mid-d programs.
Doping
Steve Mullings Found Guilty He may face a lifetime ban as this is his second offense. *2nd Article
*BOA Chariman Colin Moynihan Accused Of Making "Misinformed Allegations" By Angry WADA Chief
*Colin Moynihan To Defend Anti-Doping Policy Against WADA
Week That Was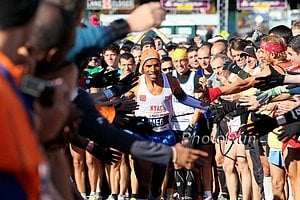 LRC Geoffrey Mutai Amazes Again, Adam Goucher Retires, & Lukas Verzbicas Calls It Quits We go behind the scenes to take a look at the last two weeks in the running world, which included the NYC Marathon, Adam Goucher's retirement, and Lukas Verzbicas leaving Oregon mid-season. Plus we take a look at the Phil Hersh-Ryan Hall spat and compare Hall to Tim Tebow.
Shoe News
Alan Webb Still With Nike

Look Out, Nike: Kenyan Brand Kourage Launched Of course Nike and Kourage both don't have a chance since Puma has partnered with little LetsRun.com for the LRC Puma Faas Challenge.
LRC 2:05:06!!! Geoffrey Mutai Caps Year In Style An unbelievable year in men's marathoning had an appropriate finish, as the Kenyan man who had the most unbelievable of all years, Geoffrey Mutai, smashed the previous NYC Marathon record by a stunning 2:38 - that's two minutes and 38 seconds. If it wasn't the greatest 2nd-greatest men's marathon performance ever, you'll have to tell us what was. American Meb Keflezighi hung with the leaders for 20 miles after a blistering 63:16 1st half and ended up with a much-deserved PR. Mutai picked up $200,000 by winning, but the big financial winner was runner-up Emmanuel Mutai, who won $635,000 ($500,000 for the WMM title).


LRC Mary Keitany Beats Herself The women's race was full of gut-wrenching drama, as Mary Keitany went out in a crazy 67:56. The problem was she came back in 74:42, as unheralded Firehiwot Dado (Rome Marathon champ) got the win.

LRC Post-Race Interviews: Meb And His Coach Bob Larsen Talks About His PR Despite Throwing Up Plus the winners Geoffrey Mutai, Firehiwot Dado, men's and women's top 3, Ed Moran, Molly Pritz, Lauren Fleshman and Bobby Curtis.
Olympic Marathon Trials are Next Month
Good News: USATF Secures BP as a Sponsor of Olympic Marathon Trials Interim USATF CEO Mike McNees continues to get good things done. We wonder how this is being received in Houston with Chevron the sponsor of the Houston Marathon.

Horrible News: 2012 Olympic Marathon Trials Will Not Be Available Live Online or on TV All is not lost as there will be 2 hours of same day tape delay national tv coverage, but this really sucks. We can't think of any sporting event these days of substance these days that isn't available live somewhere.
Discuss: Olympic Marathon Trials Will Not Be Streamed Online Live

This Weekend: Benita Willis, Patrick Smyth, Jason Hartmann, Jason Lehmkuhl, Amy Hastings, Katie McGregor and Kathy Butler Running Zappos Rock N Roll Vegas Half
*Sunday's Cal International Marathon in Sacramento Is One of Last Chances to Qualify for Trails
High School News
Track and Field News Says Texas (Men), Stanford (Women) Had Best Recruiting Classes
*Virginia High School Star Ahmed Bile Going to Gtown and LRC is His Homepage

NXN This Weekend: NXN Girls Preview: Fayetteville-Manlius.Going for 7 Someone explain to us what 7 is? This looks like it would be there 6 straight title which is crazy.
*NXN Boys Preview

Adam Goucher Looks at Foot Locker vs NXN He waffles and does not make a verdict because his brother-in-law runs NXN.
Because We Love You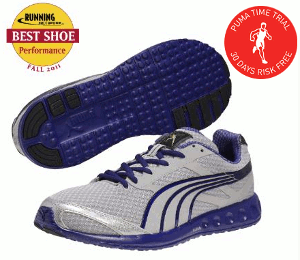 LRC Puma NCAA Prediction Contest Recap And 20 Random People Who Get Free T-Shirts The winners of our Puma NCAA XC prediction contest are in and once again they are a bunch of ringers. Our overall winner was born in Eugene and competed for the historic New York Athletic Club. Not fair. Plus, we've got coaches of national championship teams, a guy who actually ran in the D1 race, and a guy training for a "hangover 3k." However, to show we've got a heart and to give the 99% a chance, we're randomly giving away free LetsRun.com Puma T-shirts to the following 20 people: TimMalloy20, njrunner91, sdpollar, ryan409, Lenny Leonard, Mbtiger93, runningDS, updog, Ohio Rulz, runxc274, everfast, jmthomps, skeelxc, DukeSter, csherf, runnjump20, newtrails, freeballit, thewalrus, StepOnIt. You've got a week to email us. The rest of you want something for free? Too bad Enter the LetsRun.com Puma Faas Challenge.

Tomorrow: December 1 We Announce The LRC PUMA 55
This Would Have Been Quote Of The Day Had It Not Been For Centro: Question For NCAA #4 And Canadian XC champ Cam Levins - Q: What was your average mileage per week throughout the fall season? A: 155+ miles *MB: Cam Levins is my new favorite runner
Recommended Read Rich Castro, Founder Of Bolder Road Runners, Retires As Head Of Road Runners We loved this quote: "Before there was a running boom in Boulder, before Frank Shorter won his gold and silver Olympic medals and helped Steve Bosley start the Bolder Boulder 10K, before the Boulder Creek Path and all the area training groups, there was Rich Castro."
Getting Ready For The US Olympic Marathon Trials
Wow - A Realistic Athletics Head - Chinese Athletics Chief Will Be Happy If Liu Xiang Gets A Medal of Any Color "I think everybody will be satisfied whatever medal - gold, silver or bronze - he wins because he has spared no efforts in his sport."
Wow - Fiscal Sanity From A European Country And Olympic Bidder - Spain To Cut 2020 Olympic Bid By 40% From 50 Billion To 30-35 Billion
Drug News
Legendary Oilman, Masters Track Athlete, Kansas Track Benefactor & Fraudster Jim Hershman Dies A runner at Kansas in the 1950s who went on to fame as an extravagant oilman (he once built the biggest house in the country and had the first jet plane in Kansas) and masters track athlete before going to jail late in his life for fraud.
*MB: Thread On Hershman/MVP Games Competition Versus Dave Wottle
*Obituary *Previous Hershberger Thread *Another Thread
Indians Making News
News From Africa
Weekend Results
International XC
Canada: NCAA Stars Kendra Schaaf And Cam Levins Win Discuss here.

UK: Andy Vernon, Hattie Dean Win UK Trials For European XC Stephanie Twell qualifies in her second race back from breaking her ankle in a race last year. Before the race, there was talk of her possibly quitting XC for good.
*Steph Twell: "I loved it. I felt myself again and coming through the way I did really gave me confidence."

Kenya: Upstarts Timothy Kiptoo And Phanancier Jemutai Win Kenyan XC Race *IAAF Article
US News
Butcher's Blog Says It's Time For Marathons To Leave The IAAF "The time is ripe for a split from the IAAF; and the creation of an independent international road running federation which can oversee and regulate the sport properly."
US Administrative
UK Legal Stuff:
*A Change In Tax Laws Might Persuade Usain Bolt To Compete In The UK
*India Threatens To Boycott 2012 Games They're protesting London's sponsorship deal with Dow Chemical, the company that owns Union Carbide, which was responsible for the huge 1984 environmental disaster in Bhopal.
*Welsh Disc Thrower Supports BOA Olympic Ban For Selfish Reasons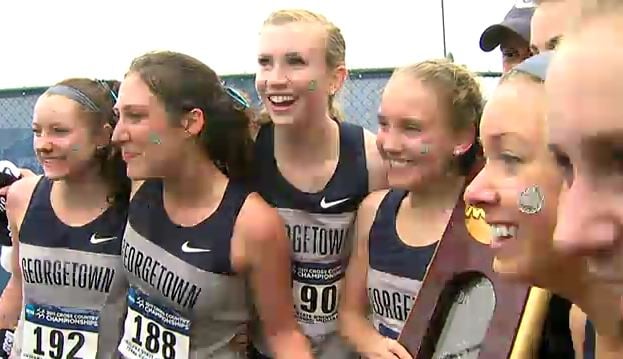 Women: LRC Georgetown, Reid Win Tight Battles Six women kicked for home over the last 400m of the race but in the end it turned into the duel many expected and Sheila Reid of Villanova got the narrow win over Jordan Hasay. The big surprise was in the team's race, where the Georgetown women, who were only third at Big East, won by eight over Washington as #1 Florida State faltered and finished 4th. *Discuss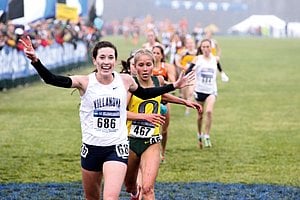 More: *Georgetown Gets Its First National CC Title GUHoyas.com
*Washington Comes Up 8 Points Short GoHuskies.com
*#1 FSU Finishes 4th & Coach Karen Harvey Pulls No Punches"I felt like I was watching a nightmare. I really thought there was no way this is happening." www.seminoles.com
*Wetmore Says 11th-Placed Colorado Women Purposely Peaked For PAC-12s, Not NCAAs www.denverpost.com
*The FSU women finished fourth and the men 12th at NCAA Cross Country Championships www.seminoles.com
*Lananna Says Hasay's Runner-Up Finish Was A Big Step Forward As She Didn't Get Antsy & Kick Too Early www.oregonlive.com
A Former Leading Lady In The News
Soap Opera: 1991 World 10,000 Champ Liz McColgan Cleared Of Attacking Husband But the evidence reveals she had been having an affair, he had installed spyware on her computer to track her typings, and he had a secret SIM card to send her and her boyfriend text messages.
USATF Showing Some Leadership
Track And Field Will Be Back In The Garden The Millrose Games may have died moved to the Armory but USATF has stepped up and shown some leadership by announcing they will put on a new meet at Madison Square Garden next year, the US Open. Bernard Lagat says he's running it and most importantly ESPN will be televising it, showing the world our sport is not a complete joke and can be held on a grand stage. Three cheers for USATF (we're not sure if we've ever said those words in the same sentence). *MBoard Thread *USATF Article
College XC/Track News
*42 Years Ago From Tuesday, Lindgren Edged Pre At PAC-6s
*(Boston) Marathon Monday Ranked One Of Best College Traditions At Boston University Day drinking is a plus for most people, including this student. "Definitely, the wildest and most out-of-control moments in my college life have been Marathon Monday and Halloween. I mean on Marathon Monday you have the day-drinking, and it's spring time so kids are kind of going a little nuts because it's finally warm in Boston."
*An Incredible Hire: Allen Johnson Hired As Air Force Assistant We wouldn't have even made him interview.
*Maryland Track Alums Vent To Washington Times About Possibly Losing Program
He Will Be Missed Adam Goucher Retires Goucher is having knee surgery on Friday and says his competitive racing career is over. We've always said that one way to judge whether a runner's career was a good one or not is simple: Were They Good Enough That They Could Retire Or Just Quit?
Goucher certainly is retiring, as he had an INCREDIBLE career - Foot Locker champ, NCAA champ indoors, NCAA champ outdoors and NCAA champ in XC, USA champ in XC and track and an Olympian. Goucher is a runner at heart and we wouldn't rule out seeing him in the 2016 Marathon Trials.
*MB: Adam Goucher retires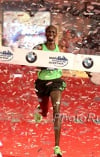 Frankfurt: Oh-So-Close: 2:03:42 - Wilson Kipsang's World Record Assault Comes Up Just Short IAAF The world of marathoning continues to be simply amazing on the men's side.
*AP Recap Levy Matebo was second (2:05:16) and Albert Matebor third (2:05:25) as the women's CR was broken by Mamitu Daska (2:21:59).
Pre-Race: Last Year's 2:04:57 Course Record Holder Wilson Kipsang Says World Record Can Fall At Sunday's BMW Frankfurt Marathon Kipsang may be getting a bit ahead of himself, but he's very good. More on Kipsang here.
LRC Moses Mosop A Superstar, Liliya Shobukhova Becomes Second-Fastest Woman Ever Updated Moses Mosop dominated the final miles in Chicago after Wesley Korir tried to make it interesting. Russian Liliya Shobukhova ran 2:18:20 to become the second-fastest woman ever. American Ryan Hall ran 2:08:04 for 5th. Great for any other American marathoner, so-so for him.

LRC: Wesley Korir Impresses With 2:06:15 Second Place In Chicago The former Louisville Cardinal broke the race up with a surge at 30km. Afterwards, he revealed what he was trying to do.

Ryan Hall Says He Needs More Time At Sea Level To Work On Turnover RW

LRC Non-Quotes Of The Day From 2011 Bank Of America Chicago Marathon Hall talks about what 2:08 means, Canova talks about the world record.

LRC Quick Recap With Men's Splits: Moses Mosop Breaks Course Record At 2011 Bank Of America Chicago Marathon, Shobukhova Runs 2:18:20
NYRR Dash To The Finish Line 5k *Results
LRC Chris Thompson, Sara Hall Win, Ritz Is 3rd (link fixed) Hall continued her fine fall campaign with the win in this race that serves as a huge NYRR recruiting tool. Most importantly for US distance fans, Dathan Ritzenhein did well and emerged from the race healthy (link fixed to story with Hall interview).



LRC Healthy Ritz Talks About Marathon Trials, His Track Ambititions And More After double foot surgery in March, a healthy Ritz ran what was likely his only race before the Olympic Marathon Trials in 10 weeks. He talked about his preparations for the Marathon Trials, his desire to run faster on the track, and showed he stil has a lot of fire: "The talent's still there. I'm still young. I'm 28 so hopefully I just keep getting better."
Sprint News
Asafa Powell and Veronica Campbell Brown Racing at US Open (Madison Square Garden Games Should Be the Name) Tickets go on sale today. In other news, the Meet Formerly Known as the Millrose Games announced its schedule (Brittney Reese and Jesse Williams jumping) This all would be much easier if the meet going to be held in the Armory let the meet being held in the Garden have its name back. Track and Field needs to be on the biggest stage possible. That means national TV in the Garden. We didn't realize that the meets are even on the same day. Update: The meets are on different days. The problem is "the Millrose" meet at the Armory does not seem to be in control of the Millrose website, so we looked at last year's date by accident.

Good Read: 60 Seconds With Maurice Greene (He Talks About Partying, Jon Drummond Peeing in His Lane Before a Race) We're still grateful for the time Maurice threw a party in LA in 2005 and it was open bar for a half an hour on his tab.

Usain Bolt Q&A and Video Interview with ESPN the Magazine

Verdict Against Steve Mullings Was Just
NCAA Women's Photo Gallery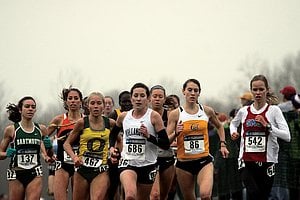 NCAA Men's Photo Gallery (500+ Photos)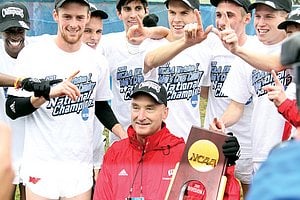 Beautiful People (NCAA XC Banquet Photos)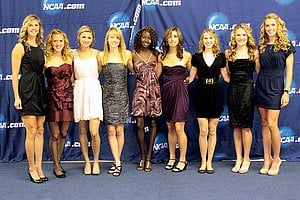 NCAA XC Is Here
LRC NCAA XC Prediction Contest Powered By Puma Our world-famous NCAA Prediction Contests are back. Tell us who will win in Terre Haute and you could win some cool Puma gear or $200,010 if you have a perfect ballot.
Cross-Country For The "Geekiest" And "Nerdiest" (Discuss Here)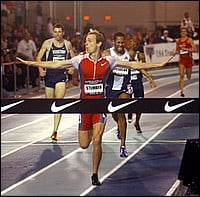 LRC Catching Up With Olympian Michael Stember:
Olympian Stember On Dunking A Basketball, Nerds Running Cross-Country, And Trying To Break 18 Minutes For 5k We know it drives a few people nuts when we call one of our own interviews a MUST read, but we are quite proud of this one. Stember talks about everything - from wondering if he really should have been an 800-meter runner, to having figured out the inner-city school problem, to solving the energy crisis and much more. Along the way he admits he once ran a 4-minute mile after months of drinking and only 3 weeks of running, admits to Gallowalking during his current training and says he has secured a rabbit to pace him to a sub-18 5k so he can win his bet on CharityBets.
NYC Men's Photo Gallery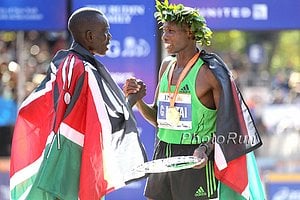 NYC Women's Photo Gallery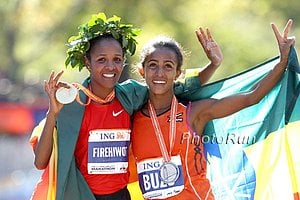 Week In Review
LRC Week That Was: Wilson Kipsang's Near Miss, US Men's Marathoners Vs. Frankfurt, Mark Wetmore And CU At PAC-12s And The Wisconsin Men At Big 10s We take at look at Wilson Kipsang's near world record run in Frankfurt, discuss how the entire history of US men's marathoning was eclipsed in Frankfurt and then turn to a discussion of NCAA XC action.
Wilson Kipsang Just Misses World Record (And Coolest Finish Of A Marathon We've Seen)
Training Corner (More In The Training Forum)
BMW Berlin Marathon Photos! Makau Takes Geb's World Record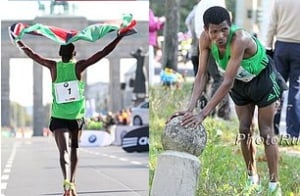 Great Deals

A Scintillating Men's 10,000 Finish (US Visitors Only)
Great Deals

Universal Sports Back To Top