Week That Was: Wilson Kipsang's Near Miss, Mark Wetmore And CU At PAC-12s And The Wisconsin Men At Big 10s
By LetsRun.com
November 1, 2011
What a week. The world record in the men's marathon almost fell in Frankfurt, where the entire history of American's men's marathoning was surpassed, Mark Wetmore worked his magic yet again as Colorado won the first two PAC-12 titles in history and in such dominant fashion on the women's side that they didn't even need star Emma Coburn, and the Wisconsin men put on an exhibition at the Big 10 meet.
****
Let Us Introduce You To Wilson Kipsang And Try To Put His 2:03:42 In Perspective
The big news in the running world was that Patrick Makau's new world record of 2:03:38 in the marathon almost proved to be the shortest-lived marathon world record since 1935, when Japan's Fusashige Suzuki's world record of 2:27:49 lasted all of 4 days before Yasuo Ikenaka ran 2:26:44, as Wilson Kipsang (or Wilson Kiprotich) ran 2:03:42 at the 2011 BMW Frankfurt.
If you don't know who Kipsang is simply because he's never run a world marathon major, then let us introduce you to him as he's far from a one hit wonder. He's 29 years old and made his marathon debut in 2010 in Paris with a 2:07:13. Not too shabby but nothing amazing these days.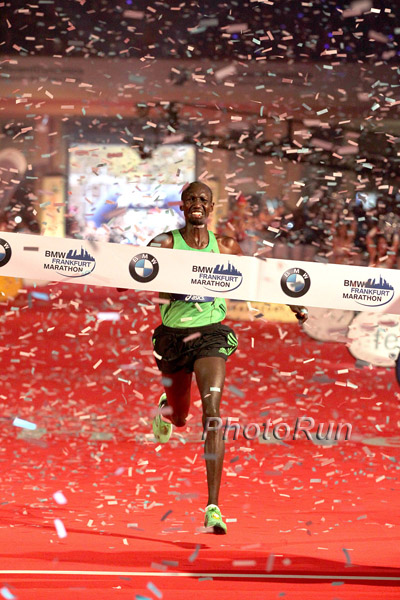 Wilson Kipsang Almost Making History
Then he ran 2:04:57 last year in Frankfurt and got the win. He followed that up this spring in Lake Biwa, where he won once again in 2:06:13. If 2:06:13 doesn't impress you, well it should, as in that race he was racing 2009 Boston marathon champ Deriba Merga and the two were side-by-side 38 km into the race. The result - a 3-minute victory for Kipsang over the final 4.2 km.
We here at LetsRun.com like Kipsang for one reason besides the fact that he is very fast: his pre-race comments can actually be believed. Last year, as our friend Pat Butcher pointed out, Kipsang he said he had three goals in Frankfurt - "To set a personal best (then 2.07.10), to break the course record (then 2.06.14), and to break 2.06." He of course accomplished all three.
This year, when he got to Frankfurt he said he had two goals: "One of the expectations is to run a personal best, the other is to break the world record." And he said when he saw Makau's time, he thought to himself that he could do that. Well, he nearly did.
Now let us give you some stats that hopefully help put the 2011 Frankfurt Marathon in perspective.
Stats Of The Week
4 - The number of Kenyan men who in Frankfurt ran faster than Ryan Hall's non-wind aided PR of 2:06:17. And that number doesn't include 2009 Boston marathon champ Robert Kiprono Cheruyiot, who ran 2:06:29, and Peter Kirui, who ran 2:06:31.
14 - The number of men who broke 2:10 in Frankfurt - a record for a single marathon.
11 - The number of American-born athletes who have broken 2:10:00 in the marathon in history.
10 - The number of men who broke 2:09:00 in Frankfurt (10th was 2:08:56).
3 - The number of American-born athletes who have broken 2:09:00 in the marathon in history.
The Pan Am Games concluded last week and given the scant press attention it received in the US, we decided to try to let you know how the Americans did in the mid-d and distance events, as we think track and field should be about competition and medals - not meaningless time trials and rabbits. It certainly wasn't the very best athletes America has to offer, but the US did win one mid-d and distance medal - thanks to Sara Hall's gold in the steeple.
Women's 800 - Heather Kampf - 6th in 2:07.11, Christina Rodgers - 7th in 2:08.29
Women's 1,500 - Annick Lamar - 10th in 4:32.57, 11th in Jacqueline Areson in 4:34.23
Canadian Malindi Elmore won bronze in 4:27.57
Women's Steeple - Sara Hall - 1st in 10:03.16 (2nd was 10:10.14), Mason Cathey - 4th in 10:19.10 (3rd was 10:10.98)
Women's 5,000 - Kimberly Conley - 7th in 17:00.90, Neely Spence - 8th in 17:01.11
Women's 10,000 - Cassandra Slade - 7th in 36:14.96
Women's Marathon - Jacquelyn Herron 9th in 2:51:29
Men's 800 - Tyler Mulder - 4th in 1:46.46 (.23 off medal), Mark Wieczorek - 5th in 1:47.75
Men's 1,500 - AJ Acosta - 5th in 3:55.27, Will Leer - 15th in 4:04.13
Men's Steeple - Donald Coward - 4th in 8:49.97 (.22 off medal), Derek Scott - 6th in 8:55.03
Men's 5,000 - Brandon Bethke 5th in 14:17.31, Stephen Furst 8th in 14:21.94
Men's 10,000 - James Strang - 4th in 29:51.93 (.22 off a bronze medal), Ryan Vail 5th - 29:52.04
Men's Marathon - Patrick Rizzo - 8th in 2:21.58
****
Video Of The Week - The BMW Frankfurt Marathon Finish
Seriously, we think the finish of the marathon in Frankfurt looks so cool that we almost want to make ourselves train to run 26.2 miles so we can finish there. If you don't like the video on the left, maybe you'll enjoy seeing Sara Hall win Pan Am gold in the steeple.
| | |
| --- | --- |
| BMW Frankfurt Finish | Sara Hall's Pan Am Gold From Mexico |
****
NCAA Conference Action
For true distance fans, last weekend was one of the great weekends of the year, as the various NCAA conference meets were held. Not a lot of time for us to get too detailed in our analysis of the action, but we'll state a few things.
1) Colorado coach Mark Wetmore works his magic once again.
His Buffs upset the form charts and took home the first two PAC-12 titles in history as his men upset the #4-ranked Stanford men and his #16 Colorado women upset #2 Washington, #5 Arizona, #8 Stanford, #10 California and #11 Oregon. (The rankings listed are the Coaches' polls. We must point out Colorado was ranked #10 in the LetsRun.com polls).
Now we're sure some of you are thinking, "But Colorado ran Emma Coburn for the first time this week so of course they won." Well, we have no idea if the polls were taking into account as to whether or not Coburn was on the team, but we'll point out one key point that few seem to be talking about. Colorado would have won the meet WITHOUT Coburn. Yes, that's right. Mark Wetmore's team was peaked so perfectly that they would have upset 5 higher ranked teams without their star. Coburn finished 5th and the Buffs won the women's title by 23 points. Colorado's 6th finisher was 26th, so they would have won without Coburn.
2) How about the Wisconsin men?

17 points at the Big 10 meet, which included the 7th-ranked team in the country. Very impressive.
17 points is nearly a perfect score. Wisconsin went 1-2-3, 5-6. The Badgers win was so impressive they have jumped ahead of Oklahoma State to #1 in the USTFCCCA Coaches Poll that came out today. (We must point out that the Badgers were #1 in the LetsRun.com polls that came out BEFORE Big 10s). The only area of concern was Wisconsin's #6 was more than a minute back in 39th. If someone in the top 5 drops the ball at NCAAs that could bode trouble.
Want more conference info? Check out the USTFCCCA.org's Conference Championships Central page.
Voting is Now Open in the Letsrun.com National and Regional Polls if you want to predict next week's regional action.
****
7 Quotes Of The Week (That Weren't Quotes Of The Day)

#1 The 1st Female Finisher Of The Manchester Road Race Talks About What It Meant To Her
"Finishing that race was a defining moment for me. If I could handle that pressure, I realized I could go ahead and live my life as I wanted. I could do anything."
- Dr. Julia Chase-Brand talking about defying an AAU ban and becoming the first female finisher of the Manchester Road Race 50 years ago. The quote comes from a nice New York Times piece on Chase.
One thing worth noting is how bad the average runner is now compared to way back in the day. In 1961, she ran 33:40 and beat 10 people in the 138-person field. So she finished in the bottom 7% of the field. Her time in 2011 would beat 93% of the people in the race.
More: A Leading Pioneer
****
#2 On The Declining Role Of Coaches In New Zealand
"She was prepared to train hard. That meant working full-time to get to Europe for the first time. She was prepared to invest thousands of dollars of her own money to pay for the trip before being reimbursed. Now you've got a situation where she acts as she wants; a prima donna out of control who has sacked another coach."
- Chris Pilone, the former coach of New Zealand mid-d runner Nikki Hamblin, talking about Hamblin in an article where many New Zealand coaches complain they are just afterthoughts. It should be pointed out that Hamblin, who sacked her 2nd coach this year, did run a new New Zealand record of 4:04.82 this season.

More: Athletics: Coaches losing out to athletes
****
#3 The Two Winners Of The Standard Chartered Nairobi Marathon Talking About What They'll Do With Their $15,000 In Earnings - If Only Americans/Europeans Were This Smart
Men's Winner: Ernest Kebenei: "I have not done the planning yet but I want to establish a family. I will also invest since in our current economy, you cannot afford to run loose with money."
Women's Winner: Margaret Karie Toroitich: "If (my kids) perform well at the end of the term, I will also buy them a present."
More: Kebenei and Karie rule Nairobi marathon
Sanchez broke something: http://www.usatoday.com/sports/olympics/story/2011-10-27/sancehz-wins-bronze-at-pan-am-games/50968342/1
****
#4 Colorado Buffalo Coach Mark Wetmore Talking About Competing In The PAC-12
"The Big 12 was always a formidable conference. There were always one or two other good men's teams and one or two other good women's teams. Going there, we usually figured a bad day and we're second.
"But coming here (to the Pac 12), you could have a bad day and finish fifth or sixth."
Wetmore had nothing to fear, as he worked his magic and his Colorado Buffs took home the men's and women's titles. His men upset the #4-ranked Stanford men and his #16 Colorado women upset #2 Washington, #5 Arizona, #8 Stanford, #10 California and #11 Oregon.
More: CU Buffaloes quick to show who's the boss in Pac-12 cross country
****
#5 The Father Of 1964 Olympic 10,000 Champ Billy Mills Giving His Son Advice After His Mother Died When Billy Was Just 9
"Son, you have broken wings." He proceeded to draw a circle around Billy in the Pine Ridge dirt. "He told me to step inside and close my eyes."
"He said, 'If you follow what I share with you now, some day you may have wings of an eagle. Look inside your heart, mind body and spirit. You will see anger and hate, the emotions that will destroy you.'"
"He told me to look deeper where the dreams lie. And he said, 'Find your dream, son. It's the pursuit of the dream that'll heal you.'"
- Excerpt from a fantastic Mike Wise column on Billy Mills in the Washington Post.
****
#6 Nickname For 3-Time Comrades Marathon Champ When His PR In The Marathon Was 2:50
"Fat Rat."
- Nickname that 3-time Comrades ultramarathon champ Stephen Muzhingi had when the slightly overweight Muzhingi left Zimbabwe to try a career as a runner with a marathon PR of 2:50. In addition to being great at Comrades, he's going to try to break 2:12 in New York this weekend. To prepare for a standard 26.2 marathon, he's cut his mileage from 250 to 125 per week.
More: 3-Time Comrades Ultramarathon Champ Stephen Muzhingi Shooting For Sub-2:12 In NYC
****
#7 A Jamaican Stating The Obvious - Asafa Powell Is Mentally Weak
"Certainly, for me, I believe that Asafa is mentally weaker than many other world-class athletes. There is no doubt that he has talent. Somebody who is running so many sub-10 seconds, it must be that he is much better than many other athletes. But at the point that it matters, something happens," Myers added.
- Dalton Myers, University of the West Indies' (UWI) Director of Sport, talking about Asafa Powell.
More: World-class athletes: are they born or made? - Asafa Powell's shortcomings linked to psychological process
****
Recommended Reads
*A Leading Pioneer Dr. Julia Chase-Brand defied an AAU ban and became the first female Manchester Road Race finisher 50 years ago.
*Washington Post Columnist Mike Wise Writes Column On Billy Mills' Magnificent Olympic 10,000-Meter Win
*Wounded Warriors Practice True "Semper Fi" In Marine Corps Marathon
*Two-Time Marine Corps Champ & Local DC Legend Running Marine Corps Marathon At Age 45 In Honor Of Deceased Brother "Once I cross the line, it's release. It's not going to change a lot of things, but it's going to be the next step in saying, 'I have to accept what it is and move on.'"
*A 4th Unrelated Recommended Read: Nikki Hamblin's Old Coach Rips Pampered & Spoiled Athletes & How Poorly They Treat Their Coaches
****
Quotes Of The Day From The Week:
---
Monday 10/31: "Who did I beat?
- 1964 Olympic 10,000 champ Billy Mills talking about his 1964 Olympic win in a great Washington Post column by Mike Wise that reintroduces Mills amazing win to a whole new generation of people.
---
Sunday 10/30: "Man's ambitions don't diminish over time, they grow - and not just the ambitions, but the preparation too."
- Defending ING NYC Marathon champ Gebre Gebremariam on the talk of a 2:00 or 2:01 marathon. Gebremariam will have his hands full in NYC in one week, where he'll be facing one of the greatest men's NYC fields ever.
---
Saturday 10/29: "I feel more like myself when I'm out running. I'm a good animal."

- Dr. Julia Chase Brand, who 50 years ago was the first woman to finish the Manchester Road Race. This interesting NYT article points out how different running was 50 years ago when women could not enter most road races and journalists wrote this about her: "Under questioning, Miss Chase said she is 5-4 ½, weighs 118 pounds and does not know her other dimensions (eyewitnesses report her other dimensions are very good.)"
---
Friday 10/28: "Grete was the New York City Marathon and the New York City Marathon was Grete. From the first time Grete ran through the streets in the 1978 marathon, to what she called her 10th and final 'victory' running the Marathon with Fred Lebow in 1992, Grete embodied the race and the city."
- Jack Waitz, husband of the late Grete Waitz, who along with Fred Lebow will be the first inductees into the NYRR Hall of Fame. The Brojos don't remember 1978, but their first professional running memory is Grete running in NYC LIVE on ABC.
---
Thursday 10/27: "Something needs to be done to protect athletes. When you don't think you've done something, it's incredible to think that you could go through the process and lose your whole career over it."
- Michele Verroken, the former head of anti-doping in Britain, takling about 22-year-old British hurdler Callum Priestley, who got violently sick - possibly due to contaminated beef poisoning - and then tested positive for steroids. Verroken thinks Priestley was innocent, but he's quit the sport and moved on, but his parents still fight to clear his name.
---
Wednesday 10/26: "Yes, yes, yes. No doubt. I don't have a doubt (I would have won the Olympics without drugs). And people who know the sport, who are sports people, they'll tell you the same thing. So that's why it's so unfortunate that I got caught, caught up. You just get caught up and I didn't take a break and it just cost me so much. I tell people the medals can be gone, the fortune can be gone but in my heart I know I would have won. I would have been Olympic champion."
- Marion Jones still lying to herself and the public. Marion inconceivably represented the US Government last week and now she's at the Pennsylvania Conference for Women.
---
Tuesday: 10/25: "This is a huge challenge for me to start (my coaching career) with Caster.
She is a great young athlete and already she has done very well. We still have a long road to go if we want to be the No 1 in London. Caster just needs to take the last steps to be a professional athlete.
I want to use all my experience to help her to understand what it means to be on the top. It is much easier to get to the top than to stay there."
- 2000 Olympic gold medallist at 800m, Maria Mutola, announcing she will be coaching 2009 world champion Caster Semenya.
****
Last Week's Homepages
*Mon (Oct. 31) *Sun (Oct. 30) *Sat (Oct. 29) *Fri (Oct. 28) *Thu (Oct. 27) *Wed (Oct. 26) *Tue (Oct. 25)