Olympian Michael Stember On Dunking A Basketball, Nerds Running Cross-Country, And Trying To Break 18 Minutes For 5k
By LetsRun.com
November 17, 2011
Vin Lananna's first mid-distance stars were not Oregon's Matt Centrowitz and Andrew Wheating, they were Stanford's Michael Stember and Gabe Jennings. Jennings and Stember really burst on the scene in 2000 when they both made the Olympic 1,500m team while at Stanford, beating 3:50 miler Steve Holman among others (recap here, photo here). After "bombing" (see below) in the 2004 Olympic Trials 1,500m final versus Alan Webb, Stember largely disappeared from the competitive running world, as he called it a career with PRs of 1:46.20 and 3:35.11 and two Pan Am Games silver medals.
Now involved with commercial real estate, Stember is on the comeback trail. It's a different type of comeback, as Stember is trying to break 18 minutes for 5k at his hometown Run to Feed the Hungry in Sacramento to help raise money for the American Indian Model Schools via Charity Bets. CharityBets, an advertising partner of LetsRun.com, has a new take on using road races to race money for charity. LRC conducted the following interview via email with Michael.
LRC: The last time we really heard from you was at the 2004 Olympic Track Trials which were won convincingly by Alan Webb (before the race some were speculating whether Stember could win it) where afterwards you said, "I have no idea what's next for me. I may take a break for a while, maybe a year, who knows ... the sacrifices are so great. At this point I've got to make some money, got to put some money away. It (this race) may be my exit. I'm not ashamed of my career." So the question is what have you been up to on and off the track?
After the Trials in 2004 I needed a break from intense training and racing, potentially a permanent one. And even though I was a national champ in the 800 meters indoors earlier that year, I was overtrained, exhausted, and had absolutely no pop in my legs. For three months, I decided to engaged in more business-related activity and put the Stanford and Jesuit (high school) education to work. Commercial real estate at Colliers International was my first major gig and shortly thereafter I jumped from an agent to a development company and began to assist in building shopping centers and mixed use properties. In those first few months, I got a call from my friend Rudy Huber, a long-time coach and mentor for track people of all ages who is the meet director for the Front Street Mile. Rudy asked if I would commit to run the Mile in Hawaii a couple weeks later. I told him I had not run a step in 3 months and that it would not be feasible to run against elite milers. He pressed me and I agreed, despite the fact that I was way behind the eight ball. I was concerned because I had immersed myself in real estate culture and cadence which involves agents, tenant reps, brokers, developers, landlords, bankers, and everyone linked to the game to gather around a watering hole 3-4 times a week and socialize around large amounts of alcohol consumption. I had gained weight, and was working long hours behind a desk for the first time in my life. Running fast was the last thing on my mind, but I dusted off the trainers and started jogging that same afternoon I spoke with Rudy. It is noteworthy that I was working and living in Sacramento, the hallowed ground of Jesuit tradition, two Olympic Trials, one epic finish, and one bomb, the bomb only a few months back. It is my hometown so the trails are like my backyard, especially the lower horse trail of the American River, which for all who have been lucky to find themselves traveling along its banks are spiritually blessed if they have their eyes and ears open the slightest.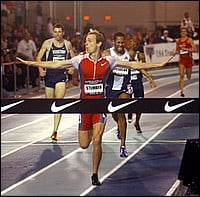 Sixteen days later, I won the Front Street Mile in Maui, beating handily guys who had torched me during the entire outdoor season and I recall breaking four minutes in the mile or running 4 minutes flat. So it begged the question, why the hell was I performing better after 3 months of living like a Normal Joe and socialising like Mick Jagger, compared to when I was preparing diligently the past few seasons. The only answer was I was overtrained, and never had a chance to tap into the potential of my fitness. This was true since the day I left the Jesuit campus as an 18-year-old and joined the Stanford training program. The more I watch runners in this country continually do well early in the season, and fail to run fast when it matters most, the more I realize I am not alone.
Either way, I was intrigued after that Hawaii race to give running at the top level another shot. This time I was motivated to shift training tactics and deploy a different strategy. By 2006, I had moved to Venice Beach and was training with the UCLA team. I was determined to get back to the Olympics, something that proved to be super-difficult when balancing work and life. Shortly after moving to the Los Angeles area, I dove deep into the solar industry and convinced the owners of the Staples Center and Nokia Theatre to buy into the concept of installing a system on top of their roof. It was the beginning of a career in renewable energy, which is an exciting field and will continue to play major role in reshaping the world's energy policy and behavior. I partnered with another Stanford athlete to help the start-up and development of Pacific Edison. Our mission is to develop, own, and operate on-site clean energy plants for large corporations and public municipalities and sell them long-term power for a discount compared to the grid. We use a variety of technologies to accomplish this goal, but in our opinion the status quo of utility power, its sources and delivery are inefficient, outdated, and will prove to be cost prohibitive. We are part of the revolution.
LRC: I think in 2008 you made a more sustained comeback. What happened there?
In April 2008, a few months before the Olympic Trials, I sustained a season-ending calf strain during a mile race. I was doing pretty well, but did not allow enough of a smooth transition from heavy weight training to fast interval training and eventually it got the better of me. As I always say, every injury is my fault. I was very disappointed, and once again probably trained with too much intensity across too many phases.
LRC: Now onto your current "comeback." The first question is what makes a 3:35 Olympian want to start training again? (I'm assuming CharityBets influenced this but I'm not really sure). Is this something you were thinking of doing on your own or did the launch of Charity Bets factor in?
Before I got the call from CharityBets, I had made it a point to start running again sometime this winter, mainly because three years had passed since I had really tried to go for a legit run and I was feeling the urge to get in cardiovascular shape. When CharityBets called and explained their business model, I was encouraged to help them out. Surely they could have chosen a more noteworthy athlete or runner to be their test case, and I told them so, but nonetheless I decided to participate. nd in addition to helping bring some attention to CharityBets, I felt even more compelled to bring some attention to the recipient of any donations to my effort, the American Indian Model Schools http://www.aimschools.org/.
A few years ago I got a phone call from Ben Chavis, a Lumbee Indian from North Carolina with a playful southern accent who jovially described the American Indian Model Schools, based in Oakland, California. Turns out this guy is probably the best inner city educator in the United States, having cracked the code on how to build a culture of high academic performance in the lowest socio-economic segment of the population. Having taken control of the school about a decade ago, on the eve of their elimination from existence because of drugs, crime, and poor performance, Ben Chavis muscled, hustled, and fostered a real-life rise from the ashes.
He went on to explain how there was a senior transfer to AIP High School from the Lumbee Tribe in North Carolina who placed 2nd in the 1,600 meters in the NC State Meet a year earlier who was working hard to increase his academic and athletic standing and wondered if I would agree to coach him. Since they did not have a budget for an athletic department, they carefully allocate resources where applicable and this was one of those special cases. I agreed, and traveled to Oakland as often as I could swing it with work and other commitments and spoke with Jordan Locklear everyday over the phone, by email, or in person for the next eight months. It was a great experience for Ben, Jordan, and myself and it created a good result with Jordan getting accepted to Berkeley and receiving frosh MVP for the track team running a 4:07 for the mile and a 1:50 for the 800 meters (and 3:48 1,500m). The whole experience showed me that coaching is in my blood and something I will certainly focus on more in the future. (For an excellent article on Jordan and Ben and Ben's "non-pc" teaching style click here).
In the meantime, I could not help but get deeply involved with the school model and eventually was asked to join the School Board. Now I sit as Chair of the Board of the American Indian Model Schools. This year we achieved a 988 API, which is the top in California and we did it for more than half the cost per student per year than the Oakland Unified School District. 100% of our seniors were accepted to 4 year Universities, some even getting into MIT, Stanford, CAL, USC, UCLA, Dartmouth, Mills, etc. and they will qualify as Juniors for their college credits once they arrive. We serve a 98.8% minority population made up mostly of poor Chinese-Americans, African-Americans, and Mexican-Americans. I was on campus yesterday and it always amazes me that we do not get more attention for having solved the inner city academic performance gap. These kids will be as prepared as any private school kids, if not more so for the working world, because they have overcome so many different challenges. Yet amongst education administrators and officials, there is still political banter about what specific changes should be made to the inner city public school system. The answers are simple. Hard work, high attendance, strict teacher performance accountability, fiscal caution, and competitive culture as exemplified everyday at the American Indian Public Charter Schools aka AIM Schools. If anybody ever wants to tour the top public schools in California, let me know and I will be happy to set up a tour of our classrooms in session.
LRC: Back to the 5k and your CharityBet goal of breaking 18 minutes for 5k. A lot of people are probably wondering: "18 minutes for 5k. Is that really hard for a guy who has run 3:35 for 1,500m?" Related to that are what have you been doing in terms of training, when did you decide to start training for this race. How much running were you doing before this? What do you weigh now compared to what you weighed when you were racing?
18 minutes for a 5k seems slow for a guy who ran the equivalent of 3:52 for a mile, I understand that. However, I am as busy as I have ever been, I have not done a serious run prior to this effort in three years, and I am 20 lbs. over my racing weight. Plus, unlike most of the LetsRun traffic, I never felt comfortable running long distances (Stember's 5k PR is 14:34). Remember, I played soccer at a top competitive level for 15 years and was a starting point guard at Jesuit. I could dunk a basketball my freshman year in High School at 5'9". (Jesuit sports teams are often ranked in the top 5 nationally, so the athletic environment was a hotbed for fierce competition. Our soccer team is currently ranked #1 in the US.) So running track was tertiary, and it took some lobbying by our athletic department and Coach Lange to convince me that I should dump other sports I knew I could compete in at the college level to pursue the nerdiest endeavor of them all - Cross Country. Not only was it the nerdiest gig on one of the most talented sports campuses in the country but it proved to be the most difficult, a true test of will and pain tolerance, without the luxury of the stadium, the gym, the crowds, or the cheerleaders. It proved to be the best decision I ever made athletically, setting up a record breaking 4:04 1,600-meter State Championship 8 months later, earning me a full scholarship to Stanford, but never assume that running a fast mile for a speedy athlete translates to a fast 5k.
The mile to me was like a 10k, even after I gained experience. Each one of my coaches, and I was very lucky to have some of the very best - Walt Lange, Vincent Lananna, Frank Gagliano, Pat Connolly, Eric Peterson all did their best to increase my cardiovascular endurance because it was such an obvious discrepancy compared to my competitors who were running similar times. Sometimes I look back and wonder if I would was a better match for the 800 meters and if my focus on the mile was merely circumstantial, influenced more by the comfort level of my college coach's experience, which at the time was steeped in cross-country, 5k, and marathon success. I am not so sure that any miler in the world could have beaten me in a 400 meter sprint, of which I would often split 46.9 on the relay, which is evidence that a strong 800 meters was imminent. My intention is not to be critical necessarily buy only to offer some perspective as I look back. Preparing for a 5k at this stage of my fitness and given my lack of natural endurance is proving to be a serious challenge.
LRC: What are you doing in terms of training for this race - i.e., how many days a week, are you doing workouts, who are you running with?
Starting a few weeks ago, I am running 3 days a week, with one day working in some short intervals on grass with the USC middle-distance coach Laszlo Tabori, the 3rd human ever to break the 4-minute mile, and the other two days running 3-4 mile solo runs in parks and in the Santa Monica Mountains. I catch myself getting very short of breath often, and walk for a minute when that happens. Sometimes I feel great and push out a 2 mile tempo burst in the middle of a run. I take a break every other day and even with this limited amount of running it is zapping my energy. I stopped playing tennis and golf because I was exhausted mixing those in with the 5k preparation. I am shedding weight and am getting more confident that I can hit the 18-minute goal each week, but I only have 7 days left.
LRC: How do you compare training for the 5k to trying to make the Olympics in the 1,500? Back then, training was your primary focus every day and now we're sure it is not.
This training does not compare in any way to cycles of training in the past. This is a charity run, and I am trying to enjoy the fitness preparation.
Scott Abbott, my Jesuit teammate who went on to run for UCLA and eventually coach there (and now is coaching at Sacramento State), has agreed to pace me through the 5:47 pace, so it will be super-fun to run something with him again, even if it is a snail's pace. The Run To Feed the Hungry is an awesome event to participate in, attracting a huge crowd of runners, walkers, etc.
LRC: We had no idea Michael could dunk a basketball while 5'9", that cross-country is for nerds (just kidding) or that anyone called Vin Lananna "Vincent." We hope to talk to Michael again before he attempts his 5k. If you'd like to back Michael in his run, or get inspired for your own run, check out our advertising partner CharityBets.
Disclaimer: CharityBets is an advertising partner on LetsRun.com. Apart from their advertising, they agreed to make Michael available to LetsRun.com for an interview. There were no restrictions or limits on the interview.
---
Runner's World &
Running Times



Combined Only $22
a Year
Save $87

---

Running & Track and Field Posters
---


More Nice Offers: Nike Lunar Glide Savings Super popular shoe from Nike featuring Flywire and Lunar Foam

*Nike Air Max Moto Sale $69.99 for this shoe from our partner.
---