2011 NCAA XC Prediction Contest Powered By Puma Recap
By LetsRun.com
November 29, 2011
One of the best parts of our world-famous LetsRun.com predictions contest is learning about the winners, who usually are super-interesting people who are representative of the greater LetsRun.com community.
We've had national champions, rocket scientists, 8th grade soccer players inspired by their coach to enter the contest, and even a guy who has MS and can't run anymore but is giving back to the sport every day win our prediction contests.
The winners of the LetsRun.com 2011 NCAA XC Prediction Contest powered by Puma are pretty special in their own right.
And The Winners Are ...
The overall winner of our contest is Harrison Lakehomer, a medical student at Pacific Northwest University in Yakima, Washington. Harrison has running in his blood as he was born in Eugene, the running mecca of the US, and after college at Amherst, competed for the famed New York Athletic Club. He set a PR of 2:26 in the marathon this past spring in Boston.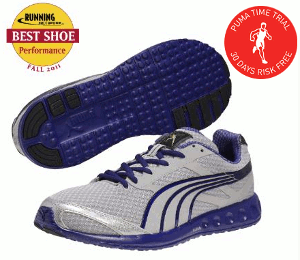 Harrison Will Be Sporting These
If You'd Like A Pair,
Enter The LRC PUMA Faas Challenge
Harrison said his strategy for the contest was to pick people who wouldn't blow up and cost him big points. We're proud to report that despite being born in Eugene and competing for NYAC, Harrison said, "I'm a big fan of running at the elite levels and follow the track/road racing scenes pretty closely, and I think my interest in elite running really picked up when I started regularly visiting letsrun.com years ago."
For winning, Harrison gets a $150 gift certificate from Puma and a pair of Puma Faas shoes, the line of shoes designed with the serious LetsRun.com runner in mind. Harrison chose the award-winning Faas 400s and we'll also throw in a LetsRun.com Puma T-shirt.
On Harrison's heels was Sam Wood, a high school coach at Woods Cross High. Sam said he didn't have a particular strategy but studied the regional results and appreciated the contest making NCAAs more fun to watch.
Eddie Owens came in 3rd place. Does the name sound familiar? It's the same Eddie Owens who won our World Championships Contest Powered by Puma. Owens also was Princeton's 4th man at the NCAA Championships. LetsRun.com is all about insiders having an unfair advantage.
Alex Jackson was in 4th place and Cody Chabola who runs for Eastern Michigan came in 5th place.
3rd through 5th get a LetsRun.com PUMA Faas T-shirt.
The Surprise Winner Is ...
Matt Van Arkel, a former runner at DII Drury University and now in law school at Indiana, won the individual picking portion of the contest. He also won the individual picking portion of the DII contest. We were so impressed we decided to give him a pair of Puma Faas shoes. Matt also chose the Puma Faas 400. You can't say we don't have kind hearts or make this up as we go along.
In the DII contest, the overall winner was Drew Wasmund of Portland, Oregon who ran at Western State. Drew was fortunate enough to be in Spokane to watch the Western men bring home the men's title this year. Now training for a "hangover 3k" on New Years Day, Drew promises to wear his LetsRun.com Puma T-shirt on the cool-down if he wins.
Chris Parno, an assistant coach at Augustana College (the upset winners of the DII women's nationals - they were only 3rd in their region), won the team portion of our prediction contest and gets a LetsRun.com PUMA T-shirt. And for those of you who don't think altitude can affect you, Chris had the inside knowledge that Runa Falch, who collapsed on the course at Regionals because of the altitude and was only #6 on the team, would do much better at nationals (she finished 11th overall).
Congrats to Chris and the Augustana women's team.
And Our DIII Contest
For the first time ever, we had a contest for our favorite NCAA Division, Division III. Our winner was Ben Carlson, an assistant coach at Wartburg College, which has produced quite a few very good distance runners, including Missy (Buttry) Rock, Josh Moen, and 2008 Olympic Women's Marathon Trials 9th and 10th placers Robyn Friedman and Erin Moeller.
And for no reason but being a great guy, Ben made us feel pretty good about ourselves by saying this:
As a side note, I've been a near-daily visitor to Letsrun since 2002 and I truly believe the site has contributed enormously to the current rise in US distance running. My running and coaching careers have been heavily influenced by the posts and links provided by the knowledgeable coaches and "old guys" of the running world. The opportunity to learn from people who have been there before, without living nearby, is extremely helpful in spreading successful training methods and a love for the sport. Further, as an aspiring competitive runner, Letsrun provides the closest opportunity I'll probably get to meeting and hanging out with the big names - past and present - of the running world.

Thank you very much for the fantastic website that you and your brother have created! For every negative comment that you receive, please know that there are multitudes of people who greatly appreciate the work you do. I'm very happy for the win, as it's given me the opportunity to let you guys know how much I enjoy Letsrun. I'll keep spreading the word about Letsrun!
Kyle Gibson won the team portion of the DIII contest and asked if he gets a prize.Our reply: "Sure, why not?" We will be sending him a LetsRun.com T-shirt.
And a big thanks to LRC visitor Robert Nihen. He helped set up our DIII contest just out of the goodness of his heart. So we're rewarding him with a LetsRun.com Puma Party T-shirt as well.
You want a pair of PUMA Faas shoes? Enter the LetsRun.com PUMA Faas Challenge. Click here for more info.
And The 20 Winners Of Free LetsRun.com PUMA Faas T-Shirts Are:
During the last NCAA poll of the regular season, there was a glitch in the voting preventing people from logging in until the final day of voting. To encourage people to vote, LetsRun.com's Wejo said he would give 10 LetsRun.com T-shirts randomly to people who voted. That was all good until we opened up the voting for the NCAA contest and Wejo wiped out the names of the people who voted in the final regular season poll.
So to make up for it, we have decided to give away 20 LetsRun.com Puma T-shirts to random participants in our NCAA Prediction Contest. The 20 lucky winners are below. If you're one of the people below, you have until December 7th to email wejo and claim your free T-shirt. Email him your address and preferred shirt size.
TimMalloy20
njrunner91
sdpollar
ryan409
Lenny Leonard
Mbtiger93
runningDS
updog
Ohio Rulz
runxc274
everfast
jmthomps
skeelxc
DukeSter
csherf
runnjump20
newtrails
freeballit
thewalrus
StepOnIt
Thanks to everyone who participated and to PUMA for the great prizes.
Still Haven't Checked Your Scores?: *D1 Contest Click Here *D2 Contest Click Here *D3 Contest Click Here
---
Runner's World &
Running Times



Combined Only $22
a Year
Save $87

---

Running & Track and Field Posters
---

Running Shoe Savings: Nike Lunar Glide 20% Off Super popular shoe from Nike featuring Flywire and Lunar Foam
---