2011 NCAA Women's Cross-Country: Georgetown Wins Its First National Title, Sheila Reid Repeats As Champ
By LetsRun.com
November 21, 2011
The Georgetown Hoyas are your surprise 2011 NCAA Cross-Country National Champions.
Georgetown, fourth last year, started out the season #1, but fell on relatively hard times in the middle of the season. After a partial squad got 4th at the Paul Short meet, the Hoyas got trounced by Florida State at Pre-NCAAs, and only managed third at the tough Big East meet. That was all forgotten on Monday, as the Hoyas edged the Washington Huskies 162 to 170 for their first national title. Villanova, attempting to three-peat as national champions, had to settle for third place, but got the consolation prize of Sheila Reid repeating as individual champion.
It was an NCAA meet like no other, as 6 women were sprinting together the final 400m for the national title. Recap and analysis below.
Silje Fjortoft Opens Up A Big Lead
SMU's Silje Fjortoft, a three-time regional winner who was running in her 4th NCAA meet, snuck away from the field and opened up a big gap early. At the halfway point (3km), Fjortoft had 11+ seconds (9:40.2 to 9:51.7) on the first chase pack. The chasers stayed in enough control, however, and slowly started to eat into Fjortoft's advantage. Just before 5k, they suddenly closed on her quickly and by 15:18 of racing, she was caught by the pack. Fjortoft did not go out the back door once caught, though, and managed to hang onto the back of the pack until the final kick for home.
Most of the main contenders, including last year's champ Reid, last year's runner-up Emily Infeld of Georgetown and last year's third place finisher and NCAA indoor champ, Jordan Hasay, were still in contention, as a main pack of 12 hung together as they approached the long finishing straight in Terre Haute. Risper Kimaiyo (4th last year) and Kendra Schaaf (2nd in 2009) were two main players missing from the pack.
As they began the push for home, the pack soon had 9, and then it was down to six (Reid, Hasay, Infield, Northeast champion Abbey D'Agostino of Dartmouth, Alex Banfich of Princeton, and Bogdana Mimic of Villanova) with roughly a quarter mile to go. There had never been an NCAA XC finish like this one with so many contending for the win.
Reid Vs. Hasay Again
Soon we were down to two and it was the cream of the crop, Hasay and Reid. Counting last year's NCAA XC championships, they had raced against each other 5 times at NCAAs and all 5 times one of them had walked away with the NCAA title (4 titles for Reid (XC, DMR, outdoor 1,500 and 5,000), 1 for Hasay (indoor 3,000m)).
Reid opened a slight gap on Hasay and Hasay attempted to battle back. Everyone else was now clearly racing for third. Once again Reid had just a little something extra as she held off Hasay and thrust her arms into the air to celebrate her repeat performance.
Hasay had pushed Reid to the limit. Afterwards, Reid told the online broadcast, "It was the hardest race I've ever run. It was tough." Hasay had to be content being runner-up, saying, "I told myself the only person I would be O.K. losing to was Sheila, and I almost got her, but she had another gear."
Behind Hasay and Reid, Dartmouth's D'Agostino outkicked everyone else for third. Emily Infeld was Georgetown's first scorer in 4th, and Princeton's Alex Banfich rounded out the top 5. Bogdana Mimic of Villanova was 6th, as 'Nova had two across before Washington had one (Washington's Katie Flood was seventh).
The Race Is On For The Team Title
The team battle was super-tight. At the halfway mark, Washington (144) led Villanova (157), with Georgetown (166) and Oregon (184) in contention, with pre-race favorite Florida State (248) needing an incredible last half to win the title.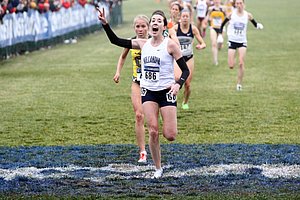 Unlike most sports, where it is apparent who won, there was no way to determine the winner here without adding up the scores. The online video coverage focused on the Villanova and Washington teams huddled at the finish, and at one point showed the Washington girls jumping up and down, but when the winner was announced ... it was the Georgetown Hoyas. Washington and Villanova both faded slightly the second half of the race to let Georgetown get its first cross-country national title ever.
Georgetown head coach Chris Miltenberg (Georgetown grad, 2001 Big East Mile champ) reflected on the difficult journey the Hoyas to the NCAA title, telling GUHoyas.com, "Today was a true team effort. With all the ups and downs throughout September and October, this team never stopped believing that they could do something big. Today was a huge step forward for all of us."
The beauty of cross-country is there are no style points, as the Hoyas' win was far from pretty. According to USTFCCCA, 162 points was the second-highest winning total ever at NCAAs. Last year's Georgetown team, which was fourth, actually had four women finish higher than this year's 2nd runner (Former Harvard runner Claire Richardson - 50th overall, 33rd team scoring). This year's Georgetown win, however, was a true team effort. The Hoyas got their fifth runner (freshman Katrina Coogan, daughter of Olympians Mark Coogan (1996 marathon) and Gwynneth Coogan (1992 10,000m)) across before any other team's fifth, and that was good enough for the title.
Greg Metcalfe's Washington Huskies were pleased with second but left wondering where they could have picked up the tiniest margin of 8 points that would have made them national champions. Metcalfe said afterwards, "Eight points, shoot ... but we were in it and put forth a championship effort. I couldn't be more proud of our women today and for how they have carried themselves all season."
---
Odds And Ends

Florida State's pack did not run as well as it had all year or the title would have been theirs, but the lack of a low stick was also evident. All year FSU lacked a true frontrunner and that certainly was the case again on Monday. Despite having an off day, FSU had 3 runners across the line before Georgetown had 2, yet FSU still trailed Georgetown in the scoring after 3 runners 72-77 because FSU's first runner Hannah Brooks was only 20th in the team scoring (28th overall). Jessica Parry of FSU had an off day (FSU's #3 or #4 usually this year, was their 7th today). Last year, she was FSU's #3 and she finished 22nd overall, which would have made her FSU's #1 today.
After the race, FSU coach Karen Harvey didn't beat around the bush or try to hide her feelings:
"I felt like I was watching a nightmare. I really thought there was no way this is happening," said Harvey to Seminoles.com. "I'm really happy we got on the podium again and we were in fourth place, but obviously we're in a lot of pain. This hurts."
"When I saw that two 19-year-old girls were fourth and fifth (Aubree Worden and Colleen Quigley) - and had never been at this meet - I knew we were in trouble. ... They battled. They stepped up hard."
Bye-Bye, Senior Class: Last year, the top 5 on the women's side all returned (Reid, Hasay and Infeld repeated in the top 5, with Risper Kimaiyo 25th and Rose Tanui 35th). This year, 3 of the top 5 graduate. Jordan Hasay will not have to face her nemesis Reid next year.
Vin Lananna's Oregon Ducks had a great day. Only ranked #12 in the LetsRun.com polls coming in, they finished 5th. The Colorado Mark Wetmore magic finally ended as the Buffaloes, the surprise winner of the PAC-12s, were only 11th here (and the 4th PAC-12 team).
Greg Metcalfe's Washington Huskies had a solid day as well, finishing second. Even more impressive is they did it without Kendra Schaaf, who transferred to North Carolina. Schaaf was second overall two years ago as a Husky. Put her on the Husky team today (she was 15th) and they win easily.
It was a great day for 1996 US Olympic marathoner Mark Coogan. In addition to the fact that his daughter, Katrina, was the final scorer for national champion Georgetown, he also is the women's coach at Dartmouth and can boast 3rd placer Abbey D'Agostino.
Full Results Here

Top Team Results:
1) Georgetown 162
2) Washington 170
3) Villanova 181
4) Florida State 189
5) Oregon 281

Top Individual Results:
| | | | | |
| --- | --- | --- | --- | --- |
| 1 | Sheila Reid | SR | Villanova | 19:41.2 |
| 2 | Jordan Hasay | JR | Oregon | 19:41.8 |
| 3 | Abbey D'Agostino | SO | Dartmouth | 19:42.9 |
| 4 | Emily Infeld | SR | Georgetown | 19:44.3 |
| 5 | Alex Banfich | SR | Princeton | 19:45.0 |
| 6 | Bogdana Mimic | SR | Villanova | 19:45.7 |
| 7 | Katie Flood | SO | Washington | 19:47.9 |
| 8 | Kate Harrison | SR | West Virginia | 19:49.5 |
| 9 | Betsy Saina | JR | Iowa State | 19:50.7 |
| 10 | Tara Erdmann | SR | Loyola Marymount | 19:51.3 |
*Full 2011 NCAA Cross-Country Women's Results Here
More: LetsRun.com's Men's Race Recap
*Georgetown Gets Its First National CC Title GUHoyas.com
*Washington Comes Up 8 Points Short GoHuskies.com
*The FSU women finished fourth and the men 12th at NCAA Cross Country Championships www.seminoles.com
*Wetmore Says Women Purposely Peaked For PAC-12s, Not NCAAs www.denverpost.com
*Lananna Says Hasay's Runner-Up Finish Was A Big Step Forward As She Didn't Get Antsy & Kick Too Early www.oregonlive.com
---
Runner's World &
Running Times



Combined Only $22
a Year
Save $87

---

Running & Track and Field Posters
---

Offers of interest: Nike Lunar Glide Discount Discounting on this shoe not allowed until recently.
---