Doping
*Steve Mullings Found Guilty He may face a lifetime ban as this is his second offense. *2nd Article
*BOA Chariman Colin Moynihan Accused Of Making "Misinformed Allegations" By Angry WADA Chief
*Colin Moynihan To Defend Anti-Doping Policy Against WADA
International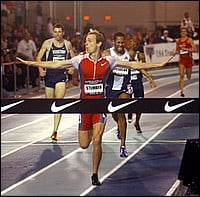 LRC Catching Up With Olympian Michael Stember:
Olympian Stember On Dunking A Basketball, Nerds Running Cross-Country, And Trying To Break 18 Minutes For 5k We know it drives a few people nuts when we call one of our own interviews a MUST read, but we are quite proud of this one. Stember talks about everything - from wondering if he really should have been an 800-meter runner, to having figured out the inner-city school problem, to solving the energy crisis and much more. Along the way he admits he once ran a 4-minute mile after months of drinking and only 3 weeks of running, admits to Gallowalking during his current training and says he has secured a rabbit to pace him to a sub-18 5k so he can win his bet on CharityBets.
News From The UK & Europe
Worth Mentioning
South East Asian Games Recap: Thailand Dominates The 800 Vietnamese national record is now 1:49.42.
Kip Keino Talks To CNN (Video)
Week That Was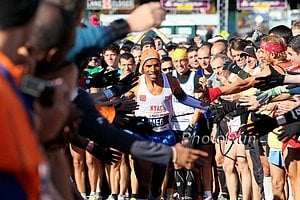 LRC Geoffrey Mutai Amazes Again, Adam Goucher Retires, & Lukas Verzbicas Calls It Quits We go behind the scenes to take a look at the last two weeks in the running world, which included the NYC Marathon, Adam Goucher's retirement, and Lukas Verzbicas leaving Oregon mid-season. Plus we take a look at the Phil Hersh-Ryan Hall spat and compare Hall to Tim Tebow.
Bureaucracy News
Sprint News
Olympic Marathon Trials 60 Days From Today
Meb Says Of Olympic Trials Competitors: "They Better Be Nervous."

Cool Video Board: Race Ryan Hall At NYC Subway Stop We saw this on RunnersWorld but Gizmodo and Reddit have picked it up and the YouTube video has over 200,000 views.
Shoe News
Alan Webb Still With Nike

Look Out, Nike: Kenyan Brand Kourage Launched Of course Nike and Kourage both don't have a chance since Puma has partnered with little LetsRun.com for the LRC Puma Faas Challenge.
Post-IAAF Athlete Of The Year Awards Gala News
Random News
IAAF Meetings

Usain Bolt And Sally Pearson Are Surprising 2011 IAAF Athletes Of The Year And $100,000 Richer Vivian Cheruiyot won just about everything she ran but it wasn't enough. Yohan Blake was pretty damn good, but journalists must have had trouble giving it to a guy they figured would lose if he raced Bolt.
On The Boards: BOLT did NOT deserve to win IAAF-AOY
We're Glad He's Alive
Personal Crisis Likely Led To Disappearance Of UAA Star Runner He went missing in near 0 degree temperatures for 2 days and was found with frostbite.
Three Cheers To London And Qatar
London To Host 2017 Worlds And Qatar Made Sure They Paid A Ton To Do It More money for the sport is a good thing, although we think the British taxpayers could be on the hook if things don't go as planned. London, however, says it will sell $1 Billion in Sponsorship.
*Doha Got London To Guarantee £4.5 Million More At Last Second
*Although Qatar Lost London 2017, It May Get 2020 Olympics And has the 2022 World Cup.
*Denise Lewis On Seb Coe: "Lord Coe's speech made the hairs on my neck stand up."
*Australia's Gold Coast Gets 2018 Commonwealth Games
Bureaucratic News - Radcliffe's Record Stands
Big Drug News
Veronica Campbell-Brown Breaks Ties With Coach
LRC 2:05:06!!! Geoffrey Mutai Caps Year In Style An unbelievable year in men's marathoning had an appropriate finish, as the Kenyan man who had the most unbelievable of all years, Geoffrey Mutai, smashed the previous NYC Marathon record by a stunning 2:38 - that's two minutes and 38 seconds. If it wasn't the greatest 2nd-greatest men's marathon performance ever, you'll have to tell us what was. American Meb Keflezighi hung with the leaders for 20 miles after a blistering 63:16 1st half and ended up with a much-deserved PR. Mutai picked up $200,000 by winning, but the big financial winner was runner-up Emmanuel Mutai, who won $635,000 ($500,000 for the WMM title).


LRC Mary Keitany Beats Herself The women's race was full of gut-wrenching drama, as Mary Keitany went out in a crazy 67:56. The problem was she came back in 74:42, as unheralded Firehiwot Dado (Rome Marathon champ) got the win.

LRC Post Race Interviews: Meb And His Coach Bob Larsen Talks About His PR Despite Throwing Up Plus the winners Geoffrey Mutai, Firehiwot Dado, men's and women's top 3, Ed Moran, Molly Pritz, Lauren Fleshman and Bobby Curtis.

NYC On The Boards:
NYRR Dash To The Finish Line 5k *Results
LRC Chris Thompson, Sara Hall Win, Ritz Is 3rd (link fixed) Hall continued her fine fall campaign with the win in this race that serves as a huge NYRR recruiting tool. Most importantly for US distance fans, Dathan Ritzenhein did well and emerged from the race healthy (link fixed to story with Hall interview).



LRC Healthy Ritz Talks About Marathon Trials, His Track Ambititions And More After double foot surgery in March, a healthy Ritz ran what was likely his only race before the Olympic Marathon Trials in 10 weeks. He talked about his preparations for the Marathon Trials, his desire to run faster on the track, and showed he stil has a lot of fire: "The talent's still there. I'm still young. I'm 28 so hopefully I just keep getting better."
College XC News - 2 Great Articles
Aspiring College Journalists, Read This Well-Written Article AZ Student Newspaper Profiles The Amazing Lawi Lalang, Who Gets Tons Of Praise From Coach Li Li, who knows a thing or two about Kenyan phenoms, as he coaches Bernard Lagat, says Lalang is truly special: "I have not seen someone in college running as well as he is and I've had a lot of Olympic-level athletes over the years. He's very exceptional, this one is for real."
Indy Star: IU Men Ran Boldly In Trying To Beat Wisco - Hoping They Would They Crack - But In The End, The Hoosiers Cracked "I wish we could be the Big Ten champions," Helmer said. "I think we could have won all but one other conference championship in the country this weekend." The Hoosiers placed seven runners ahead of Wisconsin's sixth man. If scoring had been for seven instead of five, the Badgers' margin would have been 100-120. "They're not intimidating. They're just good," IU grad student Adrien Dannemiller said. "They're ranked No. 1 in the country for a reason."
NCAA XC *More Conference Coverage Here *College Forum Here
SEC: Arkansas Men, Vanderbilt Women Win SECs Easily Eric Fernandez and Kristen Gillespie of Arkansas got the individual crowns.


Big 10s: Ignore The Rankings, We Have A Favorite For NCAAs Wisconsin Men Win 13th-Straight Big 10 Title In Dominant Fashion The Badgers made a mockery of the rest of the Big 10 by scoring 17 points vs. a talented Indiana team. *Results *MB: Big 10 Talk
*Michigan State Women Repeat In 3rd Closest Big 10 Meet In History 55 to 61 over Michigan. *Women's Results

PAC-12s: Wetmore Works His Magic As Colorado Sweeps *Results The PAC-12 is the new super XC conference. The CU men edged Stanford, and the women, who were only picked 4th coming in in the latest LRC polls (and 6th in the national coaches polls), pulled the upset.
*Colorado AD Is Particularly Thrilled As Colorado Had Won One Game In All Sports In PAC-12 Until The XC Titles "Just what the doctor ordered," according to the AD.
*Wetmore Gives His Teams A Grades For Their Showing - Refuses To Give Out A+ Since Colorado Isn't In The Ivy League & Doesn't Practice Grade Inflation "I would give it an A and an A and that's as high as I get. This isn't Harvard," Wetmore said.
*Katie Flood Surprise Winner At PAC-12s
*Stanford's Jason Dunn Disappointed A 5th Man Didn't Step Up
*Lananna On His Young Squad: "I thought the guys did a pretty good job."
On The Boards: PAC-12 Update Thread *Craig Lutz > Lukas Verzbicas *Bad day for Hasay?

Big 12s: German Fernandez And Oklahoma State Win Men's Crowns Iowa State Wins Womens
On The Boards: GERMAN FTMFW

Heps: Princeton Men, Cornell Women Win In The Snow! Congrats to friend of LRC Artie Smith for his first conference title. And if you want to see what can be done in terms of conference coverage with almost no budget, check out this link. *Heps XC On The Boards

Big East: Villanova Men Win Convincingly, Women Edge Providence (Results)
*Marcus O'Sullivan Impressed By Men's Win: "We had an unbeatable effort today."

ACC: Florida State Women Dominate, NC State Men Edge FSU Kendra Schaaf dominated on the women's side as Ryan Hill won on the men's. *ACCs On The Boards *Kendra Schaaf is back!

West Coast Conference: Portland Pilots Amazing 32-Year Conference Win Streak Is Snapped In Year 1 Of Legit Competition - BYU 25, Portland 32 More NCAA On The Boards: BYU vs. Portland Portland's 32-year conference XC streak came to an end.
USATF Showing Some Leadership
Track And Field Will Be Back In The Garden The Millrose Games may have died moved to the Armory but USATF has stepped up and shown some leadership by announcing they will put on a new meet at Madison Square Garden next year, the US Open. Bernard Lagat says he's running it and most importantly ESPN will be televising it, showing the world our sport is not a complete joke and can be held on a grand stage. Three cheers for USATF (we're not sure if we've ever said those words in the same sentence). *MBoard Thread *USATF Article
More US Stuff
NCAAs Are Coming And The Big Programs Are Generating Press (Got More Articles? Email Us.)
Collis Birmingham Talks About Altitude Tents, His New Training Location And Goals For 2012 We loved his goals, "Olympics, PBs and to learn Spanish."
Racewalker Justifiably Gets Feature In New York Times: US Female Racewalker Will Compete In Men's Olympic Trials As There Is No Women's 50k Racewalk Erin Taylor-Talcott's time is good enough to get her into the Trials, so she should compete. That being said, we have a solution for the 50km gender disparity - get rid of it for both sexes.
Japanese Comedian/Now Cambodian Citizen Hiroshi Neko Runs 2:37:39 PR - Olympic Status Now Unclear That's a man's time.
Steve Mullings Ruling Expected In Next Few Days
Villanova Alums Trying To Get Former World Record Holder Sydney Maree Out Of South African Prison Last month's Philadelphia Inquirer feature on Maree has motivated some people to try to help. It appears he may be sleeping on the floor due to overcrowding.
From October: Sydney Maree: Villanova's Fallen Hero
Nick Symmonds Talks About His Leading Of The "Occupy USATF Movement" We feel Symmonds and the athletes' pain but don't think the lack of advertising space on a singlet is the key reason why athletes don't have big endorsements. Sports stars get endorsements and most runners aren't stars. Buick was never on Tiger Woods' jersey, McDonald's never on Lebron's.
Elite Field For Fukuoka Marathon Is Released - Includes Zero Invited Ethiopians or Kenyans The field does feature Alistair Cragg and Andrew Lemoncello and a few Japanese-based Kenyans including Japanese 10,000 all-comers record holder Josphat Ndambiri, who smoked world champ Jeilan on Nov. 3rd.
*RRW Release With Full List Of Names And PRs

More Marathon News: Meet "The Other" Hansons-Brooks Female Runner - 34-Year-Old Dot McMahan The mom deserves some props as she's run 2:31.
We 100% Agree: NYTimes: Complicated Training Plans, Focus On Foot-Strike Often Turn Off Beginning Runners - For Beginning Runners, Advice Can Be a Hurdle As one man said, "(Training plans) are so complicated.I thought, 'Oh my God, it's just running.'"
Heather (Dorniden) Kampf Talks About The Most Amazing Race Ever Put On YouTube, Pan Ams And More If you are having a bad day and think you can't accomplish something, please watch this video.
College XC/Track News
*42 Years Ago From Tuesday, Lindgren Edged Pre At PAC-6s
*(Boston) Marathon Monday Ranked One Of Best College Traditions At Boston University Day drinking is a plus for most people, including this student. "Definitely, the wildest and most out-of-control moments in my college life have been Marathon Monday and Halloween. I mean on Marathon Monday you have the day-drinking, and it's spring time so kids are kind of going a little nuts because it's finally warm in Boston."
*An Incredible Hire: Allen Johnson Hired As Air Force Assistant We wouldn't have even made him interview.
*Maryland Track Alums Vent To Washington Times About Possibly Losing Program
Panel Calls For Cutting 8 Sports At Univ. Of Maryland, Including XC & Track
Says something about our sport when Maryland's head coach Andrew Valmon is the 2012 US Olympic Head Coach. Renaldo Nehemiah went to Maryland and they won every ACC title from 1956-1979. Now they'll be the only ACC program without a track team. Maybe Under Armour can help save them. *Message Board Thread To Try To Do Something
More Verzbicas (From A Triathlon Perspective)
Slowtwitch (Triathlon Website) Takes A Look At How Lukas' Stepdad Ended Up Being His College Coach Now And Finds It Kosher
At Least We Agree: Posters On Slowtwitch Forum Criticizes Lukas For Leaving Oregon In Middle Of Season

Lukas On The Boards:
Random Distance News
NCAA Regionals (Top 2 In Each Region Automatically Make NCAAs) *College Forum *Results Here (& Below)
It's Official: Oregon, Arkansas & W&M Men Stay Home, As Do Providence Women
2011 DI NCAA Cross-Country Qualifiers Announced The Oregon and Arkansas men will have one runner at NCAAs, but that's better than the Providence women and W&Mary men, who will have no one at NCAAs. *DIII Qualifiers *MB: "Official" NCAA At Large Thread
*Two Weeks Ago: Arkansas' Head Man Bucknam Gets Extension Through 2015-16
*Chad Hall Taking Ryan Hall's Advice & Enjoying His Senior Season "(Ryan's) encouraged me throughout all my seasons, but especially this one. Kind of just, 'Get out and enjoy it. Do your best and leave the outcomes up to God.' We've both dealt with disappointments and stuff. His message to me is about having disappointments and coming back and doing well."
*Getting Hammered On Running Blogs, Lukas Verzbicas Seeks Comfort By Doing Q&A With Triathlon Blog Not surprisingly, not a single question as to how his ex-Oregon teammates feel about his decision, which resulted in them sitting at home. *MB: Lukas speaks
Weekend Pro Action
NCAA Regionals Were Saturday
Big-Time Traditional Powers Stay Home - Arkansas & Oregon Plus William & Mary Are Left Home On The Men's Side - The Providence Women Stay Home For 37 years in a row, you could count on the Arkansas men making NCAAs. Not anymore, as they stay home for the first time since 1973. The Providence women, who were ranked #5 in the country without even running at full strength in most meets, aren't going for the first time since 1988, the William & Mary men since 1996. And because Lukas Verzbicas quit on Oregon, the Ducks aren't going on the men's side for the first time since year two of the Vin Lananna era.
MB: *LV officially screwed Oregon over

West: Men: Stanford Edges Portland, Oregon 6th, Lawi Lalang Wins Women: Washington, Jordan Hasay Win
Discuss: XC West Regional results *Can Lawi Lalang be stopped? *LV officially screwed Oregon over
Mountain Region: Miles Batty Leads BYU Over Colorado Women: New Mexico And Colorado Tie
*Lananna Happy With Duck Women - Calls Men Young
MB: BYU And Miles Batty
Great Lakes: Men: Wisconsin Time Trials It And Still Wins Women: Danielle Tauro Leads Michigan Over Michigan State
Mid Atlantic: Men: Georgetown, Donn Cabral Win Women: Villanova And Georgetown Tie
MB: Mid-Atlantic results?
Midwest: Men: Ok. State Edges Oklahoma Women: Iowa State Dominates
MB: Midwest
Northeast: Men: Syracuse Men Upset #8 Iona Women: Syracuse Women Edge BC On the Boards: NCAA I Northeast Regional
South Central: Texas Over A&M, Arkansas Only 3rd Women: Arkansas Over Texas
Southeast: Men: Ryan Hill Leads NC State To Win Women: UVA Edges NC State, Kendra Schaaf Cruises
*Could the region that got 6 teams last year come away with just 2 this year?
Pro XC: Nicholas Togom Wins His 2nd Kenyan XC Event Of The Year
North American Distance Triathlon News
Phil Hersh Talks To Lukas Verzbicas After He Quits On Oregon 3/4 Of The Way Through The Season Lukas' stepfather (a triathlon coach) reportedly wanted him to stay longer at Oregon. If this is Lukas' decision, then he deserves to be treated as an adult and criticized for quitting on his teammates.
Doping News
Post-NYC News
He Will Be Missed Adam Goucher Retires Goucher is having knee surgery on Friday and says his competitive racing career is over. We've always said that one way to judge whether a runner's career was a good one or not is simple: Were They Good Enough That They Could Retire Or Just Quit?
Goucher certainly is retiring, as he had an INCREDIBLE career - Foot Locker champ, NCAA champ indoors, NCAA champ outdoors and NCAA champ in XC, USA champ in XC and track and an Olympian. Goucher is a runner at heart and we wouldn't rule out seeing him in the 2016 Marathon Trials.
*MB: Adam Goucher retires
Great News: Missing Alaska Anchorage Runner Found Alive 2.5 Days Later Marko Cheseto went missing at 7 pm on Sunday morning and was found at 3 am Wednesday with big time frostbite. No one is really sure what happened and he may lose his feet, but the great news is he's alive.
*MSBNC: Not Wearing Hat Or Gloves, Shoes Were Frozen To His Feet & All He Could Say Was "911" The report also says he was upset about his teammates' suicide but has near a 4.0 GPA.
*Student Newspaper *Coverage From Britain
Previous: Kenyan Athlete Feared Dead In Alaska
Nick Willis Says Simple "Over-Hydration" Cost Him In Daegu
Recommended Read: Track & Field Superfan: "Five Things We Learned In New York" "This year, however, we've really seen what you can get out of a lack of pacemakers: interesting races. All the races on pancake-flat courses that use a 'flying V of pacesetters' end up being solo efforts against the clock. Great headlines, boring viewing. ... Competition, joy, pain, the thrill of victory, the agony of defeat. An outcome not determined until the very end. The reasons we compete and the reasons we watch competition. You can't have these with pacemakers."
With Nothing To Prove, Meb Keflezighi Still Affirming His Greatness Meb says he doesn't like to "Tweet" about his training, but he has a training log that goes back to 1993.
"Kenyan Athletes Rule The Roost In Big City Marathons" Kenyans have won 83 out of the 100 marathons this year and hold the top 24 positions in the world marathon rankings. Paul Tergat: "My fear is that Kenyans may be restricted in future marathon races as we have seen in the past."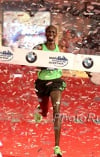 Frankfurt: Oh-So-Close: 2:03:42 - Wilson Kipsang's World Record Assault Comes Up Just Short IAAF The world of marathoning continues to be simply amazing on the men's side.
*AP Recap Levy Matebo was second (2:05:16) and Albert Matebor third (2:05:25) as the women's CR was broken by Mamitu Daska (2:21:59).
Pre-Race: Last Year's 2:04:57 Course Record Holder Wilson Kipsang Says World Record Can Fall At Sunday's BMW Frankfurt Marathon Kipsang may be getting a bit ahead of himself, but he's very good. More on Kipsang here.
Trying To Inspire The Next Generation
Monday's Quote Of The Day: "Who did I beat? I beat the demons within me." - Billy Mills in a Washington Post profile. Good read.

Gary Reed Hopes To Bring Track Back To Life "I don't know that a lot of people want to admit that, but I know it's dying. The next generation is really struggling. The numbers from junior to senior are falling off like crazy and I, as someone who got my whole life from track, would love to leave the sport better off than what I found it."
LRC Moses Mosop A Superstar, Liliya Shobukhova Becomes Second-Fastest Woman Ever Updated Moses Mosop dominated the final miles in Chicago after Wesley Korir tried to make it interesting. Russian Liliya Shobukhova ran 2:18:20 to become the second-fastest woman ever. American Ryan Hall ran 2:08:04 for 5th. Great for any other American marathoner, so-so for him.

LRC: Wesley Korir Impresses With 2:06:15 Second Place In Chicago The former Louisville Cardinal broke the race up with a surge at 30km. Afterwards, he revealed what he was trying to do.

Ryan Hall Says He Needs More Time At Sea Level To Work On Turnover RW

LRC Non-Quotes Of The Day From 2011 Bank Of America Chicago Marathon Hall talks about what 2:08 means, Canova talks about the world record.

LRC Quick Recap With Men's Splits: Moses Mosop Breaks Course Record At 2011 Bank Of America Chicago Marathon, Shobukhova Runs 2:18:20
NCAA XC Is Here
LRC NCAA XC Prediction Contest Powered By Puma Our world-famous NCAA Prediction Contests are back. Tell us who will win in Terre Haute and you could win some cool Puma gear or $200,010 if you have a perfect ballot.
More: LRC NCAA DII Prediction Contest
*LRC DIII Contest Who says we don't love you.
2012 News
*We Agree: Pistorius Is A Friend But He Shouldn't Run At The Olympics, Says Michael Johnson "I think that Oscar is an incredible person and an incredible athlete and it's an inspirational story. But that doesn't make it right."
*Michael Johnson Warns Of Home "Disadvantage" For UK Athletes At 2012 Olympics "There are more potential disadvantages than there are advantages at a home Olympics."
*NY Times Starts Analyzing The Analysis Of 2012 Medal Counts
NYC Men's Photo Gallery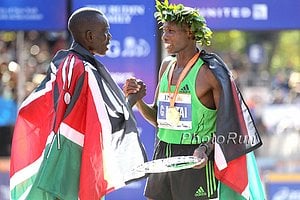 NYC Women's Photo Gallery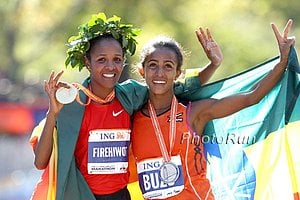 NYC Marathon Men's Highlights
NYC Women's Highlights
Ritz On The Marathon Trials, His Training And The 10k (More Here)
Week In Review
LRC Week That Was: Wilson Kipsang's Near Miss, US Men's Marathoners Vs. Frankfurt, Mark Wetmore And CU At PAC-12s And The Wisconsin Men At Big 10s We take at look at Wilson Kipsang's near world record run in Frankfurt, discuss how the entire history of US men's marathoning was eclipsed in Frankfurt and then turn to a discussion of NCAA XC action.
Wilson Kipsang Just Misses World Record (And Coolest Finish Of A Marathon We've Seen)
Training Corner (More In The Training Forum)
BMW Berlin Marathon Photos! Makau Takes Geb's World Record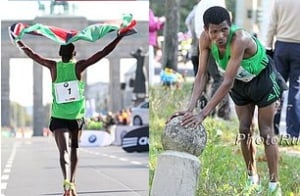 Great Deals

A Scintillating Men's 10,000 Finish (US Visitors Only)
Great Deals

Universal Sports Back To Top