Another Edition Of The Famed Kenyan Armed Forces XC Champs Are In The Books (The 3rd-Toughest Race On The Planet)
Update On Nike's Golden Boys - Rupp & Lance
It's Official - Angela Bizzari To Mammoth Track Club Agree or disagree with the decision? It's a hot topic on the message board.
News From Japan
Olympics, Present And Future:
Jessica Ennis Performs Well At Loughborough Open World heptathlon champ runs 8.03 in the 60m hurdles and PRs in the shot with a throw of 14.61m (a 36cm PR)
David Barmasai And Asselefech Mergia Each Pocket $250,000
David Barmasai earned his $250,000 the hard way. Barmasai had only run marathons in Kenya before. There were 12 guys who went through halfway in 1:02:46. At 30k, according to message board reports, the leaders were only 25 seconds off of Haile G's world record split. Then however, the wheels came off. The final 5k was run in 16:47 and that gave Barmasai the win by nearly a minute over Evans Cheruiyot (2008 Chicago champ), who won $100,000 for 2nd place. Shows how hard Haile G's record is. On the women's side, Asselefech Mergia of Ethiopia was much more credentialed coming in (bronze at 2009 Worlds) and she was the only one to dip under 2:23 but missed the course record at the world's richest marathon in terms of prize money - $1,000,000 combined between men and women; not the $2 million we said yesterday.
*Top Results And Prize Money
Pretty Shocking
British Stadium News
*Perserving Olympic Track Is The Betting Favorite In Stadium Fight
*Teams Make Final Stadium Pitches in London
*Original Legacy Plan Called For A Boring 25,000-Seat Track

IAAF Head Lamine Diack On London 2012 Tearing Up The Track After The Olympics: "You can consider you are dead. You are finished." We're sick of covering this story. London promised an Olympic track legacy in bidding for the Olympics and now is going back on this promise. Next time the IOC should get it in writing with financial damages if the promise is broken. A man's word is not what it once was.
*Lamine Diack: 5 Of 6 Last Champions League Finals Have Been Held In Stadiums With Tracks uk.eurosport
Millrose Update
The Action Is About To Heat Up
New Balance Boston To Feature LRC Fans' Dream Mile
*Willis, Webb (And Verzbicas) To Battle In Mile In Boston *LRC MB: Webb vs Willis vs Verzbicas at New Balance Indoor

A Great Mile Matchup In Europe: 2010 Outdoor Sensation Silas Kiplagat To Race World Indoor Champ In Lievin, France On February 8th; Kaki Also Running

Tokyo Marathon: 27:01, 59:50 Guy Gideon Ngatuny To Make His Marathon Debut In Tokyo, Taking On Gebrselassie The marathon is March 9th February 27th. We like the clever website name: www.tokyo42195.org
Shoe News
Asics To Make Custom Shoes For "White Lightning" Christophe Lemaitre is now training in Miami after getting the royal treatment in Japan. Apparently his feet have some sort of flaw and the hope is the spikes can help.

Speaking Of Shoes ...
NY Times: Do Orthotics Really Work? Maybe, but people have no idea why. "As biomechanists, we really do not know how orthotics work."
The Future Of The 2012 Stadium - Does A Promise Mean Anything Anymore?
Very Long Excerpt Of Unbroken Appears In British Newspaper
Road/Track Action
More From Arizona: IAAF Recap Points Out Goucher Actually Lost Race By Wide Margin Goucher: "I don't like to lose and I don't like to not run fast." *Matt Fitzgerald: The Benefits Of A "Bad" Race Goucher was more than 7 minutes from her PR - but given her pregnancy, we wouldn't call it bad at all.
PF Chang RNR Arizona: Kara Goucher 1:14:02 In Return From Pregnancy, Josh Cox Wins Marathon (2:17:32), Sets American 50k Record Cox missed the soft World Record for 50k by an agonizing 7 seconds.
*Sally Meyerhoff Wins Hometown Marathon *More On Cox From Arizona Republic
*Shawn Forrest, Madai Perez Win Halfs *Top Results All Races
*Message Board Thread On RNR Arizona

Naples Half Marathon: Desiree Davila Runs 1:10:33 To Finish 2nd To Honolulu Champ Belainesh Gebre
*Men's Recap *Results

Mumbai: Girma Assefa Wins Mumbai Marathon In 2:09:54 Indian All Comers Record, Koren Jelila Yal Sets Indian All Comers Record In 1-Second Victory

UW Indoor: Koll 8:53, Flanagan DNF Flanagan apparently was only trying to pace a few laps.
*UW Results Maggie Vessey opened 2011 with a 2:09.14 800m. Andrew Bumbalough 4:00.14 mile.

PSU Runners Run Fast In 1k Caitlin Lane gets school record of 2:45.95 as Ryan Foster runs 2:19.96.
Spanish News
African Ladies In The News
News From Europe
Interesting (But Not Quite Recommended) Reads:
Distance News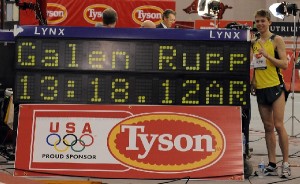 Galen Rupp Racing Paul Koech Over 5,000m In Düsseldorf, Germany On February 11 Rupp no doubt will be trying to regain his American record from Bernard Lagat (13:11). Koech ran 13:02 last year in Düsseldorf to become the 4th fastest ever indoors.
*Message Board Thread
Week In Review
LRC Week In Review: Naked High Mileage XC This week, we've got it all covered - from the exploits of Joseph Ebuya to the winter XC racing of Galen Rupp and Linet Masai in Edinburgh to an academic analysis of some of the nude photo shots in our sport. Plus, we tell you to run more miles, but we guarantee half of you click through to see the Playboy cover with Amy Acuff. Sad on our part and yours.
New Balance In The News
Cross-Country News
XC News
LRC International Races: Kipchoge Over Kiprop, Masai Over Cheruiyot Snow blanketed Edinburgh overnight but it did not keep Eliud Kipchoge and Linet Masai from dominating the individual races at the 2011 Edinburgh XC Races. Kipchoge won over Olympic 1,500m and World junior XC Champ Asbel Kiprop, while Masai won over World 5k champ Vivian Cheruiyot.
*BBC Recap With Video For UK Visitors
*LRC Race Photos


LRC Saturday Course Update: Snowfall Blankets Course Definitely not a Rupp-certified course, but the American star is in Edinburgh to race. Couse photos
Shalane Flanagan Has Big Goals For 2011 The marathon is her focus but this article says she wants the 5k record back.
Three-Time Olympic Champ Peter Snell Says Coaches, Not Administrators, Are Key We agree but go a step further and say athletes, not coaches are the key. Snell is irate some canoeing coaches were canned in his native New Zealand. Snell: "The administrators thought they were the most important people; that the sport couldn't exist without them."
Not So Fast, Sammy
Sammy Wanjiru's Wife Says She Hasn't Reconciled And That She Wants A Divorce She also claims her mother in law is a royal pain in the ***.
Sad News: Former JMU Runner & Sub-4 Miler Jason Long Dies In Plane Crash At Age 32 The JMU school record holder in the 800 and 4-time All-American was a very accomplished pilot who died doing what he loved as his plane hit a medical helicopter.
More: *Fellow Runner Remembers Long As "Good, Loyal"
*Wing Was Sawed Off After Collision With Medical Helicopter
*Crash Victim Loved To Fly
*Friends Remember Men Killed (payment required)
*LRC MBoard Talk About Long's Passing
A Legend Passes
Olympic Legend Bud Greenspan Dies If anyone did more to spread the greatness of the Olympics, we'd like to know who it was. Greenspan's documentaries brought the Olympics to life for millions. Not familiar with Bud? Check out his work here.
*NPR Obituary On Bud Greenspan *AP Obituary Of Greenspan
On The Boards: Bud Greenspan RIP
Sorry, Ladies
David Rudisha Gets Married 2010 will be a year Rudisha never forgets. 2 world records and now he has married his long-time girlfriend Elizabeth. Congrats to David and Elizabeth. 2010 also saw Galen Rupp and Alan Webb get married.

More News From Kenya: Sammy Wanjiru Focused On World Record, Ndereba Wants Another World Title
London & Boston 2011
Incredible 2011 Virgin London Marathon Field Announced: Wanjiru Vs. Kebede Vs. Makau On Men's Side Director Dave Bedford is calling the women's field "undoubtedly our strongest ever," but we once again are amazed with his men's field. London's got the top 3 men's marathoners in the world Sammy Wanjiru, Tsegaye Kebede and Patrick Makau going head to head to head. This year's Chicago marathon with Wanjiru vs. Kebede duelling to the finish was incredible and left Sammy Wanjiru exhausted (photo above). Now throw Makau (Amsterdam and Berlin champ) into the mix. *Message Board Thread On London
*European XC Champ Jessica Augusto And Hayley Yelling To Make Marathon Debuts In London

American Hopefuls Kara Goucher And Desiree Davila To Run Boston 2011 Davila has come a long way in her career, as she got equal billing with Goucher in the press release. Last week it was announced Ryan Hall is running Boston.
On The Boards: Desi will kick Kara's butt this April
Duke Senior Kate Van Buskirk Sets Collegiate Record In 1,000 She had an incredible weekend as she ran 2:41.00 after splitting 2:04.15 on a 4 x 800.
Millrose Is Next Friday
Japanese Comedian Completes Around-The-World Run Kampei Hazama ran around the world in 744 days, passing through 18 countries and running more than 41,000km, getting diagnosed with cancer along the way.
News From Britain Or Relating To Britain
It's Been A Tough 30 Days
Sammy Wanjiru In Serious Car Crash But Apparently Is Okay The world's best marathoner flipped his car in the wreck but apparently is OK. He even told the paramedics not to take him to a certain hospital because he didn't want more press attention. He was arrested late last month for having an illegal firearm and threatening to kill his wife.
*Message Board Thread On Wanjiru
Pre-Race New Balance Notes
More Men's Track & XC Programs Bite The Dust
Sports Illustrated Columnist Joins LRC Faithful In Ripping Delaware For Cutting Its Men's Track & Field/XC Teams Jeff Pearlman is a little biased as he used to run for them, but that doesn't mean he's not right on the money. UD Track is 100 years old this year.
*LRC MBoarders Express Their Outrage
*A Blogger Is Irate
*Delaware's Cowardly Release

Bemidji State's Men's Indoor & Outdoor Programs Get The Ax Not quite as old as Delaware, which is celebrating its 100th anniversary, Bemidji track has been around since 1928.
Bureaucrats Always Suck
Scoring Mistakes Cost Two (And Gain Two) HS Teams In MA State Relay Titles The kids now know how George W. Bush and Al Gore felt back in 2000. What is the definition of victory? It's what some bureaucrat decides.
US News
International News
Week In Review
LRC: Week That Was Last week, we had to use sex to sell our Week That Was and this week, except for talking about LaShawn Merritt's penis, everything is clean. We actually are full of praise for some American stars helping the sport, some of the shoe companies, and more. Plus, we cover some XC, India's #1 marathoner, and some Oregon football.
Need To Get Motivated In 2011? Run Whichever NYRR Race You Want And Help Kids At The Same Time (Sponsored Post)
Spread The Joy Of Running And Get Guaranteed Entry To The 2011 ING NYC Marathon And Other Events The NYRR's Team for Kids program is a great program. It brings the benefits of the world's simplest and greatest sport, running, to underprivileged kids throughout the world. In return for some fund raising, its participants, that would be you, get guaranteed entry into various sold-out NYRR events, including the ING NYC Marathon. Click for more info.
TIA/Unbelievable: Two Of Kenya's Brightest Junior Prospects For World XC May Not Be Able To Race, As They Allegedly Were Beaten By Their Teacher For Not Passing Tests Apparently, in Kenya there is some sort of automatic passing going on that made the teacher irate and he supposedly beat one of the students unconscious.
Updates For Past & Current NCAA Greats
Recommended Click: The Fastest People To Never Be World Ranked By T&FN
Imagine running 9.88 for 100m or 12:51 for 5,000 or 2:05:25 for 26.2 and not being ranked top 10 in the world.
From The Website Formerly Known As Dyestat (But Now Not Known As ESPN Rise)
World Champ Ebuya To Race In Kenya's Armed Forces Championships This Weekend
Letsbike.com
Sports Illustrated With More Drug Allegations Vs. Lance Full article now available The hearsay evidence versus America's greatest cyclists continues to increase. SI has allegations of Lance getting access to drugs in clinical studies, using a private jet to get drugs past customs and more. The article is a bit disjointed, but maybe that is because lawyers removed parts of it. *Snyopsis Of Article *Science Of Sport Blog Post Cycling forums say much has been removed from the article due to threats of litigation, but what remains must be pretty solid.
*Message Board Thread On SI Story

Floyd Landis Gives Up Comeback In Cycling
Comebacks Of A Different Sort
More Action From Over The Weekend Or More Info On Stuff We Already Covered
News From Kenya
XC Action
Seville: Down Goes Ebuya, Cheruiyot Turns Tables On Masai Leonard Komon, the world 10k and 15k road record holder, lost to World Champ Joseph Ebuya last week but won here as Ebuya was only 5th. In the women's race, world 5k champ Vivian Cheruiyot lost to world 10k champ Linet Masai last week on the snow of Edinburgh but Cheruiyot triumphed here. This race had a $420,000 budget and got the stars.

Kenyan Police Champs: 2:04:55 Marathoner Geoffrey Mutai Wins Kenyan Police XC Champs, Says He Will Only Run World XC If He Can Train In His Own Training Camp Paul Koech, the guy who is racing Galen Rupp next month over 5k, wasn't in the top 10. The Kenyan officials should let Mutai train wherever he wants. He's on fire in the marathon and XC.
Pro Distance Profiles/News
Lukas Verzbicas To Skip Illinois Track Season So He Can Run New Balance Indoor Games And Millrose + He Narrows His College Choice To 4 The lucky four are Oklahoma St., Colorado, Oregon and UP. Verzbicas seems to think he can wait until May or early summer to decide - we say that's ridiculous.
Drug News
Want To Know Why Oregon Lost The BCS Game? - Speed Rules
Oregon's LaMichael James, Who Was Third In Heisman Voting, Will Still Run Track This Spring 3rd in the Heisman but only 5th in the PAC-10 100. James' windy PR of 10.52 wouldn't even make the final of the SEC meet and his wind-legal PR of 10.72 would place him 18th.
Olympic News
News From Kenya Or Involving Kenya
Alberto On Galen
LRC: Update On Galen Rupp's Training: Two Distinct Seasons For Rupp In 2011, More Mileage Alberto Salazar has done a tremendous job crafting Galen Rupp's career despite the critics (we specifically remember pro athletes who saw Galen train as a high schooler saying he'd burn out). Alberto says 2011 will be a bit different for Galen than 2009 and 2010, with 2 distinct peaks (and time off in between) and that there is still a lot of room for improvement in terms of training mileage. Plus, we take a look back at Galen's incredibly long and consistent 2009 and 2010 seasons.
Ritz Running London
LRC Dathan Ritzenhein To Run 2011 Virgin London Marathon Alberto Salazar told LRC that his marathon pupil Dathan Ritzenhein will take on the world's best this April in London. Alberto also talked about Ritz's NY run, Ritz's mileage, and more (a lot more on Galen coming tomorrow, but you can watch the interview).
*More Americans In London Americans Jason Lehmkuhle (9th at Boston this year), Mo Trafeh (1:00:39 half marathon, debut), Patrick Smyth (debut, runner-up at US Cross last year), Stephan Shay (brother of Ryan), and former Kiwi Michael Aish running as well, plus 27:29 Aussie Collis Birmingham.
*Ryan Hall Running Houston Half This Month So is Abdi.
LRC Team Race: Mo Farah Over Galen Rupp Mo Farah prevailed over Galen Rupp on an officially non-Rupp-certified snow course. We recap the action, have photos, and talked to Galen, Mo, Alberto, and some of the American studs, including Scott Bauhs, who puts an end to "Rupp certification" once and for all.
*Video Of Farah's 2:00 Win Worth a look to see hill and snow.
*LRC Interviews With Alberto, Galen, Scott Bauhs, Stephen Furst, Bobby Mack And Matt Gabrielson
*LRC Race Photos
*BBC: Video Highlights Of Farah's Dominant Win A post-race interview of Farah is included as well.
3 Recommended Reads
It's Not This Easy In America
Olympic Marathon Champ And Accused Attempted Murderer Sammy Wanjiru And His Wife Supposedly Reconcile Press reports are indicating that the families of Wanjiru and his wife got involved and urged a reconciliation which may result in charges being dropped, although his wife was a bit coy in her responses to the press (as we're sure $$$ is still being negotiated). *Updated LRC MBoard Talk: "He is now officially qualified to be a professional American athlete. Can some of the women on this board tell me why abused women stay with their abuser. Often, until they are beaten to death?"
*Sammy Wanjiru Arrested For Attempting To Kill His Wife And A Domestic Worker
Worth Reading
All That Is Great About LetsRun.com
LRC NCAA And Foot Locker Contest Recaps: The Greatness Of You Recapping our contests always reminds us what is greatest about LetsRun.com - that is you, our incredibly loyal, smart and interesting readers. This time our contest winners impress as usual. Not only do we have acts of sportsmanship, but we have a runner with MS who can no longer run anymore but it still super-dedicated to the sport, a college coach who nearly pulled off the NCAA D1, D2 prediction double (and btw went to high school with the rocket scientist who has won two of our previous contests), a guy who watched malmo win an NCAA XC race, and a guy who issued a challenge to Aaron Braun before he won last week's club XC champs.
The 10 Best High School XC Runners Ever
LRC Week That Was: The 10 Best High School XC Runners Of All Time, Verzbicas, Tribute To Gary Reed, The NY Times & The NE Patriots And More We've got the entire running world covered from San Diego to Japan, from the high school ranks to the pros, and even talk about the NE Patriots and the NY Times.
Think You've Done It All?
Indoor Marathoning Gets A Profile In Wall Street Journal
Drug News
Training Corner
Alberto On Rupp And Ritz's Training
Galen On Edinburgh XC And 2011 (if you'd like to see a video of the conditions he ran in Edinburgh, click here)
Logan Vs. USATF
LRC Exclusive USATF Strikes Back With Charges Of Tax Evasion, Expense Report Abuse And The Real Reason Doug Logan Was Fired We're far from lawyers and most of you aren't either, but this is worth a read, as USATF has filed its response to former CEO's Doug Logan's lawsuit. USATF hurls some serious charges at Logan and some dirt (improper gifts to a female athlete), but none of them are the real reason Logan was fired. We've got it covered, plus news who on the USATF board Logan referred to as Fantasia and Opie.
*Message Board Thread
Training Corner
Two Of The Best Running Movies Of All Time (Don't Believe Us? Click Here)
Relive Men's NCAAs: *Recap *Results *Photos *New (2nd Photo Album Added Here)
Relive Women's NCAAs: *Recap *Results *Photos *New (2nd Photo Album Added Here)
800m Royalty Together For The First Time Ever: Juantorena, Coe, Kipketer And Rudisha (It's Well Worth A Watch If You Have The Time, Or Read The Recap Here)
Save Some Cash

Train Smarter
Great Deals

Universal Sports Back To Top