The Week That Was In Running - January 3 - 11, 2011
To read last week's LRC Week That Was, click Here.
To read any 2010 LRC Week That Was, click Here.
By LetsRun.com
January 11, 2010
Feeling Down About Winter? Take Off Your Clothes & Run
Last week, as winter bore down on much of the US, the US action was light for the most part except for the BUPA Great Edinburgh cross-country action in Scotland (more on that below). We guess as everyone was bundling up that it was only appropriate that some track and field stars were undressing.
Nothing like a couple of nude photos of track stars to remind us of summer:
Track star #1 is Philippa Raschker. You may not have heard of her but the 63-year-old has according to the NY Times set more than 200 masters track and field records and still holds 63 United States records and 18 world marks. The photo of Ms. Raschker comes from ESPN the Magazine's annual Body Issue. The 2010 edition has a gallery of 19 online photos, which can be accessed here: Nude Photo Gallery Of Athletes From ESPN (Raschker is #16).
Track star #2 is US 800 meter runner Maggie Vessey posing for a New Balance ad.
We're sure the people at New Balance are pleased by the free publicity that Vessey's pic has generated, as people have buzzed about it on our message board.
In that light, part of our job here at LetsRun.com is to educate you the reader on track and field's rich history. True track and field historians know that Vessey's nude photo is not even coming close to creating the most amount of free publicity for a sponsor. That honor has to go high jumper Amy Acuff, who generated a ton of free pub for Asics by appearing on Playboy's cover back 2004 with a pair of Asics in her hands.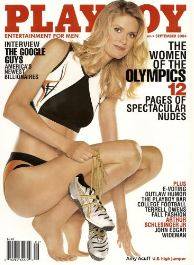 More: Nude Photo Gallery Of Athletes From ESPN *The NY Times Introduces Us To The Track Star Who Posed Nude For ESPN The Magazine *Maggie Vessey Nude On New Balance Site *LRC MB: Maggie Vessey's nude New Balance ad *LRC MB: Amy Acuff on cover of September Playboy
---
World Champion XC Runners In The News
Ebuya Looking Dominant In Two Wins
In terms of actual action, cross-country obviously dominated the headlines. Reigning World XC champion Joseph Ebuya got two impressive wins in the span of 4 days. First, on Thursday he earned a hard-fought 4 second victory over world 10k and 15k road world record holder Leonard Komon in Italy and then declared afterwards that he could see himself repeating as world champion later this winter, as Ebuya told the IAAF, "This win gives me the confidence that I can win my second world title."
On Sunday, he was back at in Spain and he absolutely dominated the field. 12:51 5ker Vincent Chepkok was 40 seconds backs in second place. Micah Kogo, Olympic 10k bronze medallist, who had been 38 seconds behind Ebuya on Thursday, was over 1:20 behind here.
Ebuya's personal story is truly amazing. If you don't know it, click here. He clearly at this point is a cross-country specialist. Will Ebuya be able to defend his world title? It sure looks like it now.
On The Boards: Is Joseph Ebuya 2011 form nearing the form of 2002-2006 Kenenisa Bekele's?
---
2009 World XC Champ Florence Kiplagat Making Marathon Debut In Boston
One person who didn't even attempt to defend her World XC title last year as she was recovering from injury, 2009 world champion Florence Kiplagat of Kenya, was in the news last week as it was announced that she'll be making her marathon debut in Boston this spring. Seems like a smart move to us to go to the strategic, hilly and normally slower Boston course than go to the track meet on pavement known as the London marathon. Boston is certainly much more like a cross-country race than a track race.
The 23-year-old's marathon debut definitely be worth paying attention to, as in addition to her World Cross title in 2009, she also earned the World Half Marathon title last October.
We guess we should point out that Kiplagat wasn't exactly a slouch on the track. She is, after all, the Kenyan record holder at 10,000 at 30:11:53 and she also did run 14:40 for 5,000 in 2007 and 2009. However, her move up to the marathon early in her career is a smart move in our minds, as she never was really a winner on the track - even in her 30:11 race she lost (she was actually crushed in that race, as Ethiopia's Meselech Melkamu ran 29:53 in it for the win). And a 14:40 5,000 PR for an African woman certainly isn't going to raise heads in the year 2011.
Plus, given the absence of global 10,000s on the track, the marathon will be a whole lot more lucrative financially.
More: 2009 World XC Champ Florence Kiplagat To Make Marathon Debut In Boston *Reigning World Champ Joseph Ebuya Shows He's Ready To Defend Title By Getting 4th Win Of Year Over Stacked Field In Italy.
Edinburgh XC
LetsRun.com's Wejo was on hand in Edinburgh, Scotland for the BUPA Great Edinburgh XC race.

A Cross-Country Running Race,
Not A Ski One
More Photos Here
We at LetsRun.com had been critical of the race organizers for in essence having a separate race for the African runners, so the race organizers invited Wejo over to see it first hand. On the men's side, there was a shorter 4km race, with World and Olympic champions Eliud Kipchoge, Asbel Kiprop and Brimin Kipruto, and then a Team Race with American, British, and European Teams. We'll leave the discussion of the merits of the various races for another day. One thing we appreciate with the organizers (Nova International, who put on all the Great Run races including the BUPA Great North Run, a half marathon which has 50,000 entrants) is that while we were critical of one part of their event, they did not take it personally and realized we still would understand that they put on incredible events. Difference of opinion and debate are healthy in any sport.
One thing Nova International has figured out is something very few people in the US have figured out and that is what works to get broad national television exposure. The races were on live network television (BBC) for 1.5 hours. The great Chicago and Boston Marathons have very little coverage in the US outside of their local TV broadcasts. For the sport to grow, great events need to be seen by as many people as possible.
We won't recap the events here, as we have detailed recaps on each event (click on the links to the right and below). In the men's 4k event, Eliud Kipchoge used his experience on the course to defeat Asbel Kiprop, in the women's 6k, world 10k champ Linet Masai showed she will be a favorite at World XC as she easily defeated World 5k champ Vivian Cheruiyot, and in the team race, Mo Farah got a nice win over Galen Rupp. Rupp is doing things a bit differently in 2011 than in years past and we have more on his training here.
And we have to mention that the course was full of snow and ice and a tremendous mountain. Definitely not "Rupp certified," which Scotty Bauhs appreciated. Galen Rupp the last two years has shown he can run and compete for the win on virtually any type of surface. If you still had any doubt, Sunday probably put it to rest. To see a video of the last 600 with the crazy hill, click here.
---
Weekly Free Training Advice - Mileage Matters
LetsRun.com has always been known for being a proponent of high mileage. This week our free training advice is simple - Mileage Matters.
If you can handle it and it's appropriate, run more.
The Mileage Matters mantra was thrown at you everywhere you looked on LetsRun last week. We highlighted an interview of 1972 Olympian Jeff Galloway by Gary Cohen which is definitely a Recommended Read in our book. Galloway got good at running over the years and went from 9:48 in HS (albeit a state champion in hot weather), to moderately successful at D3 Wesleyan, to ultimately the Olympics in the 10,000 for a simple reason - he ran more as he got older. Galloway improved at each level because he kept progressing in his training. But Galloway wasn't truly good until after college when he started running A LOT.
To get faster, you normally need to progress in your training. The easiest way to do that when you are young is to run a little more each year like Galloway did, from 35 in high school to 45 in college to 80 when he first got out to 100 and then up to 140.
"In high school by my senior year my maximum mileage was 35 miles per week, though most weeks were 30 miles. In college I increased to 40-45 miles per week on average. When I went to train in Florida I was up to 80 miles per week. I had had a series of marathons where I hit 'the wall' so when I asked other runners why, they said my mileage wasn't high enough. So I upped my mileage from 80 to 100 miles a week over a six month period and still hit the wall in my next marathon. So then I upped it to 120 per week for six months and finally up to 140 for six months leading up to the 1971 Pan American Games Trails marathon."
However, mileage is just a number and not the end-all and be-all. A key thing for Galloway was the length of his long run.
Last week, we also caught up with Alberto Salazar in Scotland and he talked in great length with us about this same concept - Mileage Matters. He talked about how one of the things he's working on with Galen Rupp this year is to get Rupp to run more. And the plan is to run even more in the future (but not try to go from point 1 to point 3 without doing point 2 first):
Alberto said Rupp's highest 10-week stretch of miles last year averaged 90 miles a week. He then said, "This year we're doing 110 now and he's already feeling a lot stronger. Someday he'll be at 120 or 130. Not next year. We'll do it gradually."
Recommended Reads
*LRC Update On Galen Rupp's Training: Two Distinct Seasons For Rupp In 2011, More Mileage
*LRC Dathan Ritzenhein To Run 2011 Virgin London Marathon Alberto Salazar told LRC that his marathon pupil, Dathan Ritzenhein, will take on the world's best this April in London. Alberto also talked about Ritz's NY run, Ritz's mileage, and more (a lot more on Galen coming tomorrow, but you can watch the interview).
*Japanese Guys Tells You Everything You Need To Know About Blood Tests
*Meet Former World Beater Adrian Royle The scrawny Brit shocked the world when he won the 1981 US XC title over more famous stars like Alberto Salazar, Steve Scott and Henry Rono. The 27:47 performer then suffered a mysterious illness that wiped him out for 18 months. *Wikipedia Page Here
*Chris Solinsky Sees Himself As A Serious Medal Threat This profile on Solinsky by Parker Morse is a must-read and full of great quotes.
*Unbelievable: Runner Who Was Whistle Blower On Leonid Shvetsov Being Eddy Hellebuyck's EPO Provider Was Repeatedly Threatened By A Man With Russian Accent Before NYC Marathon
*Interview Of 1972 Olympian Jeff Galloway By Gary Cohen
---
Happenings Of Note
LRC Dathan Ritzenhein To Run 2011 Virgin London Marathon Alberto Salazar told LRC that his marathon pupil, Dathan Ritzenhein, will take on the world's best this April in London. Alberto also talked about Ritz's NY run, Ritz's mileage, and more (a lot more on Galen coming tomorrow, but you can watch the interview).
*More Americans in London Americans Jason Lehmkuhle (9th at Boston this year), Mo Trafeh (1:00:39 half marathon, debut), Patrick Smyth (debut, runner-up at US Cross last year), Stephan Shay (brother of Ryan), and former Kiwi Michael Aish running as well, plus 27:29 Aussie Collis Birmingham.
*Ryan Hall Running Houston Half This Month So is Abdi.
Paula Radcliffe Attacked & Bitten By Dog On Training Run In Monaco
Sammy Wanjiru's Wife Says She Hasn't Reconciled And That She Wants A Divorce She also claims her mother in law is a royal pain in the ***.
Sad News: Former JMU Runner & Sub-4 Miler Jason Long Dies In Plane Crash At Age 32 The JMU school record holder in the 800 and 4-time All-American was a very accomplished pilot who died doing what he loved as his plane hit a medical helicopter.
More: *Fellow Runner Remembers Long As "Good, Loyal"
*Wing Was Sawed Off After Collision With Medical Helicopter
*Crash Victim Loved To Fly
*Friends Remember Men Killed (payment required)
*LRC MBoard Talk About Long's Passing
---
Quotes Of The Day From Last Week
Monday: "Three months of training, you're not going to get a big base. That's the key for us now - to keep him healthy so he gets that big base."
- Alberto Salazar on his marathon pupil Dathan Ritzenhein, in a LRC article announcing Ritz will be running the 2011 Virgin London Marathon.
---
Sunday: "All you LetsRun nuts out there, I think this course right here puts an end to the 'Rupp certified' phrase."
- American 27:48 performer Scotty Bauhs talking in an exclusive LRC video interview about Galen Rupp running tough in the snow in Edinburgh, where he got 2nd in the team race, defeating European XC champ Sergey Lebid in the process and slaying the Rupp certified debate along the way as well.
---
Saturday: "I love to coach both young ladies and young men, and to be able to continue doing that makes life real enjoyable for me."
"I truly get as much enjoyment out of watching a young runner improve his or her performance as I get from seeing one of my runners make it to the Olympics. The road traveled is certainly as important as is the destination because every day along the way is part of a person's never-ending education, and I still feel I learn as much from my runners as they learn from me."
- Coach Jack Daniels, talking in a Running Times article about coaching at unheralded Brevard College.
---
Friday: "It was not an easy race because (Leonard) Komon was very strong today. After I saw that I could not break away from Komon, I decided to save energy for the final sprint where I was confident to take the win. This win gives me the confidence that I can win my second world title."
- Joseph Ebuya, the current King Of The World of Distance Running (aka reigning World XC champ), talking after earning his fourth XC victory of the season after a hard-fought battle with road world record holder at 10 and 15km Leonard Komon.
---
Thursday: "I knew Salazar was good - but I also knew his weakness. He had no speed, no real finishing speed whatsoever. Salazar killed people in the middle of races. I knew if I could hurt him on the hills and just stick with him, I could beat him. I stayed with him, gradually picked it up over the last half mile and then just pressed the button."
- Brit Adrian Royle, who shocked the world by winning the 1981 US XC championship, beating big names like Alberto Salazar, Steve Scott and Henry Rono in the process.
---
Wednesday: "There are definitely periods in training when I'm lazy. It can be hard to get out the door. My wife says I complain a lot. But on the days when I'm lazy I ask myself, how badly do you want it? And the answer is always, really badly. My talent is my durability. I'm not going to say I don't have talent, but compared to Matt (Tegenkamp) or Evan (Jager), I don't have the talent they have. But I can put in the work, stay healthy, and see a steady progression."
- American 10,000 record holder Chris Solinsky talking in an IAAF profile.
---
Tuesday: "I go beyond what I think is possible; I punish myself and really learn to suffer. That gives me the peace of mind and confidence to know that when I'm racing and it hurts, I can overcome it. When I get off the bike, for instance, I don't think: 'Oh Lordy, I've got a marathon to do.' I think: 'Bring it on.'"
- The world's best female distance athlete (with Paula Radcliffe's absence), triathlete Chrissie Wellington, speaking in a fantastic Guardian profile. The article is an absolute must read , as Wellington didn't even start as an athlete until her late 20s but has lowered the triathlon world record by a Radcliffe-esque 26 minutes in recent years.
---
Last Week's Homepages
*Mon (Jan. 10) *Sun (Jan. 09) *Sat (Jan. 08) *Fri (Jan. 07) *Thu (Jan. 06) *Wed (Jan. 05) *Tue (Jan. 04)
---
Runner's World &
Running Times



Combined Only $22
a Year
Save $87

---

Running & Track and Field Posters
---

Offers of interest: Nike Lunar Glide Discount Discounting on this shoe not allowed until recently.
---