Cole Hocker Takes Down Yared Nuguse to Win 2021 NCAA 1500 Title in a Classic
by Jonathan Gault
June 12, 2021
If tonight was any indication, the next decade in American 1500 running is going to be pretty damn fun.
Squaring off in a championship race for the first time, 2021 NCAA mile/3k champion Cole Hocker of Oregon and 2019 NCAA 1500 champion Yared Nuguse of Notre Dame were expected to deliver a thrilling race in tonight's NCAA 1500-meter final. And they did.
Article continues below player
In any other year, Nuguse's performance — a time of 3:35.60, with a 1:49.28 final 800 and 52.67 last lap — would have been enough to secure a dominant victory. But not in 2021. Not in the year of Cole Hocker.
As incredible as Hocker was in winning two NCAA indoor titles in the span of just over an hour in March, a loss to Nuguse on this track five weeks ago showed that a Hocker victory was no foregone conclusion. But, like all the great ones, Hocker raised his game tonight (to be fair, so did Nuguse) and earned revenge to win his third NCAA title in his as many starts, running 3:35.35 (#5 all-time NCAA) with an epic negative split (1:48.87 final 800, 52.23 final 400, 25.9 final 200).
It was not a smooth ride. Fourth place and boxed in at the bell, Hocker had to walk a tightrope at times to keep his balance; even once he found room to run in the final 200, he had to withstand a pitched homestraight battle with Nuguse, who would not yield until Hocker finally broke him 40 meters from the finish line.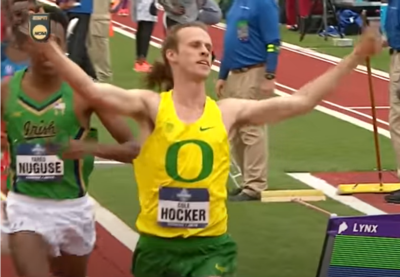 Hocker, who celebrated his 20th birthday five days ago, is likely to turn professional after this season — though he remained mum on his immediate future following the race. No matter what glories his professional career may bring, he will always have this remarkable 2021 season, in which he needed just three months to cement himself as an Oregon track & field legend.
Results
1. Cole Hocker, Oregon, 3:35.35
2. Yared Nuguse, Notre Dame 3:35.60
3. Waleed Suliman, Ole Miss, 3:37.30
4, Eliud Kipsang, Alabama 3:38.18
5. Mario Garcia Romo, Ole Miss 3:38.66
6. Jack Salisbury, Georgetown, 3:40.06
7. Diego Zarate, Virginia Tech, 3:40.12
8. Paul Ryan, Washington St., 3:40.50
9. Talem Franco, BYU, 3:40.61
10. Sam Tanner Washington, 3:41.78
11. AJ Ernst, Providence, 3:43.14
12. Isaac Basten, Drake, 3:46.12
The Race
Alabama's Eliud Kipsang, a frontrunner at regionals and in Wednesday's prelims, went out hard again today, but this time after just 100 meters he had no interest in leading, drifting out to lane 2 and pointing at the rail for someone to take over. That someone wound up being Nuguse, who was already being stalked by Hocker on his shoulder.
Nuguse towed the field through 400 in 59.72 and 800 in 2:00.92, with Kipsang on his shoulder and Hocker tucked in behind in third. At the bell (2:42.94), Ole Miss' Waleed Suliman had joined the leaders, leaving Hocker in a serious box. That looked to be a problem early in the final lap. First, Hocker had to pump the brakes on the first turn as Kipsang cut in in front of him. At the same time, Nuguse and Suliman, who had moved up to second by 1200 to go (2:56.01 after a 55.09 third lap), were both launching moves down the back straight fighting for the lead. Hocker had to act fast or risk the race getting away from him.
By 200 to go, Hocker had regained contact with Nuguse and Suliman, but looked in danger of getting boxed again…but wait! Suliman, still giving it all to get around Nuguse, was running on the outside of lane 1, giving Hocker the room he needed to make the inside pass as Nuguse began to gap Suliman.
Nuguse, running blind, had no idea what was going behind him, and with 120 meters looked up to the video board to see; an instant later, Hocker was on his shoulder, arms flying as he launched into a full kick. He carved out half a stride on Nuguse, but Nuguse wasn't finished yet, gritting his teeth and searching for one final gear.
But it was Hocker who had the extra gear, and with 40 meters to go, he finally managed what no one had accomplished in over two years: he broke Yared Nuguse in a 1500.
Once he had a stride on him, Hocker moved in front of Nuguse to protect his lead. He didn't need to; Nuguse had given it his best but fallen just short. As Hocker celebrated his win, cupping his hands into an "O" for the Hayward Field faithful, Nuguse could only smile and shake his head. On this night, one of the greatest 1500m performances in collegiate history was only good for second place.
Suliman was the best of the rest, running 3:37.30 for third.
Watch the final lap below (or full race)
Quick Take: Cole Hocker continues to amaze
This was Cole Hocker's third NCAA final, and his third time closing in under 26 seconds. The ability to close that fast off a hot pace (he broke the NCAA meet record in the mile indoors and almost broke it in the 3k and 1500) is so rare and is why Hocker has the talent to one day contend for a global 1500 medal.
But we already knew about Hocker's kick. The most impressive thing about his run tonight was his composure. When Hocker won the mile at NCAA indoors, he led the race from the gun and did not have to worry about his positioning. Tonight, despite the quick time, he had to deal with the intricacies of championship racing — staying calm while boxed, conserving energy, knowing which moves to ignore and which moves to respond to.
Hocker aced the test. He didn't panic when he found himself boxed in at the bell and knew exactly when to pick it up when Nuguse threatened to get away on the back straight. It will only get harder (and more crowded) from here, but those are the finer aspects of racing Hocker will need to master if he is to succeed at the professional level.
"Something I've been able to work on this year [is] just remaining calm and staying patient," Hocker said. "This race especially, probably the most competitive field I've been in all year, I just knew I had to stay patient. I wasn't concerned at all at any point in the race of being boxed in. I knew making the last 800 as fast as it was, that people were gonna thin out."
Quick Take: There were no losers tonight
The results will show that Yared Nuguse finished second to Cole Hocker. But he did not run a bad race. Nuguse controlled it from the front, ran the shortest possible distance, squeezed the pace down, and kicked really well. The problem was, he was up against a monster in Hocker, who closed even faster than Nuguse despite having to maneuver his way to the front  — even briefly throwing the brakes on — on the last lap.
Could a different strategy have produced a different outcome? Based on their final lap today, it's likely Hocker would have prevailed in a slower race as well. The only alternative would have been for Nuguse to go all-out from the gun and try to run 3:32 and 3:33. Maybe that would have worked — two-time Olympic 1500 medallist Nick Willis said after the race he believes Nuguse could run 3:31 right now in a Diamond League race — but it also carries the risk of totally blowing up.
The fact is, Nuguse almost won this race and it took an all-time performance to beat him. There should be no regrets after this one.
Quick Take: This race showed it: both of these guys can make the Olympic team
Hocker and Nuguse were already considered serious contenders to make the US Olympic team in the 1500 meters, but they will still face some strong competition in the event at the Trials, particularly in the form of Matthew Centrowitz and Craig Engels.
Even those men may be looking at tonight's results with some trepidation. Closing in 1:48 and 1:49 in a 3:35 race is some serious speed.
Consider this: in the 2016 Olympic Trials, Centrowitz won in 3:34.08, closing in 1:51.20 for his final 800. Tonight, the winning time was a second slower, but Hocker and Nuguse both ran about two seconds faster than Centro over the final 800 and over a second faster on the final lap.
That doesn't tell the whole story — the 2016 Trials 1500 went out faster (1:57.33 for the first 800 vs 2:00.92 tonight), and Centro likely had more in the tank as he won the race handily. But it helps show that Hocker and Nuguse will be serious threats to make the team — and challenge for the US title, considering the Centro of 2021 is not on the same level as the Centro of 2016.
Perhaps a better comparison, as suggested by Nick Willis, is the 2011 World Championship 1500 final. In that race, Centro closed in 1:49 and 51.5 and ran 3:36.08 — pretty similar to Hocker tonight — and won a bronze medal. What we saw tonight was some world-class stuff.
Hocker, who doubled back less than two hours later and ran a personal best of 13:18.95 to take 4th in the 5k, admitted he was pretty tired after his double, but that he will be ready to go for the Olympic Trials, where the 1500 begins on June 24.
"All season we've worked on recovering fast," Hocker says. "That's what college runners are good at. I don't think the trials will be any different."
Cole Hocker post-race
Talk about the NCAA action on our world famous fan forum / messageboard.